Jiangtouzhou Village at Jiuwu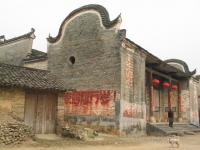 As the largest and best-preserved collection of ancient buildings in Guangxi Province, Jiangtouzhou Village locates at Jiuwu Town of Lingchuan County, 32 kilometers far from the northern suburb of Guilin and lies in the west bank of Hulong River. Most of the residents in the village are descendants of Zhou Dunyi, a famous writer, philosopher and scholar of neo-Confucianism during the Northern Song (CE 960-1127) Dynasty.
Most of the 600-some houses in the village stem from the Ming (CE 1368-1644) and Qing (CE 1644-1911) Dynasties. The 14th generation posterity of ZhouGuoYi migrates from Daozhou of Hunan Province to here during the reign of Hongzhi in Ming Dynasty. Besides its ancient architectures, Jiangtouzhou Village is also famous as the village of virtuous wits and upright officials, with over 160 successful candidates to the various levels of the imperial exam and more than 200 officials since the Ming and Qing dynasty.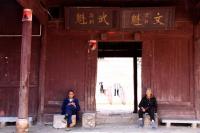 Jiangtouzhou Village is one of the seven most prized ancient villages of China. Architectural pattern during the Ming and Qing dynasties, covered by the black bricks and gray tiles, wood frame have been well preserved in the village. Long and narrow alleyways twisted and turns among the tranquil houses with exquisite carvings on the woodwork of their gates. Mostly these houses have fenced-in courtyards with large wooden gates, typically with an inscribed plaque over it.
Hectares of fertile farmland in front, three glittering and translucent rivers running as belts around the village, old stone-arched bridge over the rivers, all of these contribute to the tranquil atmosphere and ancient charm of Jiangtouzhou Village. To get there, you can take a bus to Lingchuan County at Guilin north station and transfer to bus for Jiuwu Town, then take a 10 minutes walk there.
More Attractions in Guilin
Recommended China Tours Including Jiangtouzhou Village at Jiuwu Guilin
Always dream of coming home? This roots-seeking tour is especially designed for overseas Chinese like you by offering ...

A perfect 8-day trip for you to indulge in south China. The tour covers the bustling cities Shenzhen & Guangzhou, Kars ...

Taking this trip to see the Muslims areas and sites in China and reward yourself to an exotic and enriching experience ...
Google Search
Find something useful to you at Easy Tour China website.