Client: Alice Davidson
Nationality: United States
January 5 , 2016 -- January 15 , 2016
Tour Customized by: Silvia
Itinerary: Beijing, Xian, Guilin
Hi Ricky -
It was a pleasure to meet you and Silvia in person in Yangshuo. Everything about the trip was perfect. All the students and parents are thrilled at the experience the students had, and how smooth everything was.
I can't really find anything to 'improve' upon. I worked with Silvia starting 2 years ago about this trip, and I made suggestions about what things I wanted to do, and what things I didn't want to do, etc. She was extremely accommodating and easily added my ideas to the trip, and took out a few things I was not interested in. The 'classes' were awesome. Paper cutting, jade, cloisonné, and silk factory showrooms so students could see the hard work and skill involved, the noodle making and jiaosi making in Xi'an, etc. were wonderful. And when I asked about the Guilin Tea Institute, Silvia was able to put it in on the last day – PERFECT! It was so important to be able to say that there was even a class on the LAST day! The students and parents loved everything about this trip. The guides were delightful, the students thought Cathy, in Beijing was so funny – we didn't get to know Eric much because we were only there 1 day in Xi'an, but his English is great and we learned so much from him, and James, in Guilin, Yangshuo was very very knowledgeable.
I would suggest in the future that the guides who take students to the markets not talk about the dogs for sale without first talking to the teachers. We saw dog on the Yanghsuo market, and it was quite upsetting to some of the students, because they were not prepared for that. But this is in no way a complaint. It's just a suggestion.
Thanks so much for a terrific tour of China. I hope to use your company again in the future if my school allows me to do this trip again.
Here is a link to our Facebook page pictures:https://www.facebook.com/media/set/?set=a.10153821957670169.1073741848.109133490168&type=1&l=3e270fe309
Alice Davidson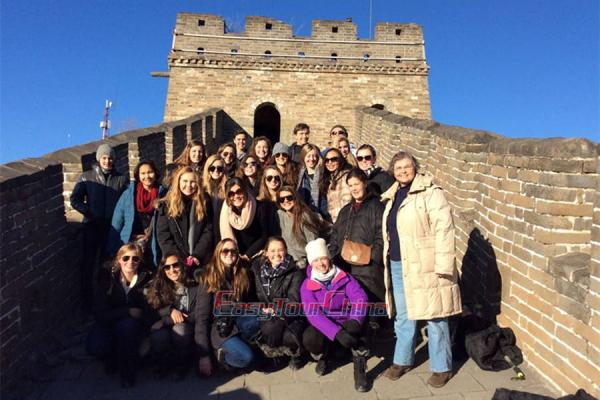 Tailor-made China tour itinerary
Day 1 Beijing Arrival, Beijing: Mutianyu Great Wall, Ming Tomb (Changling), Olympic Green
Day 2 Beijing: Tiananmen Square, Forbidden City, Temple of Heaven, Jingshan (Coal Hill), Beijing Roast Duck Dinner
Day 3 Beijing: The Summer Palace, Kunming Lake, Beijing Zoo, Panda House, A course to learn paper cut, Panjiayuan Antique Market, Acrobatic Show
Day 4 Beijing: Yonghe Lama Temple, Hutong Tour on a pedicab
Day 5 Beijing to Xi'an, Xi'an: Gao's Courtyard, Chinese Shadow Puppet Show in Gao House, Grand Mosque, Dumping Banquet for dinner
Day 6 Xi'an: Terracotta Warriors and Horses Museum, Learn how to make Chinese dumpling (Jiaozi)
Day 7 Xi'an to Guilin to Yangshuo, Yangshuo: West Street, Local market
Day 8 Yangshuo: Taichi Boxing Course, Li River Cruise at Xingping, Moon Hill
Day 9 Yangshuo: Cycling tour to the countryside, Chinese Traditional Painting Class, Silver Cave
Day 10 Yangshuo to Guilin to Beijing, Guilin: Tea Institute
Day 11 Beijing Departure