China Culinary Tour (Gourmet Food Tour)
For foodies, a culinary trip to China is the best way of discovering the country's culture, heritage, real people and the regional foods that appeal to both locals and visitors with gourmet tastes. All our China food tours are customizable based on a foodie's biggest aspiration in food, and take you to taste the country's rich and subtle flavors at both best restaurants and street food markets, showcase a wide spectrum of food scenes in China, arranges you the cooking school or local family home to cook authentic Chinese dishes, and also combine sightseeing with the must-see sights of China.
With a deep love and a glow of pride of Chinese food, we create the foodie tours of China to make sure you can also delve into China food culture, tradition and history, learning the many unique stories of different dishes, different neighborhoods, different gastronomic cities and different local people. Have your chopsticks ready, take the best gourmet food tours we offer, explore and eat like a local, enjoy happy eating every meal and have your adventurous appetite sated.
Easy Tour China food tours advantages:
● The trips cover the most popular destinations, world-class sights, the real life experience, blended with the classic Chinese cuisines, most famous dishes, locally produced craft Beer and thousands of authentic street food;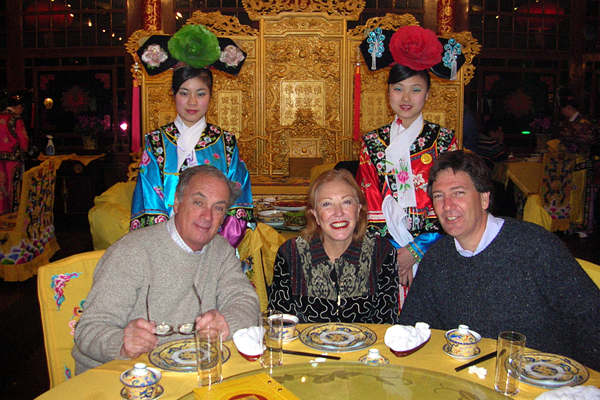 ● At each city, dine at different food venues, from best-selected restaurants (authentic taste at reasonable price), night markets, to private local homes;
● Witness the aesthetic or bustling gastronomic scenes at cuisine museum, family kitchen, local breweries, breakfast stalls, traditional wet markets…;
● Eat at the local neighborhoods where real locals live and eat, such as Beijing hutong and Shanghai nongtang, Xian Muslim Quarter, thus you can gain an immersing food and culture experience;
● We are not just Chinese food and drinks tasting tours. There are hands-on cooking chances -- practice your skills and learn from the local masters and residents to cook dishes yourself at Chinese cooking class in different places.
Best China Food Tours
We are devoting to creating some of the best China culinary tours, which are inspired by expert foodies, local residents and our foreign clients, and only unlock small parts of our ability on food. You are most encouraged to contact us to talk about your ideas. For instance, you're planning on a China street food tour, wishing to taste various street snacks and view the street food scenes, don't hesitate to tell us, and we will customize your delicious and fun food trip.
Destinations:
Beijing - Xi'an - Chengdu - Guilin - Yangshuo - Guilin - Shanghai
Highlights:
Eating and sightseeing through cultural Beijing, historical Xian, panda's hometown Chengdu and beautiful Guilin
Take Chinese cooking classes, with visits to Sichuan Cuisine Museum, vegetable garden & wet market
Street food tour for a wide spectrum of authentic local snacks
Destinations:
Beijing - Xi'an - Shanghai - Guilin - Yangshuo - Guilin - Guangzhou - Hong Kong
Highlights:
Top Chinese dishes served up at the famous local restaurants
Prepare your own "silk stockings milk tea" in Hong Kong
Make dumpling in Xian and cook in a village of Yangshuo
Discover various local dim sum & snacks in the markets, streets, food centers
Destinations:
Beijing - Jinan - Chengdu - Guangzhou - Shanghai - Suzhou - Shanghai
Highlights:
Visit China's renowned culinary capitals: Chengdu & Guangzhou
Taste the classic dishes of Shandong Cuisine, Sichuan Cuisine, Shaanxi Cuisine, Cantonese Cuisine, Suzhou Cuisine
Visit the Great Wall, Terracotta Army, panda base, etc.
FAQs on China Food Tours
Do you offer group tours or private Chinese food tours?

Currently, we offer only private guided food tours in China, with private guide, driver, tailor-made itinerary to meet your food preference, and ultimate flexible trip everyday, ensuring you / your family / couple the best culinary experience.

What will we eat on the tour? How much food is served? Are beverages served?

For most of our culinary tours, you can stop at 4 to 5 places a day to taste a wide range of foods, including the signature dishes (e.g. Kung Pao Chicken, Peking Duck, fish-flavored eggplant, scrambled eggs with tomatoes), traditional breakfast (e.g. dumpling, egg fried rice, xiao long bao), popular street foods, historic foods, dim sum -- all unique local specialties.


The food for each meal is surely enough for most people, let alone we will sample street snacks from time to time.


We offer a bottle of water for each of you every day, and you can also enjoy the local drinks, like beer!

What if I have a dietary restriction or food allergy?

If you have any food restrictions or allergies, whether you're allergic to seafood, or you don't want any spicy foods, please feel free let us know, and we can, of course, accommodate you. It is not a problem at all if you ask a special menu -- that's exactly the biggest advantage of a private tour.
For vegans, we can design for you vegetarian tours to China, with all delicious meat-free meals.

What restaurants will we visit on the tour?

We are going to eat at a variety of dining places, including the upscale Michelin-starred and pretty humble food stalls in the local neighbourhood, with all those culinary experience of different food scene.

Are the tours appropriate for children?

All of the China food tours can be customized, meaning, of course they can be perfectly devised for both adults and kids. With advance notice of your kid's preference and restriction, we can make arrangements on each meal accordingly, without missing some of the most popular Chinese foods for children. Besides, the hands-on cooking class and dumpling/noodle making will also cheer the kids up.

Are your tours senior friendly? Are they wheelchair accessible?

Yes, for the elderly travelers, we also have some special menus for them, with healthier, lighter, and more nutrient food.


For 20 years, we have been also delivering private China tours for people with disabilities, so don't sweat, we will take all your needs for consideration, and make your foodie tour of China as smooth as that of anyone else.

Any useful tips and advice for dining at Chinese restaurants:

- In Chinese restaurants, chopsticks, bowls and soup spoons are the traditional table ware.


- When using chopsticks, it is not polite to point them directly at the people. Traditionally Chinese never stick the chopsticks standing upright in the rice bowl, this is a reminder of the sacrifice at funerals.


- It is always suggested to drink the bottled or boiled water in China. The food served at small food stands by the street may not suit your digestion system.


- If you have an extremely sensitive stomach, then you avoid raw vegetables here. Always choose a restaurant which is dependable in terms of hygiene and quality.


- If you're invited to be a guest at a meal, don't be surprised that if your host tends to order more food than you expect, this is the way for Chinese people to show their hospitality (if you finish all, then it may imply the host didn't serve enough). What is more, your host may keep serving you tasty bites he/she thought to be, even you don't ask for it.


- When you are not so sure what to do, simply ask your guides or do as local people do. >> Read more for Chinese Table Manner
Inspirations for Gourmet Food Tours in China
Quick Tailor-made Inquiry Form