China Panda Tours 2023/2024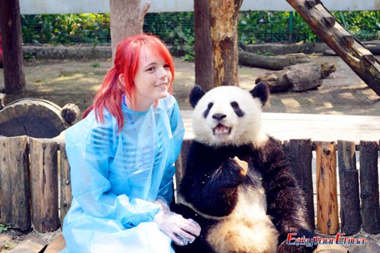 Giant Pandas, the endangered chubby creatures considered a national symbol of China, mainly lives in central western and southwest China, especially Chengdu in Sichuan Province. Easy Tour China arranges tailor-made panda tours in Chengdu to visit the giant panda reserves, bases, inhabit, and sanctuaries, with the opportunity to interact with this rare species, watch panda eating bamboo and special cakes, and see panda cubs playing in the trees.
By taking our private China panda tours, you can join the volunteer programs at a panda base in/nearby Chengdu, and become an honorary panda keeper to take care of them, clean pandas' enclosures, and even track wild giant pandas in the forest and UNESCO-protected natural habitat.
How to Plan a Panda Volunteer Program Tour in China?
There are more than 1,800 pandas living in the wild, and about 150 in captivity, whose sustainable future needs the efforts of local community, scientific organizations, as well as the help of volunteers. The giant panda volunteer program is the best way, for every one of us, to get closer to the beautiful panda. So now it is your opportunity to make your effort to help panda thrive.
Currently, Dujiangyan, Bifengxia and Wolong Shenshuping panda bases offer the panda volunteer program. By volunteering with pandas, put on the working uniform, you will help researchers to gather behavioral data, and look after panda before they get back to the wild.
If you're planning one day panda volunteer experience, Dujiangyan Panda Base is highly recommended, for it is relatively close to Chengdu, and volunteers can try a wide array of activities.
One day is not enough for you? Go to Wolong Shenshuping Panda Base for two- or multi-day panda keeper tours. Wolong, together with Mt. Siguniang and Jiajin Mountains, is part of Sichuan Giant Panda Sanctuaries, where the pandas are living in a more remote and wild environment. The red panda volunteer program and the baby panda volunteer program are also available.
Are you a big fan of giant panda and always dreaming of a life-time panda journey? Contact us right now to create your own unforgettable experience with giant pandas in China.
Suggested China Pandas Tours
Destinations:
Beijing, Chengdu, Shanghai
Highlights:
Enjoy 2 days panda volunteer program, being a happy keeper at Bifengxia Panda Base.
Explore big-name attractions of China, such as the great Wall and Forbidden City, with expert guide.
Experience the traditional and modern Shanghai.
Destinations:
Xi'an, Lhasa, Chengdu, Lijiang, Kunming, Guilin, Yangshuo, Shanghai, Beijing
Highlights:
The tour package includes must-visits of China: Terracotta Army, Great Wall, Palace Museum, pandas…
Discover the ancient Buddhist shrines in Lhasa, including Potala Palace.
Visit Lijiang Old Town and the wild Yunnan, witnessing another side of China.
Slide into the fairyland of karst landscape, enjoying Li River Cruise from Guilin to Yangshuo.
Destinations:
Chengdu, Lhasa, Shigatse, Chongqing, Yichang, Shanghai
Highlights:
Discover Chengdu cultural highlights, with a close contact with adorable giant pandas.
Take a spiritual Tibet Tour to visit ancient Buddhist temples & palaces, savor breathtaking views of Tibet plateau.
Cruise legendary Yangtze River to witness China's dramatic natural and cultural landscape in a relaxing way.
Best Chengdu Panda Tours with Volunteer Programs
We provide the following sample itineraries to help you customize your own Chengdu panda tours with or without panda volunteers programs, for family with kids, couple, or seniors. Don't hesitate to let us know your travel style, and the attractions and destinations you'd like to go as well.
The Best Places to See Pandas in China
Chengdu, with several panda bases in or nearby, is the best place to see giant pandas in China. The panda bases and research centers have been making tremendous efforts to preserve pandas. You're encouraged to take panda tours with volunteering to help much more work to be done!
FAQs about China panda tours
Where can I hold a panda in China and take photos?

Normally, at Bifengxia, Dujiangyan Panda Bases and Wolong Panda Research Center, visitors can donate CNY1,800 for each person to hold a panda and take photos.
However, please be noted that this donation program been temporarily suspended. We'll update the information if there's further news.

When is the best time to see pandas?

For your panda tour, visitors are encouraged to visit pandas during the morning time, especially between 08:30am and 10:30am, when the pandas are very active playing or happily eating their breakfast.
Since the panda mums usually give birth to panda babies from June to September, there're chances you may see panda cubs from September to December.

Do I need a health certificate for a panda volunteer tour?

Yes, you're required to obtain a health certificate to join in the panda keeper volunteer program. Please be free to contact with your travel consultant at Easy Tour China for details.

Are there any other places to see pandas in China, if I don't go to Chengdu?

If your China holiday doesn't include Chengdu or other destinations in Sichuan, but you still want to see pandas, you can visit the zoo in Beijing, Shanghai, Chongqing or Guilin, Hong Kong Ocean Park, or Macau Giant Panda Pavilion.

What are the volunteering jobs for a panda keeper tour at a base?

The panda volunteer work is not about taking photos for panda and simply observing. It is not easy, and actually physical jobs and activities, which might include but not be limited to: cleaning panda areas & enclosures, carrying and weighing bamboo, cleaning a lot of bamboo leaves, planting bamboos, making panda cake/biscuits, preparing other panda foods like carrots or apple, and watching documentary films about giant pandas.
Quick Tailor-made Inquiry Form