China's intricate train system, especially the high speed rail (HSR), links the vast country together, which makes travelling to the most intriguing destinations a reality.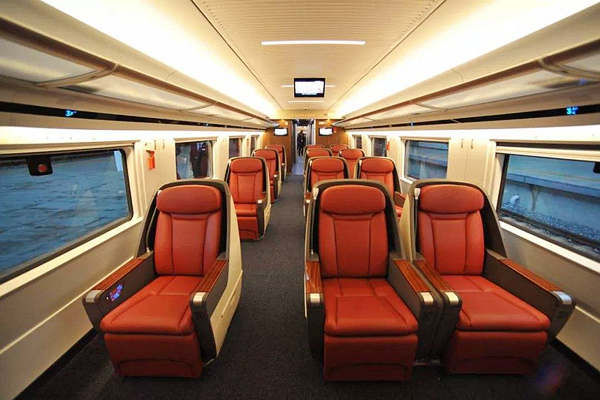 Train Tours in China is cheaper than flying. Visitors riding on China trains can enjoy the breathtaking scenery while interacting with fellow Chinese travellers. Save your budget on overnight hotels and expensive flight tickets, take the clean, safe and fast comfortable trains in China for inter cities transfer. The high-speed rail – the bullet trains in China are a viable option to flight in speed and comfort; while the soft sleeper class on regular train offers other kinds of comfort. >> Read more about travel in China by train

Tibet Train tours is popular, which is comfortable equipped for high altitude travel; taking trains from Xining or Lanzhou to Lhasa, travelers can enjoy the amazing natural beauty of the mysterious Plateau on the way. Silk Road tour by rail is another great train ride in China. There are some international trains from Beijing China to Hanoi, Moscow, Ulan Bator and Pyongyang which means you can extend China train tours to these fascinating countries and places.

A professional China train journey planner, we offer private China luxury train tours with customized itineraries that promise authentic experience, real-life adventure and affordable price. We also craft amazing train journeys for railfans, so you may study the Chinese train history, do photography, by experiencing various kinds of train rides and visiting the old railway stations and train museums.
Best China High Speed Train Tours
Classic China tours by high speed train allow you to explore Beijing, Shanghai, Xian, Chengdu, Guilin, Hong Kong, and all the highlights of China, in a more stylish and economic way. The speed train is safe, time-saving, cheap, comfortable and punctual, and has become the optimum choice to travel in China and experience the charming oriental culture.
Historic & Scenic China Train Trips
These china train tour packages conjure up the past and get you around the historical destinations and old towns. Also here you'll find some of the most scenic rides in China that traverse karst peaks, idyllic countryside, remote villages…
South China features dramatic landscapes and magical old towns, which are accessible by train trips.
Highlights:

Visit pandas, plus the Leshan Giant Buddha in Chengdu.
Travel from Shangri-La to Lijiang & Dali, savoring up history and nature.
Experience the historic Narrow-gauge Railway in Jianshui.
Journey through time by bullet train to discover China's historical traces and world heritages.
Highlights:

Old capitals of China: Beijing, Luoyang, Xian & Nanjing
Remarkable historical sites: the Great Wall, Terracotta Army, Pingyao...
Ancient Buddhist shrines, grotto art & birthplace of Kungfu
A fantastic China train journey allows exploring the country's most beautiful mountains and charming traditions.
Highlights:

Slide into the paradise of surreal karst landscape in Guilin.
Explore Zhangjiajie & Huangshan, experiencing sky walk.
Delve into local culture of Tai Chi, Terracotta Warriors, etc.
Insider's Picks for Rail Enthusiasts

Trans-China Tours by Rail
Train Travel Tips & FAQs about China Train Tours
How to book train tickets in China?

For international travelers, the best way to buy a China train ticket is to book with a China based online travel agency like Easy Tour China that charges reasonable commission fee, and exempt the fee if you book a China tour package with us. If you need to book yourself, book on www.12306.cn, the China Rail official website, and access its English version. >> Read more train tickets booking guide

How to read China train tickets?

For all China trains, including bullet train and normal-speed train, there are blue train tickets and red train tickets, which have similar information including boarding gate, departure and arrival stations, train number, departure date and time, ticket price, carriage number and seat/berth number, seat class, passenger's personal data, and other info. >> Read more for details

How to choose seat class for China train tours?

For short-distance high speed train tours in China, you can choose from second class seats, first class seats, business class Seats. With a higher level, a passenger can enjoy a bigger size of the seat, as well as a greater personal space.

How to change, cancel, refund a train ticket in China?

You can choose to change, cancel or refund a train ticket both online or at a specified window of a railway station. Normally, a passenger can change the departure date, train number, class of seats (berth), and seat (berth) number. You can get full refund if you cancel a ticket 15 days before departure, and have to pay cancelation fee if less than 15 days. >> Read more train ticket change and cancel policy

What are China Train Baggage Allowance & Policy?

To make your train trip in China more smooth, it's better you understand China trains baggage allowance. For both high-speed trains (C/D/G trains) and normal speed trains (K/T/Z trains), the free maximum carry-on luggage weight is 20 kg (44 lb.) for adult, and 10 kg (22 lb.) for a child. The carry-on baggage size is ≤ 130cm (51 in) for bullet train, and ≤ 160cm (63 in) for normal trains. >> Read more what items prohibited on a China train

Is it convenient for senior travelers to take train tour of China?

Yes, it is very convenient and safe for seniors travel in China by train, but high speed train is recommended for the elderly and retirees, instead of the normal-speed train or green train. China high-speed trains and the rail stations give full consideration to the elderly passengers, with senior-friendly facilities, and providing them with a fast, comfortable, convenient and cheap way to travel.

The elderly people with walking difficulties should be escorted to the train station by family or friends. You can contact the customer service of the railway station for assistance in advance. The station service staff will open the "green channel" -- the fast access, with elevator, wheelchair, and some other tools, for the elderly to get into the station and get on the train.
Most-read Articles about China Train Travel
Create Your Trip to Real China!