China Silk Road Travel Tours
The great Silk Road has beckoned ancient merchants, traders, caravans, missionary, and today's history buffs and intrepid travellers for more than three millennia, who come promoting trade, culture and ideas exchange between the East and the West, and seeking traces of the powerful empires lost in the sands of desert.
Easy Tour China is a specialist for the customized Silk Road tours. We have been working with a professional archaeological tour company based in USA for years. On Easy Tour China's Silk Road tours, follow in Marco Polo's footsteps to unveil the most legendary ever trading route in history. Embark on the epic road trips, riding through stark gobi deserts, to discover abandoned trading posts, Buddhist cultural heritage, ruins of the Great Wall, historic sits of ancient passes and frontiers, and take in breathtaking landscapes and wilderness quite different from those of the inland. Besides, we won't miss the wonderful Silk Road adventure stories.
Old Silk Road Trade Route & History
The history-rich Silk Road brings together several major civilizations in human history, and is a great combination of natural, historical, cultural and religious resources. To understand the Silk Road history, its importance in archaeology, and to study Sino-Western exchange and trade, and the geographic diversity, you need best Silk Road tours led by a local expert guide.
How long was the Silk Road?
The ancient Silk Road trade route stretches nearby 6,500 km (4039 miles) from China, via Central Asian countries, Afghanistan, Iran, Iraq, Syria, reaching the Mediterranean regions and ends in the Ancient Roman Empire. China and Rome were the two greatest civilizations at the time. The Silk Road in China extends more than 4,000 km (2485 miles) on the sparsely populated regions of Northwest China, a vast, untamed and untrodden land mainly of desert, with part of grassland.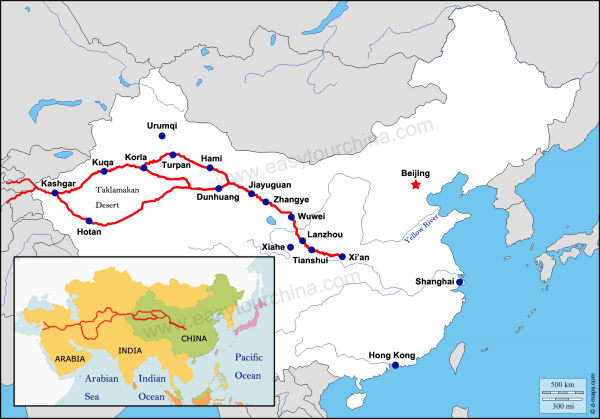 What are the three main routes of the Silk Road?
Since its opening up by Zhang Qian in the Han Dynasty (206 BC-220 AD), the Silk Road made the international trade flourish in the vast territory of Eurasia. According to Marco Polo, the most famous traveler of the Silk Road, merchants from Europe, Central and West Asia brought large quantities of gold and silver, jewelry, medicine, strange birds and animals, and other goods to China or sold them along the way. What they bought from China were mainly silk, tea and porcelain.

The three main trade routes all started from Chang'an, today's Xian, and all traversed the Xinjiang Uygur Autonomous Region. Our guided Silk Road tours are crafted mainly based on the three routes.

The North Route: Xian - Dunhuang - Hami - Urumqi - Yili - the former Soviet Union - the Caspian Sea and the Mediterranean Sea - Rome.

The Central Route: Xian - Dunhuang - Hami - Turpan - Yanqi - Korla - Kuqa - Aksu – Kashgar (the last stop of the Silk Road in China) - Pamirs - West Asia

The South Route: Xian - Loulan - Qiemo (Cherchen) - Hetian - Yutian - Shache - Kashgar - Pamirs - south to India and Southeast to the direction of Afghan.
Best China Silk Road Tours Experience
Embark on one of the classic China Silk Route tours, from Xian to Dunhuang in Gansu Province and further afield to Xinjiang, with expert guides who know the Silk Road history and local culture inside out, to explore the highlight attractions, archaeological sites, exotic villages, bustling markets and desert landscapes. Have an in-depth study of Silk Road Buddhism while experiencing traditional and disappearing ways of life. The camel riding in the desert is also a must. All our private Silk Road trips are tailored to your interests.
More Guided China Silk Road Tours by Length
Explore more Silk Road tour ideas below. Don't find the one fit for your schedule and interest? Feel free to contact us to create your own journey to the Silk Road - ETC travel expert team will expose you to incredible places, people, and activities. Visit Terracotta Warriors and Horses Museum, Zhangye Danxia Landform, Crescent Lake & Singing Sand Dune, Mogao Grottoes, Karakul Lake, and many significant Islamic monuments…
3-7 days China Silk Road Holiday
8-11 days China Silk Road Discovery
More than 12 days China Silk Road Adventure Tours
Top Destinations & Highlights on the Silk Road of China
A life-time journey through this ancient trade route, travelers should not miss the top destinations and highlight attractions. Travel the Silk Road key cities in China including Xian, Dunhuang, Urumqi, Turpan and Kashgar, where there are iconic Silk Road sites to delve into.
Inspiration - Articles about the Silk Road
Quick Tailor-made Inquiry Form