Welcome to ETC Travel Solutions for senior tourists from other countries!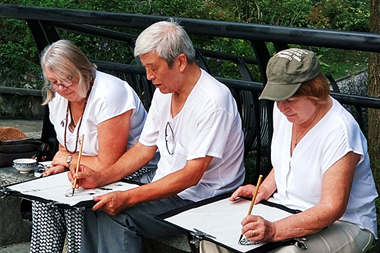 Age is just a number, your attitude determines how far you can go. Thanks to the convenience of international transport, traveling far to another country is no longer inconceivable; meanwhile, modern healthcare system and good living habits allow senior people have a strong constitution to explore the extensive and unknown world. For most senior tourists from Western countries, China is no doubt a remote, exotic and mysterious world to travel. What is more, China has become a rising power globally. It is never too late to see this ever-evolving country, which reflects a unique political system, economic model and cultural background, very different from any other democratic countries.
To find a reliable tour company to handle your China tour package is crucial to a successful trip.
As a China-based tour company running for 20+ years, Easy Tour China excels at customizing tour packages for the elderly and seniors over 60, 70, and 80+ years old. Our travel specialists are not only your personal tour planner, but your friend in China and someone you can rely on, who will do everything to make you a pleasant and flawless trip with no hassles and hiccups.
Why ETC team can create a carefree trip in China for senior travelers:
1. Make your trip easy. Just like our company name, ETC travel specialists were trained to make things easy, simply and uncomplicated for senior tourists, no matter during the planning phase or execution phase. This is the way for us to ensure without the compromise of services and experiences.
2. Professional and Patient. Based on the needs of the elderly, we carefully listen to them or read their message, and pay more attentions to some details on what they really request and expect from the coming trip. When we design a smooth China holiday for seniors, travel specialists will take many issues into consideration, for instance, domestic transportations, hotels, travel duration, tour pace, clients' health conditions, activities, meals, guides, drivers and vehicles, etc.
3. Experienced Local operator. After successfully accommodating thousands of international senior travelers, we accumulated adequate experiences and handpicked the places of interest, restaurants, and hotels for our clients, which are senior friendly. ETC team provides 1-on-1 customer service to make the communications more efficient and smooth.
4. We understand needs of international senior travelers. ETC service staff including travel specialists, guides and drivers has been trained to be flexible and adapt to the changes when requested by clients, especially during the long-haul China tour with 3+ destinations. We also realize the importance of arranging ideal tour guides, who are patient, caring, and adaptive to senior travelers.
Simply drop us a line and let us know your ideas, we will make your dream to China come true!
Private China Tours are Highly Recommend for Senior Travelers
Easy Tour China is a professional China tour operator who provides worry-free private tours for senior travelers for over 20 years. The travel itineraries for seniors cover the cities and places most worthwhile to visit at an enjoyable pace while still feeling rested and relaxed. The tours are specially designed to meet the needs, comforts and travel style of the elderly travelers. You will be served and escorted by our experienced, considerate and helpful guides & drivers, and enjoy delicious a la cart meals at local restaurants.
Seniors' China Tours offered by Easy Tour China are unforgettable journeys for couples, family and friends. The beautiful landscape and profound culture of China will certainly impress you. Besides, it is also a learning opportunity of lifetime, with cultural immersions, real life experiences and interactions with locals. Most importantly, we guarantee you a fantastic China trip without any hassles and trouble.
Tailor-made

With rich experience in planning China tours for seniors, our travel experts listen carefully to your wishes and ideas, and tailor your China vacation.

Relaxed-pace Itinerary

We provide relaxed-pace itinerary suitable for senior travelers, with the elderly-friendly activities such as Taiji lesson, Chinese painting class, etc.

Accommodation

Hand-picked senior-friendly hotels to meet your needs and taste – from international luxurious hotels to local courtyard boutique hotels

Safety & Comfort

Travel in China in a most comfortable and safest way – with extra care from your private guide and driver all along.
Best China Tours for Seniors & Elderly
Destinations:
Beijing, Xian, Chongqing, Yangtze River, Shanghai
Highlights:
Ascend the enormous Great Wall of China by cableway to save energy.
Practice Tai Chi in front of Temple of Heaven, a sacred site that consists of magnificent architectures.
Cruise Yangtze River on a luxurious ship to view the dramatic changes of China.
Destinations:
Beijing, Xian, Guilin, Yangshuo, Shanghai
Highlights:
Explore the essence of ancient China from the Great Wall & Forbidden City to Terracotta Army.
Escape to the picturesque countryside of Yangshuo on a Li River cruise trip.
Meet the futuristic China by touring Shanghai, where traditions can still be discovered.
Destinations:
Beijing, Xian, Shanghai
Highlights:
Visit Beijing for its UNESCO World Heritages, as well as the cultural-oriented hutong alleyways.
Meet Terracotta Army in Xian, and discover the city's most popular food street.
Travel in Shanghai for the Bund architectures, traditional garden and local temple.
More Senior Tours to China
Our China Seniors Tour Reviews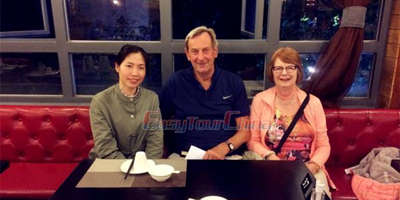 Thank you so much for organizing our tour of China. Everything went well, and we had a wonderful time. And thank you again for treating us for dinner in Guilin- it was a delightful evening.

- Frank from Canada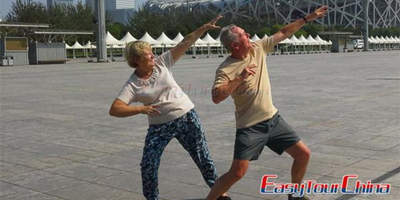 The ETC tour was excellent with good hotels; guides who were knowledgeable and spoke excellent English; and good daily content. Many thanks to you for organising the trip. Please also pass on to the guides concerned our thanks.

- Phil Linley from UK
FAQs about China Tour for Seniors
Should I choose a private tour or a group tour?

For senior travelers, we suggest that you take a private China tour. A group tour means a fixed schedule, fast-pace itinerary, shared vehicle and tour guide, and lacks flexibility. While if taking a private tailor-made China trip with us, you'll have your own exclusive guide and driver, who will accommodate your personal requirements during the entire trip and make sure your journey in China more comfortable and enjoyable. Besides you may find that the price of a private tour offered by Easy Tour China is not that different from that of a group tour in your country.

What are the best destinations in China for senior travelers?

When planning a China trip, senior travelers are suggested to consider suitable destinations with favorable climate, good accommodations, convenient transportation and without high altitude. Cities like Beijing, Xian, Shanghai, Guilin, Yangshuo, Hong Kong, Chengdu, Hangzhou, and Suzhou are considered the best destinations for seniors. Besides, Yangtze River cruise with luxurious amenities and relaxing activities are also great choice for the elderly. Read more

Do you arrange senior-friendly attractions and activities?

Of course. On Easy Tour China tour packages for seniors, we include the best attractions and programs for you, and the itinerary can still be customized. You will visit the Great Wall by cableway, hutongs by rickshaw, summer palace with a boat cruise. Cultivate body and spirit by Tai Chi practice, savor Chinese culture with Chinese painting & calligraphy class, have a rich travel experience by making dumpling, visiting local markets and families, and enjoying peaceful life in real villages.

Can you recommend good accommodations for me so that I can have good sleep and rest?

Yes. We totally understand that you need good rest after a full day trip, so our travel experts take it seriously to recommend accommodations for our senior clients. Usually a well-located hotel/resort with ample room, modern facilities and excellent service will be recommended to you. You can just be free to let us know your request on accommodation.

Do you arrange senior-friendly meals?

Our China tour packages include meals that can be senior-friendly and customized to cater to the personal needs. The meals can be nutrient, halal food and vegetarian diet. If you're allergenic to any foods, we'll also avoid arranging accordingly.

What are the health advices for seniors planning a trip to China?

- Apply comprehensive travel insurance based on your holiday preparations; make sure the insurance policy covers all your needs.

- Have medical check-ups before the trip to China, especially for those senior travelers who have coronary heart disease, hypertension, and any other chronic symptoms, recently had surgery or suffered from a heart attack; Get wise advice from doctors.

- Take the medical record with you in case you need it; leave your doctor's name, address and phone number, emergency contact name and phone number, and your insurance company's name, address and phone number on it.

- Take some regular medicine and First-aid items like adhesive bandages in your carry-on. If you need to take big amounts of Pharmaceutical Benefits Scheme (PBS) medication and over-the-counter medication, you are supposed to take a letter of explanation from your doctor. Keep all medications in the original, labeled container to avoid customs problems. Make sure that some medicine can not enter China and contact the embassy for details.

Any safety tips for senior travel to China?

- Be careful about buying food or drinks from street vendors; Avoid undercooked meats.

- Hide your money and keep your wallet securely; when carrying a purse, hold it tightly.

- Keep the door to your room locked at all times. And don't leave cash, travelers checks and expensive electronics and jewelry lying around the room. Use the safe in the room or just store it at front desk.

More safety tips for the elderly travelers