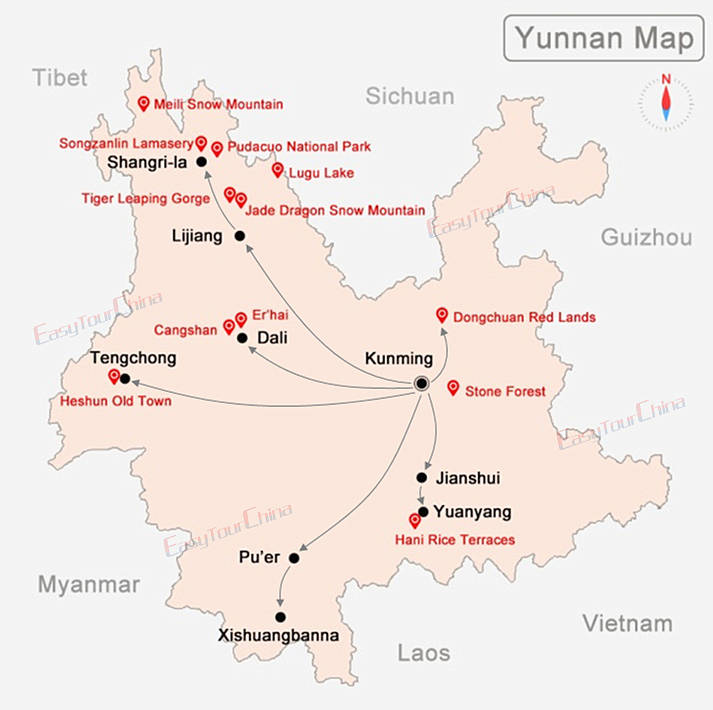 The beauty of Yunnan must be seen to be believed. Create your Yunnan tours to Kunming, Dali, Lijiang, Shangri-La, and further discover many untouched paradises!
Yunnan lies in the southwest of China, well known for its spellbinding landscape from the high snow peaks edging Tibetan Plateau to tropical rainforest in Xishuangbanna. The ancient Tea and Horse Road linked all the most popular destinations in Yunnan, from the original source of all tea - Xishuangbanna, heading north up the former trading post Shaxi Old Town, then further north to Lijiang Old Town, along the Tiger Leaping Gorge, finally ending in the mountainous areas of Shangri-La.



Given its incredible natural beauty and rich ethnic culture, Yunnan is also a heaven for photographers. Make your way to Yuanyang Rice Terraces, Dongchuan Red Land, Lugu Lake, Nujiang Grand Canyon… and meet local minority groups for their original old towns and splendid customs and costumes. If you're a seasoned traveler to Yunnan with adventure in mind, it's time for you to explore some real hidden beauty, through breathtaking wildness, remote villages and mist-covered mountains and mighty valleys...
Top Yunnan Tour Packages
These are the most popular Yunnan tours of 7 to 12 days that feature private local guides and transfers – especially recommended to first-timers in Yunnan. Tour Kunming, Dali, Lijiang, Shangri-La and Yuanyang Rice Terraces to explore the best of Yunnan, taking in amazingly beautiful landscape, delving into the ethnic culture, soaking in the intriguing history, tasting unique local delicacies, and interacting with local people.
Explore Yunnan for intriguing history, ethnic culture, natural beauty and incredible rice terraces.
Destinations: Kunming - Jianshui - Yuanyang - Dali - Lijiang - Shangri-La
Visit the charming old towns and primitive villages.
Explore UNESCO-protected Stone Forest & Yuanyang Rice Terraces.
Admire Tiger Leaping Gorge, Songzanlin Monastery…
The classic itinerary of Yunnan ensures authenticity, real life experience and highlight attractions.
Destinations: Kunming - Dali - Lijiang - Shangri-La
Explore the authentic fishing village beside Erhai Lake.
Take in beautiful views of Jade Dragon Snow Mountain and Tiger Leaping Gorge.
Visit Lama's dormitory at Songzanlin Lamasery.
Travel to South Yunnan to meet ethnic minority people and admire Honghe Hani Rice Terraces.
Destinations: Kunming - Jianshui - Yuanyang
Visit the less-crowded Stone Forest Geopark.
Discover many old structures at Jianshui Old Town.
Mingle with local Hani and Yi people in the local market.
Hot Destinations in Yunnan
Explore three classic Yunnan destinations Kunming, Dali and Lijiang, on private guided tours. Visit the highlights of the cities – admiring the Stone Forest, embracing the history and traditions at Dali and Lijiang old towns, taking cableway on Jade Dragon Snow Mountain, hiking Tiger Leaping Gorge…
Capital city of Yunnan Province, usually the gateway city of Yunnan tour
The old towns of Lijiang remain intact while the landscape is breathtaking
Explore Three Pagodas, Erhai Lake, Cangshan Mountain, further to Shaxi & Weishan.
Adventure Tours of Yunnan
Yunnan is a destination for the adventurers. Discover for yourself the other-worldly scenery of Three Parallel Rivers of Yunnan Protected Areas and numerous remote villages for secret mountain tribes. On ETC adventure tours in Yunnan, trek the touched Yubeng Village, discvoer ancient Tea-horse Road and experience local traditions, folklores and real life.
Extend Your Yunnan Tours to Other Parts of China
Here you can find travel packages of Yunnan with other places of China, such us the Golden Triangle Beijing, Xian and Shanghai, the nearby Sichuan and Guizhou provinces, the heaven-like Guilin, surreal Zhangjiajie… All of the sample tours can be customized to cater to your personal wishes.
Custom Yunnan Tour Inquiry Form