Beijing, the cultural and political heart of China, is always an excellent starting point for global travelers to explore the kaleidoscopic array of attractions and experiences that China has to offer. There seems to be an endless choice of sights in this metropolis that seamlessly blend tradition and modernity, ranging from imperial palaces to skyscrapers, ancient temples to bustling markets, and traditional Peking opera to contemporary art.
Planning a tour of Beijing? Except for the famous and classic landmarks such as the Forbidden City, the Temple of Heaven, and the Great Wall, we also offer Beijing tours with unique experiences like tasting traditional Beijing snacks, enjoying a special picnic on the Great Wall, and connecting with local people... The following Beijing tours can be customized according to your interests, budget, and time.
Best Beijing Private Tours
These classic Beijing private tours are expertly designed to cater to diverse clients, including senior travelers, families with kids, and foodies. When you travel with Easy Tour China during your stay in Beijing and China, you can rest assured that you are in good hands. All you have to do is relax and enjoy the trip.
Beijing Great Wall Tours
A trip to China would not be complete without visiting the Great Wall of China. And Beijing is the best place to see the spanning man-made miracle. Here are some sample Beijing Great Wall tours for your inspiration.
Weekend Getaways and Short Tours from Beijing
If you are looking for some inspiration for quick getaways from Beijing, look no further. Whether you are expats living in China or business travelers, our carefully crafted getaway tours from Beijing listed below will enlighten you. Looking for more private short tours in China? Click here for more weekend tours and 4-6 day short trips in China.
Beijing Layover Tours
Want to make the most of your layover in Beijing? Take a private Beijing layover tour to visit the highlights of Beijing in a well-paced manner. Suggested layover trips listed below are suitable for a layover at both Beijing airport and Tianjin Cruise Port. Or, we can assist you in tailoring a Beijing layover tour to fit your specific layover schedule.
A classic layover itinerary maximizes your time, exploring the best of Beijing with must-visit sights
Beijing must-sees and tasteful Peking duck dinner
Tianjin historical and cultural Yangliuqing Folk Arts
China Tours from Beijing
Beijing is typically the first destination for international travelers visiting China because it serves as the country's capital and is home to two major international airports. You can easily extend your China tour from Beijing to many other popular cities, including Shanghai, Xian, Guilin, Chengdu, Hong Kong, etc.
Discover the essence of China on this classic China golden triangle tour. Perfect for first-time vistors to China.
Best China tour for first-time visitors to China. Must-see attractions, history and authentic rural China.
Marvel at the many faces of China on this multi-sensory tour. Historical & cultural immersion, amazing food, natural wonders...
Experience both tradition and modernity in Beijing and Shanghai, and enjoy being a panda keeper.
This China foodie tour combines culture, history, and cuisine to create a once-in-a-lifetime experience.
This is an unique opportunity to explore the real China. Visit local family, have breakfast at Hutong, learn mahjong...
What Our Customers Say?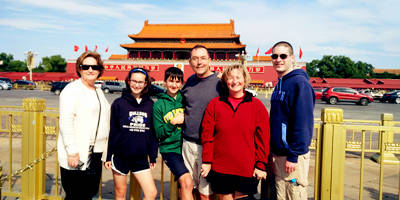 On behalf of the Hall and Vergona Family, the trip was truly amazing. Our guide, Sherry Li, was perfect. She was professional, patience, kind and generous. She exceeded our expectation. Our driver was just as wonderful. Both of them made our trip perfect. I am in Tokyo now and was talking to a couple from Australia about your company. I used Easy Tour China in July for an eight day tour and am a returning customer. Thank you very much.

- Helen, United States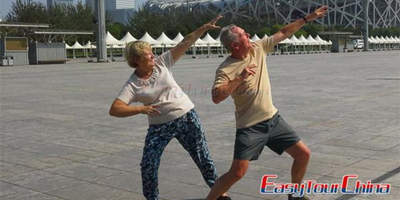 The ETC tour was excellent with good hotels; guides who were knowledgeable and spoke excellent English; and good daily content. Many thanks to you for organising the trip. Please also pass on to the guides concerned our thanks.

- Phil, from UK
Beijing Tours FAQs
1. When Is the Best Time of Year to Visit Beijing?
You can travel to Beijing whenever you want. The best times to visit Beijing, however, are May, September, and October. Autumn is the best season, with its comfortable weather, pleasant temperature, and colorful scenery. Before planning a trip to Beijing, it is important to gather more information about the weather in Beijing by month and also consider some packing tips.
2. What are the Best Things to Do in Beijing?
The massive city of Beijing boasts a diverse range of tourist attractions, in addition to a rich historical and cultural heritage. The most popular things to do in Beijing include:
3. Which Section of the Great Wall Should I Visit?
There are eight sections of the Great Wall near Beijing City. Which section of the Great Wall is the best to visit? Well, it depends on what you're interested in. The Badaling and Mutianyu sections are the two best-preserved sections. Since the Badaling Great Wall is the most popular section of the Great Wall among Chinese tourists, it can get very crowded. The Mutianyu Great Wall is a better choice. If you enjoy hiking, the Jinshanling and Jiankou sections offer an excellent hiking experience with pristine and wild scenery. Looking for a captivating sunset and night view of the Great Wall? Go to the Simatai Great Wall section.
4. How to Apply for a 144-hour China Transit Visa in Beijing?
Firstly, you must confirm that you are eligible to benefit from the 144-hour visa-free transit policy. Click on 144-Hour China Transit Visa for more information. To apply for a 144-hour transit visa, you must have: (1) a valid passport, (2) a valid visa for a third country or region (if required), (3) completed arrival and departure cards for temporary entry foreigners, and (4) an onward ticket to a third country/region with a confirmed seat and date within 144 hours of arrival.
Can't Find What You're Looking for? Customize Your Beijing Tour