China Walking/Hiking Tours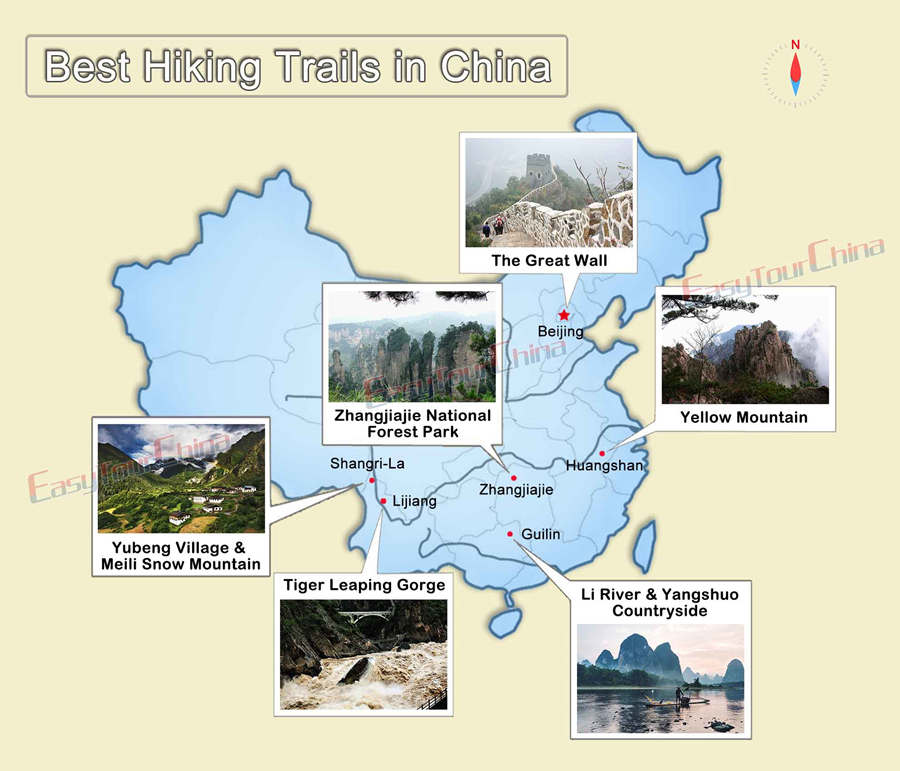 Have your walking boots ready for an active China adventure tours. The Easy Tour China walking and hiking tours combine great walks, hikes & treks, fabulous sightseeing excursions and unique cultural experiences.
Featuring an amazingly diverse landscape of mountains, valleys, gorges, rivers and primeval forests, and a wealth of larger-than-life historic sites, China boasts some of the best hiking trails in the world. When you travel with ETC - with plenty of itinerary choices, tailor-made service and expert local guides – you can have almost everything you desire. The walking/hiking tours of China are a wonderful blend of exploring the natural wonders and learning Chinese traditional culture and its rich history. Discover the Great Wall, Tiger Leaping Gorge, Yellow Mountain and incredible beauty of South China Karst while hiking the trails.



Apart from the classic hikes, our guests can walk off the beaten track to the remote mountainous areas and truly untouched heaven-like villages that have resisted modern influence to retain their thousands-old characters. Furthermore, our private guided hiking and trekking tours in China will appeal to active individuals with a sense of adventure who want to witness and experience the local people and lifestyle first-hand.
Tailor-made Tours

Our custom walking/hiking trips ensures flexibility for dates, destinations, walking pace and can be suitable to different levels of fitness and abilities.

Hike in China Like a Local

Led by a local hiking expert, who are passionate and regional knowledgeable, you can walk and hike with back roads and experience authentic homestays.

Responsible Travel

Instead of getting from point to point for sightseeing, explore and learn about China on your feet, to unveil the unexplored environment and ancient wonders.

Safety

With our experience, especially the local guides', we get your back, to make sure your hiking trips in China safe, worry-free, memorable and enjoyable.
Best China Great Wall Hiking & Camping Tours
One of the most popular hiking trails in China, the Great Wall is suitable for various people to walk. Our Great Wall of China hiking tours are impeccably crafted -- combing walking, trekking, camping, night tour, and incredible Great Wall photography opportunities. Whether you're adventurers or a family walking the Great Wall with kids or seniors, there's something for you.
Classic Long-distance China Walking & Hiking Adventures
Our long distance eco-friendly China walking and hiking packages, blending with classic site visits, immersive cultural activities, exclusive encounters, authentic biking trips and trekking adventures, are here for you to enjoy the best of China while being mindful of the environment.
China's Most Beautiful Hikes & Walks
Whether you're looking for a brisk weekend walk for urban trails, an exciting hike in China's most beautiful countryside with multipurpose including biking, photography and real village life experience, a challenge/remote hike off the beaten track to discover the untouched, hidden places in Tibet and Yunnan, our most beautiful hiking and walking tours in China are sure to fulfill your desire for convenient adventure.
Summit Hiking / Peak-bagging / Mountain Hiking Adventures in China
If you're a mountaineer who is fond of walking the mountain trails and stairs, hiking to reach the summit of certain mountains, or prefers trekking more rugged, off-trail areas in the wilderness, and even spend a day or two on the trail, camp and sleep under the stars, here we go.
Desert Hiking Tours in China
Our China desert walking/hiking tours take active travelers to explore several of China's most beautiful and mysterious deserts, and uncover the history of the Silk Road and exotic culture of Xinjiang and Inner Mongolia.
Led by local expert hiking guide, conquer the summit of "the Everest Desert"- Badain Jaran, and discover its many tranquil lakes, mysterious singing sand dune…

Destinations: Alxa Youqi, Inner Mongolia

Difficulty: ★★ - moderate

Type: Desert Hike

Max altitude: 2,040m

Enjoy part of the old Silk Road walking, from Crescent Lake & Singing Sand Dune to Shanshuigou Valley and the Great Wall of Han dynasty.

Destination: Dunhuang

Difficulty: ★★ - moderate

Type: Desert Hike

Max altitude: 1,138m
Easy Tour China Walking & Hiking Tours Reviews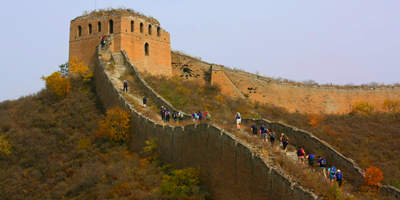 We (a group of 12 members) spent 2 weeks in Shanghai and Beijing, and I think all members of our party agree that this tour was the highlight of the trip. Simatai - Jinshanling Walk - What an incredible experience. I have visited 5 continents and many sights, and this is my new favorite. Compared to friends who went to Badaling, the experience we had was unmatched. Highly recommended.

- Eric Clark from Australia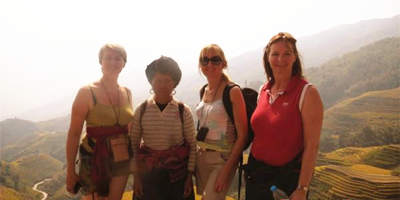 The hiking trip in Longji was so beautiful; a local guide in the mountains was colorful and essential. It was nice to arrive in Ping'an and to stay there overnight…

- Goedele, Ruth and Meg Heidbuch
Common Questions about China walking/Hiking Tours
What are the best hikes in China?

There are many amazing hikes in China, close to the cities or scarred over the mountain areas. Here we list some of China's best hikes that are workable for most travelers:
1. The Great Wall of China
2. Tiger Leaping Gorge
3. Yellow Mountain
4. Li River & Longji Rice Terraces
5. Mount Hua
6. Zhangjiajie National Forest Park, Tianmen Mountain & Zhangjiajie Grand Canyon
7. Yubeng Village around Meili Snow Mountain Area
8. Xinjiang Kanas
9. Four Girls Mountain
10. Namjagbarwa Mountain

Best time to hike in China?

Best time to hike the Great Wall is from April to November.

Best time to hike Li River and Longji Rice Terraces in Guilin is from middle of April to October.

Best time to hike Tiger Leaping Gorge is spring and autumn, when the temperatures are mild with lower humidity.

Best time to hike Yellow Mountain from April to November.

Best time to trek Yubeng Village is from Mid-April to May, September and October.

What are the differences among your walking, hiking and trekking trips in China?

It is absolutely different to walk, trek or hike in China.

With our China walking trips, it is most likely you'll walk the urban trails for the architecture, history, back streets or local culinary delights of a city, like Beijing or Shanghai. Besides, there're also Great Wall walks and countryside wandering through rice paddies.

Our hiking tours of China involve relatively long energetic walks in a natural environment like Li River, wild sections of the Great Wall or Zhangjiajie mountains on hiking trails or footpaths for several days. It requires more physical strength, and more challenging than walking.

We also craft some trekking trips in China for thrill adventures seekers, with which you will trek in wild natural environment (e.g. Tiger Leagping Gorge and Yubeng Village) and conquer mountain peaks (e.g. Mount Siguniang). Of course trekking in China requires more physical and mental strength, and more challenging than hiking.

What are the types of trails I will walk and hike in China?

On our China walking & hiking tours, we cover as many trails as possible to make the trips diverse, exciting and exhilarating, and suitable for people of different interests and different levels of hiking expertise. The trails on our trips include paved flats hiking trail, access foot trail, walkways, bikeways, broadways, backcountry trail, interpretive trail (nature trail), loop trail, mountain trails, desert trails, long distance trail, ancient trail, etc.

Do you have hiking tours in China for family with kids and the elderly people?

Yes. If you are a family with children and seniors wishing to walk/hike in China, we've got a range of walking tours for you to choose, with Great Wall of China family hiking, brisk city walks, leisure countryside strolls, and light backcountry trail hiking. All of the trips can be customized to meet your needs, and allow you to hike even in the wild outdoors and camp, without worries and danger.

What about the accommodations on your walking/hiking tours?

For city walks and leisure countryside hiking (e.g. in Yanghsuo), we usually arrange for our clients the star-rated hotels, ranging from five stars to economic hotels. But in remote countryside, especially the mountainous areas (e.g. Tiger Leaping Gorge), the accommodation will probably be very basic guesthouses. And on the Great Wall hiking trips, we can arrange overnight camping on the bacon tower.

What to pack for a hiking tour in China?

Please keep luggage to a minimum – you will need to carry it yourself at airports. The baggage allowance is normally 20kg for checked-in luggage and 5kg for hand luggage.

It's best to take a layered approach to cope with the differing temperatures you are likely to experience. You will find dress in the hotels very casual, though you may wish to take one smarter outfit. During sightseeing, you may visit temples or religious buildings in which dress restrictions apply so please ensure you have appropriate clothing.

• Walking Boots – well worn–in, with good ankle support and strong- ridged soles with good tread and spare boot laces

• Loop-pile socks – some find one thick and one thin pair reduces the risk of blisters.

• Spare clothing – several thinner layers are better than one thick layer

• Waterproof trousers and jacket – with hood

• Shorts

• Long trousers and long-sleeved shirts with collars - as protection from the sun.

• Sun hat

• Swimming costume and swimming cap (for use in hotel pools).

• Comfortable clothes - for evenings

• Comfortable shoes – for sightseeing

• Insect / mosquito repellent, camera, umbrella

What else to pack on the walks/hikes/treks?

First Aid Kit – including plasters, painkillers, antiseptic

• wipes and lipsalve

• Sun protection – sunglasses; high factor sun screen and lip protection

• Water bottle – with at least 1 litre capacity

• Collapsible stick – many people find these useful for walking on rough and slippery terrain

• Lightweight survival bag

• A small rucksack and a small second bag – a bin liner will keep contents dry if it rains
TripAdvisor Traveler Rating

Based on 42 traveler reviews
TripAdvisor Ranking #3 of 30 Outdoor Activities in Guilin
Most Recent Traveler Reviews
© 2019 TripAdvisor LLC
Walking/Hiking in China Tips
Quick Tailor-made Inquiry Form