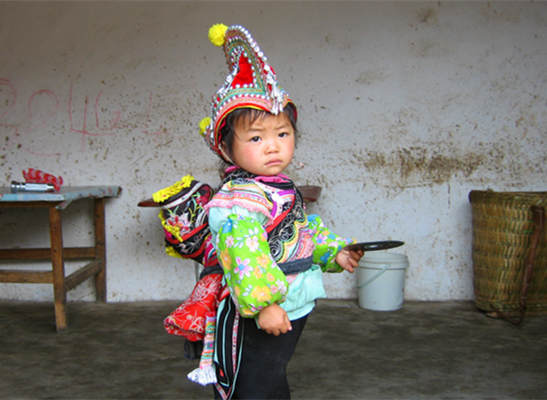 At Easy Tour China, we wholeheartedly believe that to deliver sustainable tourism with less impact to local resources and more benefits for the community and people is one of our important missions. So we have the Eco & Ethnic Tours in China to help world travelers create seamless and memorable travel experiences around the country's most exotic & beautiful minority regions, such as Yunnan, Guizhou, Sichuan, Tibet, Guangxi and Hunan.
TThe adventure tours combine nature, culture, history, experimental experience and sustainability. Discover the untouched villages in the mountainous areas where the life has been forgotten, hike through heavenly natural wonders to minimize your impacts. Travel off the big cities to explore the remote areas for the colorful, mysterious tribal culture. Furthermore, participate in the incredible traditional ethnic festivals of Miao, Tibetan, Dong, Yi, etc. – a cultural experience like no other.
Suggested China Eco & Ethnic Minority Tour Packages
To discover China's some amazing facts and its people, and delve into its ethnic minority culture, you are encouraged to tour Southwest and South China. Below are some carefully-designed itineraries of Yunnan, Sichuan, Guizhou, Gansu, Guilin and Zhangjiajie combo for your unique eco & ethnic trips in China. Don't hesitate to let us know if you wish to customize your trip.
Highly Recommended Ethnic Festival Tours in China
To make the most of your ethnic tours in China, you are suggested to join in the minority groups' grand traditional festivals, indulging in the happy atmosphere when all of the locals are dressed in traditional outfits, participating in various fun-filled cultural activities, uncovering the legendary stories of history, seeing local life in all its richness and authenticity…
Take the rare chance experiencing the grand Tibetan New year Festival in Gansu.
Date: Jan 30 – Feb 9, 2020
Places to see: Xining - Tongren - Xiahe – Lanzhou
Featured activities: "Sunning of the Buddha", religious dance, butter sculptures…
Enjoy a warm welcome by locals to attend the amazing Guizhou Lunar New Year Festival.
Date: Jan.31-Feb.13, 2020
Places to see: Guiyang - Anshun - Kaili - Langde - Leishan - Zhengyuan
Featured activities: minority clothing and singing, Fire-dragon Festival, Lusheng music, family homestay
Savor authentic Miao ethnic culture and customs and take in beautiful nature.
Date: lunar Mar. 15 - Mar. 17
Places to see: Guiyang – Kaili
Featured activities: Long Skirt Miao clothing, batiks, foods, and Miao's Valentine's Day
Reviews – What People Say about Their Eco & Ethnic Travel in China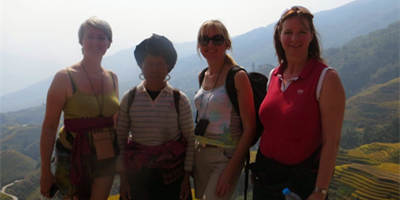 The trip was very well organized. We enjoyed the hotels, the splendid landscape and we were happy with our safe car… Government started with an extended restauration of Zhaoxing what is really worth visiting. We enjoyed the walk down from Tang'an. The hiking trip in Longji was so beautiful; a local guide in the mountains was colorful and essential…

- Goedele, Ruth and Meg Heidbuch from Netherlands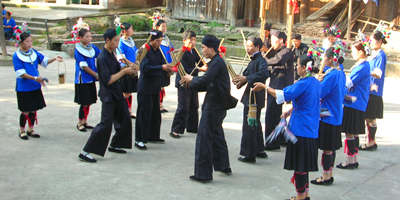 In Kaili, Mr Yang (local guide) took us to a local restaurant serving hot pot which was very good. In Sandu, Mr Yang took us to a local festival where there was some dancing by local groups. In Zhaoxing, we have dinner in a nice restaurant and we sampled some typical Dong food which included Bee larvae which for us was a special delicacy…

- Stephen & Tarja Spencer from Finland
Commonly Asked Questions about China Eco-Ethnic Tours
What are the ethnic groups in China?

China has been a unified multi-ethnic country since ancient times, and now consisted of 56 ethnic groups. The Han nationality is the largest group in China, accounting for 91.59% of the general population. It means that there are 55 minorities groups in China, including Zhuang, Hui, Miao, Dong, Yao, Yi, Bai, Naxi, Tibetan, Uyghur, Mongol, Buyei, Hani, Lisu, Dai, Derung, Wa, and so on.

Where do ethnic minorities live in China?

China's ethnic minorities are mainly distributed in Yunnan, Guanxi, Xinjiang, Guangxi, Tibet, Guizhou, Sichuan, Inner Mongolia, Ningxia, Qinghai, Gansu, Hunan, Taiwan and other provinces and autonomous regions.

How to conduct an eco-tour in these remote minority regions and benefit the local community and people?

Easy Tour China's eco-tours to the remote minority areas introduce the diverse ethnic cultures, authentic foods and real tribal people, meanwhile we try best to reduce impact on local environment and resources as much as possible, by conducting walking and hiking tours, bird-watching tours, using the public transport, local homestay, observing local traditional handicraft, and guiding our customers to support local areas and people.

Could you give some useful tips and guidelines when taking an eco & ethnic tour in China?

-Most minority villages are located in high altitude or mountainous areas, with big temperature difference in day & night, so please pack some warm clothes even plan to visit in hot summer days;

-Bring hat, sunglass and sunscreen if for outdoor sightseeing; Wear comfortable walking shoes which will definitely ease your trip;

-Travel and living conditions vary greatly between city areas and less developed rural areas of China. There's no banking service in villages, with limited access to post office service, internet access and telephones; so bring some cash before you heading to these areas.

-The accommodation conditions in countryside is comfortable and clean, but not as luxury as that in big cities;

-Take measures to avoid insect bites, including using an insect repellent at all times and wearing long, loose fitting, light colored clothing when you are travelling during summer.

-When you visit a minority village, dress moderately, in long trousers or skirt and T-shirt or shirt.

-Follow the advice of tour guide for your acting in minority villages; -Most Chinese people are friendly; but it is suggested you ask for permission before taking their pictures;
TripAdvisor Traveler Rating

Based on 42 traveler reviews
TripAdvisor Ranking #3 of 30 Outdoor Activities in Guilin
Most Recent Traveler Reviews
© 2019 TripAdvisor LLC
Quick Tailor-made Inquiry Form