Best China Tours from Brazil
Thriving yet traditional, China enchants Brazilian travelers with many of world's most outstanding modern and ancient wonders. With ETC's China tour packages from Brazil, explore this diverse, beautiful land and expect fascinating encounters with history, culture, food and Chinese people.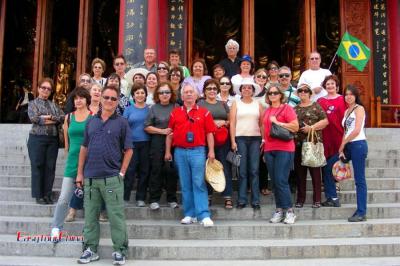 China is one of the BRIC's members just like Brazil. It is not only the second economic power but also a mysterious oriental country and one of the oldest civilizations that still exist today. The Yangtze is to China as the Amazon is to Brazil, and is the cradle of Chinese civilization. Dragon, paper-cutting, traditional Chinese painting and calligraphy, tea, silk, Beijing Opera, Confucius, Laozi, Kung fu, Taichi, panda, the Great Wall, Terracotta Army -do you know all those Chinese symbols and highlights? And for Brazil's samba lovers out there, China's Tang Dynasty Show introduces another fantastic type of music and dance.
Now create your own trip to China from Brazil, we'll uncover the best of this far-flung, magic country. Whether you're first-timers or seasoned travelers, our experienced travel guide will show you a real China!
Easy Tour China is your best way to travel to China
Established since 1999, ETC has over 20 years' experience of providing guided tour packages for world travelers, including Brazilians, who travel across half way around the world, over Atlantic Ocean and Pacific Ocean, all the way to China.
Portuguese-speaking guide can be arranged for you in big cities like Beijing and Shanghai. We understand wholeheartedly it is not easy for you to travel from Brazil to China, so your local guides will try best to make your trip easy, happy and full of great discovery.
Customize your China itinerary with destination experts - which means whether you're traveling with family, kids, or a large group of friends, you can enjoy a tailor-made flexible trip, custom to your departure dates, number of people, destinations and budget.
Best places to visit in China for Brazilian tourists
For your first trip to China from Brazil: Travel to

Beijing

,

Xian

and

Shanghai

, the classic Golden Triangle that boasts the main China highlights, from the Great Wall, Terracotta Warriors and Horses Museum to the Bund.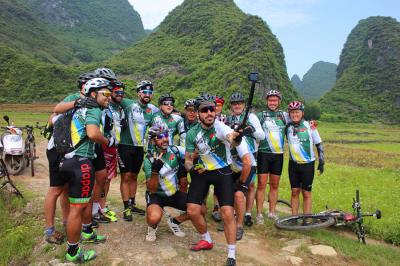 Chengdu

, the hometown of giant panda, and

Guilin

, one of the most beautiful places in the world, are also among the most popular destinations. The above destinations are enough for two weeks China tour. If you have 3 or 4 more days, add the

Yangtze cruise

,

Huangshan

(for Yellow Mountain), or

Hangzhou

(for the West Lake).
For the second or repeated Brazilian travelers to China: Plan an in-depth China trip that focused on one or two regions.

The Silk Road

extends from Gansu to Xinjiang features numerous ancient sites and incredible cultural wonders scattering in the wide-open, stark desert. If you are fond of Buddhist art and ancient Chinese architecture, blend Shanxi and

Luoyang

together, visit Mount Wutai,

Pingyao Old Town

, Hanging Monastery, and Shaolin Temple.
For travelers with adventure spirit in mind: Add

Tibet

on the roof of the world,

Yunnan

with Stone Forest, Lijiang Old Town and

Shangri-La

,

Zhangjiajie

with incredible mountain landscape and thrilling sky walks, or

Guizhou

inhabited by tens of mysterious ancient hill tribes on your first or repeated tour of China.
Top things to do and real China experience on your tour to China from Brazil
View the world from Great Wall, which is like a giant dragon traversing the mountaintops of North China.
Witness China's cultural treasures at Forbidden City, and delve into China's powerful dynasties.
Get in the pits of Terracotta Army, one of China's greatest archaeological discoveries.
Become an honorary giant panda keeper and become friends with these adorable furry balls.
Make the most of your time in the happy land of Yangshuo - bamboo rafting Li River, practicing Tai Chi, learning Chinese calligraphy.
Discover the old, the new and the futuristic China, as you visit Shanghai's colonial buildings, old streets, and ornately decorated skyscrapers.
Enjoy the many flavors of Chinese cuisine, and learn to cook top dishes.
Bike through the city, village and countryside of China, witness local way of living, and experience the real farm work and traditional handicraft.
Private China Tours from Brazil for First Timers
Recommended Brazil Group Tours to China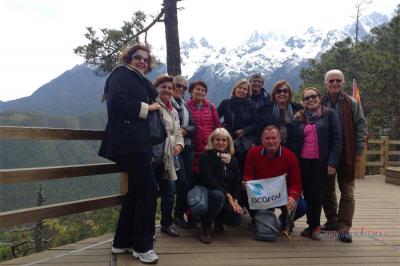 Destinations:
Beijing - Chengdu - Shangri-La - Lijiang - Guilin - Yangshuo - Zhangjiajie - Shanghai
The itinerary is specially-crafted for Brazilian travelers' first trip to China - discover the incredible cultural and natural wonders, Chinese legacy and all famous landmarks, with immersive activities, and hiking and cycling trips. All the things, from accommodation, restaurant, and transportation to days of traveling can be adjusted according to the needs of your group.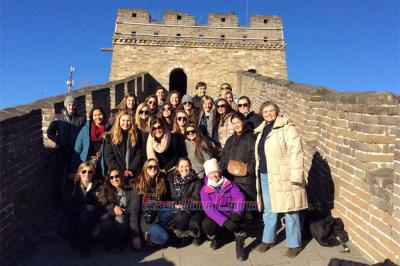 Destinations:
Beijing - Xi'an - Luoyang - Huangshan - Shanghai
ETC is also teachers' and parents' perfect choice for students' educational travel to China from Brazil. This 13 days school student tour takes in incredible world heritages and soft outdoor adventures. The young students will not only learn new approaches, culture, knowledge, skills, but also have a great time, as they hike the Great Wall, practice Shaohlin Kung Fu, ascend China's highest architecture…
Guided China Adventures for Brazilian Travelers
Practical Tips on Tours to China from Brazil
China Visa Tips for Brazilian Citizens
Where to Apply for China Visa?

All Brazilian passport holders are requested to obtain a visa to enter China. To make your trip to China an easy and pleasant one, you are kindly advised to consult the local Chinese Embassy or Consulates-General first for the tourist visa and prepare the required documents accordingly. ETC can offer you an invitation letter if you book a packaged tour to China.

The Chinese Embassy in Brazil:

◎Embassy of P.R. China in the Federative Republic of Brazil
Address: Quadra 813, Lote51, Avenue of Nations, Brasilia. DF, Brazil
Tel: +55-61-21958200
Fax: +55-61-33463299
Email: chinaemb_br@mfa.gov.cn
Website: http://br.china-embassy.org/por/ (Portuguese Version)
Office Hours: 09:00-12:30, 15:00-17:30, Monday-Friday (except holidays)

Consular Office
Tel: 55-61-21958271/21958245
Fax: +55-61-21958239
Office Hours: 09:00-12:00, Monday-Friday (except holidays)

◎Consulate-General of the People's Republic of China in Sao Paulo
Address: Rua Estados Unidos, No.1071, Jardim América, Sao Paulo, Brazil
Tel: +55-11-30829877 (Switchboard)
Fax: +55-11-30624396
Email:
chinaconsul_sp_br@mfa.gov.cn
consuladodachina@terra.com.br
Website: http://saopaulo.china-consulate.org/pl/ (Portuguese Version)

◎Consulate-General of the People's Republic of China in Rio de Janeiro
Address: Rua Muniz Barreto, No.715, Botafogo, Rio de Janeiro, R.J, Brazil
Tel: +55-21- 32376614
Fax: +55-21- 25515736
E-mail: chinaconsul_rj_br@mfa.gov.cn
Website: http://riodejaneiro.china-consulate.org/pot/ (Portuguese Version)
Time for Telephone Enquires: 08:30-12:30, 15:00-17:00 in workdays
Office Hours: 08:30-12:30, 15:00-17:00, Mon.-Fri. (except holidays)

Practical Travel Tips for Brazilians traveling in China
What about drinks?

A: Local tea is commonly served with meals and there is a variety of soft drinks, local and imported beers and wines available for purchase. You should not drink the tap water, bottled water is inexpensive and readily available. If you like a 'cuppa', you may like to bring along a small supply of tea bags, coffee and milk powder. Most rooms have electric jugs or thermos flasks of boiling water to make hot.

What are the toilet facilities like on a China tour?

A: All of our hotels are handpicked and have western style bathrooms and toilets. Obviously in the more remote areas, they may be a little more basic, but clean and simple is common. Whilst sightseeing, toilet facilities at restaurants and local tourist sites can vary and we would recommend that you carry tissues, wet wipes or disinfectant gel with you, "just in case".

What should I pack?

A: Casual clothing is appropriate at all times although clothes that are too revealing are still frowned upon in all over China. Try to pack lightly as your trip may involve an amount of personal baggage handling as porters are often not available except in larger hotels. For security reasons it is essential that your baggage can be locked whilst during air transportation between cities. At times, you may not be able to check into your hotel room immediately or be able to access your main bags. To ensure your comfort, a change of clothes in your hand luggage to coincide with local weather conditions is always handy. All personal toiletries should be taken with you and small packets of tissues or wet wipes are recommended. A small medical kit containing medication to alleviate common ailments is suggested. Prepare a walking boots if are planning a hiking and biking tour of China from Brazil.

Clothing suggestion:

Located in the Northern Hemisphere, China has a quite different climate from that of Brazil. Check the weather and pack adequate clothes before your trip.
Different from Israel's Mediterranean climate, most tourist destinations in China has a subtropical monsoon climate.
Spring (Mar – May) with temperature at 50 - 71.6F: Western suits, jackets, sports coats, woolen jackets, long sleeve shirts and travel shoes
Summer (Jun – Aug) with temperature above 71.6 F: T-shirts, short sleeve shirts, skirts, sandals, caps, rain wear
Autumn (Sep – Nov) with temperature at 50 - 71.6 F: Western suits, jackets, sports coats, light woolen sweaters, rain wear and travel shoes
Winter (Dec – Feb) with Below 50: Overcoat, thick woolen sweaters, lined coats; In northern China, cap, gloves and cotton-padded shoes are required

What credit cards can I use?

A: At present the Bank of China accepts Master, American Express, Dynasty, Visa, JCB, and Diners Club cards. Brazilian travelers may use these cards to draw cash over the exchange counters in China's banks, make purchases or pay bills at large department stores, restaurants and hotels in more than 100 major cities in China. A surcharge of 2% is always charged for card transactions.

Where can I get consular assistance?

A: In China, the Brazilian tourists can obtain consular assistance from the:

◎Embassy of the Federative Republic of Brazil in Beijing
Address: No.27, Guang Hua Lu, Jian Guo Men Wai, Chaoyang District
Postal Code: 100600
Tel: (+86)10 6532 2881
Fax: (+86)10 6532 2751
E-mail: info@brazil.org.cn

◎Consulate General of the Federative Republic of Brazil in Shanghai
Address: Room 703, 7F, ASA Building, 188 Jiangning Road, Jing'an District, Shanghai
Tel: (+86)21 6437 0110
Fax: (+86)21 6437 0160
Consular Jurisdiction: Shanghai, Zhejiang, Jiangsu, Anhui, Shandong

◎Consulate General of the Federative Republic of Brazil in Guangzhou
Address: Room 1403, R & F Centre, 10 Huaxia Road, Pearl River New City, Tianhe District, Guangzhou
Tel: (+86)20-83652236
Fax: (+86)20-83652203
Consular Jurisdiction: Guangdong, Fujian, Hainan, Guizhou, Hunan, Yunnan, Guangxi

◎Consulate General of Brazil in Hong Kong and Macau
Address: 2014-21 Sun Hung Kai Centre, 30 Harbour Road, Wanchai, Hong Kong
Tel: (852) 2525-7002
Fax: (852) 2877-2813
E-mail: consular.hk@itamaraty.gov.br
The Consular Section is open to the public from Monday to Friday, 9:30 am to 1:00 pm (except public holidays)

Flights to China from Brazil
There is no direct flight from Brazil to China. Departing from Rio de Janeiro or Sao Paulo, Brazil travelers have to transfer in USA, Australia, Canada, European counties, like Frankfurt, Paris, or Middle East countries like the United Arab Emirates. The air journey takes about 25 to 30 hours.
Looking for the best way to book air tickets for your China tour? Based on feedback from our Brazilian guests and our own travel experiences, we've found the following online search engines to be very helpful for investigating and ticketing airfare to and from each of our trips.
Air China:
Português: https://www.airchina.com.br/BR/PO/Home
English: https://www.airchina.com.br/BR/GB/Home
http://www.farecompare.com/flights/Sao_Paulo-SAO/Beijing-BJS/market.html
https://www.skyscanner.net/uk/pt-br/gbp/rotas/br/cn/brasil-para-republica-popular-da-china.html
https://www.united.com/pt-br/voos-de-brasil-para-china