Looking for the best family vacations to China for kids to play around and learn new culture? Embark on ETC's private customized China tours for family with kids, and become happy children and smiling parents.
China, with its cultural diversity, natural beauty and ancient call from the historical ruins, is an unparalleled destination for both adults and children. ETC shows you the real China at its most accessible. On our luxury China family tours, whether you're traveling with teens or bringing a toddler to china, we have something for every member of the family - marvel at stellar travel highlights, enjoy wonderful ways to get acquainted with warm people and breathtaking nature, and experience Chinese culture.
It is also a fun family tour, offering extraordinary moments for you and the kids. A variety of unique cultural immersion activities and exciting soft natural adventures are planned to entertain, delight and educate your kids at all ages, like learning kung fu from Shaolin master, biking the authentic countryside of China, making Chinese dumpling at a local host's home, and becoming a honorary panda keeper, etc.
Use ETC for Your Private Guided Family-friendly China Tours
● With 20+ years of experience in assisting international travelers in their private custom China tours with kids, we will conjure up fun and magical family holidays. There are highlights of China tours for family, as well as out-of-the-way family adventures.
● Our family china tours are flexible trips that are 100% customized to the family of all sizes and ages, e.g. very slow-paced itinerary for baby and toddler, active culture-learning programs and outdoor activities for school kids.
● Professional and helpful local guides are experienced in working with children. They will share their knowledge on sites and experience of real local life with your family informatively. Lots of stories and legends will get shared!
● Family accommodations are in luxury/comfortable apartment hotels or hotels with adjoining rooms, with swimming pool included.
● Easy Tour China's luxury family tours are life-time journeys for the whole family. Memories like these are what scrapbooks are made from, and future generations discuss.
Tailor-made

Our 1-on-1 expert consulting service ensures you can tailor your family trip to China based on your own interests.

Kid-friendly Activities

Experience interesting and unique activities – making Chinese kites, being a panda volunteer, biking at Yangshuo countryside, etc.

Family-friendly Accommodation

Selected family-friendly hotels to suit your needs - hotels with pools, family suite, perfect location, etc.

Safety

Licensed driver and private car in each destination ensure you a safe and worry-free family vacation in China.
Best Private China Tours for Family
Explore our curated best china family tours itinerary samples below, and, you may have already known, we can create exlusive tailor-made luxury family holidays, inclusive of must-see highlights and top things to do for kids, while exposing your family to some hidden gems, back streets, exceptional people, activities few tourists experience, and enjoying inspiring insider access moments.
Destinations: Beijing, Xian, Shanghai, Guilin, Yangshuo, Hong Kong
Hike the less-crowded, wild Jinshanling Great Wall.
Make traditional Chinese dumplings at a local family in Xian.
Venture into Yangshuo – breathtaking natural scenery, rural rice paddies, farmers working with buffaloes...
Destinations:Beijing, Xian, Chengdu, Guilin, Yangshuo, Shanghai
Be a panda volunteer to feed pandas and work with the scientists.
Explore the historical and cultural highlights of Beijing and Xian.
Cruise down the Li River with epic karst landscape and bike through pristine Yangshuo countryside.
Destinations: Beijing, Xian, Shanghai
Walk and enjoy a picnic lunch on the scenic Mutianyu Great Wall.
Discover the old Beijing in hutong and learn to paint facial makeup for Peking Opera.
Make Chinese noodles or dumplings at a local family in Xi'an.
More Popular China Family Tours
Top China Family Tour Destinations – Kid-friendly Places
If you're planning a family travel package to China, make sure you visit the best destinations for family, where there are exciting children-friendly attractions and activities.

Beijing is the most popular gateway city for your family China tour, and offers a lot to explore, from the UNESCO-protected Forbidden City, Temple of Heaven, to the Great Wall hiking and cultural activities at hutong. Xian fascinates parents with Terracotta Warriors and children with shadow play and puppet show. The international metropolis of Shanghai keeps the memory of China's colonial history and unveils the future of China, and features a great array of healthy street foods. For a fun and relaxing China family vacation, take your children to Guilin and Yangshuo, the most scenic places in China, featuring many exciting outdoor activities, from biking, rock climbing, to bamboo rafting. Chengdu is another must-visit place on family friendly China tours. Have an intimate contact with giant panda, and how about learning cooking Chinese dishes at Sichuan Cuisine Museum? If you plan a family adventure to China, Yunnan, with breathtaking wildness and some mythical untouched towns and villages, is your best choice. Hike Tiger leaping gorge, get into Jade Dragon Snow Mountain, and simply enjoy a cup of coffee in Lijiang Old Town.
Recommended Kid-friendly Activities for Family Tours in China
Except for the must-see tourist landmarks and highlights in China, our guided luxury family tours of China feature unique and interesting family activities in the destinations to make your family vacation memorable. You can also consult our family travel experts for more things to do for families and feel free to tell us your ideas.
Young Kids

Make clay figurines
Paint Peking Opera facial masks
Make Chinese dumplings or noodles
Amusement parks
Calligraphy / painting class

Teenagers

Camping on the Great Wall
Be a panda volunteer
Tea picking and making
bamboo rafting
tea leaves picking

All ages

Cycling in scenic countryside
Make terra-cotta warriors
Farming experience
Kung Fu
Cooking class
ETC's China Family Tour Review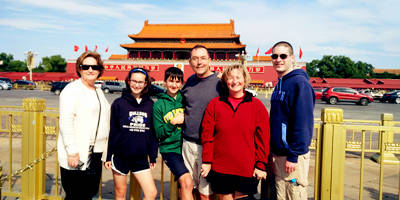 On behalf of the Hall and Vergona Family, the trip was truly amazing. Our guide, Sherry Li, was perfect. She was professional, patience, kind and generous. She exceeded our expectation. Our driver was just as wonderful. Both of them made our trip perfect. I am in Tokyo now and was talking to a couple from Australia about your company. I used Easy Tour China in July for an eight day tour and am a returning customer. Thank you very much.

- Helen, United States
Commonly Asked Questions about China Family Tour
Are there any activities suitable for children?

There're various interesting activities in different cities of China catering for family with children, such as watching Chinese Kong Fu Show in Beijing, hiking & picnicking on the Great Wall, panda volunteer experience in Chengdu, hand making terra cotta warriors and DIY Chinese noodles or dumplings in Xian, kayaking in Yangshuo on the Li River, etc. Feel free to contact us to know more family-friendly activities.

How's the accommodation for family tours in China?

As for the accommodation, we take lots of consideration for selecting family-friendly hotels to ensure you have a good rest during your holiday, including Trip Advisor reviews, our customer feedbacks, location, and availability of inter-connecting rooms, swimming pool or other entertainment facilities.

Are the outdoor activities safe for children?

Yes. The outdoor activities we offer are suitable for children of different ages. Besides, our tour guide will also help and ensure your kids' safety. A first-aid kit is always prepared.

Will my children enjoy the food during the tour in China?

There're numerous flavors of food in China, and different cities have different diet characteristics. There must be dishes your children like to eat. And our tour guides have plenty of experience in helping select the right foods and drinks for children. If your child has a food allergy, please make sure you advise us before the trip starts. We'll give local guide and restaurant prior notice.

What's the best time to visit China for families?

In general, the best months for visiting China are from April to October due to the weather. However, every season has its own beauty. You can choose the dates that fit into your schedule, and our experienced travel consultant will tailor a proper private family tour for you according to your schedule and interests.

If I travel with my large family, can I get some discount?

Of course! The more group members, the bigger discount we can offer.
Useful China Family Travel Tips
Quick Tailor-made Inquiry Form