China City Tours
China is a vast country of stunning scenery and diversified cultures. There are many destinations that never fail in delivering a great travel experience whether you are looking for a short break or something a little longer. You can see our holiday deals to the Great Wall, Terra Cotta Warriors, Li River, Jiuzhaigou, Zhangjiajie and beyond, and find great prices for a long weekend or a mid week break. From Beijing to Shanghai, Xian to Lhasa and Guilin to Hong Kong, there is a destination waiting for you.
Most Popular China Destinations
Easy Tour China tours touch all China destinations and corners, from the enormous Great Wall near Beijing and the bustling Bund in Shanghai to idyllic Yangshuo countryside and the remote villages of wild Tibetan areas. The top China destinations we list are once-in-a-life-time places that should be put on your bucket list. You may plan a single city tour package of 2-7 days or contact us to customize a multi-place China holiday with the city guide inspirations.
Top Scenic Destinations
Give its vast, diverse landscape, China is full of places that suit for nature lovers. Our picks for the top scenic destinations in China include Zhangjiajie, Huangshan, Yunnan and off-the-beaten-path Siguniang in Sichuan. Find yourself or tailor-make a city package tour to China's most beautiful places to explore surreal mountains occasionally shrouded in mist and mystery, grand canyons, gorges, alpine grasslands, national geo parks…
Historical & Cultural Destinations
Whether you're after a time journey through Chinese history, an in-depth cultural immersion in the ancient towns or exceptional travel experiences that connect you with traditions and locals, these are China's best historical and cultural destinations to discover. Visit the sites of the Silk Road, UNESCO Heritages of Chinese civilization, architectures that embodies the highest Buddhist art, and meet remote mountain tribes for their inspiring stories –- all in tailor-made China culture tours.
China Tour Destinations on Map
Looking for more destinations in China? Check out our China travel map below, with which, you can locate the places that enchanted you and click in to get more travel information, from attractions, food, restaurants, weather, up-to-date travel tips to recommended tour itineraries.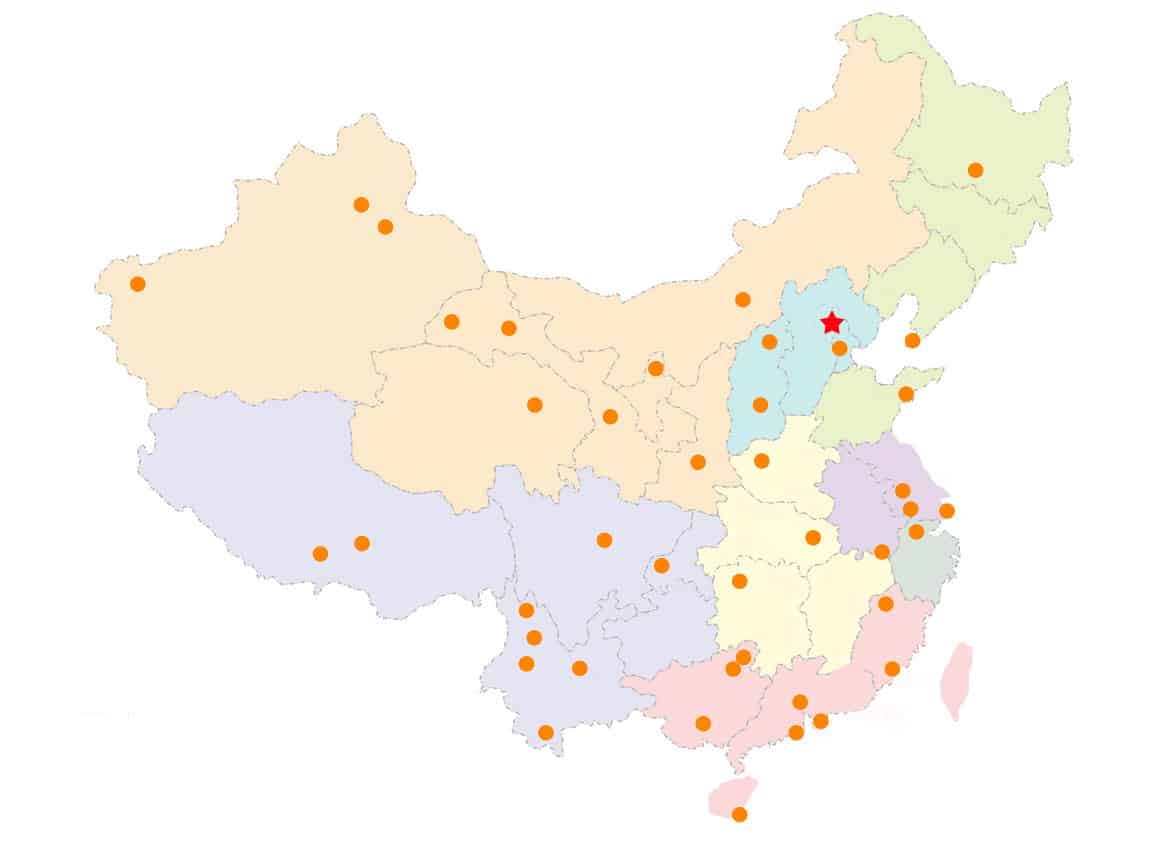 Beijing
Chengdu
Zhangjiajie
Datong
Guangzhou
Guilin
Harbin
Hangzhou
Hong Kong
Huangshan
Kunming
Lhasa
Lijiang
Luoyang
Pingyao
Sanya
Shanghai
Suzhou
Turpan
Urumqi
Xiamen
Xian
Yangtze Cruise
Kashgar
Dunhuang
Jiayuguan
Xining
Lanzhou
Yinchuan
Hohhot
Tianjin
Dalian
Qingdao
Nanjing
Wuhan
Wuyishan
Macao
Yangshuo
Nanning
Xishuangbanna
Dali
Shangri-La
Shigatse
Places to Visit in China from A-Z Index
The alphabetic index is to assist you to quickly find sample tour itineraries and travel information of the tourist cities in China that you are interested in. If you can't find the cities you are planning to go, just feel free to contact us. Easy Tour China has been cusomizing China tours for global customers from 1999; we can help you tailor make your own tour to any city in China.
A - F
G - K
L - R
S - V
W - Z
Can't find the destinations that you are looking for? Planning to discover more off-the-beaten parts of China? If you have more than a week, it's would be great to travel to provinces like Yunnan (e.g. mysterious Shangri-la, Tiger Leaping Gorge and Rice Terraces of Yuanyang), Tibet (e.g. mighty Potala Palace, holy lake Namtso, and Mount Everest), as well as Xinjiang (e.g. exotic culture, Swiss-like scenery, and desert landscape) and Gansu (e.g. Mogao Grottoes, Zhangye Danxia Landform, and Labrang Monastery). Or you can tailor make your dream tour to China by clicking the button below to contact one of our travel experts.