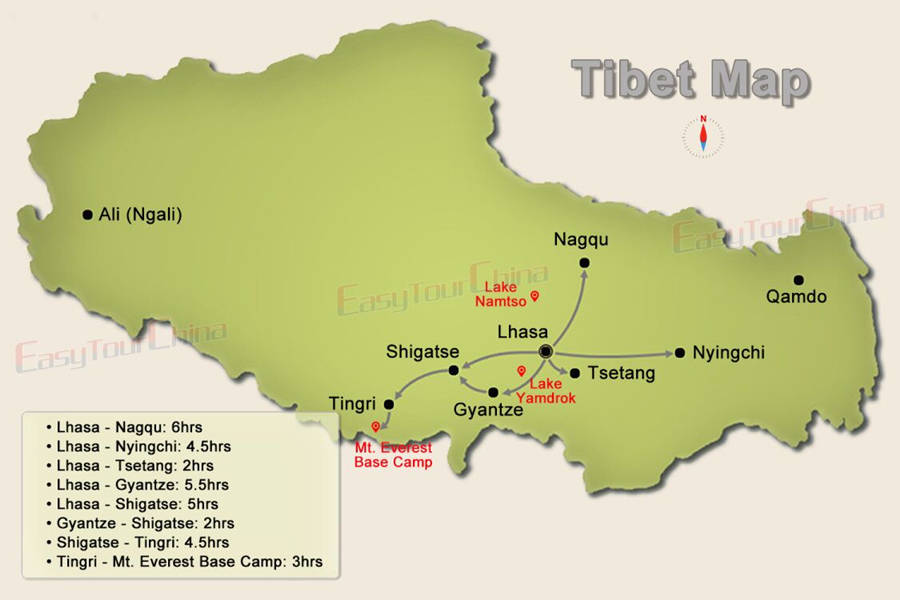 A mysterious kingdom hidden in north east of Himalayas, Tibet is the highest region on Earth home to Tibetan people. It is truly one of the last untouched lands in the world that retain its wild yet enchanting natural beauty, thousand-old Buddhist traditions and unique folk custom.
Lhasa, Tibet's fabled capital and a Mecca for all Tibetan Buddhists, is rich in spiritual and cultural sites, with a plethora of time-honored shrines. Potala Palace, an outstanding UNESCO World Heritage Site, is a trove of Tibetan Buddhist art and architecture, and houses numerous murals, sculptures, Thangka, sacred manuscripts… Steep yourself in the timelessness of Tibet's peaceful spiritual atmosphere as you see pilgrims praying in front of Jokhang Temple. Of course, Tibet is famous for a breathtaking setting of crystal holy lakes, deep valleys, remote high altitude deserts and epic snow-capped mountain vistas under pure blue sky. For adventurers and outdoor enthusiasts, your journey to Tibet is not complete without a Mt. Everest touch.



Traveling with ETC to Tibet, the authenticity of your Tibet tour is reflected in your pilgrimage to the scared temples, walking experience around the villages, meeting local Tibetan people to talk about their beliefs and life, as well as carefully selected accommodation with comfort and view.
Best Private Tibet Tour Packages
Explore the most sacred monasteries and awe-inspiring mountains and lakes in Tibet on 7 to 9 days classic Tibet itineraries. Experience yourself Tibet's history and culture and get a taste of adventure. Our private guided trips can be customized to suit your needs and travel pace.
Classic China & Tibet Tours
Prepare to embark on a life-time trip through China and Tibet, to visit the highlights attractions, the Great Wall, Forbidden City, Yangtze River, Terracotta Army…
Travel through China, explore Beijing, Xian, Tibet, Yangtze, Shanghai, Hangzhou…
World heritages: the Great Wall, Forbidden City, Potala Place…
Yangtze River Cruise for 4 days / 3 nights
Visit Hangzhou West Lake & Suzhou classic gardens
A classic China &Tibet trips showcases world-class attractions and scenery on the roof of world.
Explore China's golden triangle Beijing Xian & Shanghai
Get into the Great Wall and meet Terracotta Army
Encounter the giant panda in the culturally-rich Chengdu
From Shanghai, cruise upstream along the Yangtze, to further discover Chengdu & Tibet.
5D4N Yangtze Cruise with awesome shore excursions
Explore panda's hometown
Tibet highlights from Potala Palace to Yamdrok Lake
Small Group Tours of Tibet
Discover the magic land of Tibet with like-minded travelers. The listed small group Tibet tours are good choice for solo travelers and those who have tight budget, allowing you to explore Lhasa, Polata Palace, Jokhang Temple, Yamdrok Lake, Namtso Lake, Mount Everest Camp…
Common Questions about Tibet Travel
How to get a travel permit to Tibet?


Easy Tour China can help you to apply for Tibet travel permit. All you need to do:
1. Book a Tibet tour with us.
2. Send us your copy of passport and Chinese visa, which we will send to Tibet tourist Bureau.
3. Receive your Tibet travel permit (paper) from us before you enter Tibet.

How to get to Tibet?

By air: After arrival in China, you can take flight to Lhasa from Chengdu, Kunming, Lijiang, ShangriLa or Chongqing with about 2 hours, and from Xian, Beijing or Shanghai with around 4-5 hours.

By train: For train lovers, you can travel to Lhasa from Lanzhou or Xinning by rail. The train journey takes about 25 hours. There are also trains from Beijing and Shanghai to Lhasa, which take more than 40 hours, thus not recommended.

What is the altitude of Tibet? How to adapt to the high altitude?

The average altitude of Tibet is 4,500 meters (14,750 ft). To better adapt to such high altitude, you're suggested to spend several days in another destination in China first, and then make your trip to Tibet.

Best time to travel to Tibet

Generally May till October is the best time to visit Tibet, with best weather and highest oxygen concentration. Besides, the nature is at its most beautiful time. If you plan to visit Nyingchi, March to April is also a good time, when you can see the peach flower blossom and idyllic rural scenery.
TripAdvisor Traveler Rating

Based on 42 traveler reviews
TripAdvisor Ranking #3 of 30 Outdoor Activities in Guilin
Most Recent Traveler Reviews
© 2019 TripAdvisor LLC
Custom Tibet Tour Inquiry Form