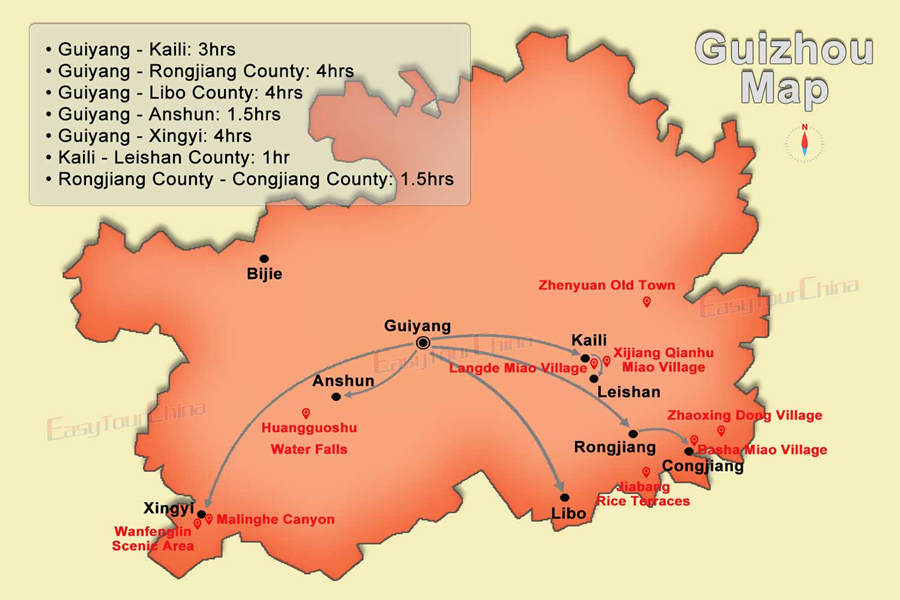 Located in southwest China, Guizhou homes China's biggest waterfall - Huangguoshu Waterfall, and features amazing karst landscape, which is part of UNESCO-inscribed South China Karst. But what make Guizhou really outstanding are the tens of ethnic minority groups, especially Miao and Dong.
From the provincial capital Guiyang to Kaili, Rongjiang, Congjiang, Zhaoxing and the unexplored remote counties, our Guizhou tour packages allow you to venture into the primitive rural villages hidden in mystical mountains, where you can discover another side of China, savor up the rich and distinctive cultures of varied minority groups and witness a long-gone way of living.
We seek to make our tours to Guizou sustainable, eco-friendly, locally beneficial, and empower you to discover Guizhou's centuries-old ethnic civilization, ancient customs and unique characteristics. Traveling with ETC, you can experience Guizhou differently and truly understand China's ethnic culture. Enjoy yourself Miao and Dong village home stay. Learn traditional handicrafts like embroidery and batik at workshops. Have fun at the ethnic minority festivals. Besides, you can be engaging with the friendly, unsophisticated local people on their architectures, foods, languages, costumes, farm work, lifestyle, etc.
Best Guizhou Tours
These are classic Guizhou itineraries for the highlights, as well as private guided adventures to Guizhou's off-the-beaten-track destinations to dive in secret tribal cultures and unique old customs. Discover yourself Basha Miao Village, Zhaoxing Dong Village, Datang Mini-skirt Miao Village… learn local textile, silver ornament making, paper making, and experience tranquil family homestay.
Ethnic Minority Festival Tours in Guizhou
From Sisters' Meal Festival of Miao, Fireworks Festival and Sama Festival of Dong to the Chinese Lunar New Year Festival, festival season never ends in Guizhou - we've got you the exclusive behind-the-scenes access to these festivals, and experience the life there to be enjoyed to the max.
Be a part of Chinese Spring Festival (Lunar New Year) celebrated in Guizhou, happy all the time.
Date: Jan.31-Feb.13, 2020
Where to go: Guiyang - Anshun - Kaili - Langde - Leishan - Zhengyuan
Featured activities:Tiaohua Festival of Long Horn Miao, Fire-dragon Festival, Lusheng Music Festival, family homestay
An expedition to the unexplored Dong Villages, get beneath Dong's history, culture, mythology…
Date: December 18
Where to go: Guiyang - Rongjiang – Zhaoxing
Featured activities:sacrifice offered to Sama, long-table banquet, "traditional Dong costume ball"
Mingle with local Miao people to sing, dance and eat from Guiyang to Kaili.
Date: lunar Mar. 15 - Mar. 17
Where to go:Guiyang – Kaili
Featured activities: Long Skirt Miao clothing, learn batiks, Miao's Valentine's Day, homemade foods and wine, bull fighting, horse racing
Recommended China Tours to Guizhou
Explore the enchanting, lesser-tourist minority regions of China, touring Guizhou, Guangxi and Yunnan. The following are sample tours are supposed to give you inspirations, so that you can create your own tailor-made trip.
Custom Guizhou Tour Inquiry Form