China Tour Booking Procedure
The guideline for our clients to have an idea of how to book China tours with Easy Tour China.
Six Steps to Book a Customized Private Tour to China
Step 1: Submit an Inquiry
Welcome to easytourchina.com via either search engine or friends' reference. You can check some sample tour itineraries by visiting different columns, like Top 10 China Tours, Family Tours, Hiking tours or city tours. Our search engine is also convenient to look for a tour itinerary according to the cities you're going to visit, the duration you're planning and a travel type you prefer.
Interested in a sample itinerary: click the Inquiry button to open an inquiry form. Fill in the form with required info like name, email address and travel dates. It is suggested to offer us information as more as possible, including your former travel experience, your expectations, your worries, and whatever. All the information will help our travel consultant to offering his/her professional travel suggestions. Submit the form and we will get it soon.
Hard to decide which is the best?It's not easy to choose an itinerary best fit you from so many tour itineraries. No worry, we will make it EASY!
Just click the Free Inquiry button or Customized Tour button to send an either simplest or detailed form.
Leave us a quick question, a comment or a quick contact form, which is usually at the bottom of a page.
Pick up your phone and make a call to us. If you're in US or Canada, toll-free number is +1 888 666 0951.
Send us an email to tell us your plan. Email address:inquiry@Easytourchina.Com
Leave a message on our facebook.
Step 2: Quick quotation
Upon receiving your inquiry, our travel consultant will get back to you within 24hrs via email. With the information provided in the form or email, our travel consultant will work out the quotation for the sample tour or a customized tour. At the same time, you will get our professional and constructive suggestions on the tour, which are helpful of knowing what and how we can meet your expectations. This is the beginning of planning a wonderful China trip.
Step 3: Free Alteration
Getting the first quotation and suggestions from our travel expert, you may have comments, new ideas and questions on the itinerary. Please feel free to contact your private travel consultant by any mean you prefer: email, phone call, whatsapp, wechat …. You will get our travel consultlant's professional, patient, quick and all Free services, including replying questions, providing travel suggestions, customizing and polishing the tour itinerary, quoting our best price, etc. Yes, all these services are free of charge, until you're satisfied with the itinerary and price.
Step 4: Confirmation
When you have agreed with the itinerary and price, it is suggested to make reservations as early as possible to secure the services and price. A deposit is required to make reservation, which is around 30% of total payment. At same time, please send necessary information and documents to make reservations. The reservation work usually takes around 3 days and you will receive a tour confirmation after all services are well booked. Please read the document carefully, sign you name and send back to us. The confirmation will be valid after we get your deposit.
■ Required information for making reservation:
1. International flight itinerary – to avoid misunderstanding, a copy of your flight itinerary is highly suggested;
2. Passport information, including full passport names, passport number, nationality, gender, date of birth, etc. It is suggested to send a copy of your passport.
3. Your preference on room arrangement, seats on flights and/or trains, food, etc.
■ Required documents for making reservation:
1. Copies of all members' passports if you need us to book flight and/or train tickets for you.
2. Copies of China Visa if your trip includes a visit to Tibet. Usually this can be provided one month before your arrival.
Step 5: Send payment
If you book early, you might pay the trip in two or three times, but full payment is required 30 days prior to the departure date. We can accept payment by credit card, wire transfer, Paypal, western union. If you're studying or working in China and have Wechat and/or Alipay account, you can also use them to pay. More details on making payment please see our payment guide.
During the time before the trip, your travel consultant is always at your service. You can contact him/her if there are any more questions or changes. And if there is any change to the booking, like flight schedule change, you will be informed. If any change has to be made to the itinerary, our travel consultant will work with you closely to find best solution.
Step 6: Enjoy your trip
Around two weeks before your trip, we will send you a document with final flight/train info, contacts of guides, emergency contacts and other information. Our travel consultant will double check all reservations before your arrival to make sure.
During your trip in China, our travel consultant will keep contact with you and your guide. For any questions and problem, please don't hesitated to contact us and we will try our best to help. After the trip, your valuable comments are highly appreciated. You can either send us via email, or post your reviews on tripadvisor or our facebook.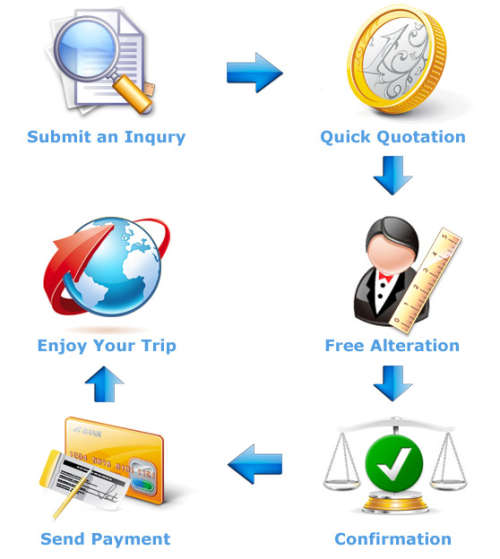 How to book a join-in group tour
Easy Tour China organizes some join-in group tours for single travellers, budget travellers and travellers prefer to travel in a group. In our China Group Tour page, you will see around 20 group tours from 6 to 15 days covering most popular destinations of China. Check the tour date to see if it can meet yours. In the Bus Tour page, you can see selected day tours in main tourist cities like Beijing, Shanghai, Guilin and Hong Kong. It's the most flexible way to join a group. You can even book before you arrive at the city or even one day in advance.
Can a group tour be customized?
As the dates and itinerary are all fixed, a group tour itself is not customizable. But we can provide extended trips before or after the group tour, which can make it more flexible. Just send us your inquiry, we will offer same 1-on-1 service to you the same as private tour inquiry.
What's the difference between booking a group tour and a private tour?
The main difference is the tour date and itinerary, which are fixed for a group tour. Cancellation policy is different depending on the tour provider, which will be sent to you by our travel consultant. Except for these, rests of the services are the same as a private tour.