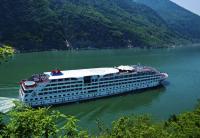 "Farewell to the Yangtze Three Gorges" has been used by many tour operators as a marketing strategy in late 1990's, while we can see that the Three Gorges are still there selling well like hot cakes, even after water rising 35 meters higher (finally 75 meters in 2009). More and more deluxe cruise ships are built to suit best the clients' requirements because the watercourse is much wider and smoother than ever before. Now tourists can go even further upstream for the excursions to Lesser Three Gorges and Shennong Stream.
Reasons with Yangtze River cruise:
- "The mighty Yangtze river and its Three Gorges has long been one of Asia's most revered and dramatic nature attractions;"
- The controversial Three Gorges Dam arose the curiosity of people how the mammoth hydroelectric project works, and many people like to witness its grandeur;
- Experience the authentic rural people's life and culture through interesting shore excursions in a leisurely way, most of the historical sites are well preserved at the original place or transferred to a higher spot for sightseeing;
- Different cruises from Deluxe 5 star to comfortable class are designed to cater to the customer's needs. Friendly English-speaking staff, comprehensive facilities, colorful onboard activities and entertainment make your trip a pleasant and enjoyable.
Easy Tour China team warmly welcomes the friends from all over the world to take a fantastic Yangtze Cruise!