From climbs over breathtaking mountain paths to twists through idyllic country roads, truly great cycling routes can be found all over China, from north to south. Hop on one of China's 8 best scenic bicycle routes and you'll be in for a treat – exotic desert scenery, picturesque high land lakes, enchanted ethnic cultures, refreshing coastlines…
1. Urumqi, Xinjiang -- Dunhuang, Gansu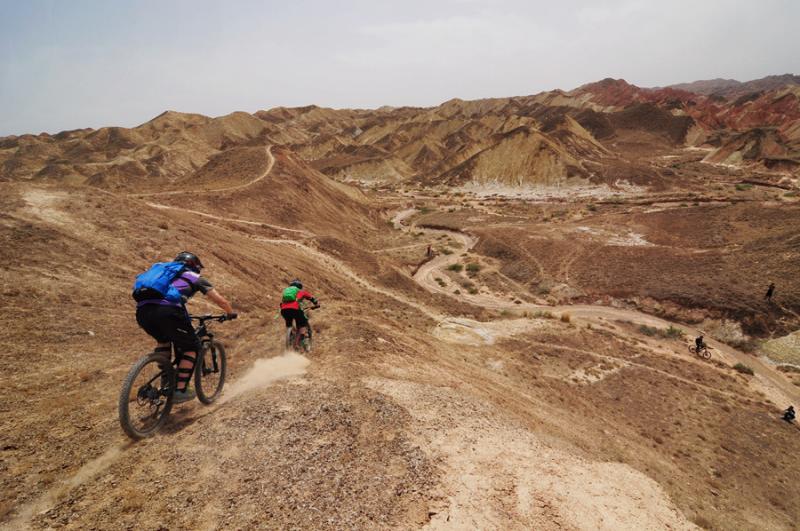 Cycling route: Urumqi (Xinjiang) → Dabancheng District →Turpan →Shanshan County →Yiwanquan Village → Kumul City → Luotuo Quanzi Town →Xingxingxia Town (Gansu) →Xihu County → Dunhuang
Overall distance: 990km / 615 miles
Duration: 10 -15 days
Best time for cycling: late summer and early autumn between August and October
Start this rocking ride at Urumqi, the capital city of the Xinjiang Uygur Autonomous Region, then trace desert dunes and meadows, search for the lovely oases with abundance of fruits and get caught by exoticism along the spacious Gobi desert highway. End it at Dunhuang, a major stop of ancient Silk Road, and home to Mogao Grottoes – a rare treasure house of Buddhist art.
2. Qinghai Lake Grand Loop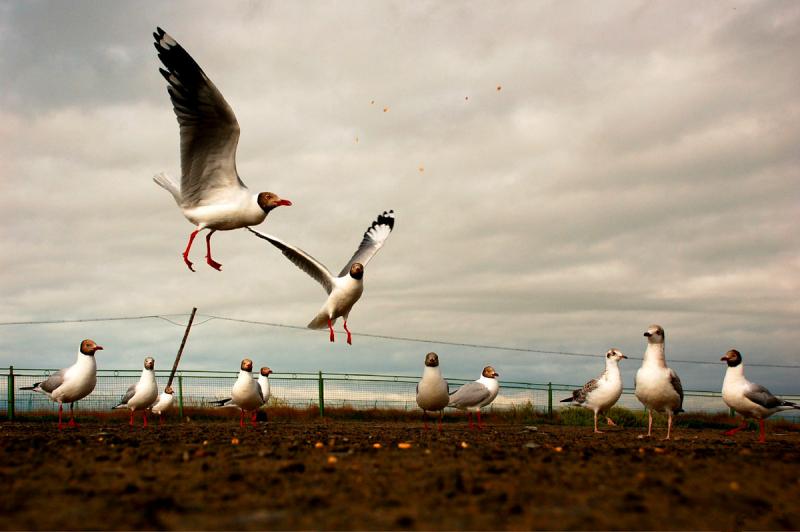 Cycling route (clockwise direction): Heimahe County →Bird Island → Gangcha County →Xihai Town →Huangyuan County
Overall distance: 360km / 224 miles
Duration: 4 -7 days
Best time for cycling: summer between July and August
Cycling around Qinghai Lake (3200m / 1988 miles above sea level) is a delight to tough cyclists and pilgrims. China's largest inland lake is a holy lake for Tibetans and the most famous biking route in the country. In July, the Qinghai Lake International Road Cycling Race will be held, and it is great time to enjoy the vast stretches of rape flowers blooming in a dazzling golden color, and watch the dozens of migrating birds on the Bird Island.
3. Chengdu, Sichuan – Lhasa, Tibet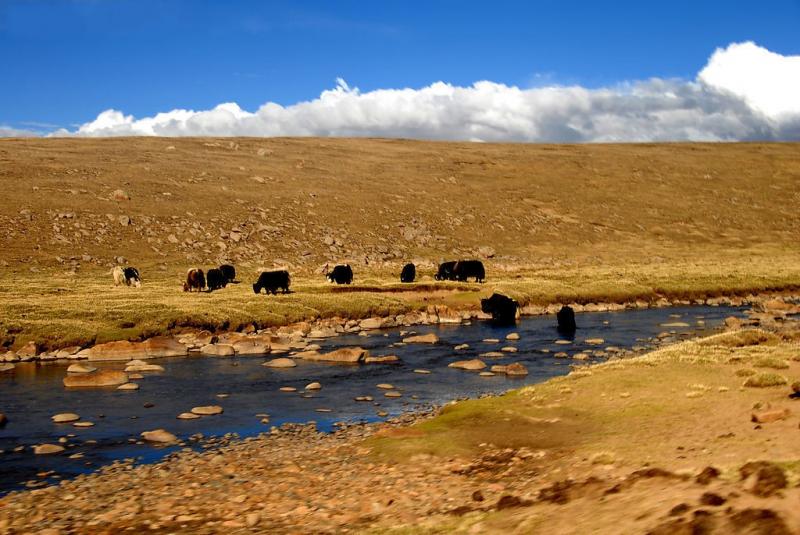 Cycling route: Chengdu →Ya'an →Kangding County → Litang County → Batang County→ Mangkang County → Zuogong County→ Basu County → Bomi Country → Nyingchi County → Gongbo'gyamda County → Maizhokunggar County →Lhasa
Overall distance: 2200km / 1367 miles
Duration: 25 - 30 days (high intensity)
Best time for cycling: late spring between May and June, early autumn between September and October
If bikes and Tibet aspiration mix well for you, follow the thrilling yet beautiful Sichuan-Tibet highway for extraordinary scene. Ride out of giant panda hometown Chengdu, find Xinduqiao in Kangding, which is a photographer's paradise endowed with endless grassland and golden cypress. Ride forward, meet the spectacular Yarlungzangbo River Grand Canyon, the picturesque Nyingchi area, and Niyang River formed by "Goddess's tears", and end the bike tour at the holy city Lhasa, Tibet.
4. Hainan Island Grand Loop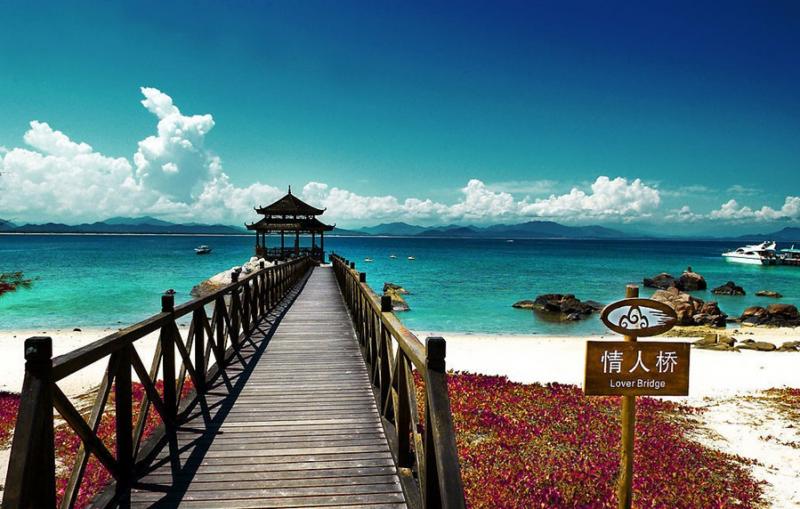 Cycling route: Haikou →Lingshan Town → Sanjiang Town →Wenchang City →Dongjiao Coconut Plantation Scenic Area →Bo'ao Town →Xinglong Tropical Botanical Garden →Sanya City → Wuzhishan City → Qiongzhong Li and Miao Autonomous County →Haikou
Overall distance: 650km / 403 miles
Duration: 8 --10 days
Best time for cycling: winter and spring between November and May
Biking is arguably the best way to explore Hainan Island, the southernmost of China.
Cyclists will find the romantic island a must for their biking experiences with blue sky, gentle sea breeze, charming sea beaches, and lovely coconut forests along the coastline highway.
5. Lanzhou – Dunhuang in Gansu province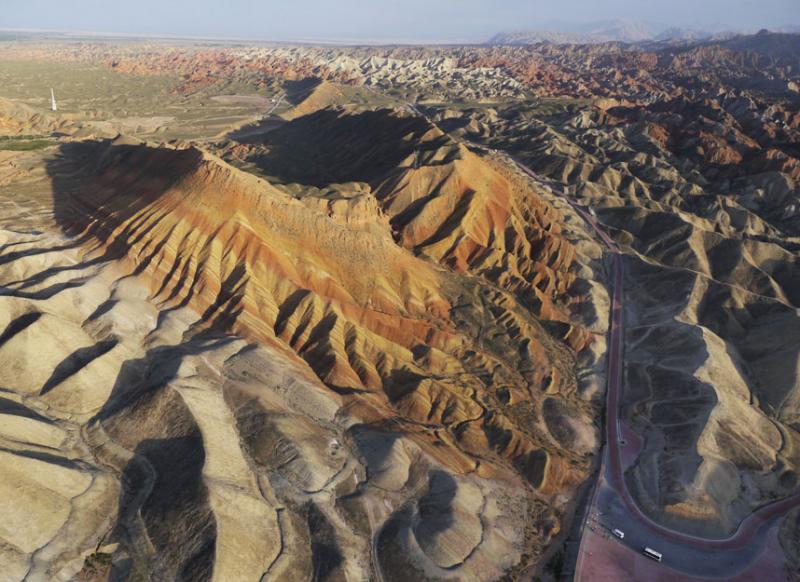 Cycling routes: Lanzhou → Tianzhu Tibetan Autonomous County → Wuwei →Zhangye → Jiuquan → Jiayuguan City → Yumen City → Guazhou County →Dunhuang
Overall distance: 1,100km / 684 miles
Duration: 12 --15 days
Best time for cycling: golden autumn between September and October
This adventure cycling route begins along China 312 National Highway from Lanzhou, the capital and largest city of Gansu Province. Then trace the ancients' footprints to pass through deserts and oases. Sites along the way highlight the route's history, from old temples, tombs, Buddhist grottos to time-honored Great Wall dedicated to ancient Chinese history. Moreover, Zhangye Danxie Landform reveals a masterpiece of nature's design and evolution.
6. Shangri-La Grand Loop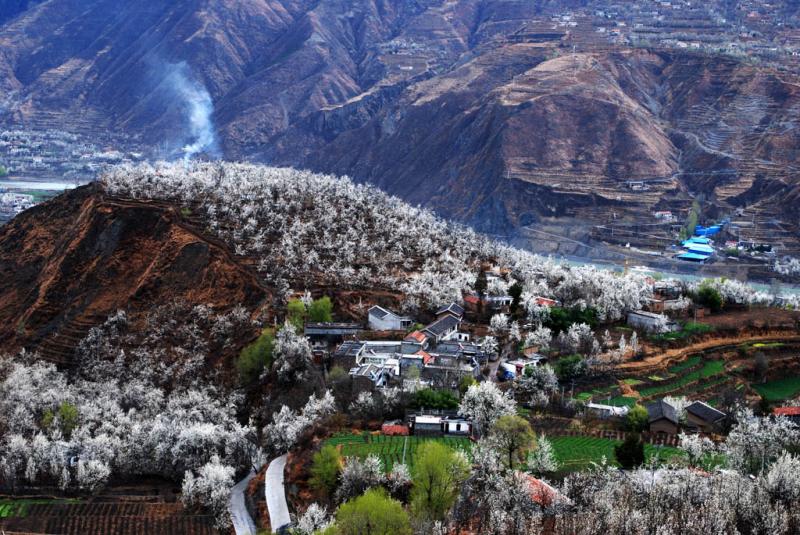 Cycling route: Chengdu →Dujiangyan →Xiaojin County →Danba County →Xinduqiao Town → Litang County →Daocheng County → Xiangcheng County →Shangri-La County → Lijang City →Luguhu Town → Yanyuan County → Xichang →Ya'an →Chengdu
Overall distance: 1,500km / 932miles
Duration: 20 --30 days
Best time for cycling: May, September till middle November is of good climate and best scenery.
If you like a challenge, take on this 1500-kilometer isolated road, and you will be awarded with a real scenic world. There you'll cycle on numerous rugged winding roads up and down the hills, enjoy the highlight of Yunnan and Sichuan province, stop by the beautiful old ethnic villages, and snake past the world's last Shangri-la in Daocheng Yading.
The following two routes are for easy leisure rides within the city, and can be done throughout the year:
7. Hangzhou, Zhejiang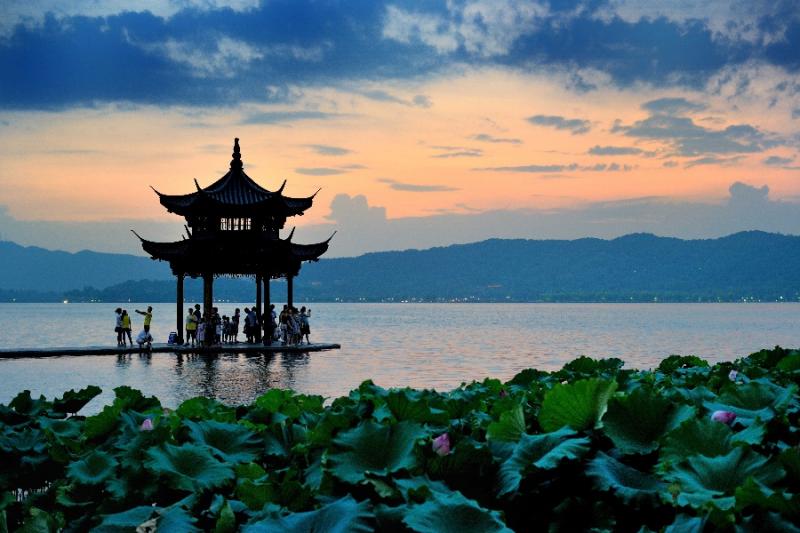 Cycling route 1: West Lake loop
Overall distance: 11 km / 6.8 miles
Cycling route 2: Duan Bridge → Jade Spring → Hangzhou Botanic Garden →Jiu Li Song → Lingyin Temple → Faxi (Tianzhu) Temple
Round Trip distance: 16 km / 10 miles
The Hangzhou city rides are short, easy through the famous attractions like West Lake, and Lingyin Temple. The routes fit all, including children and senior people.
8. Yangshuo, Guilin, Gangxi Autonomous Region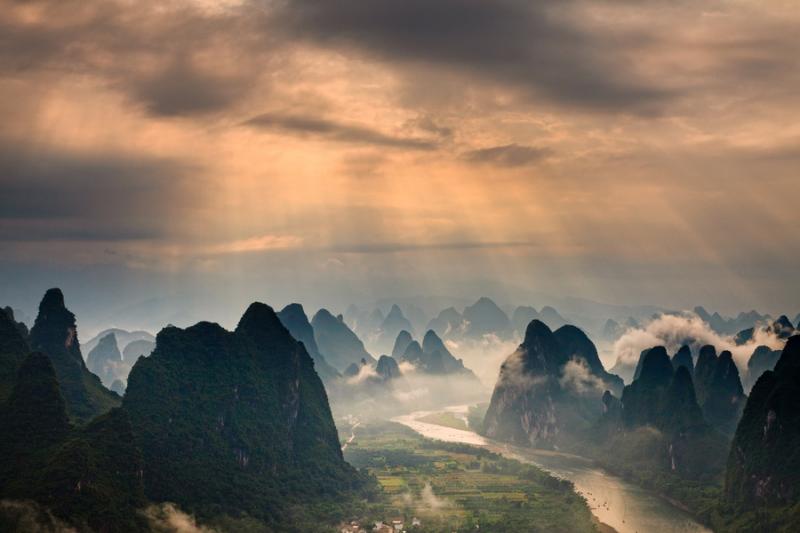 Cycling route: Yangshuo → Gonglong Bridge → Moon Hill → Fushan Temple → Yan Village → Tianjia River → Ai Hill → Yangshuo
Overall distance: 20 km / 12.4 miles
There is no better way to experience the beauty of Yangshuo than by bike. There are countless trails and paths spreading through the farms, rivers, rural villages embraced by the most stunning Karst scenery.