Shunan Bamboo Forest (Southern Sichuan Bamboo Forest), dinosaur, stone forest and suspending coffin are four ancient miracles in South Sichuan Province.
Located in Yinbin, China's famous Wine Capital in Sichuan province, Southern Sichuan Bamboo Forest (Shunan Zhuhai) is the oldest and biggest bamboo forest in China, by covering an area of 120 square kilometers, and home to around 400 different types of bamboo. It is considered as a natural oxygen bar.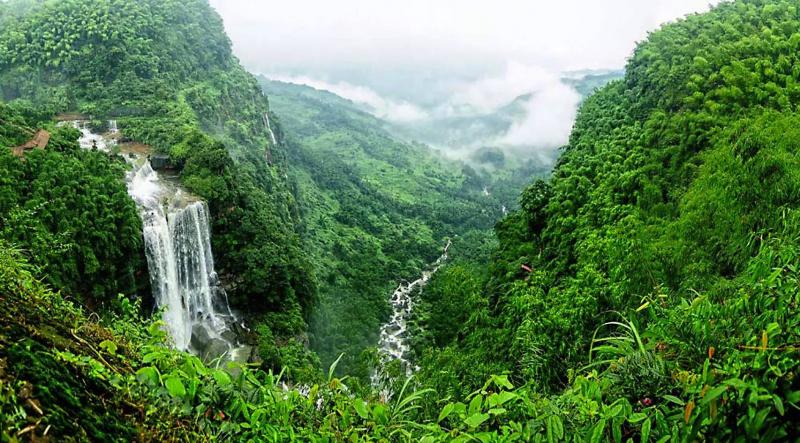 Southern Sichuan Bamboo Forest Facts
- In Chinese: 蜀南竹海, pinyin: shǔ nán/nā zhú hǎi
- Other names: Shunan Bamboo Sea
- Location: Changning County, Yibing City, Sichuan Province
- Area: 120 square kilometers
- Elevation: 600-1000m
- Weather: subtropical monsoon climate
- Ticket price:
RMB100 for peak season from January to November
RMB80 for off-peak season in December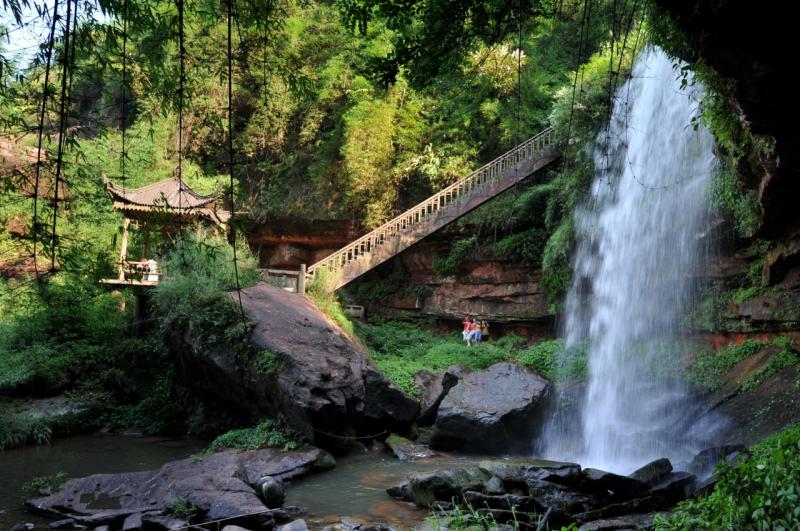 What to See - Southern Sichuan Bamboo Forest Attractions
The movie 'Crouching Tiger, Hidden Dragon' was shot here, therefore, for the first time, people from the outside world witness the natural beauty of the bamboo forest park, as well as its intoxicating atmosphere of peace, serenity and freshness. Travelers can take the cable way up to the top (with a relative height of 350m) for an exciting experience in the air and having a full view of the forest sea.
There are 8 major scenic areas with 134 attractions in the Shunan Bamboo Forest Park. Apart from its huge size of bamboo forest stretching across mountains and valleys, there are plenty of waterfalls, lakes, ancient caves and bridges that will relax and refresh you. The highlight attractions include Bamboo Forest Museum, Emerald Corridor, Rainbow Waterfall, Huaxi Thirteen Bridges, Tianbao Village, Xianyu Cave, Guanyun Pavilion and Qinglong Lake.
Xianyu Cave (仙寓硐)
Xianyu Cave is a natural rock cavity, more than 300 meters long, 2 to 15 meters wide and high. Above the cave is the jungle of bamboo, while below the cave is a deep canyon. The Temple of Monks (和尚殿) of Xianyu Cave is the place where the ashes are stored after the death of past abbots - inside there is a stone pagoda with 15 columbarium.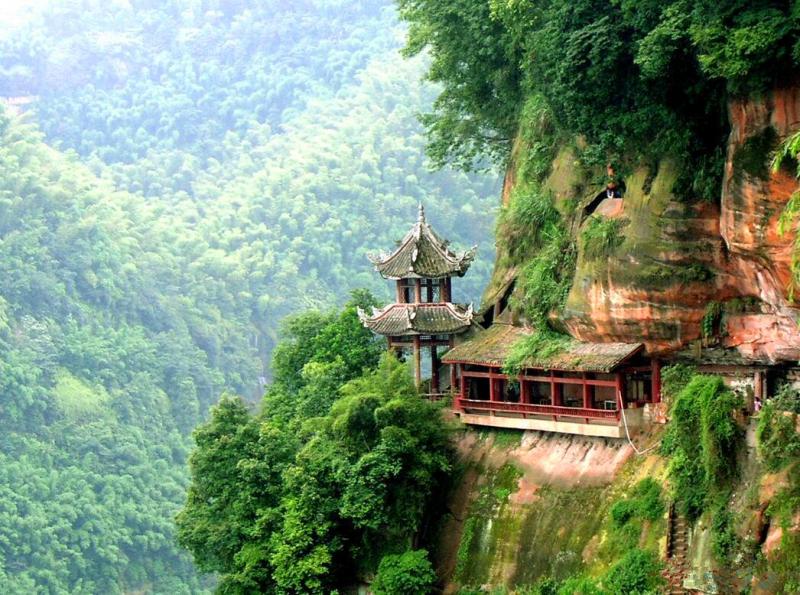 Guanyun Pavilion (观云台)
Also known as the sedan chair stone, Guanyun Pavilion offers magnificent views of shallow hills in south Sichuan - the silky rivers crisscross the hills where the bamboo houses are dotted. Beyond is mountainous areas from the Sichuan Basin to the Yunnan-Guizhou Plateau. Two rolling ranges of mountains, one yellow, the other green, like the Yellow Dragon and the Green Dragon, run from east to west.
Qinglong Lake (青龙湖)
Located at the foot of the high and steep Pai Qi Mountain, Qinglong Lake is the largest lake in the verdant Shunan Bamboo Sea with an area of 3 square kilometers. The body of the lake was dragon shaped, with a big head and samll tail, hence the name Qinglong Lake. There are Meiping, ancient Buddha cave, cool wind tunnel, magic mirror, seven stack stone and other historic sites nearby.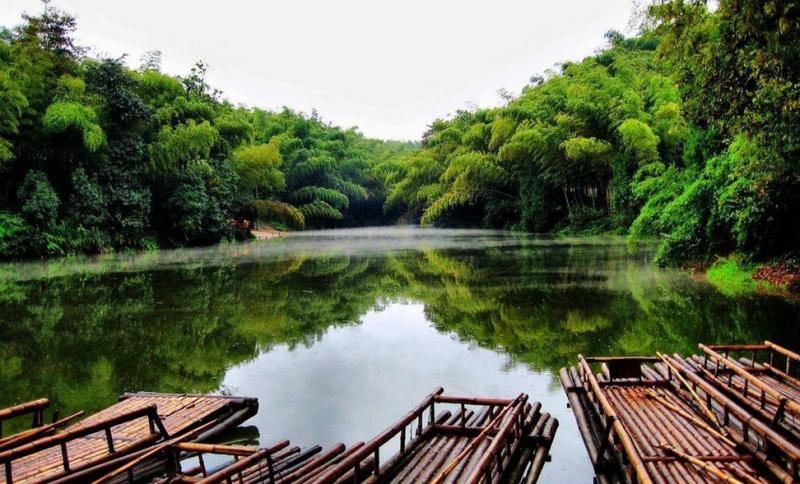 Emerald Corridor (翡翠长廊)
Located in the depths of the bamboo sea, the Emerald Corridor is paved with natural red sand stones of "with a color like lilium concolor, and as bright as roseate] clouds ". The red-carpet-like road and green-screen-like bamboos enhance each other's beauty, forming a beautiful jade promenade.
Shunan Bamboo Forest Cableway
It is a typical sightseeing cableway starting from Guanhailou Scenic Area and ends at Moxi Scenic Area, with a total length of 2742 meters, a relative height of 350 meters, and a journey time of nearly 30 minutes. Shunan Bamboo Forest cableway is one of the longest cableways in China, and traverses the vast bamboo sea.
The round-trip cableway ticket price is RMB75 yuan/person (RMB50 yuan for one way).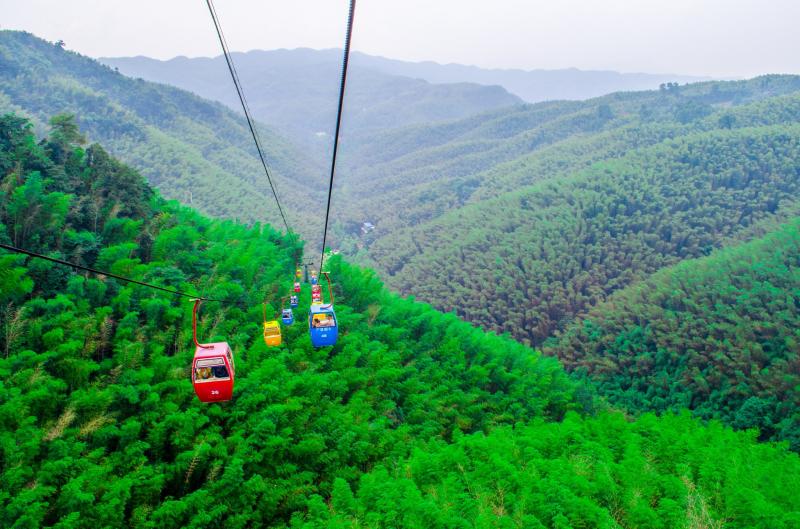 Southern Sichuan Bamboo Forest Animals & Plants
Shunan Bamboo Forest is a sea of bamboo, with more than 47 square kilometers of fresh bamboo covering 27 steep mountains and more than 500 peaks. There are 58 species of bamboos of 15 genera. In addition to common bamboos such as phyllostachys pubescens, Phyllostachys heteroclada and sinocalamus affinis, there are also rare bamboo species such as Phyllostachys nigra (black bamboo), Phyllostachys aurea, human face bamboos etc. The forest is green and lush in summer, with fresh air, thus also known as an ideal summer resort in China.
Rare plants such as tree-ferns, orchids, nanmu and ferns were sporadically grown in Southern Sichuan Bamboo Forest. According to statistics, there are no less than 200 kinds of Chinese herbal medicine produced in the forest, making it a natural big medicine garden. In addition to the production of bamboo shoots in the forest, there are many valuable fungi: bamboo fungus, Hericium mushroom, ganoderma lucidum, etc.
Southern Sichuan Bamboo Forest animals include bamboo rat, bamboo frog, Chrysolophus amherstiae, Hylarana (H.)I adunchna (Chang), Trimeresurus stejnegeri (green bamboo snake), and other unique animals of bamboo sea.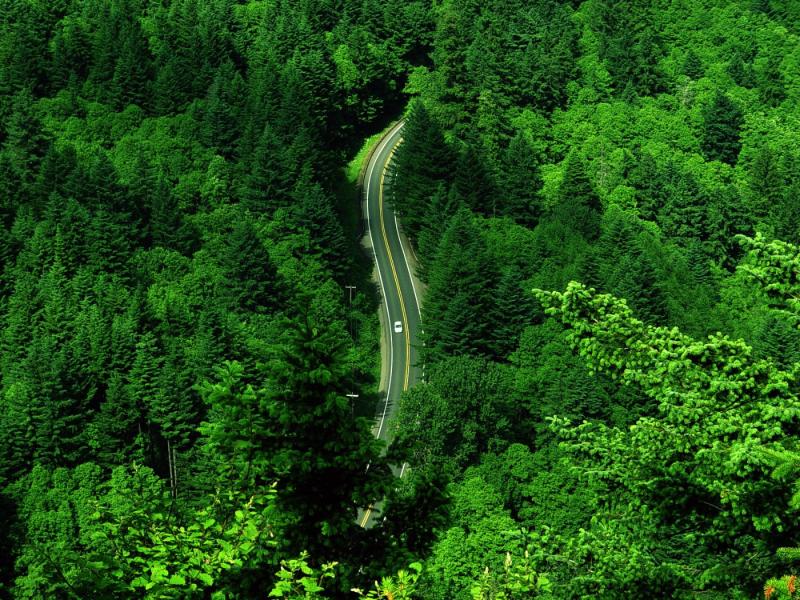 Shunan Bamboo Forest travel tips
What to eat:
For foodies, you should not miss the fresh and delicious bamboo-derived foods, also named panda feast, including bamboo shoots, bamboo mushrooms, Bacon in bamboo forests, bamboo rice, bamboo tofu pudding etc. There is also bamboo wine. >> Know more about Sichuan cuisine
Local specialties also include Yibin Burning Noodles, Nanxi dried beancurd, odd taste chicken, etc.
>> Wishing to visit giant panda in Sichuan? Take our private China Panda tours with great opportunity to become a panda keeper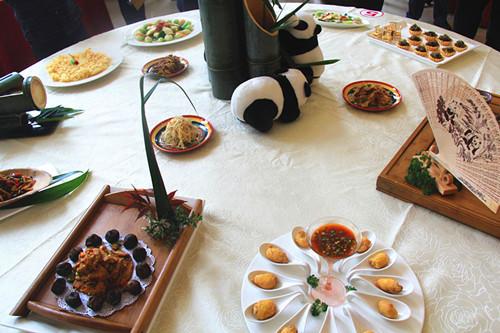 Best time to visit: at an altitude of from 600m to 1000m, the average annual temperature here is 15.5℃. March till October is good time to visit the park, while the summer season from May to August is the best, since the park turns to be a natural summer resort.
How to get there
Travel from Chengdu to Shunan Bamboo Forest – it takes about five hours by taking buses from Xinnanmen Station or Wuguiqiao Station.