The biggest event in China is coming! Chinese traditional festival, Spring Festival, will be celebrated on Jan 24th to 31st in China and the rest of the world where Chinese live. To celebrate New Year and welcome spring festival, the team of Easy Tour China spent a weekend in Sanjiang Chengyang Dong Village to appreciate elaborate wooden residences and interesting Dong customs.
Sanjiang Chengyang Dong Village
Situated in the north of Sanjiang County, Liuzhou, Chengyang Dong Village is not very far from Guilin. In particular, the expressway has cut through several mountains, making it only 2.5 hours' drive from downtown Guilin (bullet train is also available). Sanjiang is also on the bordering of Guizhou Province, which gathers amount of Dong people.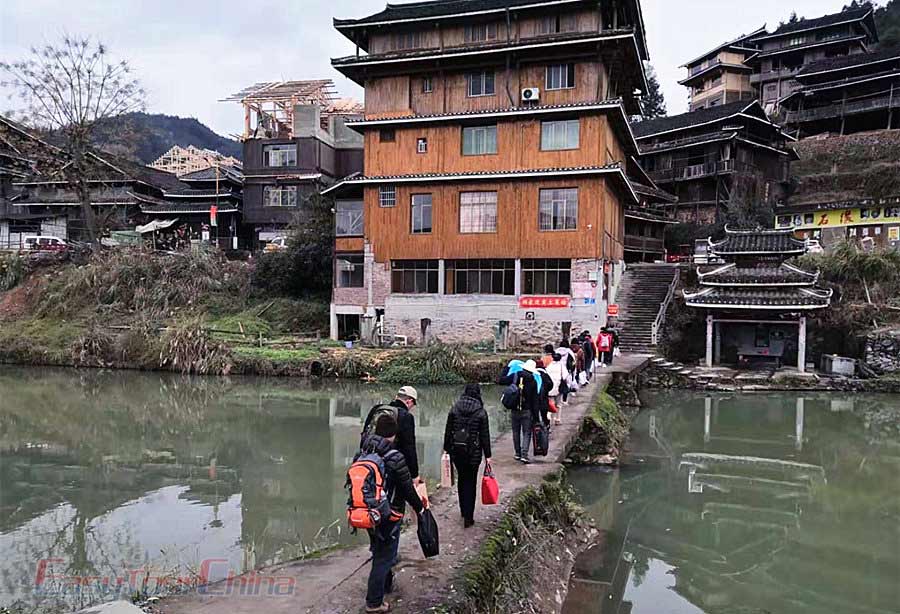 This is a traditional minority-villages group, which is made up of eight Dong villages. The residences here are all made of wood without any screws or concrete. In each village, you can see three representative buildings in Dong region: Wind and Rain Bridge, Drum Tower and Diaojiaolou (wood house for living).
Wind and Rain Bridge connects the village to the outside world or to other villages. This is a kind of capacious wooden bridge with a roof, which at first serves as a shelter from the wind and rain, later it derives a beautiful implication: people crossing the bridge together can overcome the test of fate together. Drum Tower, usually supported a large square in front, is the main place for villagers to hold big events, celebrations, or shows. In the past, it was the place where the managers of the village made announcements or held meetings, the most solemn place in the whole village. Now, besides setting up a simple office, it is for leisure. Diaojiaolou is widely used in most Chinese ethnic area, it's a kind of two-or-four-story wood dwelling, the ground floor is for keeping animals or storage, up floors are for living. Because the living condition developed, people needn't to live with animals any more, the hygiene and smell are much better.

Ma'anzhai Village is the most popular place for people to visit among them, and it was our main activity area as well. Ma'anzhai Village gets its name from its outline, which is surrounded by a river, like a saddle. There were not many people living in the village and they spent slow time here because it was not the busy season for farming. Although some residents have moved out of the ancient village and into nearby concrete houses, the old people still like to gather here to chat, and whenever there is a big festival or celebration, all of them come back here to meet and celebrate. Like an old Chinese saying goes, "falling leaves return to the roots."
Recommended China Tours including Sanjiang:
2-day Sanjiang Tour for Wind & Rain Bridge
8-day Real Guilin Tour with Extension to Sanjiang Dong Minority Village
11-day Guangxi & Guizhou Mountain Tribe Adventure
Activities in Dong Village
Various festival or celebrations will be held among minority people other than traditional Chinese festival. So if you visit here at the right time, you will enter a very lively and festive world, ready to be infected by their happiness.

"Yueye" Festival will be held in January; the bride wedding and thanksgiving festival will be held in February; the Polyphonic Dong Chorus Festival is held in March; "Pohui" Festival is held in April; the Dong's Cultivation's Festival is held in May; the Festival of Sacrifice the cattle by Black Rice will be held in June; in July, they celebrate "Xinmi" Festival; in August, they will celebrate "Youcha" Festival; in September, they has Marriage and Loving Festival; in October, people held Reunion with Lusheng Festival; they held "Duoye" Festival in November; and they celebrate Dong's New Year in December.
Different from people who live in the city and can enjoy their time in shopping malls, bars, restaurants, clubs, etc. people live in this rural village can only have fun when people get together, so they like to support interesting activities to relax from farming.
Although we did not meet their festival when we went, we invited some women to bring us a performance of "Gaoshanliushui (高山流水)" on dinner time. It's a show of toasting with singing, and they brought our emotion of dinner to the top.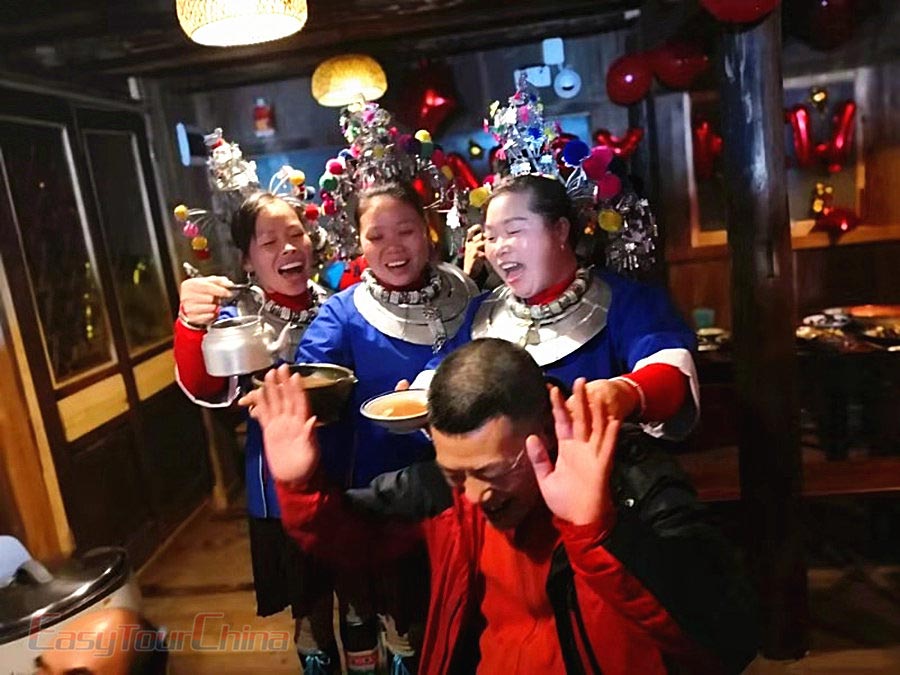 Our Celebration
In addition to enjoying local specialties and home-cooked dishes, the most important part of the celebration was a review of our work in 2019 and the presentation of awards. During the activity, we heard the stories Shared by employees and the summary and evaluation of team leaders. At the beginning of the New Year, everyone has benefited a lot both mentally and materially, and gained inspiration.
In the evening, every group or department showed us a great performance. Each original program shows the wisdom and creation, and the laughter and applause of the audience also give full recognition to the performance of each actor. It was an unforgettable night for everyone of Easy Tour China.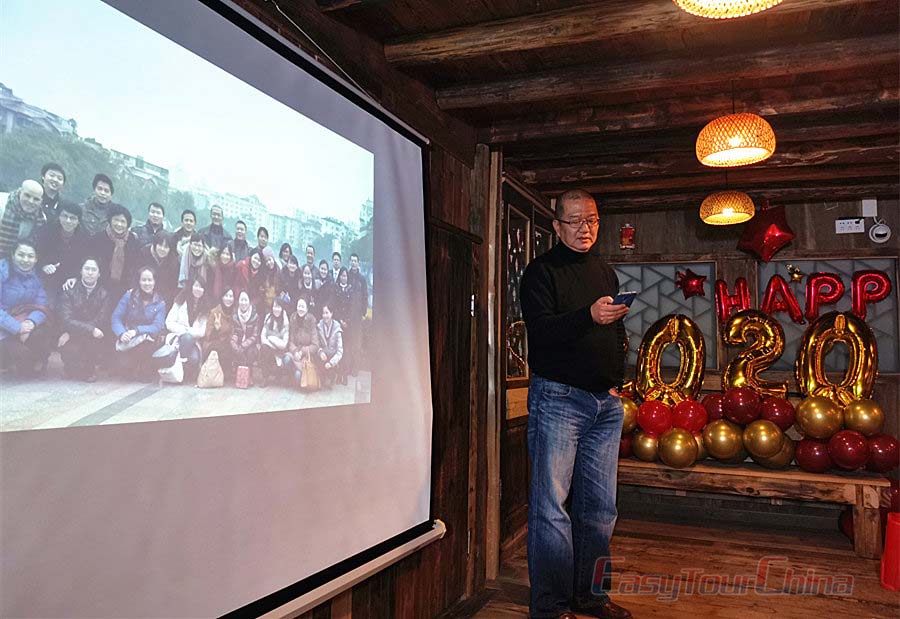 The next day, we did some activities outside the guest house, and doing some sightseeing freely. People scattered around looking for the beauty of the village and the simplicity of the corner, there are still many found.
It must be mentioned that the hotel we booked brought us a great surprise. We had no idea that a primitive village like this would have such a nice guest house. It was rebuilt from the old wooden residences, which are originally planned to knock down. Although the appearance of the look is not very impressive, but when we enter the room, it was appealing all of us. Its facilities are well equipped, the design is very human, and decoration is also very distinctive, so that we can relax in a very comfortable environment after playing.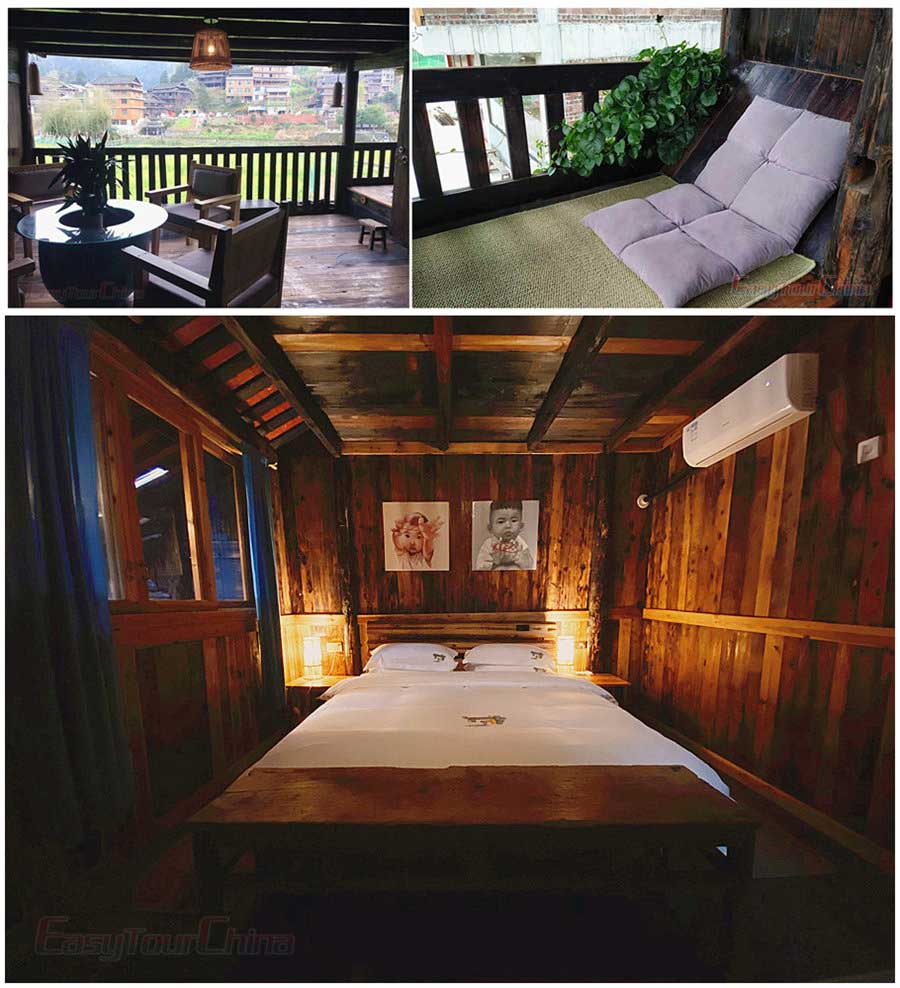 What is most memorable is that we have summarized many old employees who have worked here for more than 8 years. We believe we have walked across the Wind and Rain Bridge together this time and there will be more colleagues to accompany us along the way. In 2020, we will do better, and strive to provide customers with more quality trips and considerate services!