The globe is racing for COVID-19 vaccine trails. In principle, it takes more than 8 years for a vaccine to go through all the pre-clinical and clinical trials before implementation. But there are now about 10 vaccine candidates that have started Phase 3 clinical trials - the final step to prove its effectiveness and safety before seeking regulatory approval.
October 20 News:
Four coVID-19 vaccines have entered phase III clinical trials in China
At present, China is in a leading position in the research and development of coVID-19 vaccines, and 13 vaccines have entered the clinical stage. Among them, inactivated vaccine and adenovirus vector vaccine, a total of 4 vaccines entered phase III clinical trials. So far, about 60,000 subjects have been vaccinated and no serious adverse reactions have been reported.
China could have 610 million doses by the end of this year
China's vaccine production capacity is expected to reach 610 million doses by the end of this year, said Zheng Zhongwei, director of the Science and technology development center of the National Health Commission. The annual capacity of CoVID-19 vaccine in China next year will be expanded on this basis to effectively meet the demand for coVID-19 vaccine in China and other countries around the world.
September 23 News:
According to CCTV News on September 22, local time 21, the World Health Organization Director-General Tedros Adhanom Ghebreyesus said at a regular press conference that there were nearly 200 COVID-19 vaccines in clinical or pre-clinical trials worldwide, but not all of them will be developed successfully.
WHO is working on the COVID-19 Vaccine Implementation Plan, which is expected to deliver 2 billion doses of COVID-19 vaccine by the end of 2021. The goal is to ensure simultaneous access to COVID-19 vaccine in all countries, with priority given to high-risk groups such as health workers and the elderly.
Mr Tedros said the more candidates there were, the better the chance of a safe and effective vaccine. This was not about charity, he said, but in the best interests of each country. The quickest way to end the COVID-19 pandemic and accelerate global economic recovery was to ensure that people in all countries can be vaccinated against the coronavirus, not all people in some countries.
Dr Soumya Swaminathan, WHO chief scientist, said that China's COVID-19 vaccine research and development program was very active, and there are several vaccine candidates in the advanced stage of clinical trials. The WHO was interested in China's COVID-19 vaccine and had been closely watching it, and some vaccines had been shown to be effective in clinical trials at this stage.
September 18 News:
Ministry of Science and Technology of China: eleven COVID-19 vaccines in China entered the clinical trial stage
On September 18, Wang Zhigang, minister of Ministry of Science and Technology of China, revealed that China had completed the research and development of nucleic acid test, antibody test reagents and supporting equipment to meet the detection needs of different application scenarios and promote the research and development of five technology routes in parallel. By Sep.18, 11 COVID-19 vaccines entered clinical trials, of which 4 entered phase iii clinical trials.
September 17 News:
China domestic nose-sprayed COVID-19 vaccine entered clinical trials.
Clinical trials of a novel coronavirus vector vaccine developed by Xiamen University, the University of Hong Kong and Beijing Wantai Biology began trial. Novel coronavirus vaccine is a novel coronavirus gene fragment inserted into the novel coronavirus vector to make a live virus vector vaccine, so as to stimulate the human body to produce an immune response to the novel Coronavirus. According to the general manager of Beijing Wantai Bio-Pharmaceutical Co., LTD., the advantages of nasal spray vaccine lie in:
(1) Its immune barrier is by mimicking the route of viral infection.
(2) It is a live virus and can constantly stimulate human body to produce immune memory.
September 6 News:
China's COVID-19 vaccine made its first appearance at the China International Fair for Trade in Services (CIFTIS)
At the China International Fair for Trade in Services 2020 held in Beijing from September 5 to 9, China Biotechnology co., LTD, which was invited to participate in the special exhibition area of public health and epidemic prevention, presented two kinds of COVID-19 vaccines for the first time, attracting the attention of the audience. It was said that the two new COVID-19 vaccines were in the Phase 3 clinical trial stage in the united Arab emirates, Bahrain, Peru, Morocco, Argentina and other countries and regions. Fifty thousand people were enrolled for vaccination, and the sample population now covers 115 countries, leading the world in all aspects of progress.
At the same time, China Biotechnology co., LTD was building high grade biosafety production facilities at two biological products research institutes in Beijing and Wuhan, with a combined annual capacity of 300 million doses in two vaccine production workshops.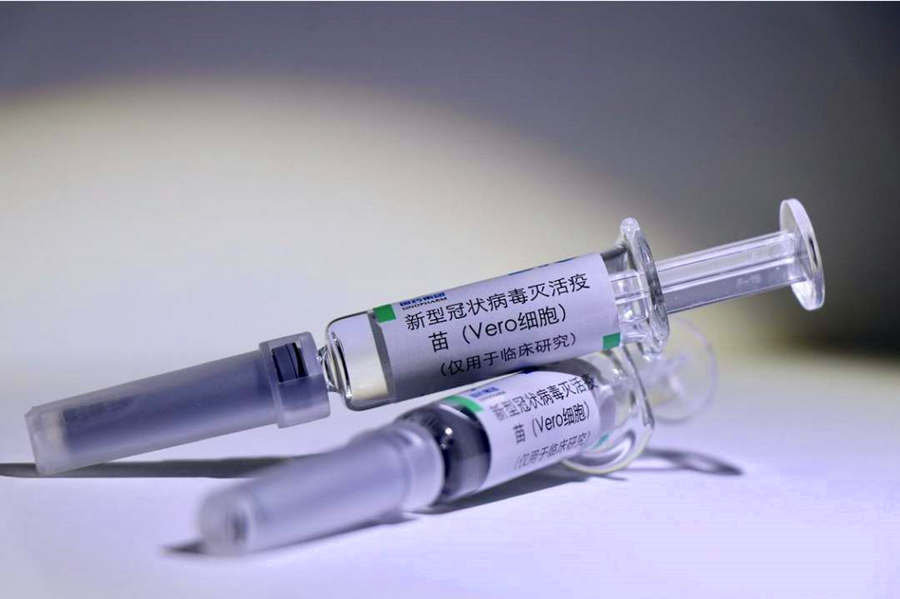 CNN August 27 News:
Six COVID-19 vaccine candidates started Phase 3 clinical trials, three were from China. The Phrase III trial required large-scale testing of thousands of participants. But the coronavirus was largely contained in China. So the Chinese vaccine reached an agreement with Brazil and Indonesia which ranked second and 17th in the world for infections. The trails were rolled out in these two countries with about 11,000 volunteers. In return, Brazil and Indonesia was promised a certain amount of the vaccine, if the tests found it to be effective.
According to São Paulo officials, a Phase 3 study was launched in late July involving 9,000 volunteers in São Paulo, all health professionals who worked with Covid-19 patients but wasn't infected with the virus.
Philippine President Rodrigo Duterte said he also had asked China to help the Southeast Asian nation get priority access to a Chinese vaccine.13 companies by far in China were working on coronavirus vaccines. Nine vaccine candidates were in human trials -- more than in any other country. Read more about the CNN news about COVID-19 Vaccine 2020