The agricultural economy production of Dong has a long history. The changes of seasons and the farming procedure make the Dong realize the concept of time. The Dong think that the time of each year`s beginning is the moment of a golden harvest. Therefore, the Chinese lunar November is treated as the beginning of a new year in some places and the ending of a new year in other places. Dong`s New Year Festival has replaced in the most the region, for the frequent contact of Dong and Han. However, there are still some villages celebrate the New Year of Dong in accordance with the ancient custom. Seventy-two Dong village area, celebrate the New Year during the Chinese lunar October to November.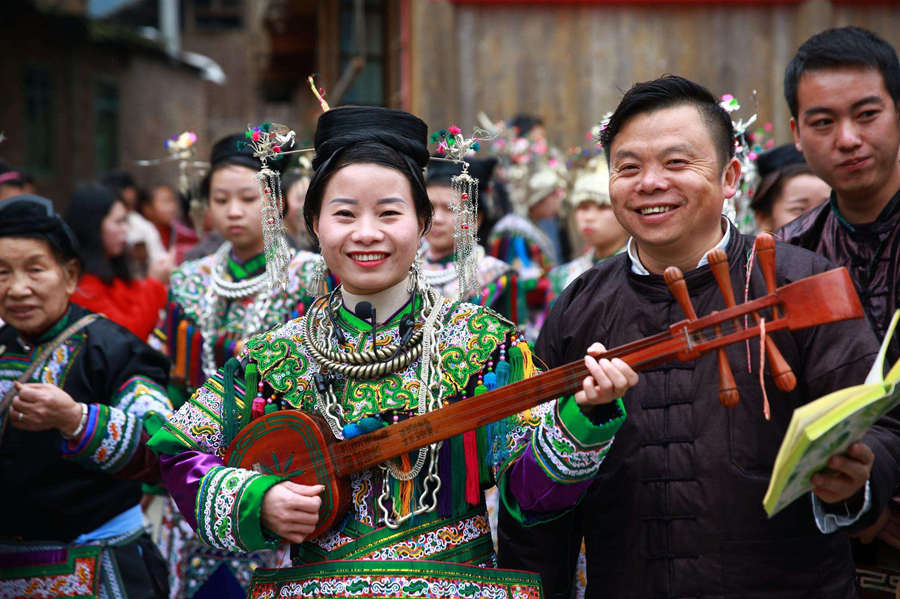 According to legend, the ancestor of Dong came a long way from other places. They mainly lived by hunting and gradually learnt to reclaim wasteland. After the autumn, all clan people celebrate the harvest together. From then on, the ceremony held on late autumn becomes the New Year passed from generation to generation. On the occasion of the New Year, all families without exception thoroughly clean up their house, people of all ages and both sexes change into new clothes. They butcher livestock and make glutinous rice rake for board. Furthermore, the Dong people hold some large-scale activities, such as presenting Lusheng Songs and Dances and bullfighting. Some young people take this special day as their wedding day. They hold the ceremony and invite their relatives and friends to celebrate their wedding. In addition to the Dong's New Year Festival held on early November, the two exhibition games "Peinian" were celebrated in the Seventy-two village. The so-called "Peinian", is called by a joint name of the late Lunar November festival accompanied with the nearby Dong villages and the Chinese Spring Festival. "Peinian" is a pretty grand item that can enhance national unity and strengthen villages' friendships no matter on its form or its content.
The New Year held in Yang`s families, Congjiang County, is known locally as the "Yang years". It happens at the third day of lunar November. According to the ancient legend of Dong, there was a Yang surname general who goes out to a battle go back home before the Spring Festival, for he was afraid the road interrupt caused by the frost. This year, Yang's family got a golden harvest. So, Yang's family employed fish to fete their relatives and sacrifice their ancestor. Until today, people still use fish to sacrifice their ancestor devoutly. People in Jinpin County, Yaobai County and Jianhe County celebrate the coming of New Year from late November to early December. At that time, each family is busy to hit the glutinous rice rake, to make the liqueur and butcher the livestock.
Related Reading