Itinerary:
Day 1 Guiyang Arrival (no meal)
After arrival in Guiyang, your tour guide and driver will meet and welcome you at the airport, then transfer to hotel check in. Evening your own arrangement to have a rest and relaxation in this pleasant riverside city, where you can find yourself a local restaurant to enjoy the delicious Guizhou local food.
Overnight in Guiyang
Day 2 Guiyang - Liuzhi (B, L, D)
Start your day of exploring Guiyang, which is famous for the lush mountains and beautiful water. Experience the local lifestyle and customs by visiting the bustling local market and city streets lined with both old and new structures. Pay a visit to Jiaxiu Tower. This over 400-year-old traditional Chinese-style pavilion is one of the landmarks of Guiyang.
After lunch, your guide and driver will escort you to Liuzhi. It takes around 2-3hours drive to get to Liuzhi – a mountainous city mostly habited by the Miao & Yi minorities. Dinner at a local restaurant.
Overnight in Liuzhi
Day 3 Liuzhi (B, L, D)
Full day take part in Tiaohua Festival - it is one of the most important and oldest festivals for Miao people. People from the nearby villages gather together and dress in colorful traditional costumes, singing, dancing, and playing music with Lusheng. The girls are dressed in the finest hand-made embroidery clothes and artistic silver accessories. Feel free to join the Tiaohuapo Festival to experience a very traditional way of lifestyle and have an insight into their distinctive culture and customs.
Overnight in Liuzhi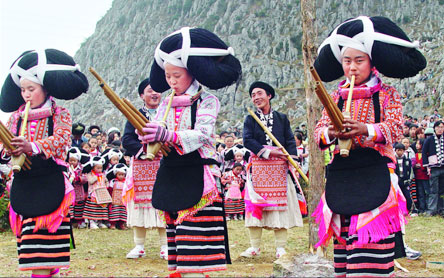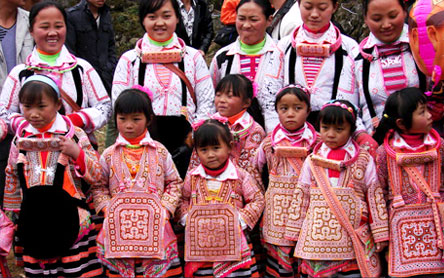 Day 4 Liuzhi - Anshun (B, L)
Transfer to Anshun for a visit to Huangguoshu Waterfall Scenic Area. The falls are the biggest in China and the third biggest in the world. Hike around to discover the underground lake and hidden caves behind the curtain of water. 6 km from Huangguoshu Waterfall is Buyi Stone Village. It is so named because the dwelling houses are built entirely from stone, with stone walls, stone tiles, stone pillars, stone gates and stone railings.
Overnight in Anshun.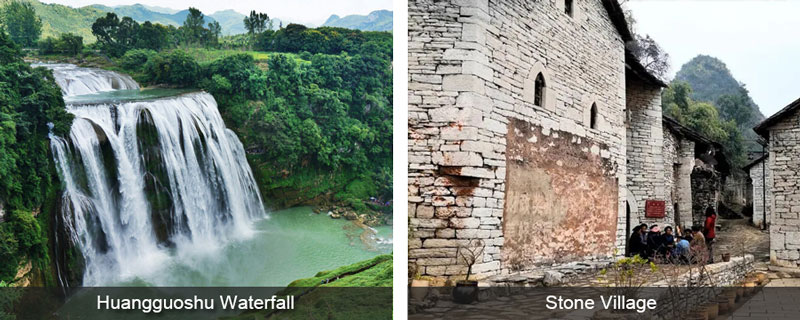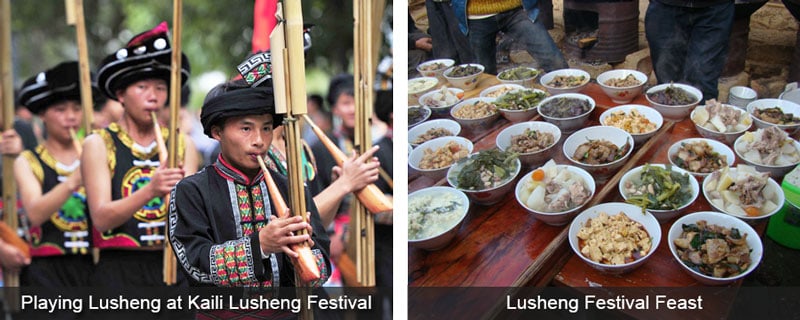 Day 5 Anshun - Kaili (B, L)
Drive for 4-5 hours to Kaili, the center of Qiandongnan Miao and Dong Autonomous Prefecture. En route visit Tianlong Tunpu, a former village fortress dated back to Ming dynasty. Tunpu people have their own unique language, clothes, architecture and forms of entertainment, which are quite different from the nearby villages.
Overnight in Kaili.
Day 6 Kaili (B, L, D)
Drive for half an hour to visit Matang Gejia Village in the morning. The village has been inhabited by a group of Gejia minority people (Gejia minority has not been identified by Chinese government, so it is not one of the 55 minorities in China)
In the afternoon visit Kaili Museum, a treasure house of Guizhou minority culture. The building blends both the Miao and Dong architectural art style.
Later take part in the Lusheng Festival at nearby Miao village. Lusheng is a traditional musical instrument, somewhat like a wind pipe. Join the activities like drum dance, lusheng dance, horse-racing, bullfight, and have fun with the locals. Pay attention to local Miao's unique costumes.
Overnight in Kaili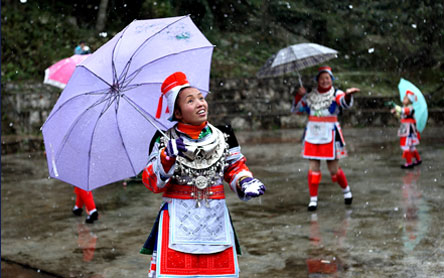 Day 7 Kaili - Langde (B, L, D)
Visit Jidao Miao Village in the morning. Listen to the local Miao people's old stories and legends. Afternoon transfer to visit Langde village, where people dress in long skirt, hence also the name "Long Skirt Miao" After taking some walk in the village to see the quaint stilted-building buildings, you can join in the families with the dinner preparation and learn to cook genuine Miao dishes.
Home stay in local family of Langde Miao Village
Day 8 Langde - Leishan (B, L, D)
Road Journey from Langde of Kaili to Leishan Town - After breakfast, enjoy a walking tour from Shuidian Village to Paika Miao Village, through hills and terraced fields. Head to Datang Short Skirt Miao Village, experience the local folk customs. Take part in Fire Dragon Festival after dinner, till the very early hours of morning, when the performance will have its best part.
Overnight in Leishan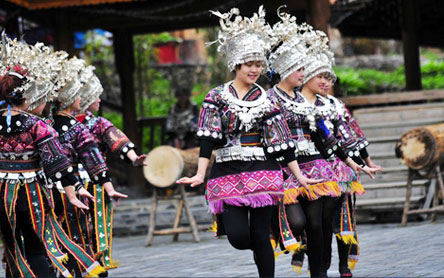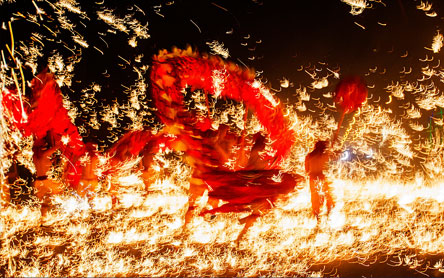 Day 9 Leishan - Kaili (B, L, D)
Enjoy a relaxation at the hotel in the morning. After lunch, proceed to Huangping Miao Village to take part in the Lusheng Festival. You will have time to soak up the post-festival atmosphere. Families will spend the day cooking feasts to which yourself and your guide will be invited. Enjoy their home-cooked cuisine at the long-table banquet and share your experiences of the festival. Much of the day is at leisure for you to enjoy as you wish.
Overnight in Kaili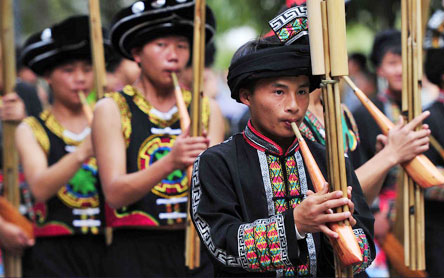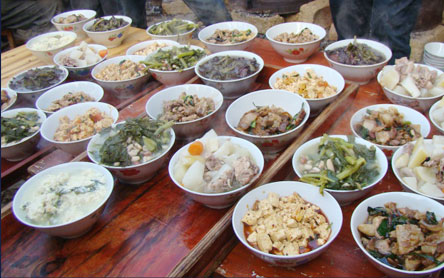 Day 10 Kaili - Zhenyuan (B, L)
Drive to Zhenyuan via Taijiang and Shidong. Today you will set out on a scenic drive through the Guizhou countryside to Zhenyuan. En route you will stop at the villages of Tailijiang and Shidong to explore and interact with the locals. Arriving at Zhenyuang in the early afternoon, you will find an ancient and quite beautiful town, huddled around a bend in the Wuyang River. Check into your hotel and take some time to explore the town's old quarter, later heading up to a scenic spot to view the ancient area from above.
Overnight in Zhenyuan
Day 11 Zhenyuan - Kaili (B, L)
Trekking in the countryside around Zhenyuan in the morning: you will have more time to soak in the laid-back atmosphere of ancient Zhenyuan. Later in the morning you will head out of the town for some light trekking in the peaceful hills, culminating with a walk up to the azure water of Emerald Dragon Pool. Drive back to Kaili, visit Shibing and Huangping Village en route.
Overnight in Kaili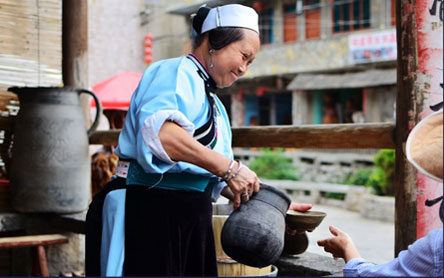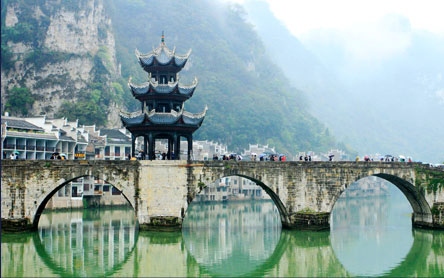 Day 12 Kaili (B, L, D)
Attend a 2nd Lusheng Festival around Kaili: Today you will head to nearby Zhouxi to attend a second, larger lusheng festival. This courtship festival is more established than the one experienced last week and will be quite a spectacle. Once again your guide will be on hand to help you meet and greet the locals and facilitate in any interaction. Lunch and dinner will be provided in local restaurants, in the evening return to your hotel in Kaili for an evening at leisure.
Day 13 Kaili - Guiyang (B, L)
Road journey from Kaili to Guiyang: After a visit to a traditional fair market, drive back to the provincial capital of Guiyang where you will spend the night. The drive will take around 4 hours and on arrival check into your hotel.
Overnight in Guiyang
Day 14 Depart Guiyang (B)
Private transfer: in the early morning you will be transferred to the airport for your return flight.