Wan Zhou (previously known as Wanxian) is a small mountainous city known the gateway to East Sichuan. It is located 350 kilometers down stream from Chongqing and spreads out on both sides of the river.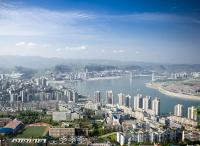 This city received its name during the Ming Dynasty (1368-1644) and became a Foreign Treaty Port in 1902.
In 1926 two British gunboats bombarded the city, when the local warlord took to commandeering foreign vessels to transport of his troops. Following this incident a boycott on the loading and of British vessels was enforced for several years. This became known as the Wanxian incident.
Main industries: Today, Wanxian is an important port and industrial center. Wanxian tangerines, oranges and peaches are renowned throughout China. The city's silk spinning and weaving industries are well known in the Yangtze Gorges region.
Tourist Attraction: The exciting acrobatic show is well known in this region and there is a free market in town where local produce and crafts are sold.
Recommended China Tours Including Wanzhou Yangtze Cruise