Overview
Nanjing was the Chinese capital for six dynasties during a period of nearly 500 years. Travel with our local expert guide and make an in-depth exploration of time-honored Nanjing during the 3-day weekend getaway. Experience the old-world elegance of ancient China with all must-see historical sights including the old city wall, Ming Xiaoling Mausoleum, Chaotian Palace, Nanjing Museum. Also pay your respect to the great sage Confucius' Temple, which is now developed into a bustling commercial street and the country's founding father, Dr. Sun Yat-sen's Mausoleum.
Duration: 3 days & 2 nights
Travel Style: private tour
Customize Your Tour:
☑ Travel Dates ☑ Your Interests ☑ Your Travel Style

Upon your arrival at Nanjing rail station or airport, you will be greeted by your private tour guide holding a sign with your name at the exit. Enjoy a private transfer to your hotel booked in prior. Your tour guide will help you with the check-in procedure.
Later, set off with your private guide to visit Confucius Temple and Qinhuai River. Confucius Temple is a newly developed area with Qing-style buildings, house shops and restaurants and is also a tourist attraction. It has been damaged and rebuilt repeatedly, and was once a center of Confucius study for more than 1500 years. Qin Huai River, is the biggest river in Nanjing. Being a branch of the great Yangtze River, Qin Huai River is the symbol of Nanjing city and the birthplace of the age-old Nanjing culture.
After breakfast, meet your guide at hotel, and then set off for your Nanjing tour. Firstly you will be guided to visit the Mausoleum of Dr. Sun Yat-sen. Dr. Sun Yat-sen is recognized as the father of Modern China by the Communists and Kuomingtang. He passed away in Beijing in 1925. Construction of his mausoleum started in January of 1926, completed in 1929.
Later go forward to visit the Linggu Temple. This Temple was first built in 1381. Of this temple only the Beamless Hall (so called because it is built entirely of bricks) remains. To the north of the Beamless Hall stands the nine-storey Linggu Pagoda. The long climb to the top is rewarded with a magnificent view over wooded countryside. The next stop is the Old City Wall. With a circumference of 33.676 km, the city wall in Nanjing built in the period 1366 to 1386 in the beginning of the Ming Dynasty is 12 meters in average height, providing 13,616 crenels and 200 shelters for soldiers.
The last stop for today's tour is Ming Xiaoling Mausoleum. Located at the southern foot of Mount Zijin in the eastern suburb of Nanjing, it is the burial site of Zhu Yuanzhang (1328-1398, reigned 1368-1398), the first emperor of the Ming Dynasty. The mausoleum itself is an architectural masterpiece that represents the paramount craftsmanship of the Ming Dynasty.
Meal: B, L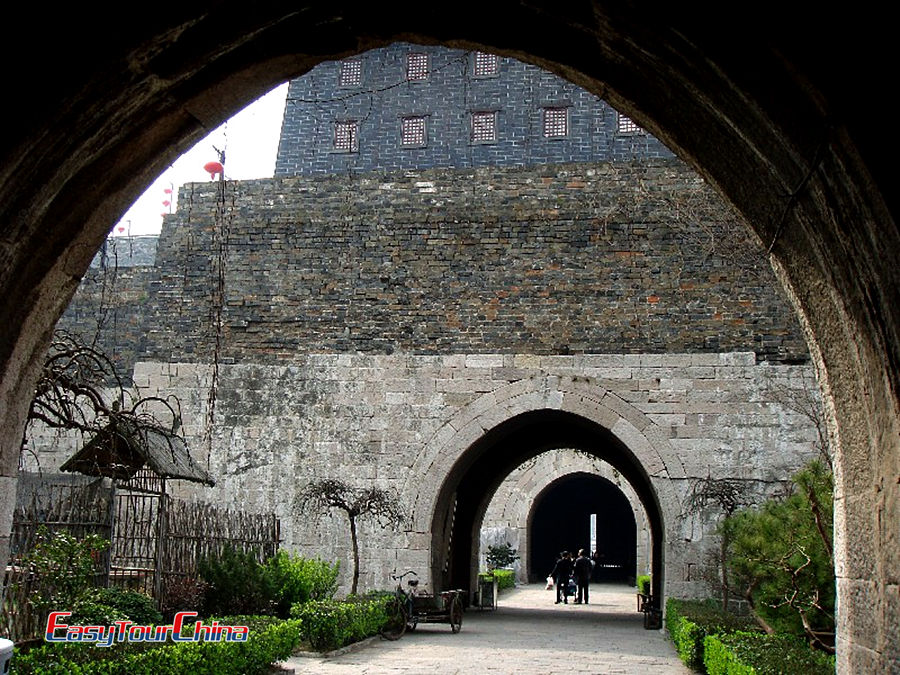 In the morning, continue your Nanjing tour to visit Chaotian Palace. Covering an area of approximately 70,000 square meters, Chaotian palace is imposing and broad in scale and is the most complete preservation of Qing Dynasty temple of Confucian. Later drive forward to Nanjing Museum. With an area of 70,000 square meters, Nanjing Museum is one of the largest museums in China. It is opened to the public in 1978, and it is responsible for the excavation and preservation of the ancient relics in the Nanjing area. There are various kinds of 420,000 pieces of collection totally, among which are more than 2,000 pieces of the national first-class culture relic and the national most favorite treasures.
After the tour, transfer to airport or rail station for your next destination.
Meal: B, L
Service ends.
What's included
1-on-1 Travel Consultant

Your China based expert listens to your wishes carefully, provides professional advice, ensures unlimited itinerary revisions before done and 24/7 helpline service while traveling.

Private Local Guide and Driver

Your guides are friendly, helpful and knowledgeable, and your drivers are professional, polite and patient. They are very flexible to accommodate your personal needs and happy to show you the local attractions, history, culture, foods and real life.
Private transfers from hotel to attractions, airport or train station are also included.

Accommodation to Suit Your Preference

We hand pick hotels ranging from luxury 5 star, superior 4 star to comfortable 3 star. Luxury or cozy boutique hotels and budget guesthouses are also among your choices. You could decide where to stay to meet your taste and budget.

Gourmet Meals

Most of the hotels we select offer both Western and Chinese buffet breakfast. Lunch and dinner included are arranged in selected restaurants to taste authentic Chinese cuisine and local specialties. Thus you may also have a unique food tour.
Meals specified in itinerary as B=breakfast, L=lunch, D=dinner.

Attractions and Activities Listed on the Itinerary

Our city tour packages have included the (first/main) entry to all attractions and the expenses of activities on the itinerary (except the optional activities).