33-day China Ultimate Train Journey
Tour code: ETC-B36
Discover the history and culture of China with this amazing package. Trip to the ancient Capitals and explore the many historical landmarks, such as Great Wall, Terracotta Warriors, West Lake, Xiaoling Tomb, and Longmen Grottoes. Also, meet the adorable pandas in Chengdu, experience the romance of Lijiang, enjoy beautiful scenery in Yangshuo, Huangshan and Mt. Taishan, and visit the birthplace of the Confucian culture...


Click to enlarge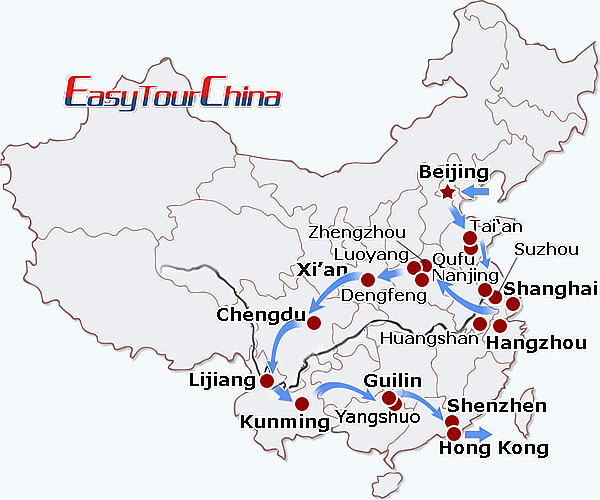 Tour Date
City
Tour Brief
1
Beijing

Arrive Beijing, Free Day

2
Beijing

Temple of Heaven, Tian'anmen Square, Forbidden City

3
Beijing

Great Wall, Hutongs by Rickshaw

4
Beijing / Tai'an

Transfer to Tai'an by Train

5
Tai'an / Qufu / Tai'an

Kong Family Mansion, The Cemetery of Confucius, Temple of Confucius

6
Tai'an

Mt.Tai

7
Tai'an / Nanjing

Transfer to Nanjing by Train

8
Nanjing

Ming Tomb, Qinhuai River, Zhonghua Gate, Dr.Sun Yat-Sen's Mausoleum, Lingu Garden, Fuzimiao Walking Street

9
Nanjing / Suzhou

Train to Suzhou, Garden of Net Master, No.1 Silk Factory

10

Suzhou / Hangzhou

Pan Gate, Grand Canal, Train to Hangzhou

11

Hangzhou

Lingyin Temple, Feilai Peak, Longjing Tea Plantation

12

Hangzhou / Huangshan

Transfer to Huangshan, Huangshan Mountain Scenic Area

13

Huangshan / Shanghai

Hongcun Village, Tunxi Old Street, Transfer to Shanghai

14

Shanghai

Shanghai Museum, Yu Garden, the Bund, Nanjing Road

15

Shanghai

Free Day

16

Shanghai / Zhengzhou

Transfer to Zhengzhou by Train

17

Zhengzhou / Dengfeng / Luoyang

Shaolin Temple, Transfer to Luoyang

18

Luoyang / Xi'an

Longmen Grottoes, White Horse Temple, Guanlin Temple, Train to Xi'an

19

Xi'an

Terracotta Warriors and Horses Museum, Big Wild Goose Pagoda

20

Xi'an / Chengdu

Ancient City Wall, Shaanxi History Museum, Muslim Quarters, Train to Chengdu

21

Chengdu

Free Day

22

Chengdu / Lijiang

Giant Panda Breeding Research Base, Jinsha Site Museum, Chengdu People's Park, Transfer to Lijiang

23

Lijiang

Lijiang Old Town, Black Dragon Pool Park, Dongba Museum, Shuhe Village

24

Lijiang

Free Day

25

Lijiang / Kunming

Transfer to Kunming, Western Hill and Dragon Gate

26

Kunming / Guilin

Stone Forest, Hani Village, Transfer to Guilin

27

Guilin / Yangshuo

Free day

28

Yangshuo

Countryside biking, Bamboo Rafting Yulong River - optional

29

Yangshuo / Guilin / Shenzhen

Mount Yao, Transfer to Shenzhen by Train

30

Shenzhen / Hong Kong

Transfer to Hong Kong

31

Hong KOng

Free Day
32

Hong Kong

Free Day
33

Hong Kong

Hong Kong Departure

Day 1 Arrival in Beijing
Arrive at Beijing Capital International Airport. Our guide will greet you at the exit of Arrival Hall & transferred to your hotel. Free at leisure for the rest of the day.
Day 2 Beijijng (B, L)
3 highlights today: first, Temple of Heaven, a complex of religious buildings, which was the site of the Emperors of the Ming and Qing dynasties for annual ceremonies of prayer to Heaven for good harvest, now you can see the local Beijingers to do morning exercises here. Secondly, go to the Tiananmen Square, located at the heart of Beijing, is the world's largest city center square. Thirdly go to the Forbidden City, officially as the Imperial Palace Museum, was constructed between 1406 and 1420 by the Ming emperor Zhu Di and witnessed the enthronement of 14 Ming and 10 Qing emperors over the following 505 years.
Day 3 Beijijng (B, L)
After breakfast, drive to see the Great Wall, a series of stone and earthen fortifications in China which is a symbol of China's history and heritage and regarded as one of the great wonders in the world. Later, enjoy Hutong tour by the 3-wheel rickshaw. The name of a Hutong represents its origin, location or history. It is in these gray-tiled long lanes that families play, buy goods, gossip, and connect.
Day 4 Beijing / Tai'an (B)
Morning is free for your rest or exploration around the city. Transfer to the Railway Station for the train to Tai'an, which is located in the center of Shandong Province and lies at the south foot of Mount Taishan. Be met at the railway station, transfer to hotel and check in.
Day 5 Tai'an / Qufu / Tai'an (B, L)
Drive to the hometown of the Confucius, visit the Kong Family Mansion first. The direct descendants of Confucius lived in the Kong family mansion located to the east of the temple. Today, the mansion comprises 152 buildings with 480 rooms, which cover an area of 12,470 square meters. Then go to Temple of Confucius, covers an area of 16,000 square meters and has a total of 460 rooms, it is the second largest historical building complex in China (after the Forbidden City). At last, pay a visit to the Cemetery of Confucius, lies to the north of the town of Qufu, it is the oldest graves found in this location date back to the Zhou Dynasty (770-256B.C.). Afterwards, drive back to Tai'an.
Day 6 Tai'an (B, L)
Visit Mt. Tai by cable car. Mount Tai is known as the leader and foremost of the "Five Great Mountains" in China. It has been renowned to the world since 1987, after entering UNESCO's list of both World Natural and Cultural Heritage Sites.
Day 7 Taian / Nanjing (B)
Morning is free for your rest or exploration around Tai'an. In the afternoon, take the train to Nanjing, which owns a long historical heritage and has been served as the capitals of six dynasties. Be met at the rail station and transferred to hotel check in.
Day 8 Nanjing (B, L)
Spend the whole day to explore some famous attractions in Nanjing. The Ming Tomb (Xiao-ling), located at the southern foot of Mount Zijin in the eastern suburb of Nanjing, it is the burial site of the first emperor of the Ming Dynasty, Zhu Yuanzhang. Qinhuai River, the birthplace of the age-old Nanjing culture. Zhonghua Gate, the gate is of the type of a fortress, having four layers of city walls with enclosures in between. Dr. Sun Yat-sen's Mausoleum, located at the southern foot of Mount Xiaomaoshan, it is the last resting place of the "Father of Modern China" both in mainland China and in Taiwan. Linggu Temple, lies 1.5 km east of the Mausoleum, it was described as "the best Buddhist Temple in the world" and now surrounded by a large park. Fuzimiao Walking Street, it has become Nanjing's main amusement quarter and is a particularly lively and crowded place on weekends and public holidays.
Day 9 Nanjing / Suzhou (B, L)
After breakfast, you're escorted to the rail station for the train to Suzhou. It's regarded as the maker of the world's finest silk attracted the rich and famous from all over China. Upon arrival, you'll be picked up to hotel and check in. Later, visit Garden of Net Master --the smallest among the four most famous classic gardens in Suzhou, yet it is the most impressive. Then pay a visit to No.1 Silk Factory, with a history of more than 80 years, it enjoys a good reputation in the silk industry.
Day 10 Suzhou / Hangzhou (B, L)
In the morning, go to the Pan Gate( Panmen), the two water gates adjoining the land gates are the only water pass linking the inside and outside of the southwestern corner of the city. Then enjoy a cruise in the Grand Canal, also known as the Beijing-Hangzhou Grand Canal, it is the earliest and the longest artificial river in the world. Like the Great Wall, the Grand Canal is regarded as one of the two great projects in Chinese ancient time. Then transfer to take a high-speed train to Hangzhou.
Day 11 Hangzhou (B, L)
Boating at West Lake. With its beautiful lakes, mountains and many attractions, it has become the world-famous tourist destination and is known as the "paradise on earth". Then visit Lingyin Temple-- one of the ten most famous ancient Buddhist monasteries in China. Next to the temple, go to the Feilai Peak, 209 meters (about 700 feet) tall, is a pure limestone mountain that is very distinctive from the sandstone mountain around it. Later, go and see the Dragon Well tea plantation to enjoy a leisure time there.
Day 12 Hangzhou / Huangshan (B, L, D)
Pick up from hotel in Hangzhou and transfer to station for speed train to Huangshan city. Be met and transfer to Huangshan Mountain Scenic Area -- known as 'the loveliest mountain of China', Huangshan Mountain was acclaimed through art and literature during a good part of Chinese history. Ascend the mountain by cable car (at Yungu Station) and check into the hotel.
Day 13 Huangshan / Shanghai (B, L)
Visit Huangshan Mountain: it is the mountain best renowned for its scenery in China. Enjoy its stunning sights like sunrise, forest, rocks, etc. Go down the mountain by cable car. Next, visit Hongcun village. The village is arranged in the shape of an ox with the nearby hill (Leigang Hill) interpreted as the head, and two trees standing on it as the horns. Later, head for Tunxi Old Street, which dates back to the Song Dynasty (960-1279). Transfer to the Railway Station and board the train to Shanghai.
Day 14 Shanghai (L)
Be met at the railway station and transferred to hotel check in. Firstly, go to Shanghai Museum, which boasts 120,000 pieces of rare and precious cultural relics in twenty-one categories. Secondly, lead to Yu Garden, it was inaugurated in the Ming dynasty and has a total area of 20,000 square meters. As a paragon of the south Chinese landscaping style, it is a must-seeing sight in Shanghai. Thirdly, pay a visit to the Bund and Nanjing Road. As it is known to all, the Bund is the waterfront to see newly-erected modern skyscrapers and aged buildings of the colonial period, while Nanjing Road is the busiest shopping street.
Day 15 Shanghai (B)
Free time for your own exploration and we recommend you to Shanghai Expo Park, the French Concession, or Oriental Pearl TV Tower which are also highlights during Shanghai tour.
Day 16 Shanghai / Zhengzhou (B)
Transfer to railway station and head for Zhengzhou. It is the capital city of Henan Province, located south of Yellow River and bordered Kaifeng. Be met and checked in hotel.
Day 17 Zhengzhou / Dengfeng / Luoyang (B, L)
Drive to visit Shaolin Temple in Dengfeng County. It is known in and outside of China for Shaolin martial arts. The temple was built in 495, the 19th year of the reign of Emperor Xiaowen of the Northern Wei Dynasty. Dagoba Forest and Chinese Kung Fu performances are also in the following plan. Transfer to Luoyang by a private vehicle.
Day 18 Luoyang / Xi'an (B, L)
Visit Longmen Grottoes, a world heritage site named in 2000, the sculptures there are an outstanding manifestation of human artistic creativity that were carved in late North Wei and Tang Dynasty (316-907). Then pay a visit to the White Horse Temple, first built in 68AD, it is believed to be the first Buddhist temple in China. Next, go to Guanlin Temple, it was built to commemorate the great general Guanyu of the State of Shu during the Three Kingdoms Period(220-280A.D.), who is renowned as a brave and loyal military general.. Later, take the train to Xi'an. Be met at the railway station and transferred to hotel check in.
Day 19 Xi'an (B, L)
In the morning, transfer to visit Terra Cotta Warriors and Horses Museum, which is one of the top attractions in China and famous for its historical significance and uniqueness. Then drive back to visit Wild Goose Pagoda-- the city emblem, which was first built in Tang Dynasty for the storage of Buddhist scriptures taken from India by Monk Xuanzang.
Day 20 Xi'an / Chengdu (B, L)
Visit Old City Wall-- the most intact ancient Chinese wall in existence. It encircles and protects the ancient part of Xian City. Then pay a visit to Shaanxi History Museum, One of the main museums in China boasting a large collection of unearthed cultural relics of China. At last, go to Muslim Quarters to get close to people's life and see the special architecture styles there. Later, be escorted to catch the train to Chengdu.
Day 21 Chengdu (B)
Be met at the rail station and transferred to hotel check in. The rest of the day is at leisure. We recommended you to get close to Chengdu people's life by wander around: spend a day at tea house, to fully enjoy the leisure and cozy life style there, with people sitting together for drinking tea, playing cards or mahjong and watching chuan opera, etc.
Day 22 Chengdu / Lijiang (L)
In the morning, visit Giant Panda Breeding Center, founded in 1987, it is a non-profit research and breeding facility for giant pandas and other rare animals. Then go to the Jinsha Site Museum, it was regarded the most significant archaeological discovery in the 21st century in China. Later, head for Chengdu People's Park to enjoy a leisure time in the teahouse. Transfer to the airport. Be met at the airport and checked in the hotel.
Day 23 Lijiang (B)
Today's tour mainly focuses on Lijiang Old Town, originally called Dayan, it is a very well preserved old town built by Naxi people with unique cultural background. It was listed as the World Cultural Heritage Sites in 1997. Go to Black Dragon Pool Park to enjoy stunning sightseeing there then proceed to visit Dongba Museum, which has more than 10000 Dongba cultural relics and various other historical relics and offers the "Dongba Culture Exhibition". Later, enjoy half day cycling tour to Shuhe Village and get close to local people's life and customs.
Day 24 Lijiang (B)
Full day free at leisure.
Day 25 Lijiang / Kunming (B)
Pick up at the hotel and transfer to the airport. firstly go to the Western Hill, it spreads out across a long wedge of parkland on the western side of Lake Dianchi. The hills' undulating outline is thought to resemble a reclining woman with tresses of hair flowing into the sea. Therefore, they are also known as the "Sleeping Beauty Hill". Then pay a visit to Dragon Gate. The tunnel along the outer cliff edge is so narrow that only two persons can squeeze by at a time.
Day 26 Kunming / Guilin (B, L)
Make an excursion to Shilin County, where we will explore the breathtaking Stone Forest, a typical formation of Karst topography and the most famous tourist attraction in Kunming .The traditional Sani Village there is a place for you to know more about the ethnic group, Sani people. Later, drive to the Railway Station for the train to Guilin.
Day 27 Guilin / Yangshuo (L)
Be met at the rail station and transferred to Yangshuo-- a small town of Guilin bordering the beautiful Li River at one side, situated on a small plain between numbers of karst peaks. Check in the hotel.
Day 28 Yangshuo (B, L)
In the morning, the happy day begins by biking (escorted by your private guide) to the countryside to see the stunning scenery, rice paddies, water buffalo and local farmer's life. And then it's your option to have a 1-hour bamboo rafting down Yulong River, Have lunch at a local restaurant. The rest of the day is free.
Day 29 Yangshuo / Guilin/ Shenzhen (B)
Drive back to Guilin to visit Reed Flute Cave, like a fascinating gallery of natural sculpture, now enhanced by multicolored lighting, which has been one of Guilin's most interesting attractions for over 1200 years. Then go to a tea farm to enjoy leisure time. Transfer to the Railway Station for the train to Shenzhen.
Day 30 Shenzhen / Hong Kong
After arrival at Shenzhen train station, make your own way to cross the border to Hong Kong-- a fascinating city blend with traditional Chinese culture and that of the West, which is the most diverse and exciting destinations in the world. Make your own way to hotel check in.
Day 31 Hong Kong (B)
Full day free at leisure. We have 2 ideal choices of today's Hong Kong tour-- One day tour to Disneyland of Hong Kong. It is the world's 5th Disneyland and the world's smallest Disneyland that covers an area of 126.82 hectares. There are four main parts in the park: Main Street U.S.A, Fantasy land, Tomorrow land and Adventure land. Or you can pay a one day tour to the Ocean Park--Hong Kong's unique local park with a heritage of delivering family fun and fond memories which opened in January, 1977. Besides, it was chosen by Hong Kong citizens as their No.1 favorite scenic spot in Hong Kong in 2005.
Day 32 Hong Kong (B)
Full day free at leisure. Our recommended sites are: firstly, Victoria Peak. It combine shopping, restaurants, and entertainment and features the oldest mode transport, the 112-year old Peak Tram and Hong Kong 's most unusual building and icon, The Peak Tower. Secondly, pay a visit to Aberdeen. It was formerly a fishing village. People can have a glimpse of boat-dwellers at Aberdeen Bay. Repulse Bay is the third spot, a relaxing sandy beach with a strong characteristic of local culture.
Day 33 Hong Kong (B)
Make your own way to the airport for your home bound flight.
End of service.
PRICES START FROM US$4200 PER PERSON
As all of our holidays are tailor-made it isn't possible to give an exact price on the web-site as the final cost is dependant on a number of factors. These include the number of people in your party, the season you travel, the standard of hotel (we offer a variety of standards from three-star to super-luxurious) and duration of your trip. However, as a guideline you should expect to pay from US$4200 for the opposite itinerary.

Included Services
Private transfers airport/hotel/airport;
Private tours escorted by an English-speaking guide;
Accommodations with daily breakfast;
Meals specified in itinerary as B=breakfast, L=lunch, D=dinner;
Domestic flights and trains listed;
Admission fees.

Non-included Services,
Visa arrangement;
Excess luggage charge(the luggage allowance at economy class is 20kg);
Personal expense;
Any meals not specified as "B, L or D";
Gratuities to guides and drivers.
Tailor-made Suggestions
Not satisfied with what we have here? Please let us know your requirements and send to our travel specialists by filling in the following form(* Required), you will receive our reply within 24 hours:
Other Recommended China Tour Packages
Experience the fastest high speed train from Beijing to Taiyuan/Pingyao. The grand Great wall, intact well-preserved a ...

Discover the history and culture of China with this amazing package. Trip to the ancient Capitals and explore the many ...

The highlights of this train tour is the fast bullet train from Chengdu to Chongqing for Yangtze River cruise as well ...
Comments
Asked by marianne moolenschot

2016-07-20 14:40

This tour sounds very good. What class are the hotels? Can you name some of the hotels for me to look at? What is the general time duration of the train journeys.
thankyou,
marianne moolenschot

Answered by Ricky

2016-07-20 21:59

Hi, Marianne,

Thanks for contacting Easy Tour China.

We are so glad to be of service to you. Regarding the details of 33-day train tour, our travel specialist will be in touch with you soon via email.

Have a nice day there!

Ricky
Questions & Comments
Google Search
Find something useful to you at Easy Tour China website.
Top China Tours
China Travel Toolkits
Beijing is absolutely the No.1 destination in China! If you can pick up some readings about its history, maybe you will better understand the place after arrival.


Peicy
Travel Specialist