21-day China Panorama Tour
Tour code: ETC-B37
Let's get a superb panorama of China! From culture to history and religons, from Forbidden City to Great Wall, from Terracotta Warriors to pandas, from Jiuzhaigou Valley to Emei Mountain, from Stone Forest to Tiger Leaping Gorge, from the skyline in Shanghai to the lovely water town... this trip has it all.


Click to enlarge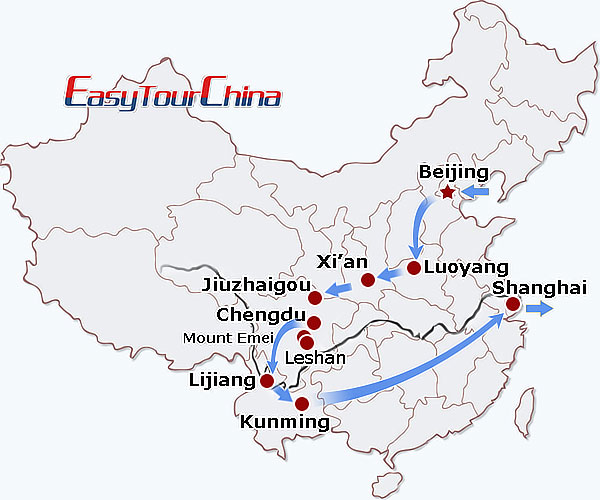 Tour Date
City
Tour Brief
1
Beijing

Arrive Beijing, Free Day

2
Beijing

Tian'anmen Squre, Forbidden City, Temple of Heaven

3
Beijing

Mutianyu Great Wall, Ming Tombs (Changling)
4
Beijing / Luoyang

Summer Palace, Hutongs, Yonghe Lamastery, Train to Luoyang

5
Luoyang

Shaolin Temple, Dengfeng Oberservatory, Zhongyue Taoist Temple

6
Luoyang / Xi'an

Longmen Grottoes, Ancient Tombs Museum, Train to Xi'an

7
Xi'an

Shaanxi History Museum, Big Wild Goose Pagoda, Muslim Quarter

8
Xi'an

Terracotta Warriors and Hoses Museum, Bell Tower, Old City Wall

9
Xi'an / Jiuzhaigou

Fly to Jiuzhaigou, Visit Huanglong Reserve

10

Jiuzhaigou

Jiuzhaigou Reserve

11

Jiuzhaigou / Chengdu

Fly to Chengdu, Jinsha Site Museum, Kuanzhai Alley

12

Chengdu / Leshan / Emeishan

Leshan Giant Buddha, Mt.Emei

13

Mt.Emei / Chengdu

Wannian Temple, Baoguo Temple, back to Chengdu

14

Chengdu / Lijiang

Tea House, Giant Panda Breeding Research Base, Fly to Lijiang

15

Lijiang

Lijiang Old Town, Black Dragon Pool Park, Cycling to Shuhe Village

16

Lijiang

Shigu Village, Tiger Leaping Gorge

17

Lijiang / Kunming

Fly to Kunming, Stone Forest

18

Kunming / Shanghai

Fly to Shanghai, Free Day

19

Shanghai

Yu Garden, Old City Quarters, Xintiandi, Shanghai Museum, The Bund, Nanjing Road
20

Shanghai

Zhujiajiao, Oriental Pearl Tower

21

Shanghai

Departure

Day 1 Arrival / Beijing
Be met at the airport and transferred to check in hotel. The remainder of the day is at leisure.

Day 2 Beijing (B, L)
Private escorted tour to Temple of Heaven, which is one of Beijing's most impressive sites in terms of architecture, color and significance and was used by the Emperors to communicate directly with Heaven. After visiting it, we go to the most famous and representative square- Tiananmen Square, that is the heart of Beijing and the world's largest city center square. And then go to the Forbidden City, which is officially known as the Imperial Palace Museum and has a long history over 500 years.

Day 3 Beijing (B, L)
Private escorted tour to Mutianyu Great Wall (round-way cable car included) -- the largest construction scale and best quality among all sections of Great Wall that connects with Jiankou in the west and Lianhuachi and Jinshanling in the east. Later, go to the Ming Tomb, located at Chan Ping County, 50 km (31 miles) northwest of Beijing, it reflects a similar conception of Imperial architecture. Chang Tomb is the main site we visit to as it is the most magnificent of all 13 Ming Tombs.

Day 4 Beijing / Luoyang (B, L)
The Summer Palace is the first visit/ stop today. This world-wide known palace is a masterpiece of Chinese landscape garden design. The natural landscape of hills and open water is combined with artificial features such as pavilions, halls, palaces, temples and bridges to form a harmonious ensemble of outstanding aesthetic value. Then take a pedicab tour to Hutong (Beijing's traditional alleyways), where have a very special place in the rich history and culture of Beijing. The name of a Hutong represents its origin, location or history. Yonghe Lamasery is the last site. It is a Tibetan Buddhist temple in the heart of Beijing that was first built in 1694 as the residence of Prince Yong of the Qing dynasty. Later, transfer to the Railway Station for the train (soft sleeper) to Luoyang.

Day 5 Luoyang (B, L)
Upon arrival, you're met and have breakfast. Then drive to explore Shaolin Monastery, which is long famous for its association with Chinese martial arts and particularly with Shaolin Kung Fu. Dengfeng Observatory is the next site. This is where the famous astronomer and mathematician Guo Shoujing worked, he proved how long the earth takes to orbit the sun which is in fact only out by a mere 26 seconds. Later, go to Zhongyue Taoist Temple, located at the Huanggai Peak on the southern slope of the Songshan Mountain, it is considered as the "Center of Taoist Activates of the Central Plains Region". Drive back to Luoyang.

Day 6 Luoyang / Xi'an (B, L)
Continue to explore Longmen Grottoes and Ancient Tombs Museum. Located 12 km south of Luoyang, the Grottoes are one of the three most famous ancient sculptural sites in China. There are over 2100 niches, more than 100,000 statues, some 40 pagodas and 3600 tablets and steles in the caves of Guyang, Binyang and Lianhua. Later, transfer to the Railway Station to head for Xian. Upon your arrival, be met and transferred to check in hotel.

Day 7 Xi'an (B, L)
Pay a visit to Shaanxi History Museum, One of the main museums in China boasting a large collection of unearthed cultural relics of China. Then go to visit Wild Goose Pagoda-- the city emblem, which was first built in Tang Dynasty for the storage of Buddhist scriptures taken from India by Monk Xuanzang. Later, go to explore the Muslim Quarters to have a look of their daily life.

Day 8 Xi'an (B, L)
In the morning, transfer to visit Terra Cotta Warriors and Horses Museum, the Terracotta army is a form of funerary art buried with the China's first emperor in 210--209 BC and whose purpose was to protect him in his afterlife Then drive back to visit Bell Tower, the largest and best preserved of its kind which was first built in 1384. The Ancient City Wall is the last site, which is the most intact ancient Chinese wall in existence. It encircles and protects the ancient part of Xian City.

Day 9 Xi'an / Jiuzhaigou (B, D)
Transfer to the airport. Be met at the airport and transferred to the hotel. Later, visit Huanglong Reserve (including a cable car). The valley is studded with terraced, colored ponds (blue, yellow, white and green) and waterfalls. It wins its fame for its breathtaking beauty of lime formations, made up of 3400 multi-colored ponds, interlace along the valley. Besides, five waterfalls, four stalactite caves and three ancient temples, are all in the same valley, which looks like a dragon winding down from snowcapped peaks of Mt. Minshan.

Day 10 Jiuzhaigou (B, L, D)
Enjoy a full-day tour of Jiuzhaigou Reserve. Deep in the heart of the 4500-meter-high, perpetually snow-clad Min Shan Range, it encloses one of the most spectacular landscapes. It can be considered a natural botanical and zoological garden, a home of densely growing conifers and broadleaf trees, and of rare and endangered animal species such as the giant panda, golden-haired monkey, and white-lip deer. Usually we can see the lakes swarm with fish and birds including waterfowl, kingfisher, shrikes, hoopoes and pheasants.

Day 11 Jiuzhaigou / Chengdu (B, L)
Take the morning fly to Chengdu. Be met at the airport and checked in hotel. Later, pay a visit to Jinsha Site Museum, a large park complex covering 74 acres with big flat and spread-out modern-looking buildings that contains 3,000 years-old artifacts, which was claimed as the first important archaeological find in China at the beginning of 21 century. Then go to Kuanzhai Alley. It is a large scale legacy of old streets handed from Qing Dynasty in Chengdu, and a preserved area in the historical and cultural city. It represents vividly the original folk culture of Chengdu.

Day 12 Chengdu /Leshan/ Emeishan (B, L)
Transfer to visit the 71-meter-high Leshan Stone-carved Buddha with a history of 1200 years. The Buddha is so big that its head is 14.7 meters long and 10 meters wide with total 1021 buns of hair on it, and his smallest toenail can accommodate a seated person. Then proceed to Emei Mountain. Overnight at mountain foot.

Day 13 Emeishan / Chengdu (B, L)
Take a cable car up to Wannian Temple--one of the eight largest temples on this mountain and translated as "Long Life Temple" in English. See the scenic spots nearby and walk down to see the wild monkeys on the way. Drive back to Chengdu.

Day 14 Chengdu / Lijiang (B, L)
In the morning, go to Chengdu People's Park to enjoy a leisure time in the teahouse and beautiful sightseeing there. Later, visit Giant Panda Breeding Center, founded in 1987, it is a non-profit research and breeding facility for giant pandas and other rare animals. Then fly to the famous ancient town Lijiang. Upon arrival, be met and checked in the hotel.

Day 15 Lijiang(B, L)
Today's tour mainly focus on Lijiang Old Town, originally called Dayan, it is a very well preserved old town built by Naxi people with unique cultural background. It was listed as the World Cultural Heritage Sites in 1997. Go to Black Dragon Pool Park to enjoy stunning sightseeing there then proceed to Dongba Museum, which has more than 10000 Dongba cultural relics and various other historical relics and offers the "Dongba Culture Exhibition". Later, enjoy half day cycling tour to Shuhe Village and get close to local people's life and customs.

Day 16 Lijiang (B, L)
After breakfast, drive to Shigu Village. 50 kilometers from Lijiang, it was named after a stone tablet in the shape of a drum. The Jinsha River does a U-turn at Shigu Town and flows northward, which is known as the First Bend of Yangtze River. Then go to Tiger Leaping Gorge. It is a canyon on the upper reach of the Yangtze River, legend says a tiger could jump across the river at the narrowest point (still 25 meters wide), hence the name. Tiger Leaping Gorge offers a pleasant walk through spectacular scenery.

Day 17 Lijiang / Kunming (B, L)
Take a morning flight to Kunming. Then transfer to make an excursion to Shilin County, where we will explore the breathtaking Stone Forest, a typical formation of Karst topography and the most famous tourist attraction in Kunming. Overnight in Kunming.

Day 18 Kunming / Shanghai (B)
Pick up at the hotel and transfer to airport. Be met at the airport and transferred to hotel check in. The rest of the day is at leisure. We recommend you to wander around and get close to local people's life or taste some local snacks, etc.

Day 19 Shanghai (B, L)
Today's sightseeing tour includes 6 stops: Yu Garden--the only fully restored classical Chinese garden which was inaugurated in the Ming dynasty and has a total area of 20,000 square meters that demonstrates perfectly the sophisticated art and create a world in miniature. Old City Quarters- reflects the real life of Shanghai people and special architecture styles. Xintiandi--a pedestrian street composed of traditional street format of Shanghai Shikumen and modern development. Shanghai Museum-- a large museum of ancient Chinese art and boasts 120,000 pieces of rare and precious cultural relics in twenty-one categories. The Bund -- Shanghai's famous waterfront to see new-erect modern skyscrapers and aged buildings of the colonial period. Nanjing Road. It is a shopping paradise and the busiest shopping street near the Bund.

Day 20 Shanghai (B, L)
At Yangze Delta, water town Zhujiajiao nearby Shanghai is a place worth traveling. In the past Zhujiajiao was a trading area due to the many canals. Nowadays, it is where people go to see the old buildings, shop, and eat in the many restaurants and coffee shops. Drive back to Shanghai to visit Oriental Pearl TV Tower, the best viewing spot of Shanghai located by the Huangpu River with the height of 468 meters. Rest of the day is free at leisure.

Day 21 Shanghai / Exit (B)
Pick up at the hotel and transfer to airport.
End of service.


PRICES START FROM US$3800 PER PERSON
As all of our holidays are tailor-made it isn't possible to give an exact price on the web-site as the final cost is dependant on a number of factors. These include the number of people in your party, the season you travel, the standard of hotel (we offer a variety of standards from three-star to super-luxurious) and duration of your trip. However, as a guideline you should expect to pay from US$3800 for the opposite itinerary.

Included Services
Private transfers airport/hotel/airport;
Private tours escorted by an English-speaking guide;
Accommodations with daily breakfast;
Meals specified in itinerary as B=breakfast, L=lunch, D=dinner;
Domestic flights and trains listed;
Admission fees.

Non-included Services,
Visa arrangement;
Excess luggage charge(the luggage allowance at economy class is 20kg);
Personal expense;
Any meals not specified as "B, L or D";
Gratuities to guides and drivers.
Tailor-made Suggestions
Not satisfied with what we have here? Please let us know your requirements and send to our travel specialists by filling in the following form(* Required), you will receive our reply within 24 hours:
Inspirational Trip Ideas
Being an exceptionally well-preserved example of a traditional Han Chinese city, Pingyao keeps it ...

If you want to see something fun and original of Beijing, please go and see the local temple fair ...

Wuyuan villages enjoy a high reputation of the most beautiful countryside in China, by possessing ...
Other Recommended China Tour Packages
This adventurous trip provides great experience to the diversity and colorfulness of Wild West China: the green grassl ...

Commencing in Kunming and finishing in Shanghai, this trip visits the minority Spring city Kunming, super amazing dest ...

In this tour, you will have a delightful break in four coastal metropolis in South China - Hong Kong and Macau feature ...
Comments
Asked by John Stewart

2018-02-05 14:11

Hi, What would be the cost of this Tour X Brisbane Australia in September 2018 For 2 adults ages 66 & 69 .
Plus what is the Fitness level required for this Tour (21-day China Panorama Tour)
We would be looking 4 to 5 Star depending on price.

Answered by Charlie

2018-02-05 18:12

Hi, John,
Thanks for contacting! This panorama tour of China covers different aspects of China - history, culture, food, minortiy and landscapes. One pity is that Jiuzhaigou has closed due to the earthquake. The best alternative for it is Siguniang Mt. Our travel specialist will reach you soon via email for more details.
Good day!
Questions & Comments
Google Search
Find something useful to you at Easy Tour China website.
Top China Tours
China Travel Toolkits
Beijing is absolutely the No.1 destination in China! If you can pick up some readings about its history, maybe you will better understand the place after arrival.


Peicy
Travel Specialist