27-day Fantastic China Tour
Tour code: ETC-Q05
Take this Fatastic China trip and see the great natural and cultural wonders in China! Different from sightseeing tours, this journey might include some unique beauty in remote area like Jiuzhaigou Valley in Sichuan, as well as some hiking and trekking along the spectacular tiger leaping gorges...


Click to enlarge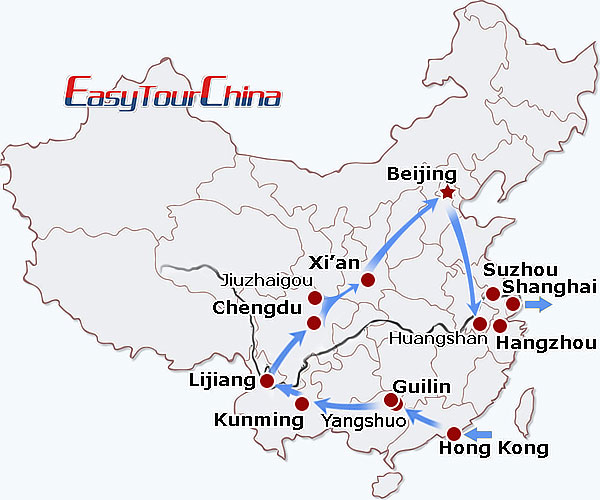 Tour Date
City
Tour Brief
1
Hong Kong

Arrive Hong Kong, Free Day

2
Hong Kong

Free Day

3
Hong Kong / Guilin

Fly to Guilin

4
Guilin

Free Morning, Reed Flute Cave and Elephant Trunk Hill

5
Guilin / Yangshuo

Li River Cruise, West Street

6
Yangshuo

Cycling at countryside Yangshuo, Bamboo rafting Yulong River - optional

7
Guilin / Kunming

Fly to Kunming

8
Kunming

Stone Forest, Western Hill and Dragon Gate
9
Kunming / Lijiang

Fly to Lijiang, visit Lijiang Old Town
10

Lijiang

Hiking Tiger Leaping Gorges

11

Lijiang

Hiking Tiger Leaping Gorges, back to Lijiang

12

Lijiang / Chengdu

Leshan Giant Buddha, Mt.Emei

13

Chengdu

Panda Breeding Center, Jinsha Cultural Relics Museum, Wenshu Temple and a local tea house
14

Chengdu / Jiuzhaigou

Fly to Jiuzhaigou, visit Huanglong Reserve

15

Jiuzhaigou

Jiuzhaigou Reserve

16

Jiuzhaigou / Xi'an

Fly to Xi'an, Xi'an Old City Wall

17

Xi'an / Beijing

Terracotta Warriors and Horses Museum, and Muslim Quarters, Fly to Beijing

18

Beijing

Temple of Heaven, Tiananmen Square, and Forbidden City
19

Beijing

Mutianyu Great Wall, Ming Tombs - Changling.

20

Beijing / Huangshan

Summer Palace, Hutongs, Fly to Yellow Mountain

21

Huangshan

Huangshan Mountain Scenic Area
22

Huangshan/Hangzhou

Hongcun Village, Drive to Hangzhou

23

Hangzhou / Suzhou

West Lake, Dragon Well Tea Plantation and Six Harmony Pagoda

24

Suzhou / Shanghai

Humble Administrator's Garden and Pan Gate (Panmen), Grand Canal, No.1 Silk Factory, Train to Shanghai

25

Shanghai

Jade Buddha Temple, old city quarter, the Bund, Huangpu River cruise
26

Shanghai

Free Day

27

Shanghai

Departure

Day 1 Arrival / Hong Kong
Be met at the airport and transfer to hotel for check in.

Day 2 Hong Kong
Free day for your own exploration in Hong Kong--a fascinating city blend with traditional Chinese culture and that of the West, which is the most diverse and exciting destinations in the world.

Day 3 Hong Kong /Guilin
Your own arrangement to the airport and fly to Guilin. Be met at the airport and transferred to hotel.

Day 4 Guilin (B, L)
Morning free at leisure. After lunch, pay a visit to the Reed Flute Cave , like a fascinating gallery of natural sculpture, now enhanced by multicolored lighting, which has been one of Guilin's most interesting attractions for over 1200 years. And then visit the Elephant Trunk Hill, as the symbol of Guilin, the shape of the rock is just like a giant elephant drinking water from river with its trunk. Standing atop the rock, you can see the beautiful panoramic view of the town.

Day 5 Guilin / Yangshuo(B, L)
After breakfast, take a leisurely Li River cruise, disembark at the beautiful small town famous for its Karst landscape--Yangshuo. At Yangshuo, you can have a free afternoon for your own exploration. The ideal way is wander around and go to tourist spots like Moon Hill, Big Banyan and so on. At night, the West Street is a must-go where shows lively nightlife with both Chinese and western style. Besides, you can also go to watch the optional evening show 'Impression Sanjie Liu' on the natural stage along Li River.

Day 6 Yangshuo (B, L)
In the morning, the happy day begins by Biking to the countryside to see the stunning scenery, rice paddies, water buffalo and local farmer's life. And then it's your option to take a 1-hour bamboo rafting down Yulong River. Lunch at a local restaurant. Great fun and exciting!

Day 7 Guilin / Kunming (B, L)
Transfer to the airport, Be met at the airport and transferred to hotel.

Day 8 Kunming (B, L)
2 highlights today: the first one is the Stone Forest, it is the most famous tourist attraction in Kunming - a typical formation of Karst topography. The second one is Western Hill and Dragon Gate (with one-way cable way). It is a beautiful forest park located by Dian Lake and features cliff-side grottoes cut out of the sheer stonewalls.

Day 9 Kunming / Lijiang (B, L)
Pick up at the hotel and transfer to the airport. Be met at the airport and check in hotel. Then visit Lijiang Old Town--originally called Dayan, Lijiang is a very well preserved old town built by Naxi people with unique cultural background. It was listed as the World Cultural Heritage Sites in 1997.

Day 10 Lijiang (B, L, D)
After breakfast, you will be picked up and drive about 2hrs to the start point (altitude: 1790m) of the trekking. The first part to the Naxi's House (a restaurant) is about 2hrs, where you will have lunch for a rest. The 2nd part in the afternoon is about 3.5hrs. The most difficult section is called 28 zigzags which takes you to the highest point at altitude of 2650m. During the trekking, you will reach to the famous Tiger Leaping Gorge, a canyon on the upper reach of the Yangtze River, which offers a pleasant walk through spectacular scenery. Overnight in a guest house.

Day 11 Lijiang (B, L)
Continue the trekking after breakfast. Most of the road is descend and is much easier. At noon time you will reach the end of the trekking, Tina's House, for lunch. Transfer to Lijiang after lunch.

Day 12 Lijiang / Chengdu (B, L)
Today's exploration will include 4 spots: first, go to the Joseph Rock's Former Residence at Yuhu Village, where you can know more about Joseph Rock and his life there. Secondly, go to Shuhe Old Town. Shuhe is the earliest settlement of Naxi people in Lijiang when their ancestors first moved to this region. Compared with Lijiang, the town is less touristy and polished with more original characters.Thirdly, head for Black Dragon Pool Park, with an area of 40 hectares, it provides a heaven for birds and water-life, with spectacular plants. At last, pay a visit to Dongba Museum. It has more than 10000 Dongba cultural relics and various other historical relics and offers the "Dongba Culture Exhibition". Then transfer to the airport and fly to Chengdu. Be met and transferred to the hotel.

Day 13 Chengdu (B, L)
Drive to see Panda Breeding Center in the morning. This huge institution replicates the natural habitat of the giant panda and is dedicated to preserving and increasing their population so they will not become extinct. You are able to get real close-up to some pandas and photograph them. Then take a visit to Jinsha Cultural Relics Museum, which is home to the relatively isolated civilization of ancient Shu Kingdom from perhaps 3,000 years ago. Later, go to Wenshu Temple, it is the largest best-preserved Buddhist temple in Chengdu. It was built in the Tang Dynasty (618-907) to dedicate to the God of Wisdom - Wenshu. Then enjoy a leisure time at a local tea house.

Day 14 Chengdu / Jiuzhaigou (B, L, D)
Transfer to take a morning flight to Jiuzhaigou. Then visit the Huanglong Reserve, which is studded with terraced, colored ponds (blue, yellow, white and green) and waterfalls. It wins its fame for its breathtaking beauty of lime formations, made up of 3400 multi-colored ponds, interlace along the valley. Besides, five waterfalls, four stalactite caves and three ancient temples, are all in the same valley, which looks like a dragon winding down from snowcapped peaks of Mt. Minshan.

Day 15 Jiuzhaigou(B, L, D)
Transfer to have a full day visit at Jiuzhaigou Reserve. Deep in the heart of the 4500-meter-high, perpetually snow-clad Min Shan Range, it encloses one of the most spectacular landscapes. It can be considered a natural botanical and zoological garden, a home of densely growing conifers and broadleaf trees, and of rare and endangered animal species such as the giant panda, golden-haired monkey, and white-lip deer. Usually we can see the lakes swarm with fish and birds including waterfowl, kingfisher, shrikes, hoopoes and pheasants.

Day 16 Jiuzhaigou / Xi'an (B, L)
Transfer to the airport for the flight to Xi'an. Be met at the airport and transferred to check in hotel. Later, visit the Ancient City Wall--13,912 meters in circumference, 12 meters in height, the foundation is 18 meters in width and the top of the wall is 15 meters wide. There are four city gates in the four cardinal directions. And an ideal way to appreciate it is by riding bike around. If weather permits, a bike ride is available.

Day 17 Xi'an / Beijing (B, L)
Drive to visit Xian's highlight--Terra Cotta Warriors and Horses Museum. It is known as the eighth wonder of the world and a museum to display terra-cotta warriors and horses in Qin Dynasty. Later, pay a visit to the Muslim Quarters to enjoy local snacks and get close to Muslim people about their life and culture. Transfer to the airport, be met at the airport and checked in hotel.

Day 18 Beijing (L)
Private escorted tour to Temple of Heaven where you can pray in faith as it worked as sacrificial compound building for the Ming and Qing emperors and it boasts of the largest sacrificial place in Beijing among a few imperial altars to Heaven, Earth, the Sun, the Moon super natures. Tiananmen Square is arguably claimed as the largest public square in the world.Then we go to the Forbidden City--with over 9,000 rooms and over 250 acres. This large palace building was built between 1406 and 1420, and it served as the home of emperors and their households, as well as the ceremonial and political center of Chinese government.

Day 19 Beijing (B, L)
Private escorted tour to Mutianyu Great Wall (round-way cable car included). It has the largest construction scale and best quality among all sections of Great Wall which is less crowded and has better architecture than at Badaling. Then visit one of the famous Ming Tombs--Changling, which is the tomb for Emperor Yongle, the third Ming emperor, and his wife Empress Xu. He ruled for 22 years and made some achievements in political, military, economic, cultural and diplomatic fields.

Day 20 Beijing / Huangshan (L)
Visit the Summer Palace. Locates northwest of Beijing, it was listed on the World Heritage Sites by the UNESCO in 1998--a masterpiece of Chinese landscape garden design with outstanding aesthetic value. Then enjoy a Hutong tour by pedicab. The name of a Hutong represents its origin, location or history. It is in these gray-tiled long lanes that families play, buy goods, gossip, and connect. Transfer to the airport. Upon arrival, be met and checked in hotel.

Day 21 Huangshan (B, L)
Drive to Huangshan Mountain Scenic Area, take cable car up the mountain and then visit West Sea Canyon.Covering some of Yellow Mountain's most prime scenery, including the West Sea Grand Canyon itself, the V-shaped Canyon presents the visitor with some spectacular sights like Upside-Down Boot, Lady Playing the Piano, Dog Watching the Sky, and Man Walking on Stilts, etc. Overnight on the mountain.

Day 22 Huangshan / Hangzhou (B, L)
Take cable car down the mountain and drive to visit Hongcun Village, where the Oscar Winner "Crouching Tiger, Hidden Dragon" was filmed. Then private transfer to Hangzhou. Check in the Hotel.

Day 23 Hangzhou / Suzhou (B, L)
Visit the West Lake by boat. It is located in the south-west of Hangzhou. With its beautiful lakes, mountains and many attractions, it has become the world-famous tourist destination and is known as the "paradise on earth". Dragon Well Tea Plantation is the next spot, where you can see the process of making tea. Later, pay a visit to Six Harmony Pagoda. Built in the year of 970 A.D., it is an impressive octagonal structure of wood and brick, hung with 104 large iron bells on its flying eaves. Transfer to the Railway Station and head for Suzhou. Upon arrival, be met and checked in hotel.

Day 24 Suzhou / Shanghai (B, L)
In the morning, visit Humble Administrator's Garden and Pan Gate (Panmen). Covering about 12.58 acres, it is the largest and most renowned garden. Due to its unique designs and ethereal beauty, the garden has garnered many special honors. Then enjoy cruise on the Grand Canal. Also known as the Beijing-Hangzhou Grand Canal, it is the earliest and the longest artificial river in the world that is ten times of the Suez Canal and 22 times of the Panama Canal. It originates from Beijing in the north and ends in Hangzhou, Zhejiang in the south. Later, proceed to visit the No.1 Silk Factory. With a history of more than 80 years, it enjoys a good reputation in the silk industry. The high-grade filature silk made in the factory is best raw material for the production of high quality silk fabrics, which has won the national gold medal. Transfer to catch the train leaving for Shanghai. Be met at the railway station and transferred to hotel.

Day 25 Shanghai (B, L)
Visit Jade Buddha Temple, Tianzifang old city quarter, the Bund and Huangpu River cruise.
Full day trip to 4 highlights:Jade Buddha Temple-- the most popular Buddhist temple in Shanghai that boasting 2 precious jade Buddha sculptures from Burma. Then go to Tianzifang old city quarter, an arts and crafts enclave that has developed from a renovated residential area in the French Concession area of Shanghai. Later, pay a visit to the most famous spot--the Bund, which is the waterfront to see new-erect modern skyscrapers and aged buildings of the colonial period. At night, enjoy leisure cruise on Huangpu River and appreciate brilliant night view.

Day 26 Shanghai (B)
Free day for your own exploration.

Day 27 Shanghai exit (B)
Transfer to the airport and fly to your next destination.
End of service.

PRICES START FROM US$4,980 PER PERSON
As all of our holidays are tailor-made it isn't possible to give an exact price on the web-site as the final cost is dependant on a number of factors. These include the number of people in your party, the season you travel, the standard of hotel (we offer a variety of standards from three-star to super-luxurious) and duration of your trip. However, as a guideline you should expect to pay from US$4,980 for the opposite itinerary.

Included Services
Private transfers airport/hotel/airport;
Private tours escorted by an English-speaking guide;
Accommodations with daily breakfast;
Meals specified in itinerary as B=breakfast, L=lunch, D=dinner;
Domestic flights and trains listed;
Admission fees.

Non-included Services,
Visa arrangement;
Excess luggage charge(the luggage allowance at economy class is 20kg);
Personal expense;
Any meals not specified as "B, L or D";
Gratuities to guides and drivers.
Tailor-made Suggestions
Not satisfied with what we have here? Please let us know your requirements and send to our travel specialists by filling in the following form(* Required), you will receive our reply within 24 hours:
Inspirational Trip Ideas
Being an exceptionally well-preserved example of a traditional Han Chinese city, Pingyao keeps it ...

If you want to see something fun and original of Beijing, please go and see the local temple fair ...

Wuyuan villages enjoy a high reputation of the most beautiful countryside in China, by possessing ...
Other Recommended China Tour Packages
This tour includes all the highlights in Sichuan, such as impeccable natural scenery of Jiuzhaigou valley, world cultu ...

This 8-day trip presents the most popular destinations of China in a relaxing and comfortable pace. You will start the ...

We take this tour and explore the giant panda hometown Chengdu & majesty holy city Lhasa. After tasting the spicy Chua ...
Google Search
Find something useful to you at Easy Tour China website.
Top China Tours
China Travel Toolkits
The Silk Road is like a thick history book to me, so enchanting with full of contents. The best season to visit is in July, August and September.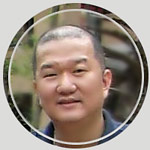 Wei
Senior Travel Specialist