26-day China Adventure including Tibet
Tour code: ETC-B08
This 26 days adventure tours will leave you great memory, featuring the famous modern and ancient architecture landmarks throughout China, including the marvelous terracotta warriors in Xian, dragon-winding Great wall in Beijing, fantastic Kungfu Show in Shaolin Temple and impressive Longmen cave in Luoyang, in-depth Tibet cultural tours... the exploration also extend to Yunnan, Guilin and stops at brilliant Hong Kong. Treat yourself a great adventure in China!


Click to enlarge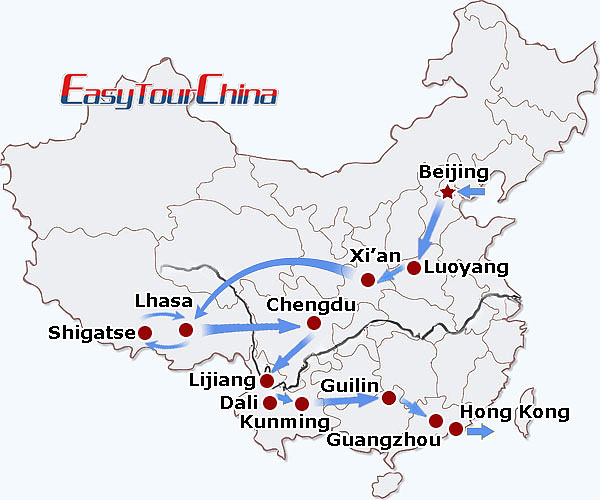 | | | |
| --- | --- | --- |
| Tour Date | City | Tour Brief |
| 1 | Beijing | Beijing Arrival |
| 2 | Beijing | Tian'anmen Square, Forbidden City, Temple of Heaven |
| 3 | Beijing | Great Wall, Ming Tomb, Pecking Duck Dinner |
| 4 | Beijing / Luoyang | Free day, Overnight Train to Luoyang |
| 5 | Luoyang | Shaolin Temple, Pogada Forest, Drive to Luoyang, Luoyang City Quarters |
| 6 | Luoyang / Xi'an | Longmen Grottoes, Transfer to Xi'an by Train |
| 7 | Xi'an | Banpo Museum, Terro-cotta Worriors and Horses Museum, Qinshihuang's Mausoleum, the Wild Goose Pagoda |
| 8 | Xi'an / Lhasa | Fly to Lhasa, Free Day |
| 9 | Lhasa | Potala Palace, Jokhang Temple, Barkhor Street |
| 10 | Lhasa | Drepung Monastery, Norblingka, Tibetan Dance & Song Show |
| 11 | Lhasa / Gyantse | Yamdrok Lake, Kroda Glacier, Kambala Pass, Karola Pass |
| 12 | Gyantse | Phalkhor Monastery, Kumbum Stupa, Tashilunpo Monastery |
| 13 | Shigatze/Lhasa | Drive along the Yaluzangbu River back to Lhasa |
| 14 | Lhasa / Chengdu | Fly to Chengdu, Giant Panda Breeding Center |
| 15 | Chengdu / Lijiang | Dujiangyan Irrigation System, Qingcheng Mount |
| 16 | Lijiang | Jade Dragon Snow Mountain, Yu Feng Lamasery, Baisha Mural |
| 17 | Lijiang / Dali | Free Morning, Transfer to Dali |
| 18 | Dali | Erhai Lake, Xizhou Town |
| 19 | Dali / Kunming | Free Morning, transfer to Kunming by Train |
| 20 | Kunming / Guilin | Stone Forest, Fly to Guilin |
| 21 | Guilin / Yangshuo | Li River Cruise |
| 22 | Yangshuo | Biking to the countryside, optional Yulong River bamboo rafting |
| 23 | Yangshuo / Guilin / Guangzhou | Reed Flute Cave, City Central Lake, transfer to Guangzhou by Train |
| 24 | Guangzhou / HK | Clan Chen Ancestral Temple, Five Ram Statue, Transfer to HK by train |
| 25 | Hong Kong | Free Day |
| 26 | Hong Kong | Hong Kong Departure |
Day 1 Arrival in Beijing (no meal)
Arrive at/ in Beijing. Our guide will meet you at the airport & transfer to your hotel. Free at leisure for the rest of the Day.

Day 2 Beijing (B, L)
Lead a sit-in-coach tour to Tiananmen Square first, located at the heart of Beijing, is the world's largest city center square. Secondly, go to the Forbidden City, it was constructed between 1406 and 1420 by the Ming emperor Zhu Di and witnessed the enthronement of 14 Ming and 10 Qing emperors. Thirdly go to Temple of Heaven, a complex of religious buildings, which was the site of the Emperors of the Ming and Qing dynasties for annual ceremonies of prayer to Heaven for good harvest. The Summer Palace comes last, built by Empress Dowager Cixi in Qing Dynasty, and is a masterpiece of Chinese garden architecture.

Day 3 Beijing (B, L)
2 highlights today: a sit-in-coach tour for you to go to the Great Wall, it stretches from Shanhaiguan in the east, to Lop Lake in the west, along an arc that roughly delineates the southern edge of Inner Mongolia. After that, go to Ming Tomb, an underground palace for Ming-dynasty emperors' afterlife. And mainly lead you to the Chang Tomb, which is the most magnificent of all 13 Ming Tombs.

Day 4 Beijing/Luoyang (B)
Free Day for your own exploration in Beijing. We recommend you to go to the Beijing Zoo to see China's National treasure giant pandas to get a close look at these lovely and plump special animals. Or take a pedicab tour to Hutong (Beijing's traditional alleyways) to see the local people's life and this tour will actually show old Beijing's timeless best to you. Explore and enjoy your in-depth Beijing tour today! Transfer to train station to board a high speed train to Luoyang.

Day 5 Luoyang (B, L)
Drive to the highlight today-- Shaolin Temple, the hometown of Chinese martial arts, built in 495, the 19th year of the reign of Emperor Xiaowen of the Northern Wei Dynasty. Then visit the famous spots there: Pagoda Forest, which were built there to keep the remains of the deceased abbots and other eminent monks, and stone table inscribed with the merits and virtues of the dead were erected. Then drive back to Luoyang, stroll at old city quarters.

Day 6 Luoyang / Xi'an (B, L)
In the morning, drive to Longmen Grottoes, a world heritage site named in 2000, the sculptures of the its are an outstanding manifestation of human artistic creativity with over 1500 years' history. Take an early afternoon train to Xian. Be met and transferred to hotel.

Day 7 Xian (B, L)
Lead/ Take sit-in-coach tour to Banpo Museum, which houses artifacts from the archaeological site of Banpo. Then drive to the famous Terra Cotta Warriors and Horses Museum. It's often referred to as the eighth wonder of the world, which is an enormous collection of vivid Chinese warriors made out of hardened clay. Secondly, go to the first Chinese emperor - Qinshihuang's Mausoleum. Later, drive to visit the Wild Goose Pagoda Of Ci'en Temple, first built in Tang Dynasty for the storage of Buddhist scriptures taken from India by Monk Xuanzang, and is now regarded as Xian's emblem.

Day 8 Xian/Lhasa (B)
Take a morning flight to Lhasa-- the holy city of Tibet and a mysterious but spiritual heart of all Tibetan people. Be met and transferred to hotel. Free time for acclimatization.

Day 9 Lhasa (B, L)
3 highlights today: first, go to the Potala Palace, which is the greatest monumental structure in Tibet, Rises 170 meters high on Red Hill. Secondly, pay a visit to the Jokhang Temple. It is the spiritual center of Tibet with 1300 years' history. Thirdly, lead to the Barkhor Street-- the oldest street in Lhasa as well as the center of old Lhasa.

Day 10 Lhasa (B, L)
Full Day trip to 3 sites: in the morning, go to the Drepung Monastery, which is one of the biggest monasteries in Tibet. Then lead to Norbulingka Park, meaning "Treasure Park ", it was first constructed as a summer palace for the Dalai Lama and later served as the whole governmental administration. Later, pay a visit to the Tibetan family. Common Tibetan people welcome you to their homes, greet you in their traditional way and entertain you with their typical food.

Day 11 Lhasa/Gyantse (B, L, D)
Drive from Lhasa to Gyatse (about 190km). On the way to see Yamdrok Lake, encompasses an area of 638 square kilometers, it is regarded by Tibetans as one of the three sacred lakes. Karola Glacier, lies in the northern section of the Himalayas and with an area of 9.4 sq km, it is the glacier closest to a highway in Tibet. Then drive through Kambala Pass (altitude 4800m) + Karola Pass (altitude 5010m). Later, stay at Gyantse Hotel.

Day 12 Gyantse/Shigatse (B, L, D)
Drive from Gyantse to Shigatse (mileage 90km). 3 highlight spots: Phalkhor Manstery-- the only temple in Tibet housing monks from different religious sects. Kumbum Stupa--standing on its top, you can have a nice view of Gyantse. Tashilunpo Monastery-- first built in 1447, is a complex of white and red buildings founded in 1447 by the 1st Dalai Lama. Arrange to stay at Shigatse Hotel.

Day 13 Shigatze/Lhasa (B, L)
Drive tour along the Yaluzangbu River, enjoy the natural beautiful view of the valley. Later, reach to Lhasa (350km).

Day 14 Lhasa/Chengdu (B, L)
Take a morning flight to Chengdu, be met and transferred to visit Giant Panda Breeding Center-- this huge institution replicates the natural habitat of the giant panda and is dedicated to preserving and increasing their population so they will not become extinct. Stay at Chengdu overnight.

Day 15 Chengdu/Lijiang (B, L)
Visit Dujiangyan Irrigation Project, it is still in use for irrigation and flood-controlling with over 2200-year-old history. Qingcheng Mount (cable car included) comes next. It is amongst the most important centres of Taoism in China. In Taoism mythology, it was the site of the Yellow Emperor's studies with Ning Fengzhi. Take an evening flight to Lijiang. Be met and transferred to hotel.

Day 16 Lijiang
Drive to Jade Dragon Snow Mountain, the soul of Lijiang and the holy mountain of local Naxi People, and take a cable car to Spruce Meadow. Then pay a visit to Yu Feng Lamasery, which was first built in Qing Dynasty with a mixture style of Han, Naxi and Tibetan architecture. Later, go to Baisha Mural. It was painted in Baisha Town in Ming Dynasty (1368-1644), an interesting co-existence of Buddhism, Taoism and Lamaism in the artworks.

Day 17 Lijiang/Dali (B)
Free morning gives you chances to have an in-depth trip in Lijiang. Transfer to airport and fly to Dali --lying between Erhai Lake and Cangshan Mountain range, the charming small town of Dali retains a historical atmosphere. Be met and transferred to hotel.

Day 18 Dali (B, L)
Take a cruise at Er Lake, 2 km east of Dali, the lake encompasses an area of 250 square kilometers, with 40 km long from south to north, 7-9 km wide from east to west. Later, go to Xizhou Town-- the typical town with Bai's characters. More than 1500 years ago, Xizhou and nearby areas has been the major habitat for the Bai people. Have fun over 3-course tea and visit a tie-dye workshop.

Day 19 Dali/Kunming by train (B)
Free morning for your own exploration, recommend you to go to Old Dali Town for an in-depth tour. Right here tourists can find the relaxing atmosphere and laid-back pace of life. Many international backpackers have regarded it as a Mecca to tune out for a while. Take an afternoon train to Kunming. Be met and transferred to hotel.

Day 20 Kunming/Guilin (B, L)
Drive to Stone Forest-- the most famous tourist attraction in Kunming and a typical formation of Karst topography. Take an afternoon flight to Guilin, be met and transferred to hotel.

Day 21 Guilin/Yangshuo by boat (B, L)
Take a leisurely Li River cruise to enjoy the stunning landscape, disembark at the beautiful small town famous for its Karst landscape--Yangshuo. At night, the West Street is a must-go where shows lively nightlife with both Chinese and western style. Besides, you can also go to watch the optional evening show 'Impression Sanjie Liu' on the natural stage along Li River. Overnight at Yangshuo.

Day 22 Yangshuo (B)
Free day at leisure. Today begins by biking to the countryside to see the stunning scenery, rice paddies, water buffalo and local farmer's life. Then optional bamboo rafting down Yulong River. Have lunch at a local restaurant. Or you can ask local people to go to some famous attractions there.

Day 23 Yangshuo/Guilin/Guanghzou by train (B)
Drive back to Guilin, and visit the outstanding Karst style Reed Flute Cave nearby the downtown: a fascinating gallery of natural sculpture. Have a stroll at the central lakes. Then transfer to board overnight train to Guangzhou.

Day 24 Guangzhou/HK (B, L)
Be met at the train station and transferred to have breakfast. Visit Clan Chen Ancestral Temple which was first finished in 1894 and best preserved architecture with strong taste of southern China. Then have a look at the symbol of Guangzhou-- Five Ram Statue. Later, go to Hong Kong via speed train (2 hrs). Be met and transferred to hotel.

Day 25 Hong Kong (B)
Free day for your own exploration--Our recommendations are: first, Victoria Peak. It combine shopping, restaurants, and entertainment and features the oldest mode transport, the 112-year old Peak Tram and Hong Kong 's most unusual building and icon, The Peak Tower. Secondly, Aberdeen, which was formerly a fishing village. People can have a glimpse of boat-dwellers at Aberdeen Bay. Repulse Bay is the third spot, a relaxing sandy beach with a strong characteristic of local culture. Or you can go to amusement park sites like Disneyland and Ocean Park.

Day 26 Hong Kong departure (B)
Transfer to Hong Kong airport for your flight to your next destination.
End of service.


PRICES START FROM US$3360 PER PERSON
As all of our holidays are tailor-made it isn't possible to give an exact price on the web-site as the final cost is dependant on a number of factors. These include the number of people in your party, the season you travel, the standard of hotel (we offer a variety of standards from three-star to super-luxurious) and duration of your trip. However, asaguideline you should expect to pay from US$3360 for the opposite itinerary.

Included Services
Private transfers airport/hotel/airport;
Private tours escorted by an English-speaking guide;
Accommodations with daily breakfast;
Meals specified in itinerary as B=breakfast, L=lunch, D=dinner;
Domestic flights and trains listed;
Admission fees.

Non-included Services,
Visa arrangement;
Excess luggage charge(the luggage allowance at economy class is 20kg);
Personal expense;
Any meals not specified as "B, L or D";
Gratuities to guides and drivers.
Tailor-made Suggestions
Not satisfied with what we have here? Please let us know your requirements and send to our travel specialists by filling in the following form(* Required), you will receive our reply within 24 hours:
Inspirational Trip Ideas
Being an exceptionally well-preserved example of a traditional Han Chinese city, Pingyao keeps it ...

If you want to see something fun and original of Beijing, please go and see the local temple fair ...

Wuyuan villages enjoy a high reputation of the most beautiful countryside in China, by possessing ...
Other Recommended China Tour Packages
Five-star Ms. Century Paragon with an exciting Yangtze cruise special deal in November is going to take its distinguis ...

This 5-day trip takes you to Tianjin, China's most vibrant port metropolis blended with traditional Chinese glamour, ...

A pleasant journey full of discovery, cultural and sightseeing, starts from the great cities Beijing, Xian and extends ...
Comments
Asked by Patel Indravadan

2016-12-01 12:54

Is this high speed train ride in Bullet Train ?
Air fare from JFK to Beijing and from Hongkong to JFK to USA?
Hongkong is city tour arranged?
Pick up from Beijing airport to hotel and Hongkong hotel to airport transport arranged?
Tibet visa Is on arrival or appled before ?
Is this tour in group?

Answered by Ricky

2016-12-01 13:50

Hi, Patel,

Thanks for contacting Easy Tour China.

We are more than happy to be of service to you. As to your trip plan, our travel specialist will be in touch with you soon via email.

Have a nice day there!
Questions & Comments
Google Search
Find something useful to you at Easy Tour China website.
Top China Tours
China Travel Toolkits
Beijing is absolutely the No.1 destination in China! If you can pick up some readings about its history, maybe you will better understand the place after arrival.


Peicy
Travel Specialist