Overview
Soak up in all the natural & cultural wonders in this 3-day Huangshan Highlights Tour. Conquer the Yellow Mountain on foot or take cable car up and down to appreciate the breathtaking views of peaks, grotesque rocks, canyons, odd-shaped pines, sea of clouds and stay over night on the top of the mountain to see the sunrise. And you can hardly miss Hongcun Village, a picturesque old towns to experience Chinese art of architecture and take pictures.
Customize Your Tour:
☑ Travel Dates ☑ Your Interests ☑ Your Travel Style

Make your way to Huangshan by flight or high speed train. Be met and greeted by your Easy Tour China guide, then transfer with a private vehicle to your hotel.
If time allows, transfer to visit the Tunxi Old Street, originated in Song Dynasty (960-1279) located at the center of Huangshan City. Nowadays the street has been turned into a pedestrian street, tourists can walk along to buy all kinds of local souvenirs like Qimen Black Tea, Tunxi Green Tea, and Four Treasures of Chinese study: brushes, ink sticks, ink slabs and rice paper.
In the morning, drive to the foot of Yellow Mountain, known as 'the loveliest mountain of China', it was acclaimed through art and literature during a good part of Chinese history. Today it holds the same fascination for visitors, poets, painters and photographers who come on pilgrimage to the site, which is renowned for its magnificent scenery made up of many granite peaks and rocks emerging out of a sea of clouds."' -- Descriptions at the website of UNESCO World Heritage Sites. Walk or take the cable car to the top of the mountain. You will visit the famous peak West Sea Grand Canyon, also called Xihai Valley. It is the most beautiful and untouched scenic zone of Mt. Huangshan and a perfect destination for avid hikers. Besides, it is renowned for its mysterious landscape with flowing clouds, ancient pine trees, steep mountains, and unique rock formations. This seeming fairyland is nick-named "the Magic Scenic Area". Pine trees dating back hundreds of years sprout forth from rock crevices and grow in all kinds of shapes and sizes. You will also see the Cloud-Dispelling Pavilion, where is the best place to appreciate the captivating scenery of the mountain. Stay overnight on the top of the mountain, you can enjoy the night view on your own.
Meal: B, L, D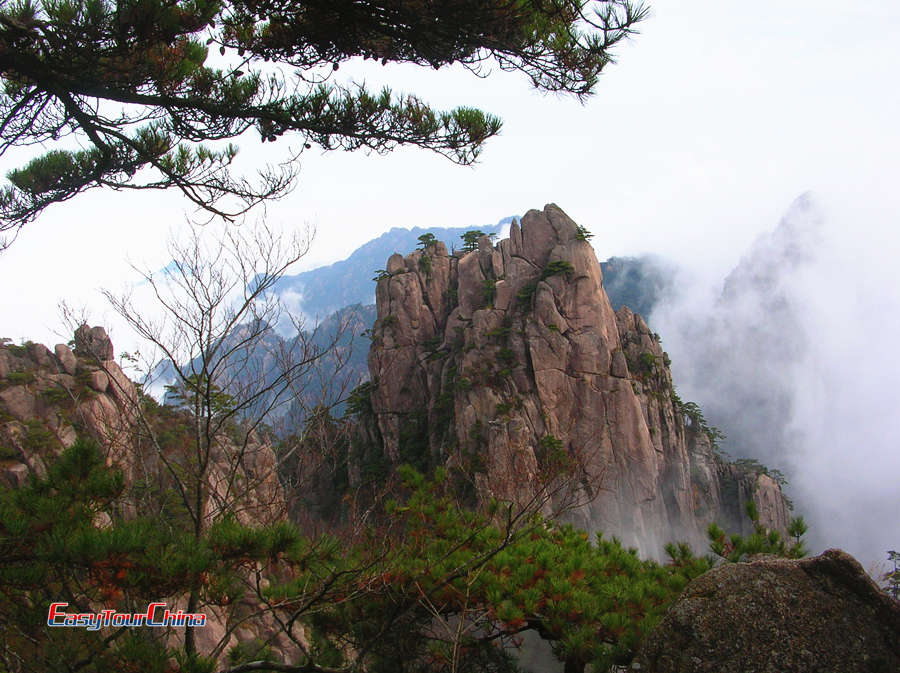 You will have chance to enjoy the sunrise in the early morning (according to weather condition) before get down the Yellow Mountain. Later, transfer to Hongcun Village, first built in South Song dynasty. The creative and intelligent ancestors of the villagers made an efficient water system imitating the digestion system of a buffalo in the village: water channels flow by the doors of every house, leading to a semilunar pond, which can be regarded as the buffalo's stomach. The four bridges over the rivers and pond form the four feet of the cattle. Therefore, Hongcun Village is also nicknamed as Buffalo-like Village.
If time permits, we will also arrange the Chengkan Village before your trip ends.
Chengkan Village - First built in the early times of the Three Kingdoms Period (220-280), Chengkan Village is famous for its well-preserved and amazingly designed residential architecture of Ming Dynasty (1368-1644 A.D.). Additionally, it is a wonder among the ancient villages in China for its special layout. It's said it was constructed according to the theory of the Eight Trigramkan in I Ching (the Book of Changes). It can be inferred from the name of the village, Cheng & Kan, which are the two most basic elements (Ying and Yang).
According to your flight or rail schedule, our guide and driver will escort you to airport or rail station on time. Move to your next destination.
Meal: B, L
Service ends.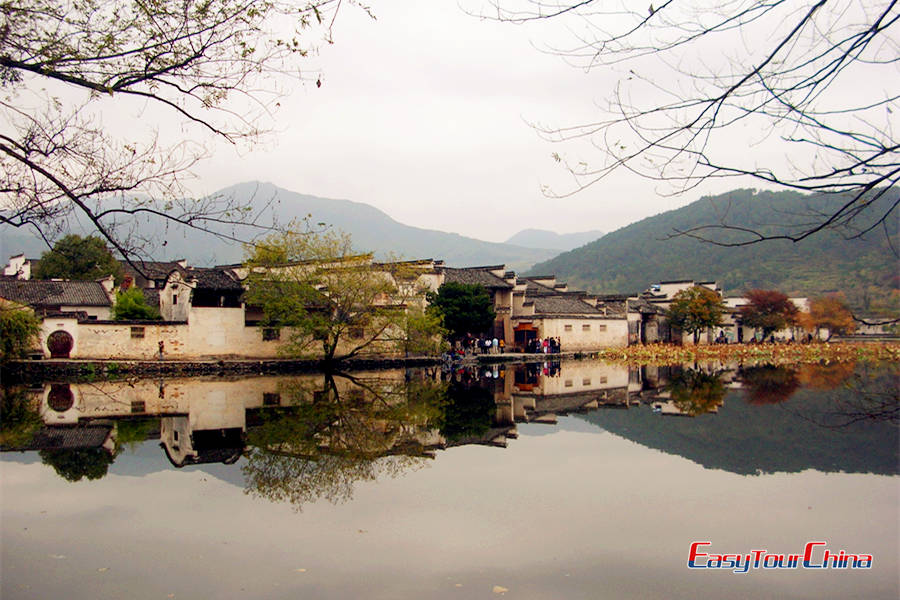 What's included
1-on-1 Travel Consultant

Your China based expert listens to your wishes carefully, provides professional advice, ensures unlimited itinerary revisions before done and 24/7 helpline service while traveling.

Private Local Guide and Driver

Your guides are friendly, helpful and knowledgeable, and your drivers are professional, polite and patient. They are very flexible to accommodate your personal needs and happy to show you the local attractions, history, culture, foods and real life.
Private transfers from hotel to attractions, airport or train station are also included.

Accommodation to Suite Your Preference

We hand pick hotels ranging from luxury 5 star, superior 4 star to comfortable 3 star. Luxury or cozy boutique hotels and budget guesthouses are also among your choices. You could decide where to stay to meet your taste and budget.

Gourmet Meals

Most of the hotels we select offer both Western and Chinese buffet breakfast. Lunch and dinner included are arranged in selected restaurants to taste authentic Chinese cuisine and local specialties. Thus you may also have a unique food tour.
Meals specified in itinerary as B=breakfast, L=lunch, D=dinner.

Attractions and Activities Listed on the Itinerary

Our city tour packages have included the (first/main) entry to all attractions and the expenses of activities on the itinerary (except the optional activities).