When the peak tourist season comes knocking, many of us tend to shy away from the crowd and flee to somewhere tranquil yet full of charm and romantic style. Yunnan in southwest China boasts quite a few lesser-known sights with relatively remote location, which are preferred by those addicted to peaceful scenic world. Travel in Yunnan with the off-the-beaten-track sights, you'll be richly rewarded with unique landscape beauty, lighter crowds, and a place almost to yourself.
Bamei Village (坝美)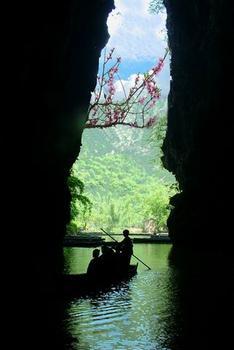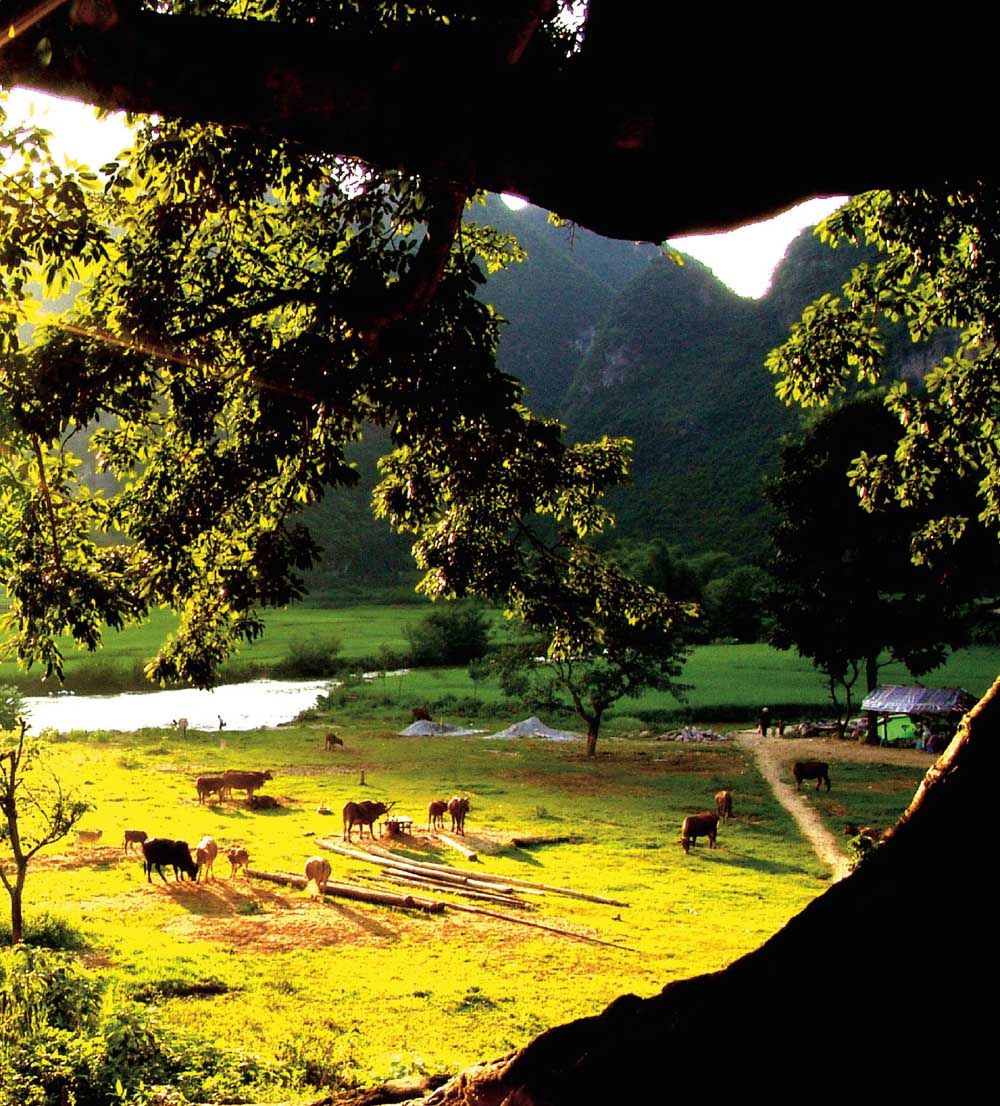 Have you ever heard the Chinese legendary story A Peach Blossom Valley told by litterateur Tao Yuanming of Eastern Jin Dynasty? which depicted people lived in an isolated and serene land, taking the easiest way through life. The 600-year-old Bamei Village is just the peach blossom valley in modern days.
It is located in a hidden valley, 450 km away from Kunming, and can only be reached by boats. After about 20 minutes' boating, an agricultural fairyland emerges, with clear streams, green fields, bamboos and banyan trees, as well as Zhuang people working around the farm with wooden rake and wooden water wheel. With no roads and electricity, it is pristine and undisturbed by modernity.
Spring is the best time to visit Bamei, as there peach blossoms in full in valley, and rape flower glitters the mountains and fields.
How to get there: Take regular bus from Kunming East Coach Station to Guangnan County (about 7 hours). Then change NO.3 bus from Guangnan Passenger Station to Bamei Village (1 hour).
Babao Town(八宝)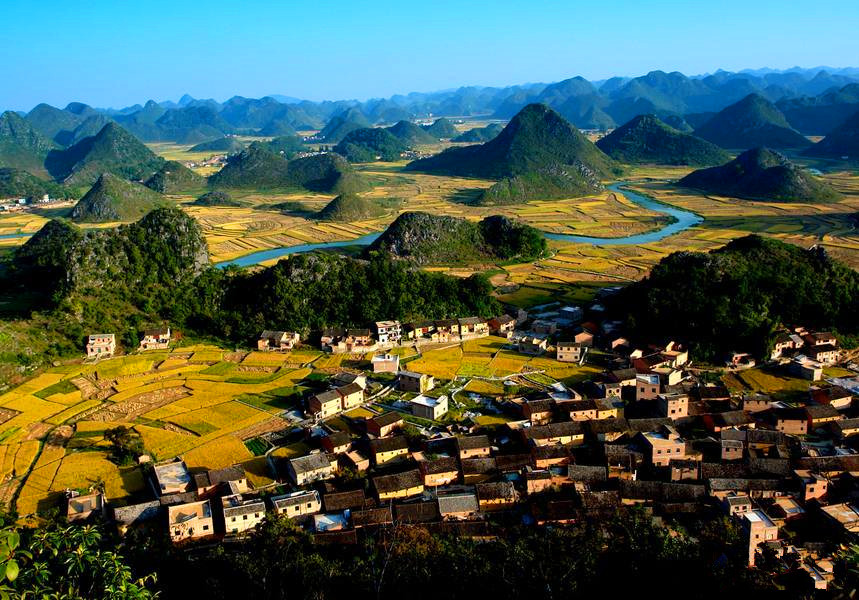 Babao is another Zhuang Autonomous Town in Guangnan County, Wenshan Prefecture. With the picturesque Karst landscape similar to Guilin's, Babao is also known as "Small Guilin on the plateau". It'll be so relaxed to take a bamboo raft down Baobao river, obsessed by intoxicating vision of Karst peak clusters, pretty waterfalls and vast stretches of fields with 13 Zhuang villages dotting.
How to get there: Take regular bus from Kunming East Coach Station to Guangnan County (about 7 hours). Then change another bus from Guangnan Passenger Station to Babao town (1.5 hour).
Puzhehei (普者黑)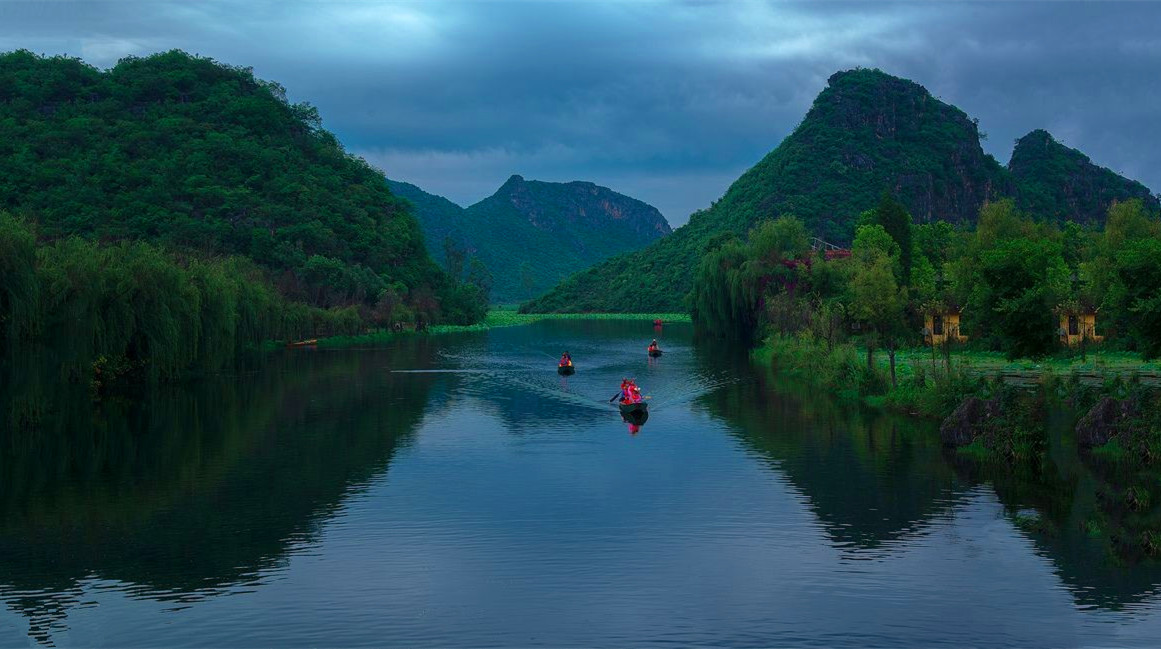 Located 11 kilometers from Qiubei county, 282 km south of Kunming, Yunnan Province, Puzhehei is of typical karst landform, boasting about 200 Karst peaks and 80 serene lakes, as well as vast farmlands, meadows and scattered Yi villages. It's a real pleasure to row a canoe along the winding 21-kilometer water corridor through Xianren Lake, Puzhehei Lake and Luoshuidong Lake and indulge in the relaxing idyllic scene. Never miss the delicacies made of fresh fish, shrimp and lotus on the floating restaurants (boats).
How to get there: Puzhehei can be reached from Kunming by either bus or air. By bus: take bus from Kunming East Coach Station (4 hours) to Qiubei county, and then change Puzhehei special-line bus (0.5 hours). By air: fly from Kunming to Wenshan Puzhehei Airport first (50 minutes) and then take a taxi to the scenic spot.
Shaxi Old Town (沙溪)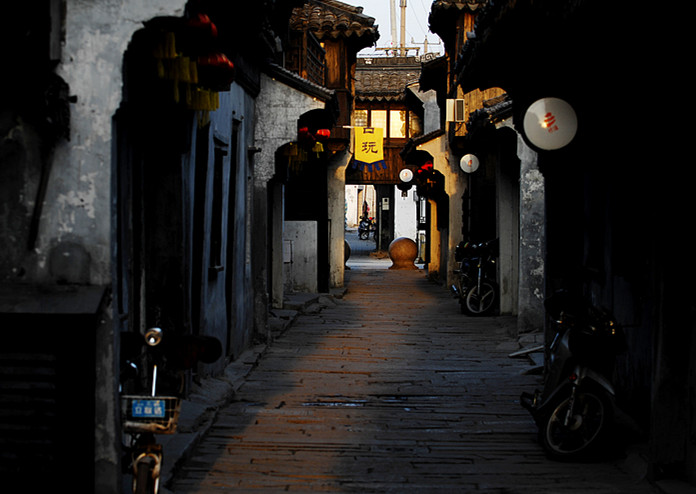 located roughly halfway between Lijiang and Dali, Shaxi is used to be a bustling trade market on the ancient Teahorse Road. Walking on the quiet cobbled street, you may feel like being back to a forgotten era, with leisurely life and old local houses all around. Here the world drops away… You can purchase some batik bedspreads, cushion covers and clothing here, and try the peculiar and delicious food made of wild plants and mushrooms.
How to get there: Take bus from Dali Xiaguan Bus Station or Lijiang Bus Station to Jianchuan (3 hours from Dali, 2 hours from Lijiang), then take mini-bus to Shaxi (about 45 minutes).