Summer vacation is coming! What an exciting time! It is a perfect chance for children to relax from heavy homework, and enjoy outdoor activities with family and friends. So, where is a good place to spend summer vacation? If you ask me, I will definitely recommend this cool trip to you – Bamboo Rafting on Yulong River of Yangshuo Tour!
Yulong River is the longest tributary of the Li River in Yangshuo, Guilin, which is 43.5 km long. It runs through 5 towns and more than 20 villages of Guilin to Yangshuo.
If you take a bamboo rafting, you can enjoy the picturesque sights along the bank leisurely, feel the warm sunshine and the gentle breeze, and admire the uncanny workmanship of nature. The breathtaking scenery earned Yulong River the nickname of "the Little Li River".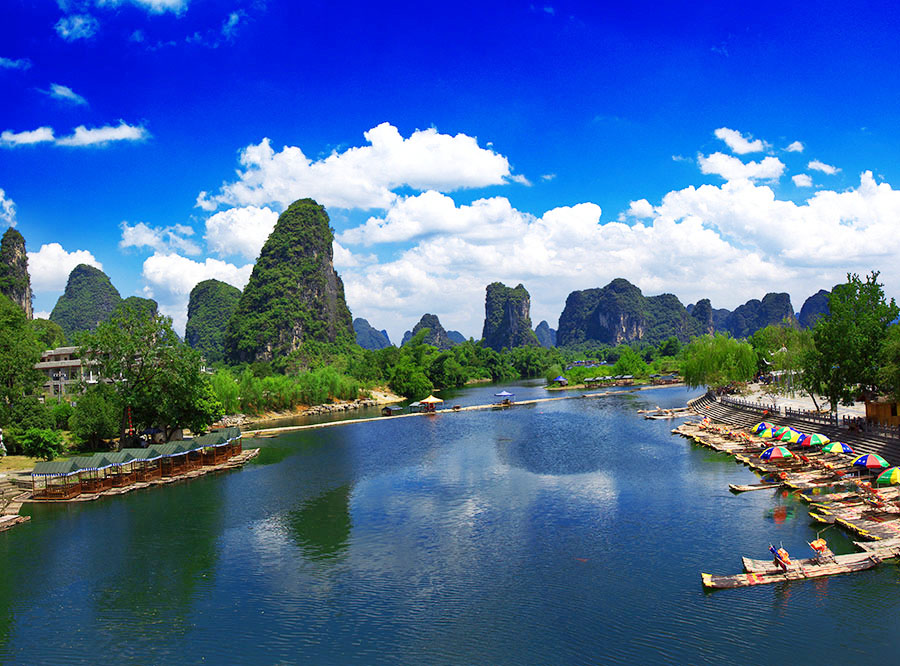 In truth, if you want to have a dream-like and spirit-shooting summer vacation, Yulong River is definitely your best choice. The scenic spots are interspersed with cultural and historical ones.
When raft down the river, you will find that you are surrounded by a primitive and pure natural landscape, combined with unique karst hills, green bamboo forests, buffaloes wandering on rice paddies, bamboo waterwheels irrigating the fields, all occasionally wreathed in mist. Other amazing natural spots along the river that should not be missed are Moon Hill, Five-finger Hill, Butterfly Spring, a hill like "the Camel Crossing the River", Chaoyang Village and so on.
Furthermore, the idyllic scenes of simple rural life here will make you so relaxed: farmers working in rice paddies, old men fishing on their narrow bamboo rafts, village girls washing clothes beside the river, kids swimming in the water, smoke curling upward from the chimneys of nearby cottages, etc.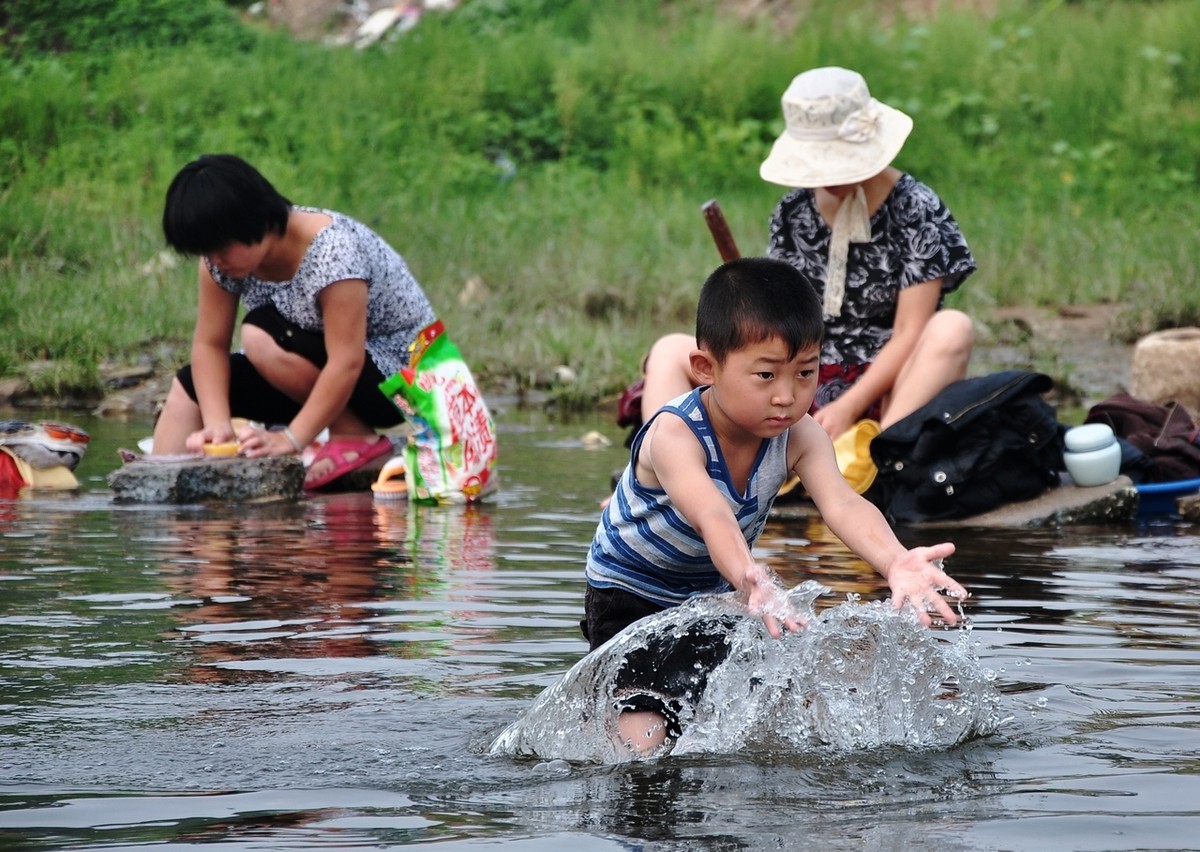 Besides the natural scenery, the historical attractions of Yulong River Scenic Area include 3 most famous ancient bridges in Yangshuo: Yulong Bridge, Fuli Bridge and Xiangui Bridge.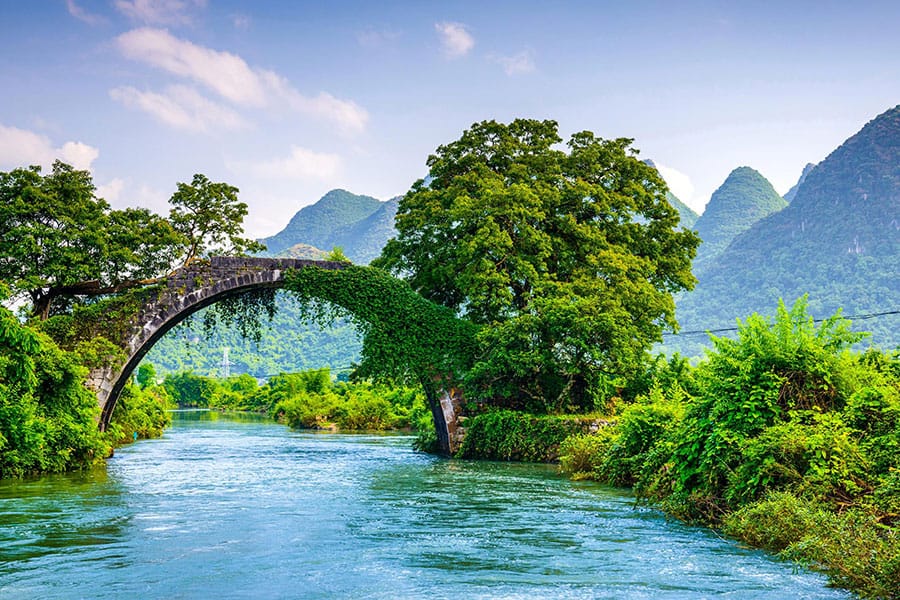 An old village is hidden in this beautiful landscape, which is called Jiuxian Village. The well-preserved local dwelling houses dating back to the Tang Dynasty (618-907 AD) is definitely worth a visit.
Everything here provides perfect materials for photography.

Three Ways to Appreciate the Scenery of Yulong River
1. Bamboo Rafting
Upper Yulong River Rafting Route: Yulong Bridge – Rhinoceros Pond, about 50 minutes
Middle Yulong River Rafting Route: Jiuxian Village – Jima Dock, about 50 minutes (The dock of departure is located in the middle of Yulong River, so it is not suitable for self-driving or cycling to there.);
Lower Yulong River Rafting Routes:
A. Shui edi Dock – Wanjing Dock, about 1 hour (One of the essential routes);
B. Jinlong Bridge – Jiuxian Village, about 1.5-2 hours (Famous for its original scenery, and less tourists groups);
C. Wanjing Dock - hill like "the Camel Crossing the River", about 50 minutes (Suitable for the families with old people and children traveling together. The large bamboo rafts are more stable and safer. This route has no age limit.);
D. Jima Dock – Wanjing Dock, about 1.5-2 hours.
Must-known for taking Yulong River Bamboo Rafting
1. Pregnant women, the disabled and the elderly over the age of 70 and less than 1 meter child is prohibited to take the rafting.
2. Travellers suffering from heart disease, coronary heart disease and hypertension are not allowed to take the rafting.
3. Passenger should take the bamboo raft alone if his/her weight is over 90Kg. Total weight of two passengers who want to share the raft should be under 160Kg.
Guilin Tour Including Yulong River Recommended: 6 Days Guilin Discovery Tour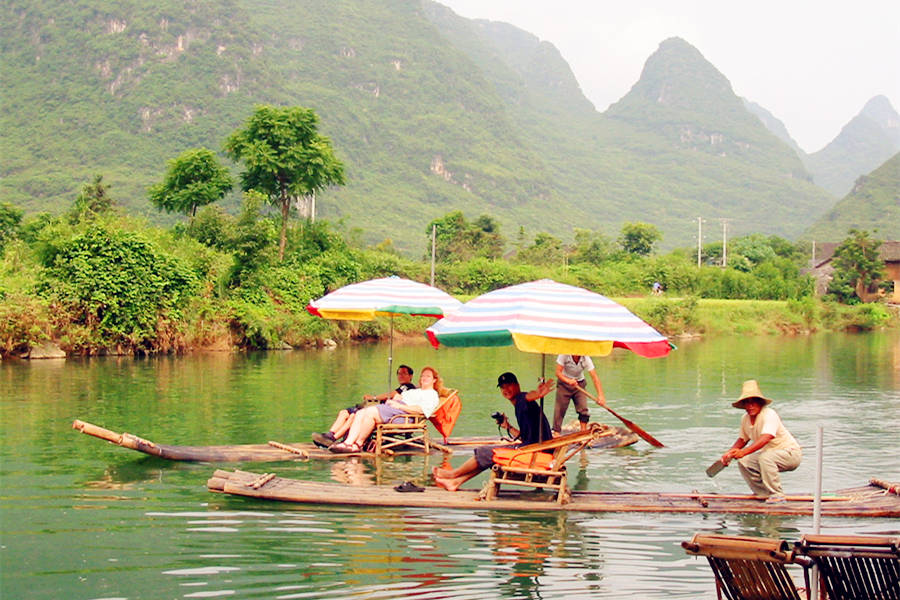 2. Cycling
The cycling around Yulong River is widely known as one of the must-do outdoor activities in Yangshuo, not only because the perfect countryside scenery gives us chances to see the rice paddies, local farming (rice producing after harvest, water buffalos, etc.) and traditional Chinese lifestyle of farmers, but also the fitness and difficulty of cycling is very basic – only a 15 to 20 kilometers cycling on flat and paved back roads.
Lots of remote tracks and small villages are available if you do an insight cycling tour, exploring the disappearing old houses, losing the way in bushes and small track, across the Yulong River through water dams covered with low water, and spending a half or full day for a bike trip together with a real bamboo boat rafting there is definitely worthy.
A leisure single gear bicycle or normal mountain bike is enough if you only do a basic bike ride there. For more skilled riders, hiring a guide to show the way cycling both the on road and off road part is not a bad idea as more beautiful roads and experiences are hidden within that area. If you can ride longer distance or doing steeper climbs, our biking tour expert will guide you with a full day cycling from Yangshuo even to Putao Town and Yangdi or Xingping from Yulong River, covering more back roads normal travelers seldom visited.
Given the developing of tourism in Yangshuo and Guilin, more roads are paved / being paved. Family-friendly cycling with your kids is safe around the Yulong River. It is easy to rent all kinds of bikes / E-scoters there. The local government blocked the areas between the "Ten Miles Gallery (part of the national road G321) and Yulong River since 2017, and now as less cars are allowed to enter, cycling has become the best way to enjoy the river and peaceful world there.
Yangshuo Biking Tour Recommended:5 Days Cycle to Yangshuo & Xingping
Or contact us to tailor make a Guilin & Yangshuo bike tour for you, your family and friends.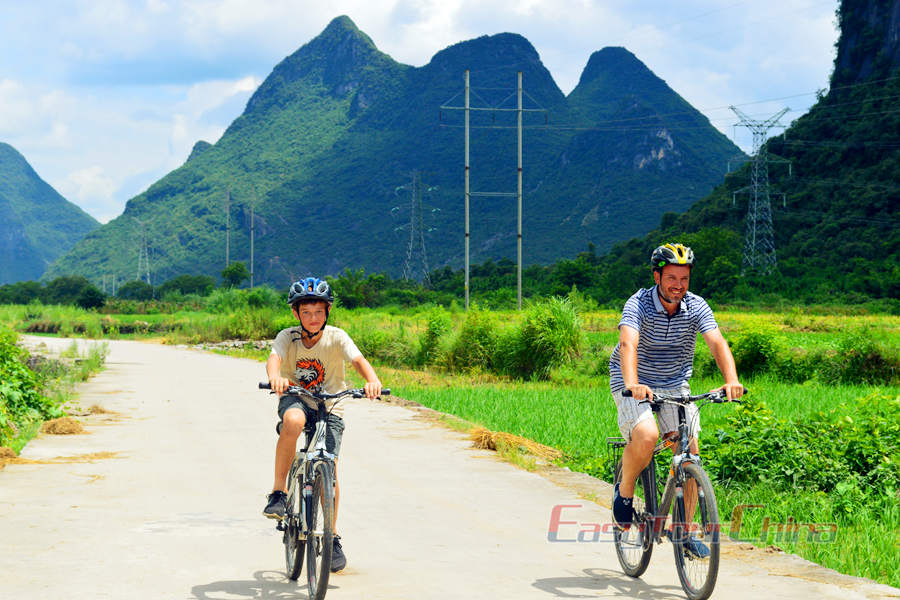 3. Hiking
The most popular route starts at Yulong Bridge and ends at Gongnong Bridge, which is about 6 kilometers. The beauty of the natural and rural scenery along the river is definitely worth for hiking. You can slow down and completely relax, feel the true meaning of life and get closer to the pure nature.
Guilin Hike Tour Including Yulong River Recommended:6 Days Guilin Hiking Getaway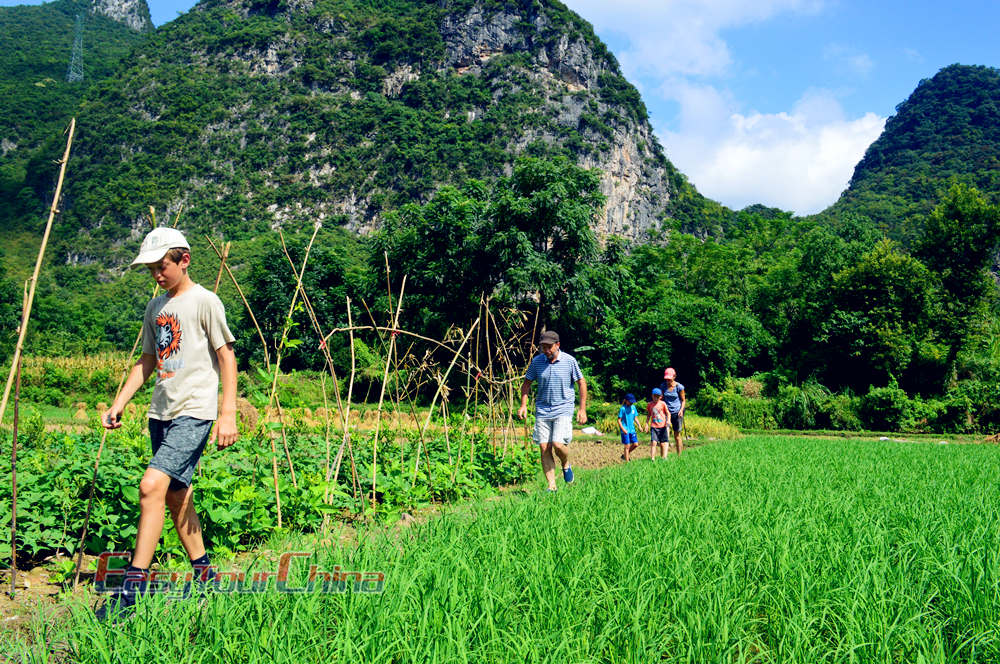 Tips
Best time to visit: April to November, which is the most beautiful and mostly sunny period of Yulong River, and very suitable for outdoor activities.
How to get there: By bicycle / special tour minibus.
Opening hour: 8:00-17:00
Limiting condition: Children under 1 meter tall (1 meter included), children under 6 years old (6 years old included), the eldly over 65 years old (65 years old included) and pregnant women are not allowed to take the bamboo rafting.
Safety: Wear a life jacket; keep your mobile phone, camera and other personal belongings in waterproof bags.
Booking: Simply fill out the form below, or customize your own Yangshuo Tour with Yulong River with bamboo rafting.