Catching Disappearing Spring Festival Customs in China Village Tour
Catching Disappearing Spring Festival Customs in China Village Tour
The most lively and joyful Spring Festival is coming to an end, and vast majority of Chinese people are back to work. But the memories of experiencing colorful New Year's traditional customs lead us to endless aftertastes...
Especially the traditional Spring Festival customs of some charming niche ancient China villages are so interesting. While enjoying the festival atmosphere, you will also be attracted by the beautiful scenery in these ancient China villages.
Guangdong Chaozhou Longhu Ancient Village (广东潮州龙湖古寨)
The increasing commercialization of China has made many areas more modern, but Longhu Ancient Village is an exception. It is like a land of idyllic beauty hiding among bustling cities. The ancestral temples, courtyards and houses can be dated back to the Southern Song Dynasty. People living here have always believed in a set of family guidance, i.e. even if the houses are dilapidated, the ancestral houses which handed down from generation to generation cannot be dismantled easily. So the architectures here are rare and perfectly preserved, and stepping into the village is like stepping into the past.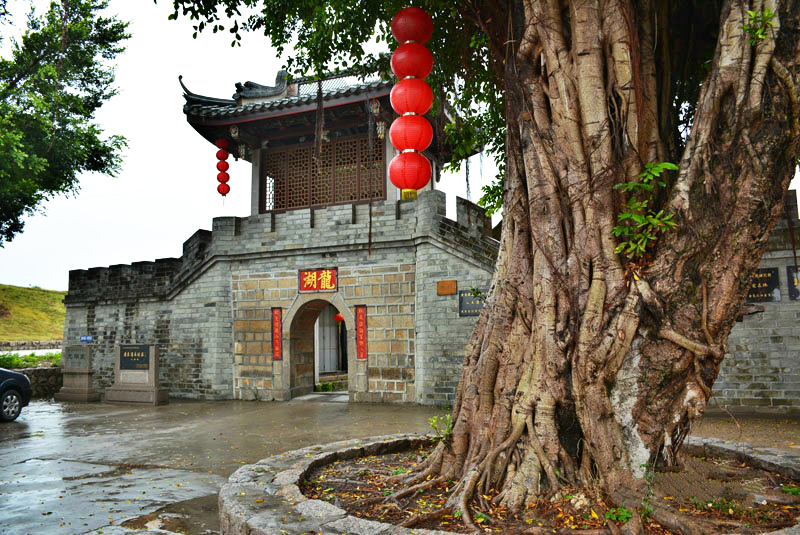 When the Spring Festival comes, Chaoshan natives will prepare different kinds of sacrifices like pork, fish, chicken, eggs for the gods, pray for blessings for the coming year.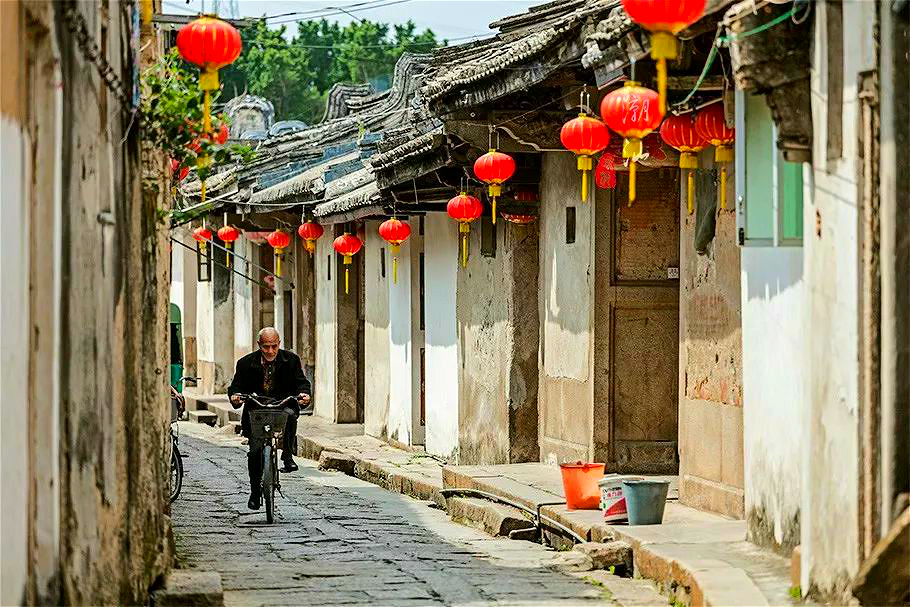 What's more, every family will get busy making different kinds of steamed cakes, such as sweet cake (甜粿, meaning sweet and happy), steamed sponge cake (发粿, meaning rich and lucky), song cake (松粿, meaning easy and smooth). These colorful steamed cakes carry the locals' good expectations and become the liveliest and the most festive New Year's signal. Even walking on the bustling lanes, you can still smell the pleasant scent of the steamed cakes.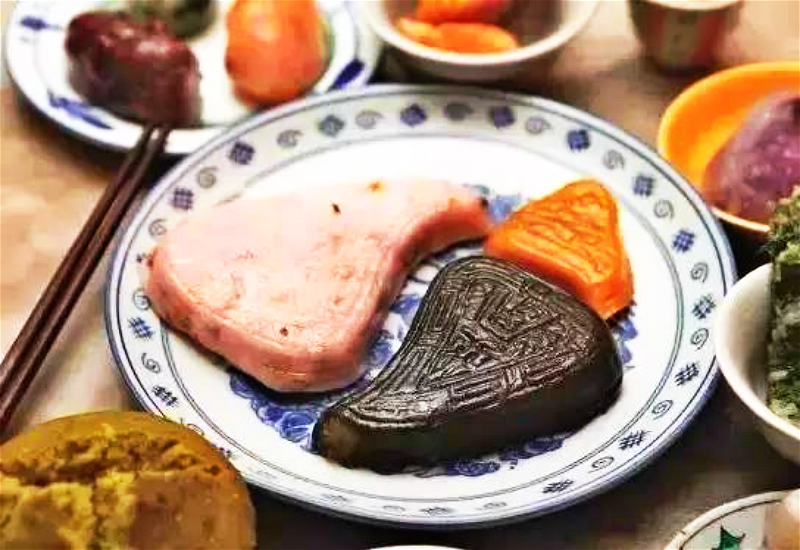 Zhejiang Jiande Xinye Village (浙江建德新叶村)
Zhejiang is famous for its natural beauty and numerous ancient villages, and Xinye Village is one of them. This historic village was built by Family Ye in Southern Song Dynasty, and their descendants kept a living here and propagated generations.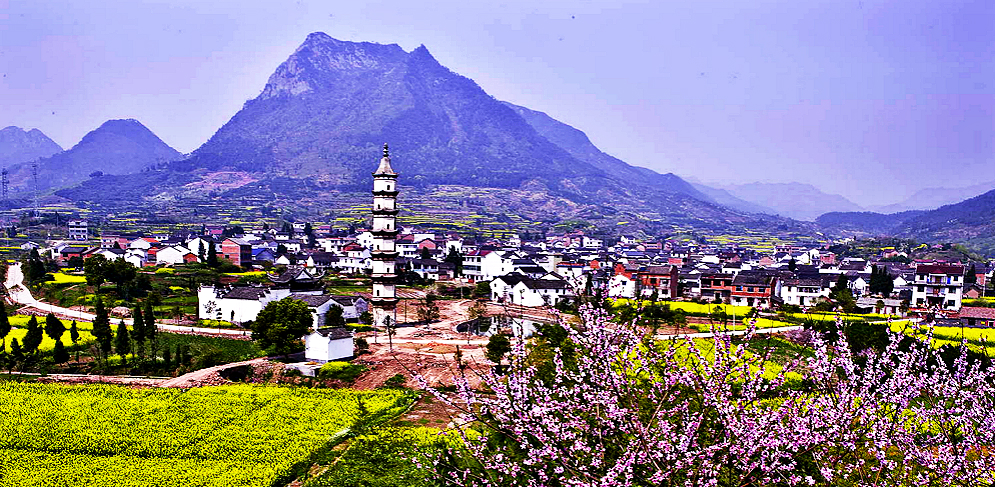 In this picture-perfect getaway place, Chinese classical architectures with white walls, dark tiles and Ma Tau walls, imposing dwellings and spacious courtyards with carved balustrades and marble steps can be seen commonly. And the rising wave of smoke curling up from kitchens has added a strong sense of life breath. The atmosphere here is so leisurely and comfortable.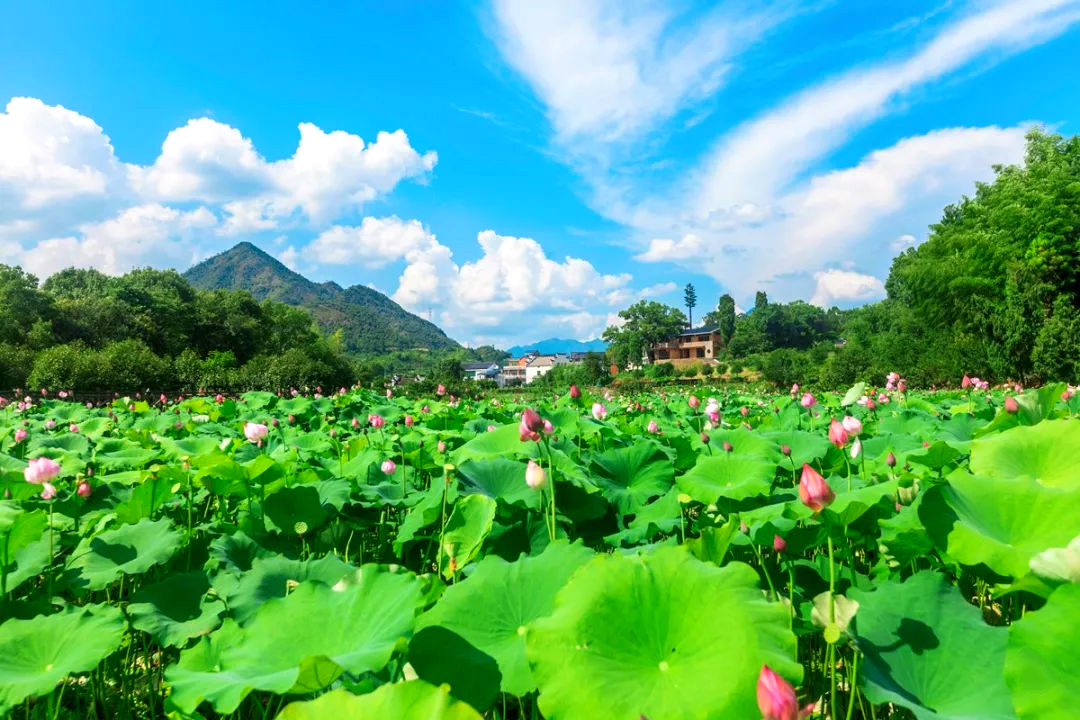 Although Xinye Village is gradually known as a hot tourist destination, the residents still maintain their simple folk customs, especially during the Spring Festival. The most distinctive activity is the "Shoulder Goods Festival" (担货节), which is full of New Year flavor. Some merchants shoulder the old pole and loads on it, and peddle all kinds of goods like sausage, duck seasoned with soy sauce, cakes from door to door; some craftsmen burn the indigenous wine, grind tofu or make other kinds of local snacks on the spot in alleys; some artists perform riding bamboo hobbyhorses (a kind of activity) on a crowed filed... All of these festive folk activities bring people's memories back to the traditional New Year in old times.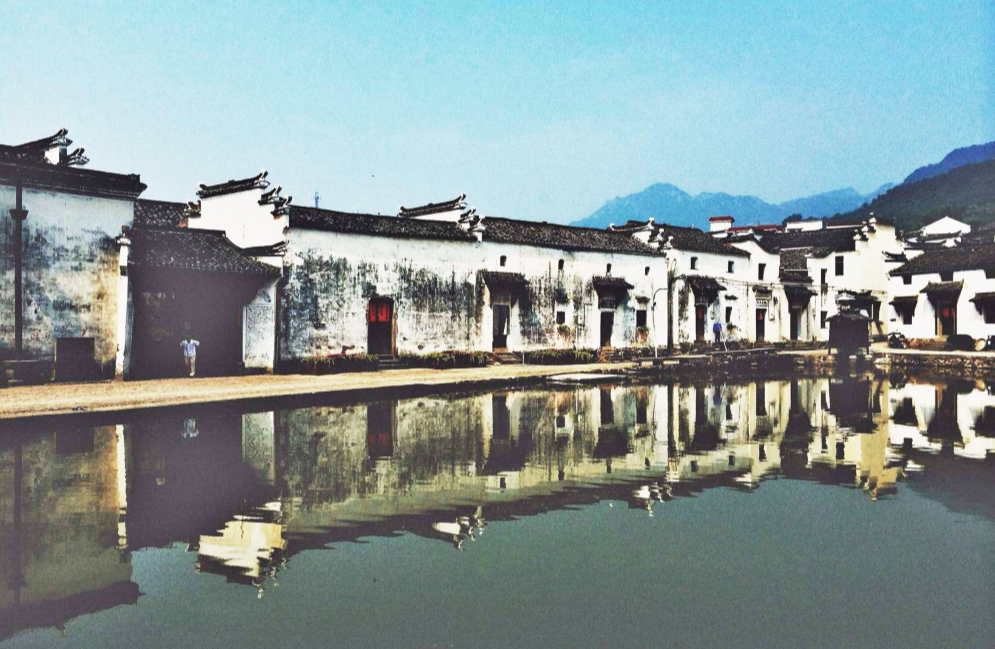 Zhejiang Lishui Yueshan Village (浙江丽水月山村)
Yueshan Village – as beautiful as its name, which has lush and green moso bamboo forest, crystal clear streams, quaint and simple cottages. The moon is brighter than other places, and you can see more stars clearly at night. People praise it as "A Blessing Paradise Embraced by Green Hills and Clear Waters".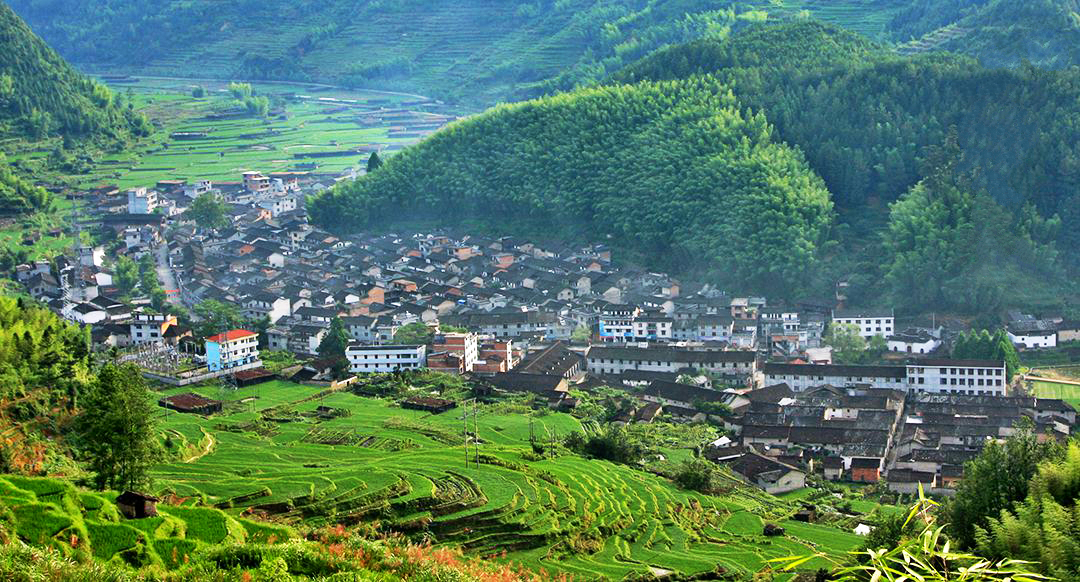 In addition to the poetic natural scenery, a special activity of Yueshan Village is more attractive, i.e. Yueshan Spring Festival Gala – wrote, directed and performed by local villagers. Nearly every villager can put on a good show. They are very talented and versatile. When take up farm tools, they are professional farmers; when walk onto a stage, they are competent actors or actresses. This activity has lasted more than 30 years. Many tourists come all the way to watch this "China's Best Copycat Spring Festival Gala".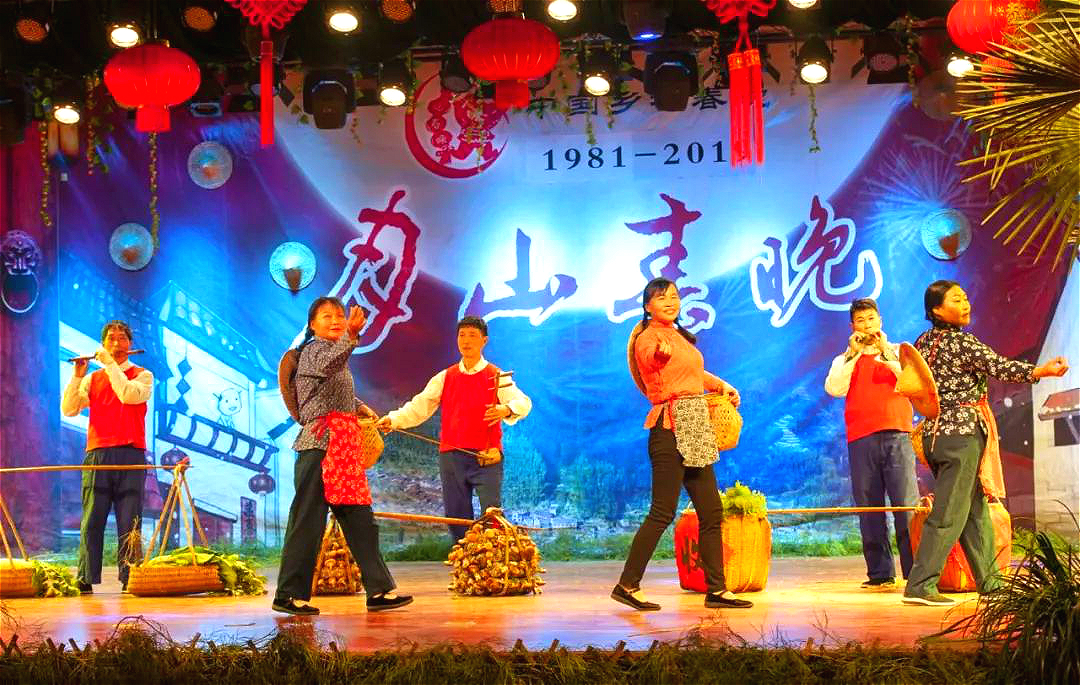 Meanwhile, the local villagers will prepare a hearty "Hundred-Family Banquet" during the Spring Festival. Various delicious foods will make you mouthwatering. For example, proso millet cake (黄粿), fried glutinous pudding (麻糍), baked pancake (烙饼), New Year rice cake (年糕) and so on. Everything is full of the sense of Spring Festival.
Jiangxi Yingtan Zhangping She Ethnic Township (江西鹰潭樟坪畲族乡)
Except the crowded popular tourist spots like Wuyuan (婺源), Lushan Mountain (庐山), Jinggang Mountains (井冈山), there are other niche destinations worth visiting, and Zhangping She Ethnic Township in Yingtan is one of them.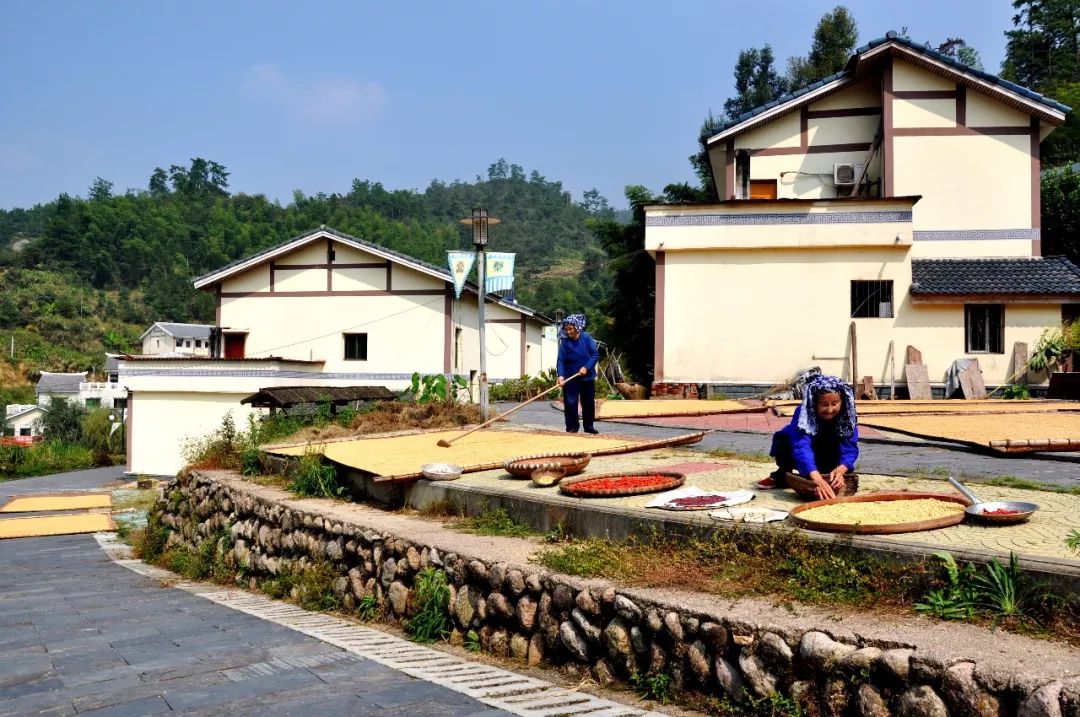 Zhangping She Ethnic Township is like a shining pearl hidden in the dense mountains and forests. The gorgeous natural landscape, profound ethnic culture and peculiar customs form a unique charm of this little village.
In the Mid-Ming Dynasty, the first batch of She ethnic people migrated here, and started a new life. Like other China's ethnic minorities, She people are good at singing and dancing. Especially during the Spring Festival, "Da Ge" (打歌) is a must-do activity. It is a kind of folk song. People put all their enthusiasm for life into the music and express them in the form of singing folk songs in She language, which is similar to Hakka language. While singing, She people will dance as well, usually called Horse Lantern Dance (马灯舞). This happy atmosphere will last till the Lantern Festival.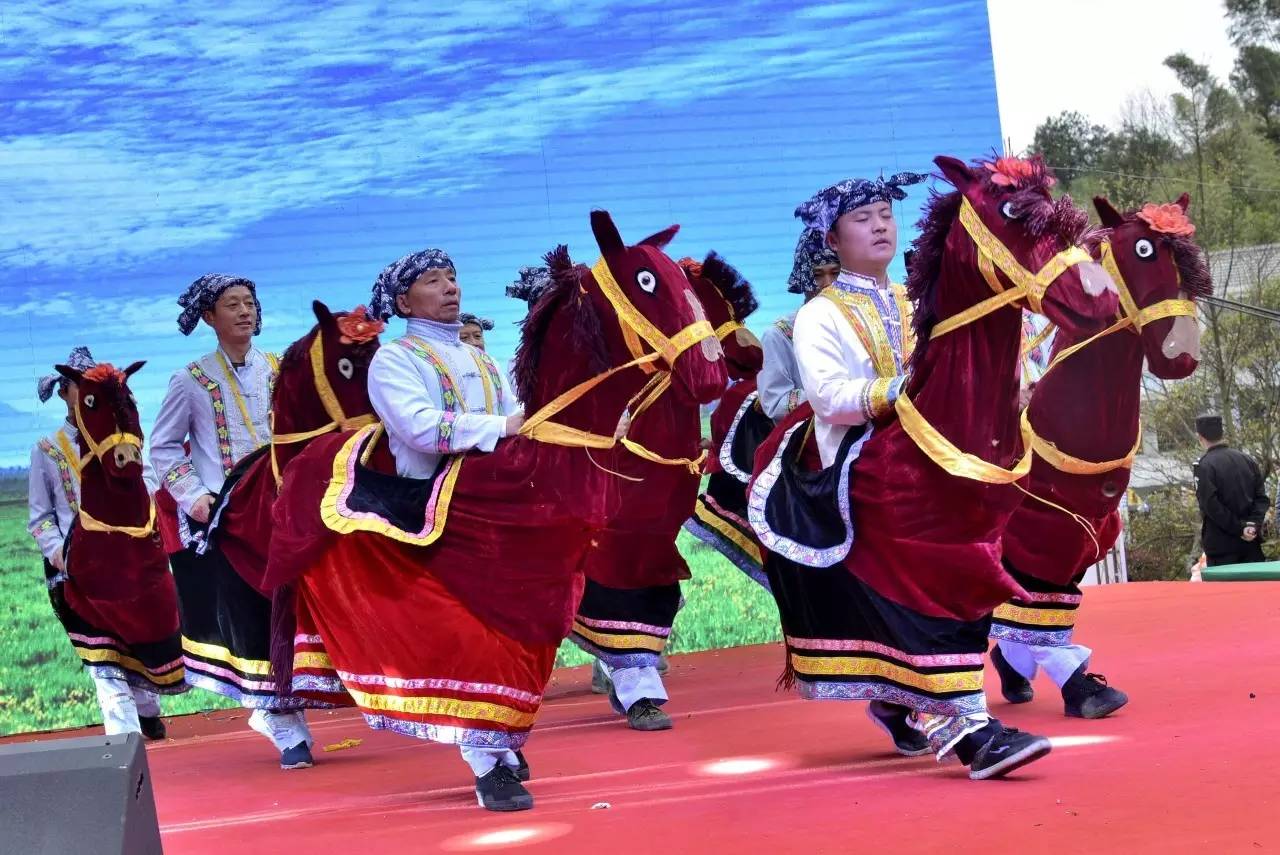 Shuttle among the cheerful crowd, you shouldn't miss the authentic She Minority Rice (畲家饭), Red Rice Wine (红米酒) and home planted wild mountain flavor like agaric, mushroom, etc. Although earthy and simple, they are the pure original tastes that are hard to find in flourishing cities.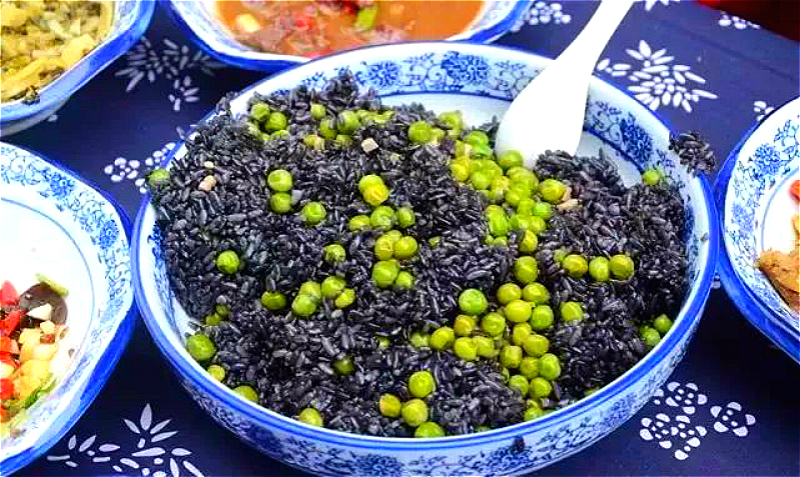 Guizhou Xingyi Lianfeng Village (贵州兴义联丰村)
Lianfeng Village – a quaint, quiet and peaceful ancient village is a well-known exploration land. Due to its unique and beautiful karst landform, the village is located on the bottom of Yubulu Tiankeng (雨补鲁天坑). Benefit from the flat land, fertile soil, abundant rain water and pleasant climate, hundreds of local households lived here happily and peacefully.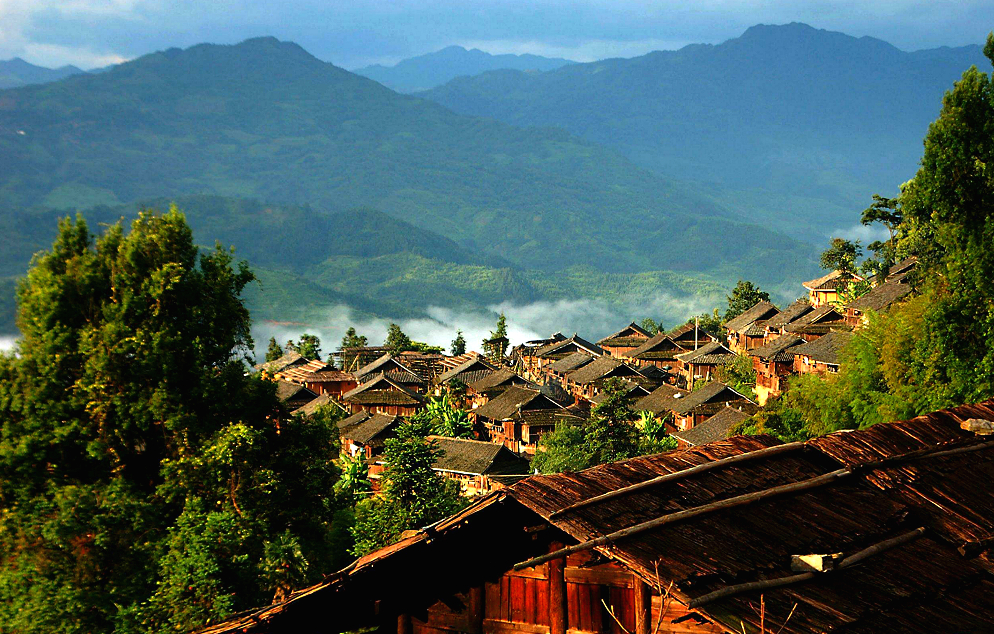 There's only one road leads to the outside world for centuries. People live an idyllic life, and dispute away from the bustling and noisy world.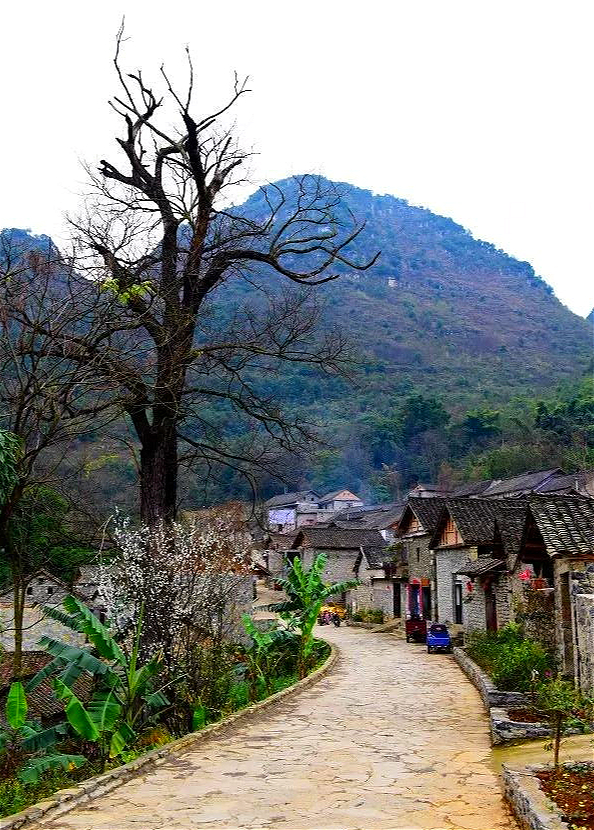 When the Spring Festival comes, villagers will invite experienced butchers to kill pigs, and welcome relatives, friends and neighbors to help to prepare and eat a big New Year pig feast. While enjoy the gourmet food, they toast with each other, and embrace the arrival of the New Year with great passion and joy.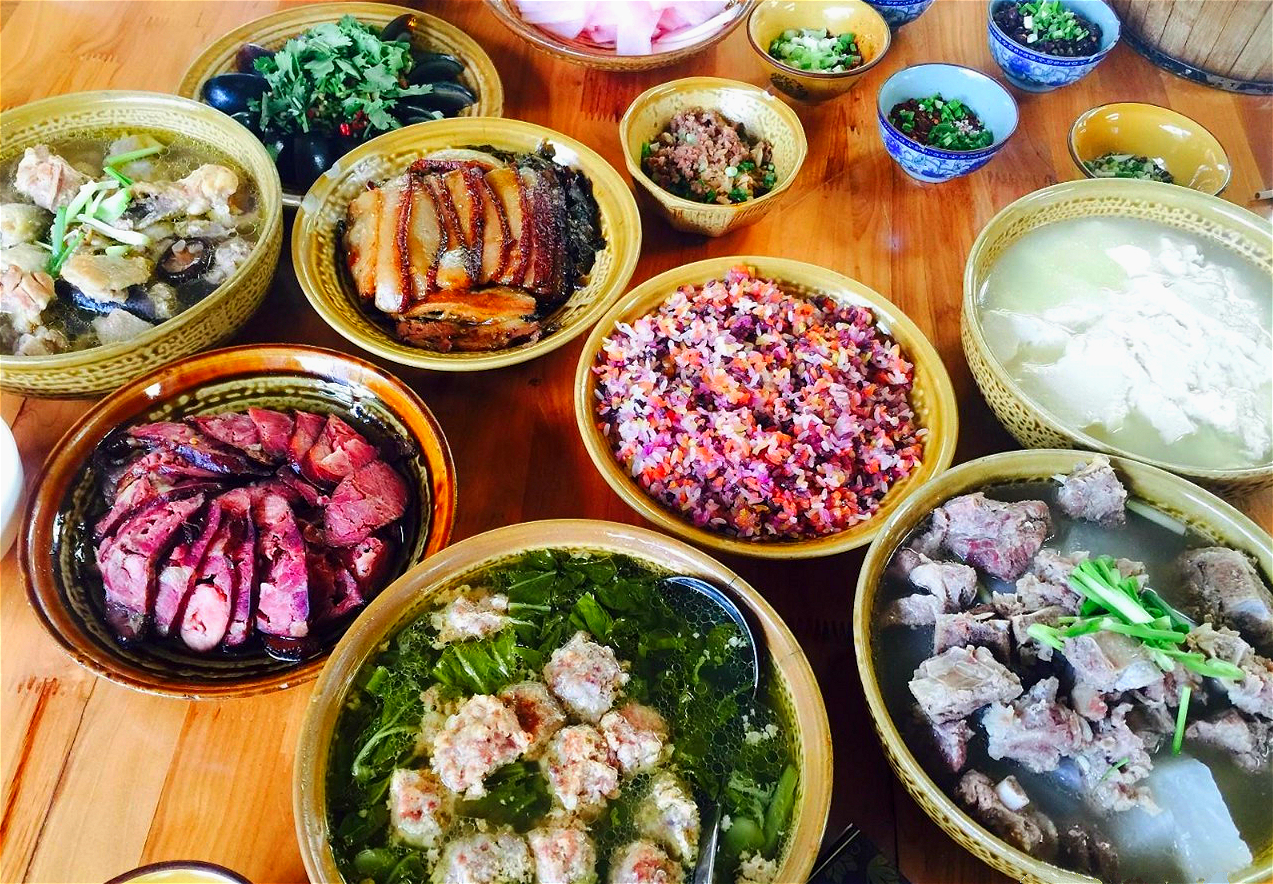 Hunan Jishou Aizhai Village (湖南吉首矮寨)
Surrounded by continuous peaks and valleys, Aizgai Village is hidden in the breathtaking nature. If you stand in the village and look around, you will be amazed by the uncanny workmanship of nature like the precipitous cliffs of different odd shapes shrouded in clouds and mist, and the characteristic minority amorous feelings, age-old minority cultures.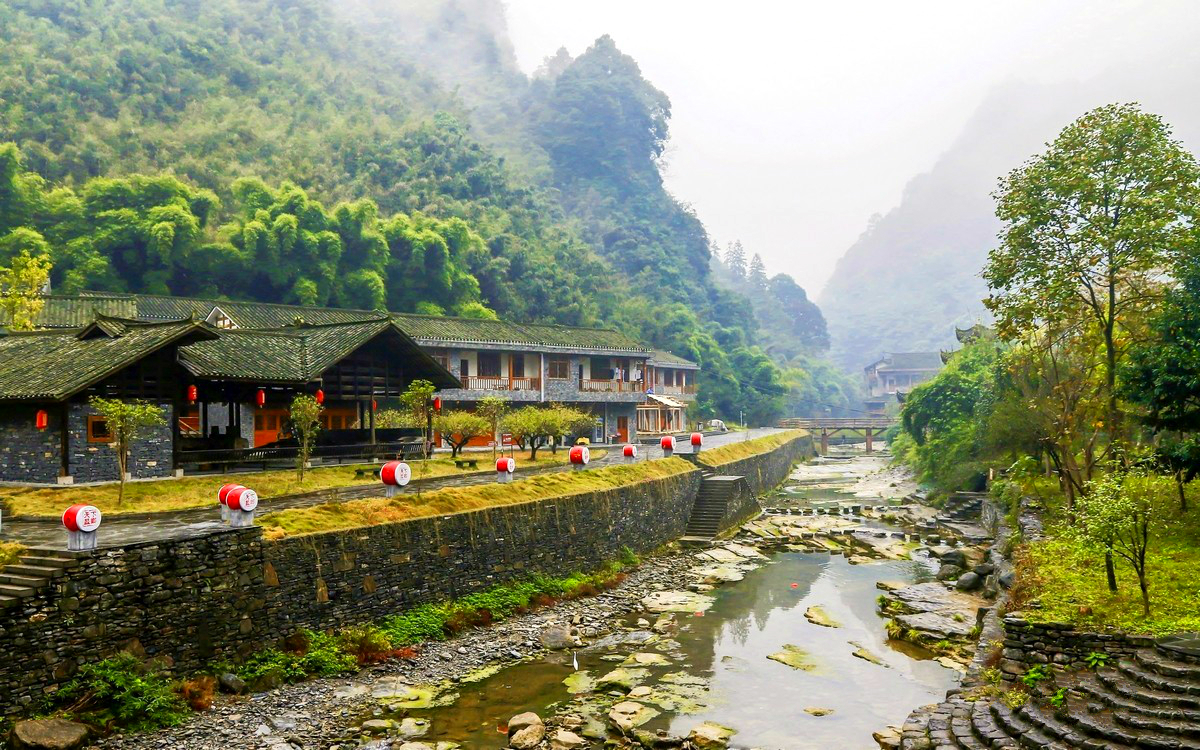 The Miao people who have lived here for generations rely on one Xiangchuan Highway to in or out of the village, which happens to create an amazing highway wonder. If you set out from the village, and drive up to the 600-meter-high mountain top, you will have to hover along the winding roads which carved out of the hanging cliffs. The whole trip has 13 dangerous bends and the Aizhai Bridge over natural valley. When you drive on the road, through the misty clouds, you will notice that Aizhai Village looks like a mini toy model, everything looks so small, and feel like speeding across the sky... But maybe only the dare-takers will enjoy this fun, the faint of heart may feel dizzy only take one look at the cliffs beside them.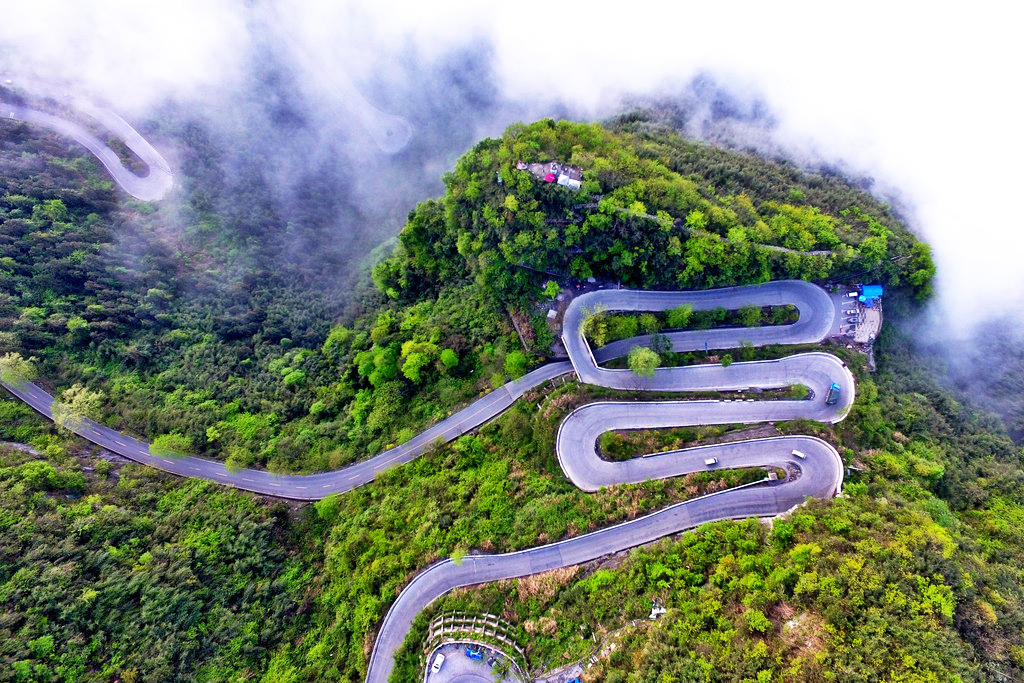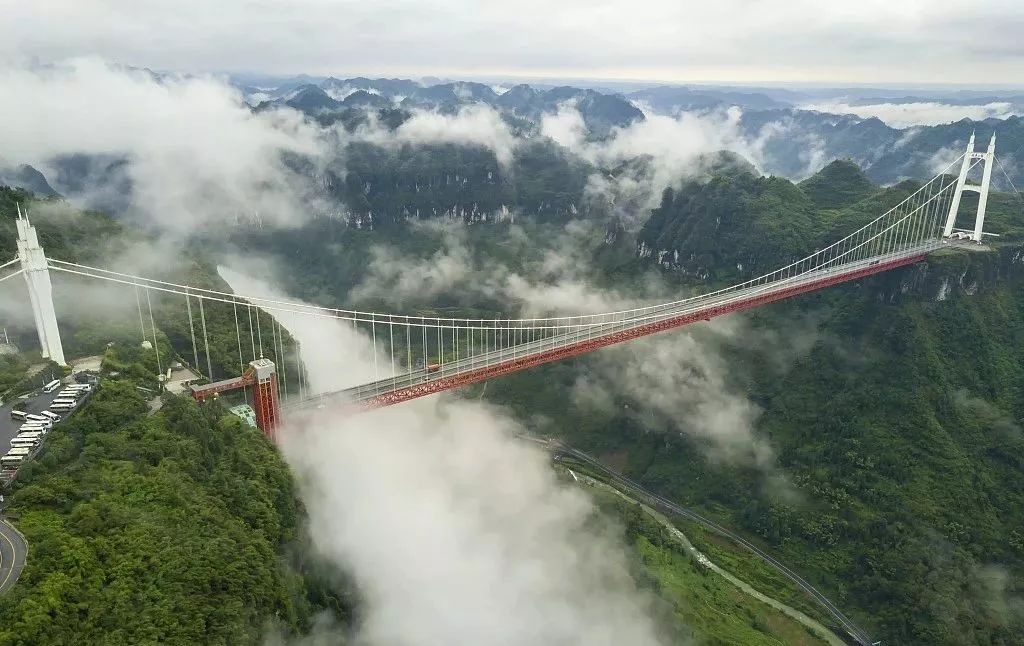 Except for the exciting driving experience, the primitive and ebullient ethnic custom and culture will make you linger. In the Spring Festival, Miao people will perform "Hundred Lions Dance" (百狮会). Meanwhile, other excellent acrobatics and martial arts will be performed in the village. Villagers wear national costumes dancing and singing, which become a beautiful sight of the New Year.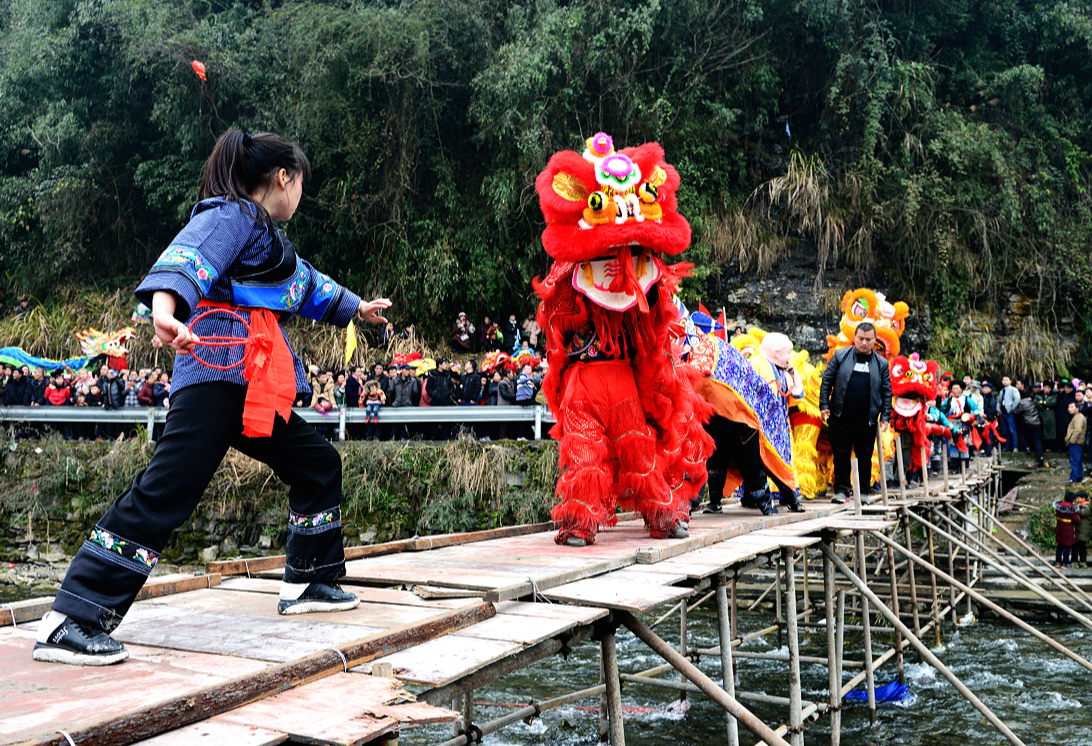 Tibet Lhasa Tunda Village (西藏拉萨吞达村)
As early as more than thousand years ago, a group of Tibetans herd livestock here and settle down. Hidden at the bottom of valley, this blessing place has not only nurtured generations of Tunda villagers, but also turn out as the origin of Tibetan language.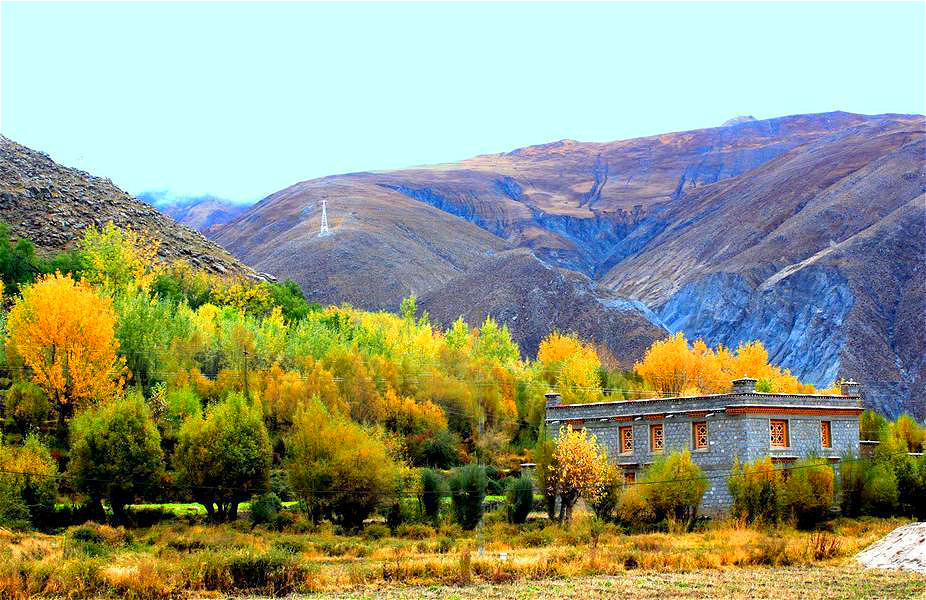 Different from other places, Tunda Villagers have their own way to celebrate the New Year. According to the Tibetan New Year algorithms, the twenty-ninth day of the twelfth lunar month is the New Year's Eve. It is a day of reunion and celebration. Every family will hang colorful prayer flags, draw auspicious patterns on the door with white powder.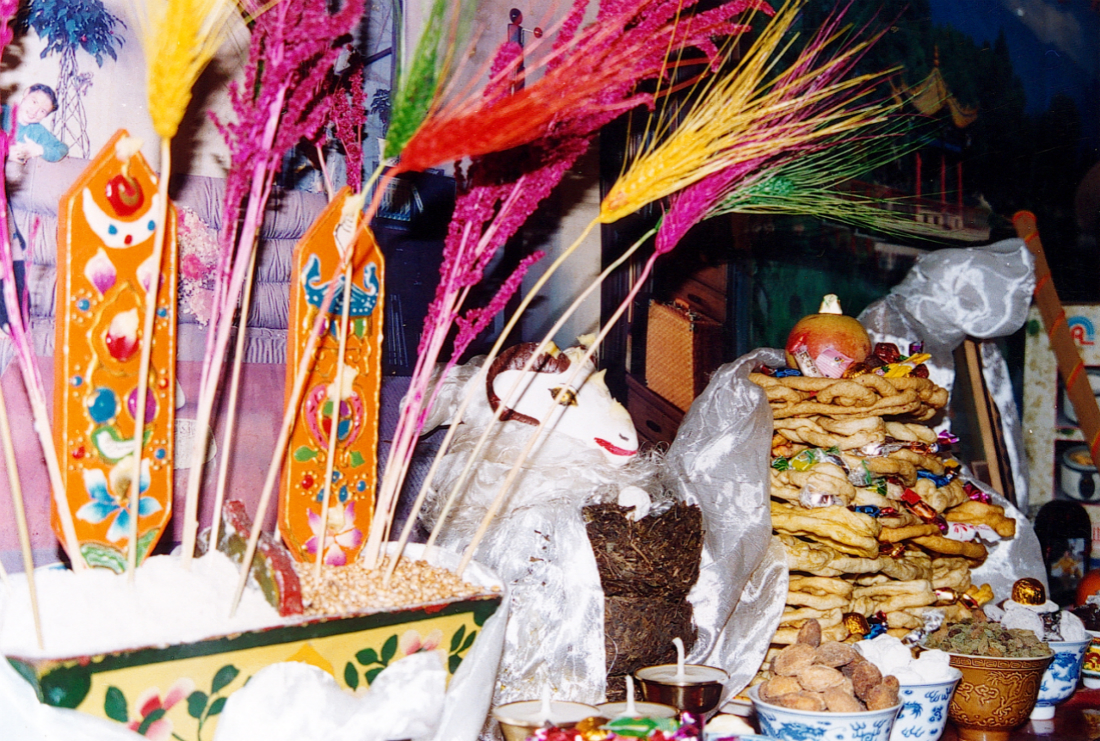 As for the New Year's Eve dinner, is "Gu Tu" (古突), which you can never find anywhere else. It is a kind of Tibetan noodle soup with mascots with various auspicious meanings, such as coins indicating prosperity, chilies indicating a good heart with a sharp tongue, noodle slices with different shapes indicating different characters like courage, smart, beautiful, kind, etc. Of course, not every bowl of noodle soup is filled with mascots, and there will be something with bad moral as well, which is the "Gu Tu". So, if someone happens to eat lucky mascots, then he or she will be blessed by everyone; if someone happens to eat "Gu Tu", then he or she should drink up a glass of fine wine to banish the bad luck. It is so much fun!
Today I briefly recommend these hidden niche ancient villages and their New Year customs. Are there more interesting and peculiar customs in your hometown? Welcome to leave comments below. If you would like to tailor-made a China village tour, please contact us, or you can simply make an inquiry by using the form below.
Leave a Comment