Rice terraces are unique beauties and not frequently seen in our planet. They are mainly scattered in the mountainous area of agriculture countries in Asia. An ancient agricultural wonder in China, the rice terraces was created by Chinese ancestors more than 2000 years ago. They help to prevent soil erosion, increase grain production and are good for farming. Today, the endless rice terraces are becoming special cultural landscape creating visual spectacles. Here's a look at the most beautiful rice terraces in China, including Longji, Yuanyang, Yunhe, Jiabang, Ziqueqiao, Youxi, etc.
Honghe Hani Rice Terraces Yuanyang
Location: South of Ailao Mountain, Yuanyang County, Yunnan Province
The declaration area: 16,603 hectares
Best time to Visit Yuyang Rice Terraces: November to April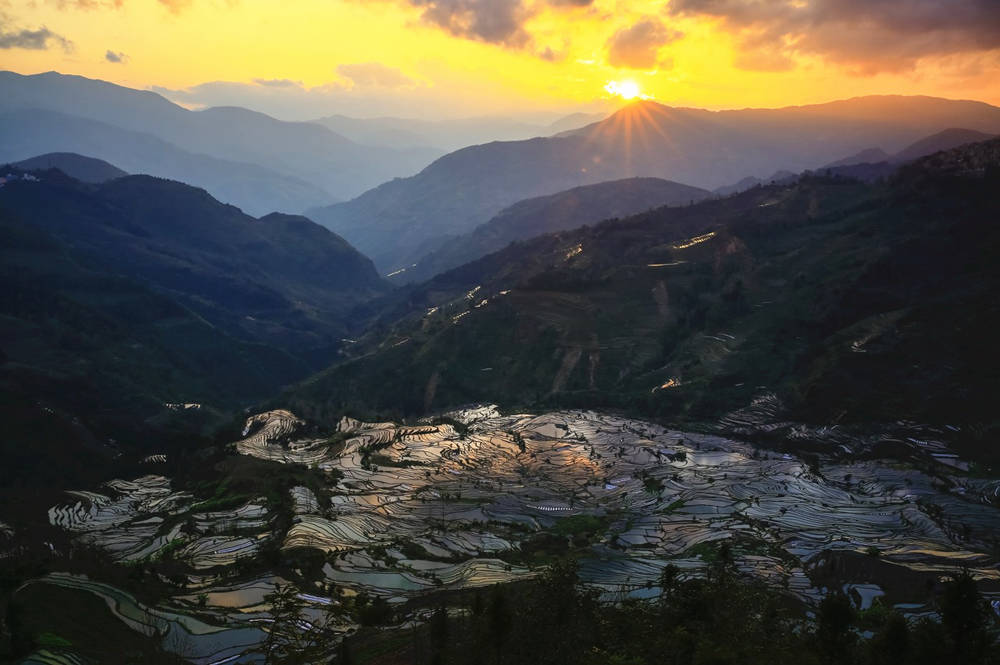 Yuanyang Hani Rice Terraces is known as a photographers' heaven, and the most magical artificial sculpture of the earth. Local Hani people have been working on Ailao Mountain since 1300 years ago. They have made the best of this land – the slops, drains and even the stone cracks, and finally created the extraordinarily massive terraced fields we can see today. Honghe Hani Rice Terraces was listed as a UNESCO World Cultural Heritage in 2013. Laohuzui, Bada and Duoyishu area the best places to view the rice terraces. And awesome shots can be captured under the perfect intersection of light and shadow.
>> Recommended 7 Days Yunnan Photo Tour to Yuanyang Rice Terraces
Longji Rice Terraces (Dragon Backbone's Terraced Fields) Guilin
Location: Longsheng County, Guilin, Guangxi
The declaration area: 7000 hectares
Best time to Visit longji Rice Terraces: April to early June when irrigated and planted, September to October during harvest.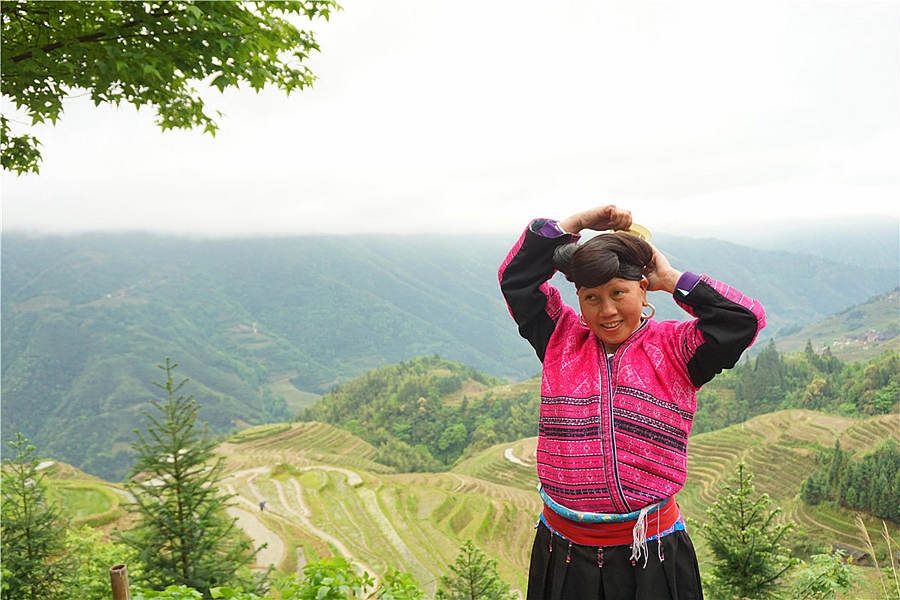 Another big and beautiful rice terraces in China, Longji was mainly built in 15th Century and extends from 300m to 1100m (984 to 3608 ft) above sea level, resembling a giant dragon's backbone. The scenic area consists of Ping'an Rice Terraces and Jinkeng (Dazhai) Rice Terraces, which are 40 minutes' drive and 4 hours' hike apart; both are on an epic scale. Here in Longji, you can not only witness spectacular rice terraces, but also you can experience interesting minority culture of Dong, Yao, Miao and Zhuang.
>> Recommended 5 Days Guilin Tour with Longji Rice Terraces Exploration
Yunhe Rice Terraces Lishui
Location: Chongtou Town, Yunhe County, Lishui, Zhejiang Province
The declaration area: 5100 hectares
Best Time to Visit Yunhe Rice Terraces: April to June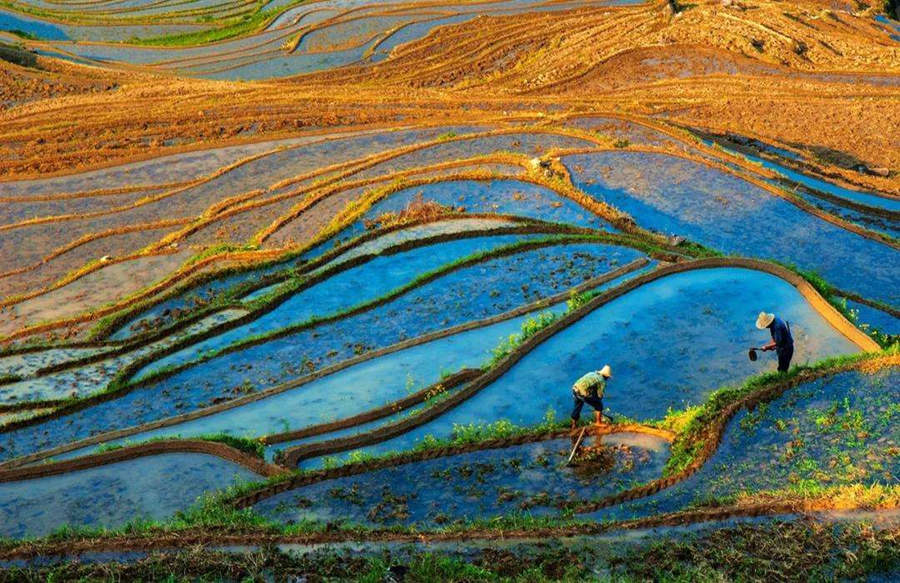 The biggest rice terraces in East China, Yunhe Rice Terraces was first built in Tang Dynasty with a history of over 1000 years. It stretches over mountains, valleys and plains, between 200m to 1400m (656to 4593 ft), with up to 700 levels. Small villages with grey-tile-red-brick traditional dwellings and bamboo forests are scattered in Yunhe Rice Terraces, creating tranquil, pastoral scenery. For cameraman, you can also photograph seas of clouds, waterfalls, rivers and pristine villages in Lishui – "Chinese town of photography".
Ziquejie Rice Terraces
Location: Shuiche Town, Xinhua County, Loudi City, Hunan Province
The declaration area: 3733 hectares, (5333 hectares if including the surrounding terraced fields)
Best Time to Visit Ziquejie Rice Terraces: March to May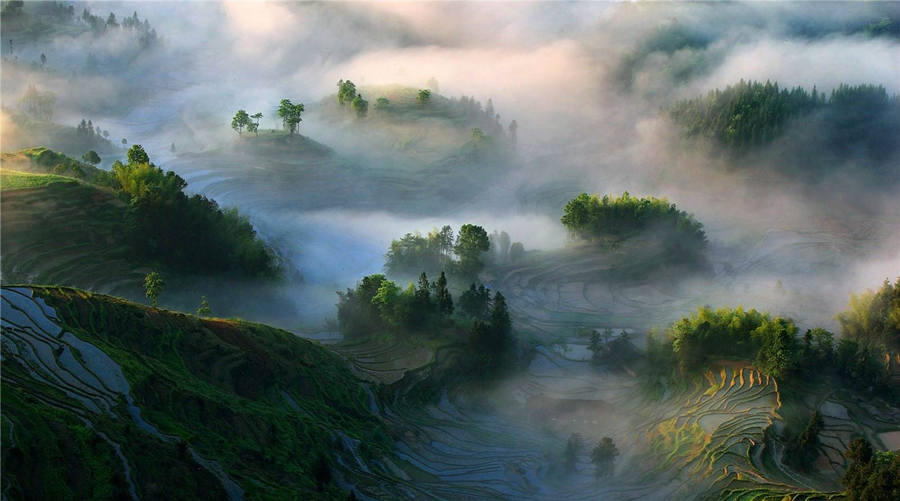 Spreading over the middle of Fengjia Mountain Chain, Xuefeng Mountain Range, Ziquejie Rice Terraces is at an elevation of 500 to 1236 m (1640 to 4055 ft), with 400 levels. It is famous as a world wonder of irrigation engineering, and a historical & cultural heritage of the melting and blending of Southern China's rice culture and fishing & hunting culture of Miao & Yao mountain area. For the past 2000 years, Ziquejie has become an iconic landmark of West Hunnan.
Jiabang Rice Terraces
Location: Jiabang Village, Congjiang County, Guizhou Province
The declaration area: 666 hectares
Best Time to Visit Jiabang Rice Terraces: April to May, October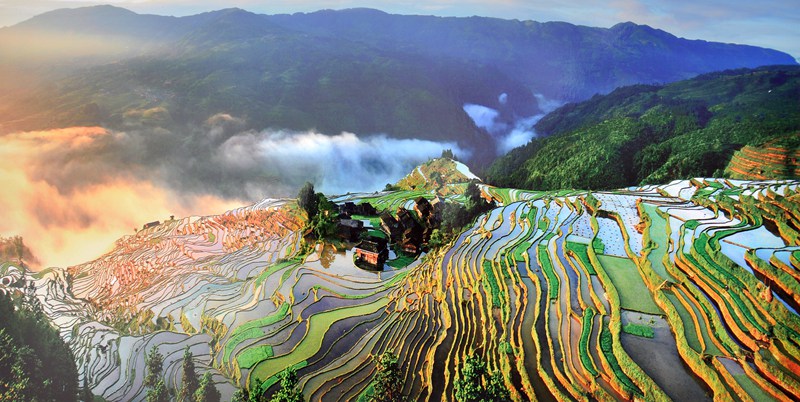 A remote rice terraces in Guizhou China that is seldom visited by tourists, Jiabang is beautiful and authentic, dotted with Miao stilted building made of woods. Miao dine on rice and fish for generations. They built farms on the mountain slops to plant the original waxy rice. But the rice is not the only production; Miao people even raise ducks and fish in the farms. April to May is the season for waterflooding on terraced fields, which is considered the most beautiful time.
Youxi Rice Terraces
Location: Lianhe Village, Youxi County, Fujian Province
The declaration area: 713 hectares
Best Time to Visit Youxi Rice Terraces: March to May, August to September
One of the most beautiful rice terraces in China, Youxi spends for tens of miles over the slops of Golden Rooster Mountain. The fields, in various big or small sizes, are the success of hard work of locals for tends of generations.
It is an ecological agriculture system. In spring, farmers flood their fields and soak them into mud. During spring ploughing, children go to the field to catch the field snail and loach. When it comes to rice transplanting, farmers plant field ridge beans and release some fish seedlings. Carp can reduce the occurrence of weeds and insect pests in the field, and the developed root system of field ridge beans can protect the field ridge. At harvest time, drain the fields again and gather fish, rice and soybeans. After harvest, ducks and goats are driven into the field, foraging for leftover grains and new weeds.