The best thing in summer is doing water play activities! Instead of looking for a beach far away from Guilin, we decided to take advantage of the abundant water resources in Guilin, enjoying a rafting in Twelve Rapids Rafting Base. On August 16th, we dropped on the bus starting our team's 2-day summer trip after lunch.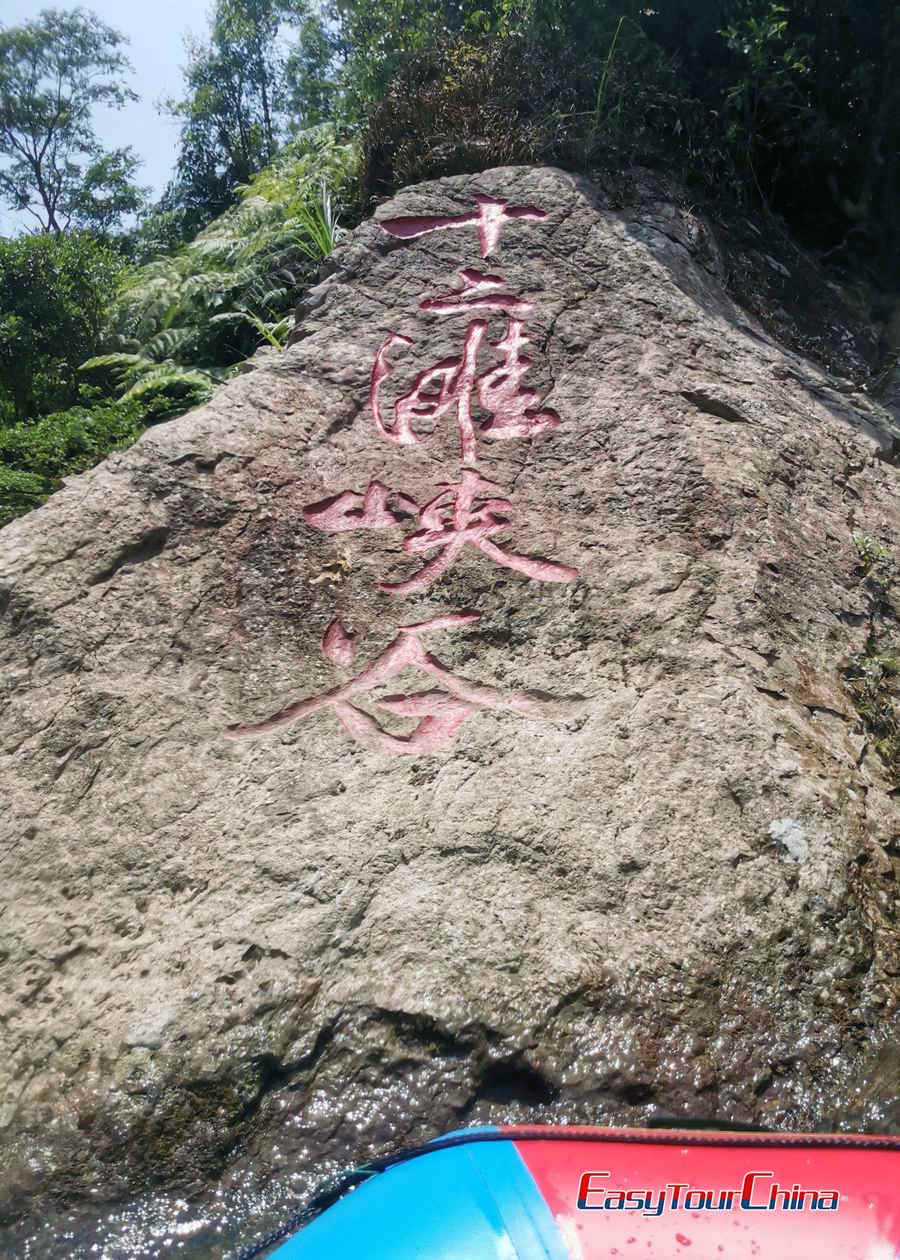 Twelve Rapids Rafting Base locates in Lingui District of Guilin on the way to Longji Rice Terrace Area. It is a professional rafting tourist resort in China, and combines Guilin's unique natural feature of rice terrace and forest, winning the reputation of the best recommended rafting in the canyon of Guangxi Province.
Location: Lingui District, Guilin
Opening times: From April to October. Two rafting a day at 11:00, 15:00.
How to get to Twelve Rapids Rafting Base: Private vehicles run from Guilin or Longji Rice Terrace Area.
Accommodation & Dinning: You can choose the accommodation at the base of the mountain, or if you wish to catch the beautiful sunrise on the following morning, the hotel on the summit is an ideal choice. The prices vary by season. Dinner will be provided by the hotel.
Around 1.5hrs, we got to the Base, and checked in the classic hotel. After refreshing and good dinner, we enjoyed the beautiful moon light and breeze and played some logical board games, waiting for the most exciting activity on the next morning.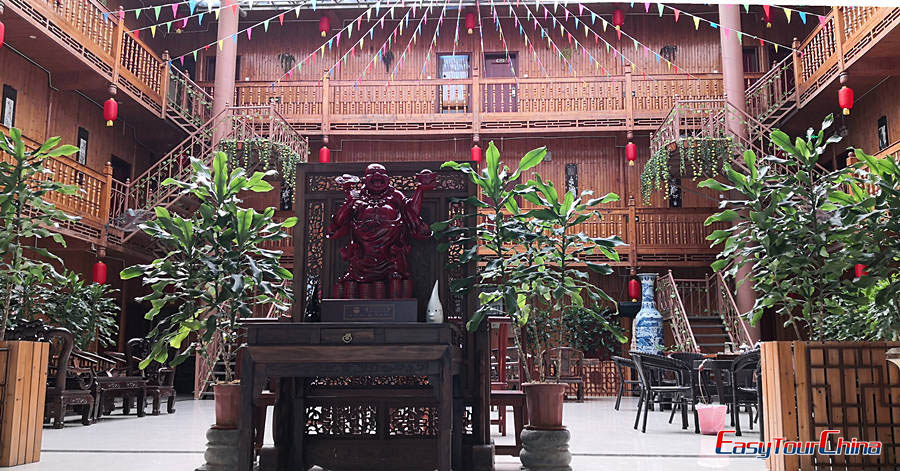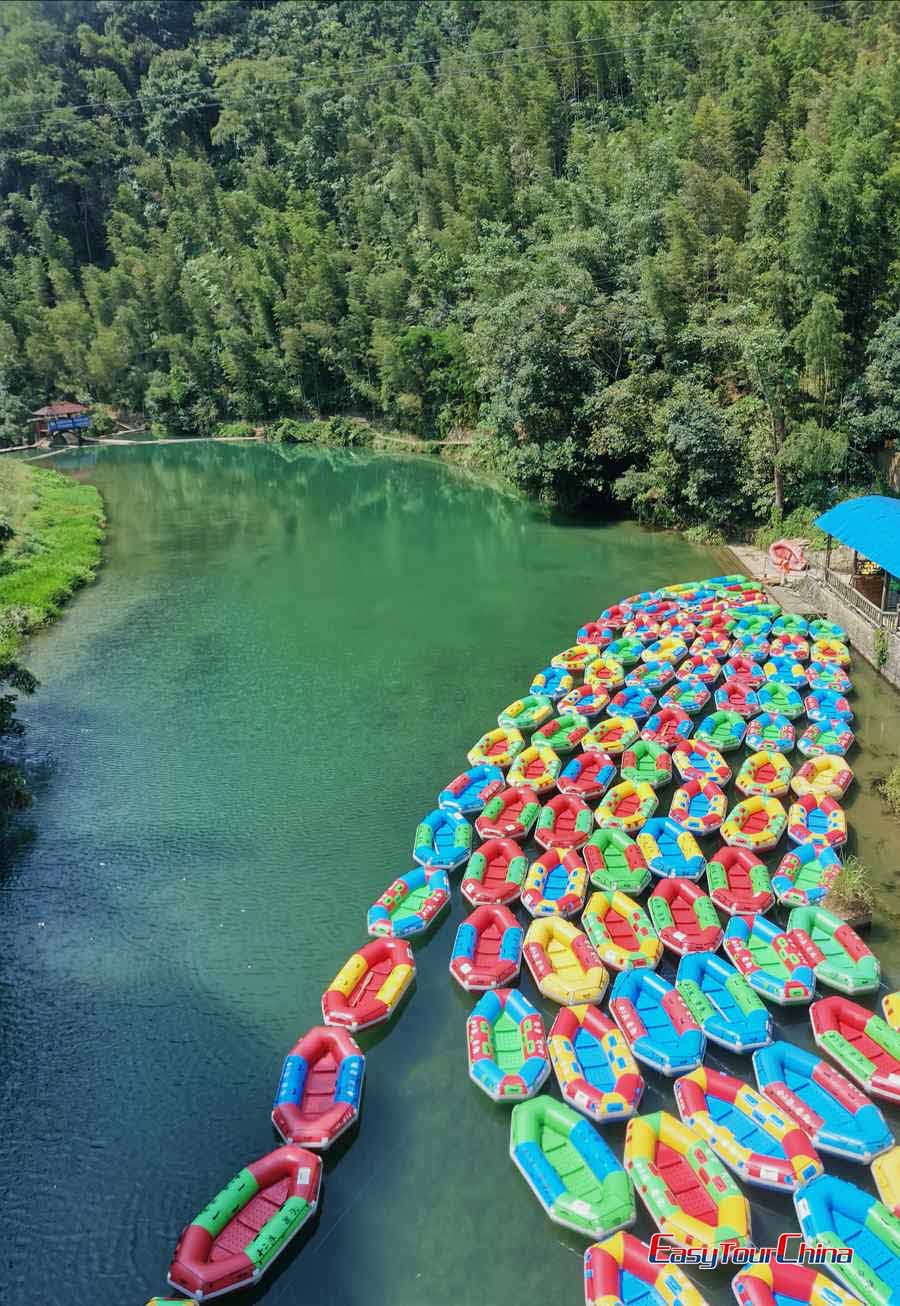 Rafting was coming after a good sleep. Twelve Rapids Rafting Base is named after 12 rapids connected by a section of nearly 2000 meters. The river is 9.5 kilometers long with a total drop of nearly 100 meters, and the highest single drop in the rapids is 3 meters!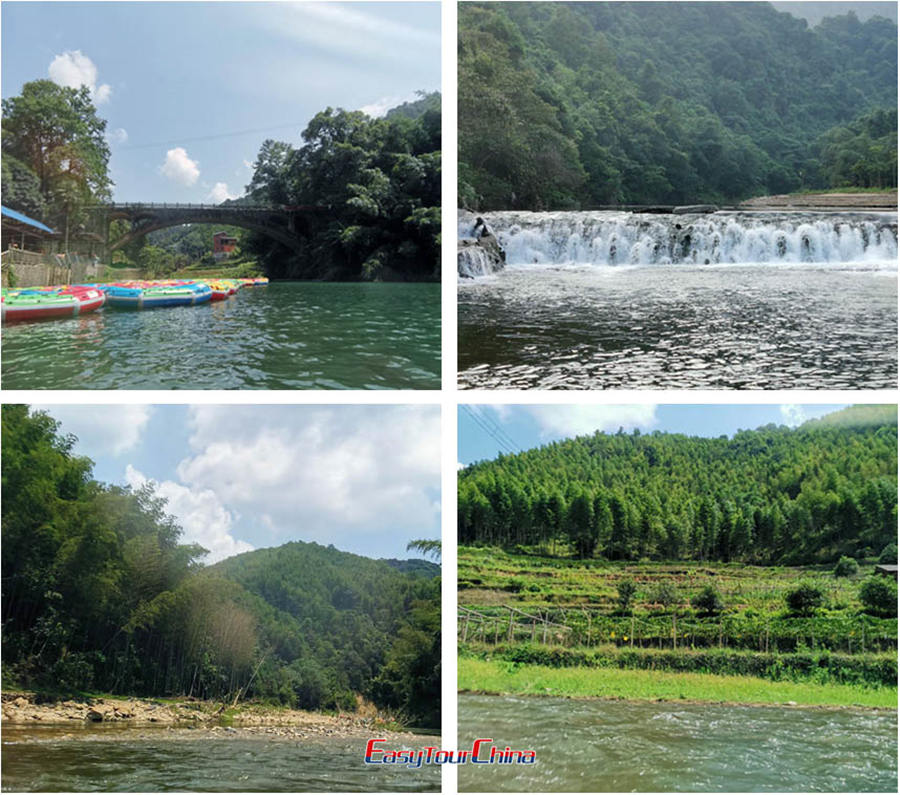 The rafting began with a high dropping; we got totally wet at the same time. It's really cool to be spilled wet with the clean water! To the smooth periods, people showed their water play guns and water ladles, attacking each other. No matter how old you are, you will turn to be a naughty kid when you play with water. How relax it is!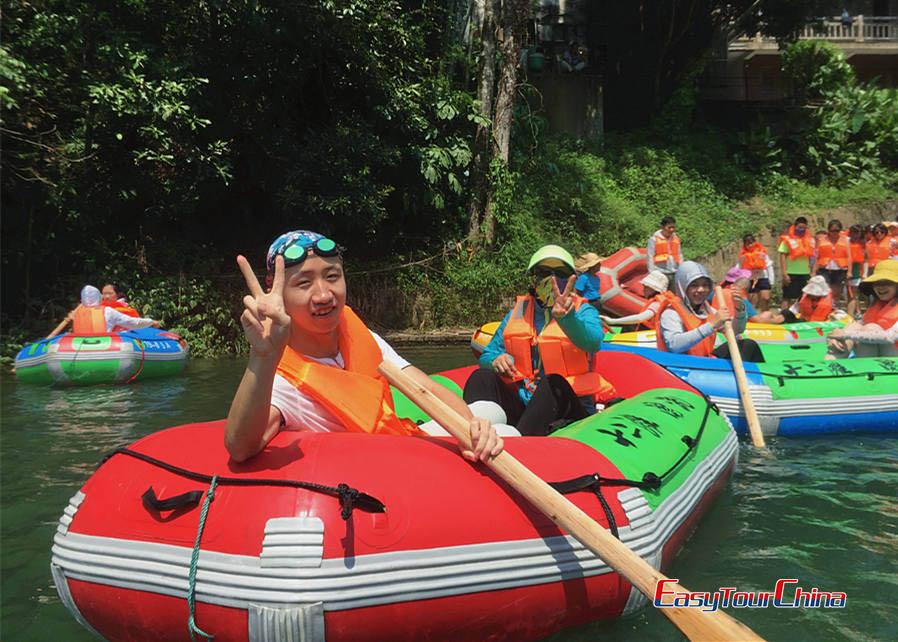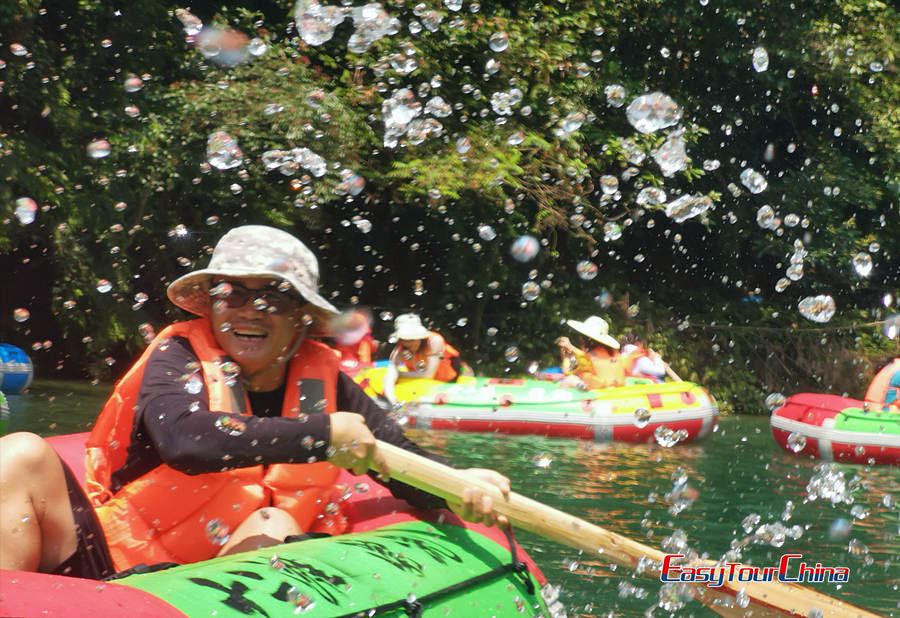 You can also enjoy the beautiful views along the river. The vegetation is protected well here so that it also brings breeze and shadows for your trip making you cool. When you are in the river, you will feel that the mountains on both sides rise into the clouds and the trees are as thick as forests. As you float past the two Yao Villages, you can see their terraced fields and children playing on the banks of the river. That is the real experience with leisure. There are many small waterfalls hanging between the continuous cliffs on both sides of the gorge, making people as if place themselves in fairyland.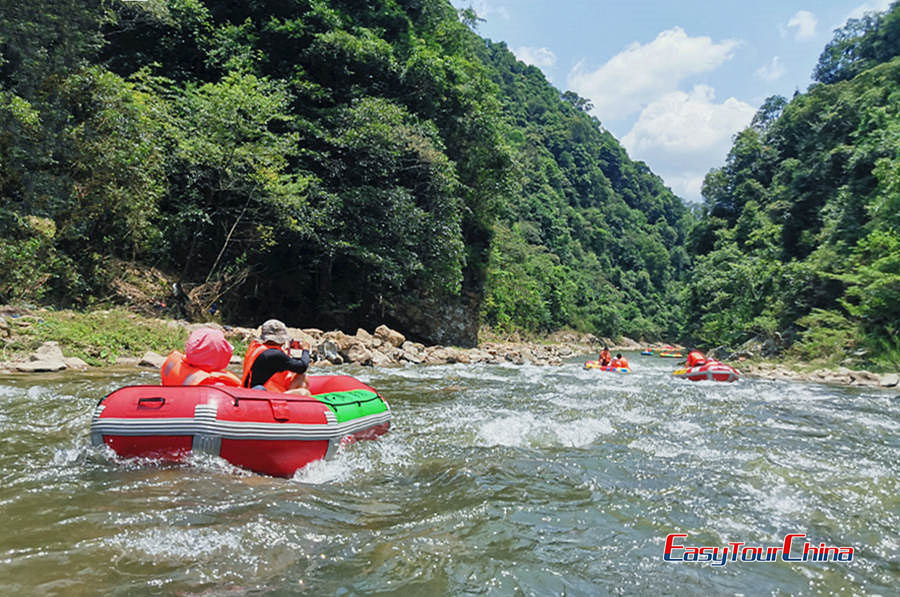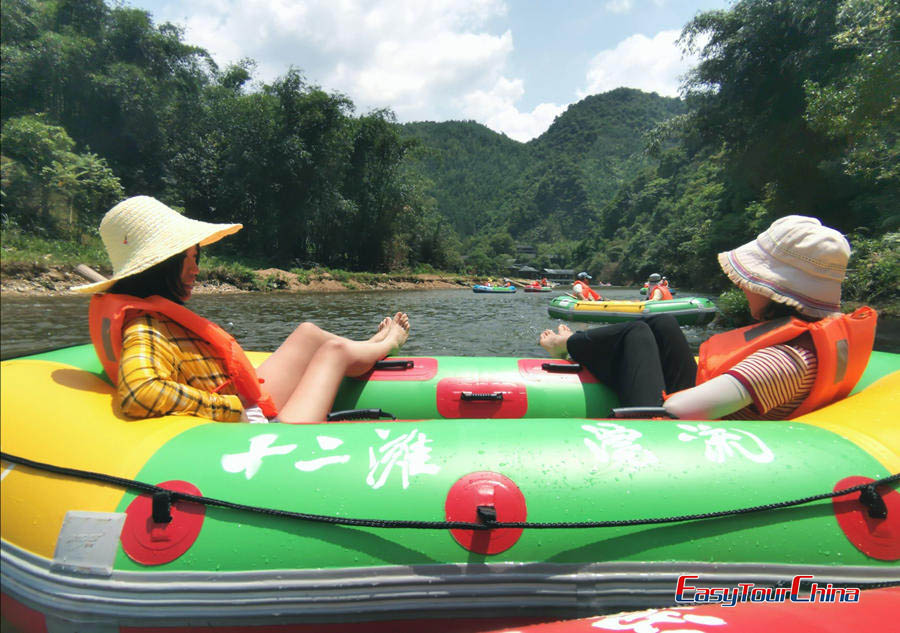 After a soft rafting, rapids came… We experienced the jump, rise, fall, sway, surf and swing of rafting in the steep narrow river course of the cliff, and enjoyed the fun of having no danger. It's very exciting.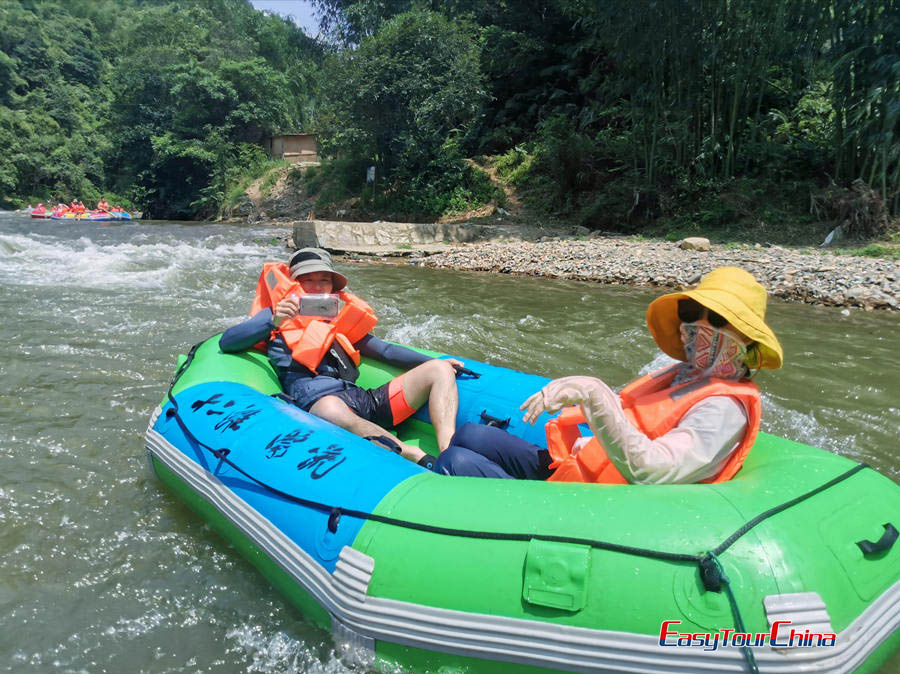 After 1.5hrs water play, the rafting came to the end. We drove back to our sweet home and trip ended.
Water play activities are much recommended in summer, but there are some tips for you:
1. Pay attention to prevent UV damage. If you have outdoor activities in summer, especially around the water, the UV rays are very strong. You can wear long sleeve shirt and pants, and wipe sunscreen on the exposed skin. In this 1.5hrs' rafting, some of our colleague didn't pay attention to this; they all have been sunburnt at different extent.
2. Take care of your electronic products. You are sure to get wet through if you enjoy a rapids rafting. So if you are a photography lover, you'd better bring waterproof products or wear a waterproof phone case on it.
3. Have a good breakfast and drink water before the rafting. Though there is not much exercise on rafting, we still got hungry before the trip ended.
You can try this activity in Guilin if you visit Guilin! Or you can try bamboo rafting in Yulong River in Yanghuo, it's much more leisure.
Guilin Highlight Tour Including bamboo rafting in Yulong River Recommended:
7-days Guilin Guangzhou Essence Tour
11-days Mountain Tribe Adventure
16-days Fantastic China Journey