Before I started my Xian tour at the end of summer, I've already heard about the fame of Mount Huanshan, which is China's most precipitous mountain with thrilling plank roads and is called the most unique and steepest mountain in China. And I dreamed of seeing the cloud sea and the sunrise on the tip of mountain, so I decided to have a nigh hiking with my friends, and challenged ourselves by trekking the entire way.
Some people say it's dangerous to hike Mount Hua especially at night. Actually, if you obey the safety guide line of the scenic spot and don't walk alone, you will be fine. After the tough hiking, we hurried to viewing platform finally, and watched the sunrise in time. How spectacular the scene is! We were much moved by the beauty we enjoyed after we had exhausted ourselves.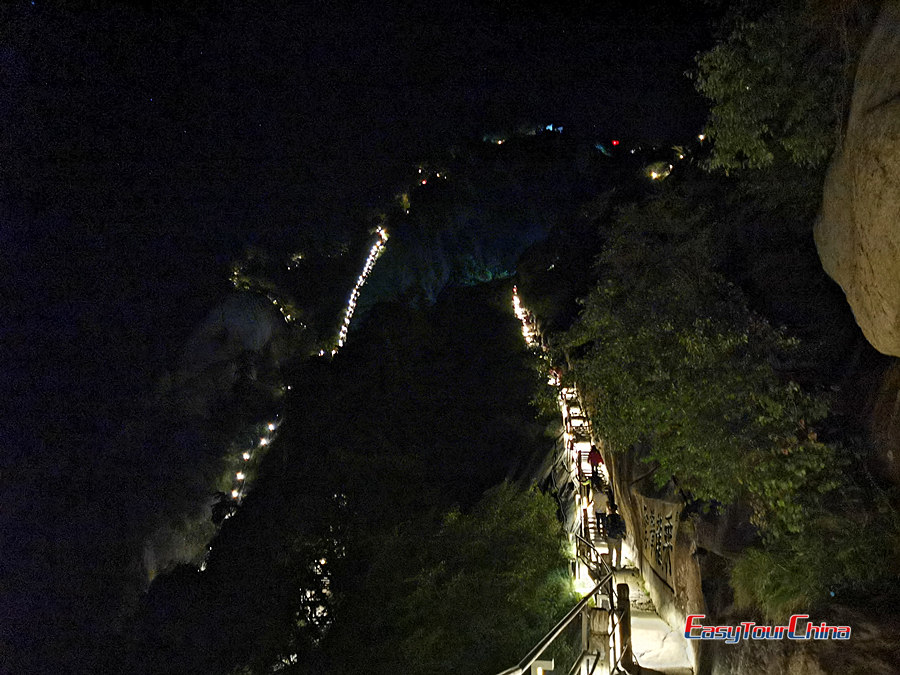 Recommended Tours including Mount Hua:
5-days Xian Tour with Extension to Mt. Huashan
Why Visit Mount Huashan?
Mount Hua is one of the top 5 mountains in China called "the West Mountain". What's more, it is a famous mountain of Taoism; there are more than 20 Taoist temples in the mountain, among them Yuquan Courtyard, Duong Temple, East Taoist Temple and Zhenyue Palace are listed as key Taoist temples in China. The most importantly, Huashan Mountain is legendary mountain in the works of Jin Yong, a grand writer of Chinese swordplay novels. Masters in his works will fly to the mountain top and have a duel to find out who is the best, so this is place where heroes come. Maybe it's the second sites where Chinese want to conquer after the Great Wall!
How To Get To Mount Huashan From Xi'an?
We rented a car in Xian, and reached the foot of Mount Hua at 23:30 after around 2hrs driving.
Other than driving, you can also take high speed train from Xian North Station to Huashan North Station (CNY 54.5 for the second class seats), then take tourism bus No. 1 or 2 to tourist center of Mount Hua.
Taking shuttle bus in Xian Bus Station is more convenient for you so that you directly reach the foot of the mountain or tourist center. The bus leaves every half an hours and the last bus leaves at 20:00. It's around CNY 39 one way.
How About Backing to Xi'an From Mount Hua?
You can take shuttle bus in which you get off the bus, or take bullet train to Xian. But a better way to come back is take scenic bus at tourist center; the bus will send you to Xian Station for free! Very recommended.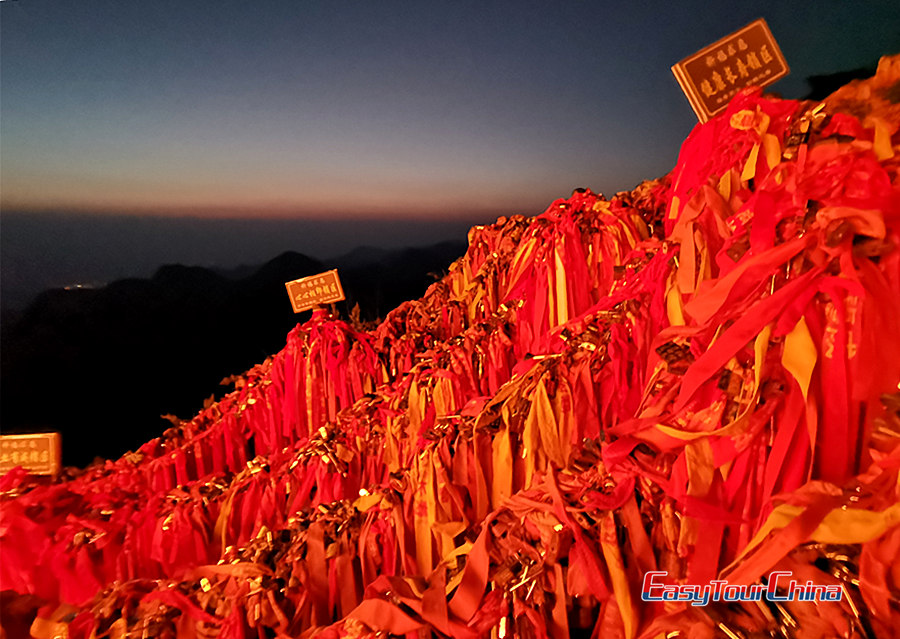 How's The Weather?
We visited Mount Huashan on the first week of September, and it was the end of summer there. It's around 32°C in the day and 28°C in the night. It's cool at night, so I started hiking with a T-shirt. But don't forget to bring long-sleeve clothing with you because if you easily get sweat like me, you may feel cold when you hike higher.
I also brought a thin down coat with me, and it worked when we watched the sunrise on the early morning, it's a bit cold at that time.
What To Pack?
Besides warm cloth, enough water and Salty food are helpful on your trekking. I drank nearly 4 bottles of 600ml waters for the whole trip. As I sweat a lot, replenishing salt by eating snacks and hot dog made me feel more comfortable. There are many groceries on the way, so you don't need to pack all the drinks and foods on your backpack. Though the higher you hike, the more expensive the foods are, it's reasonable because everything is carried by labors; the work is dangerous and hard. Thanks for them.

Knee caps and climbing gloves will prevent you from sports injury and chain scratches; they can be bought on the foot of the mountain before you reach the scenic spot. But I think trekking poles are not very necessary because some of the steps are so narrow that it's not useful to use trekking pole and using your hands will be safer.
Start Hiking!
Night hike is different from hiking in the day. Though you couldn't enjoy the view on the way, you will feel your hiking more pure and enjoyable. You will concentrate on the steps in front of you; looking at the people who pass or fall behind you, you may gain much thought.
There is only one way to climb Mount Hua at night. It's from Yuquan Courtyard to North Peak to Middle Peak to East Peak. Check out the time of sunrise or sunset in tourist center before you set off.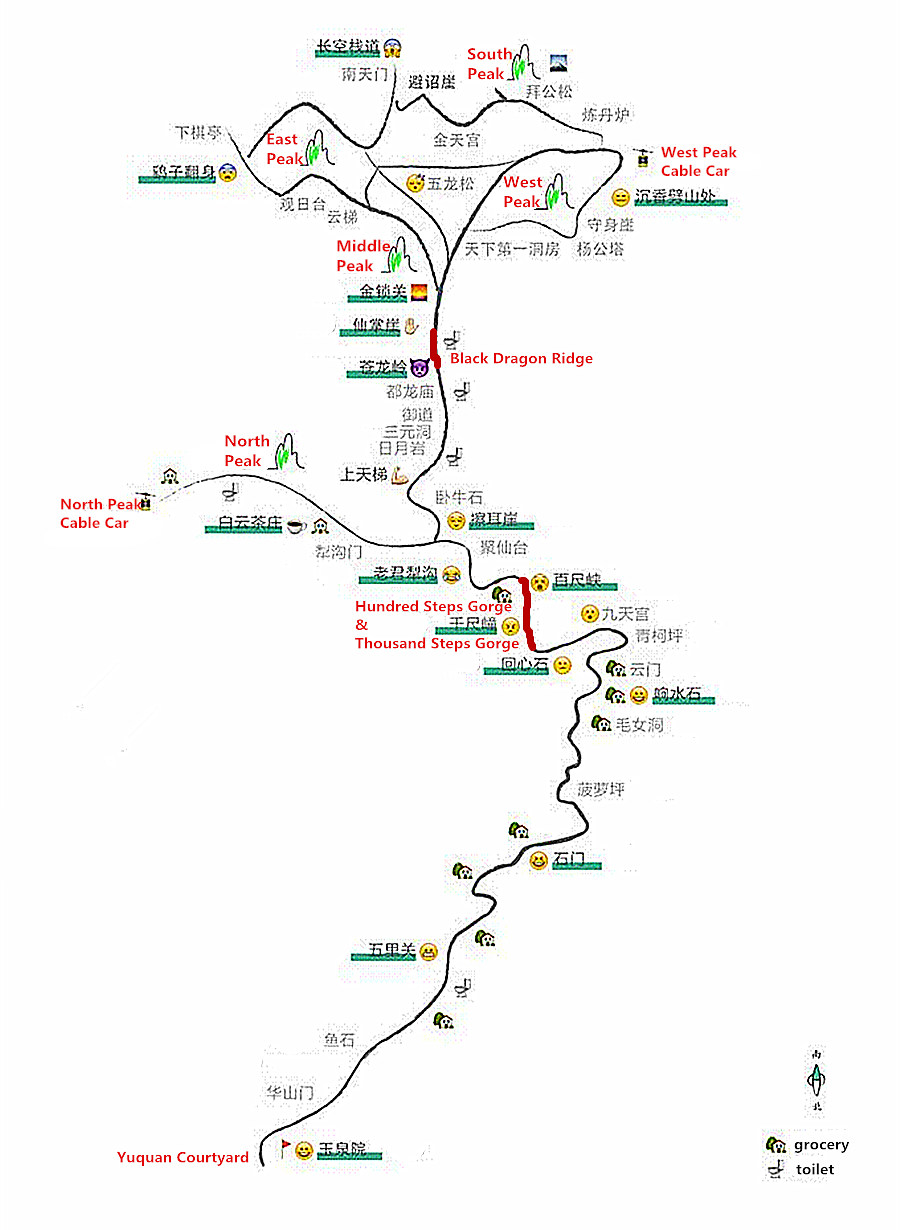 The first period of Yuquan Courtyard to North Peak(Cloud Terrace Peak) is the most difficult and dangerous. We began at 23:40, and we had rest frequently to fit the gradient at first, so this wasted us much time. We met many cats on our way, they are lovely and don't afraid of people. We saw some children hike the mountain with their parents as well; they were so energetic and brave. The challenges in this part are thousand steps gorge and hundred steps gorge for their nearly vertical slope and narrow steps. Sometimes I had to walk steps with the help of my hands. We got to North Peak at 4:15 am.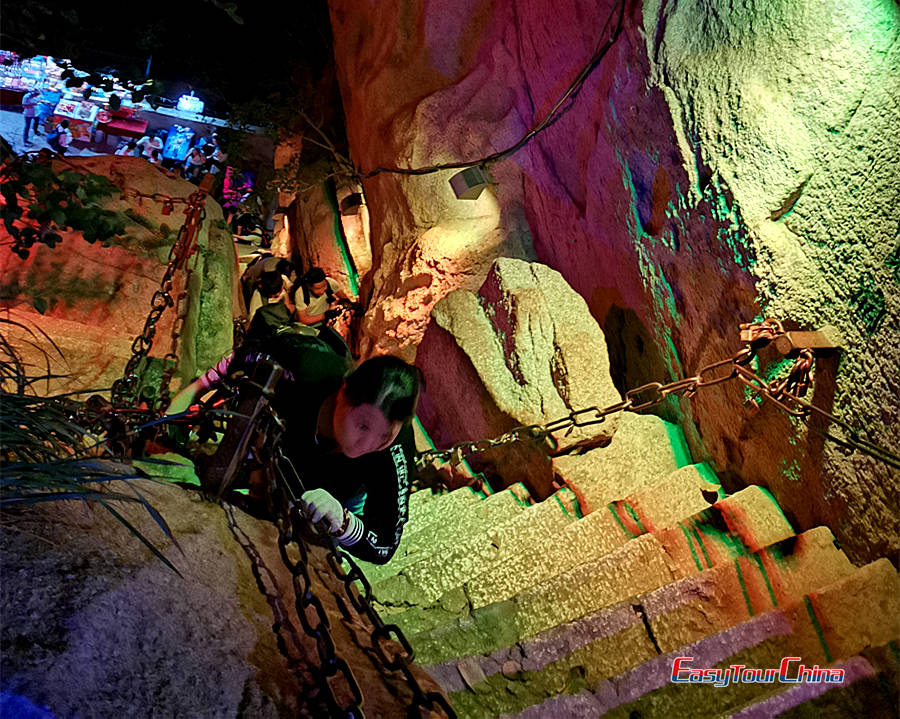 It's a bit easier in the second part of North Peak to Middle Peak(Jade Maiden Peak). There is only the Black Dragon Ridge, which is full of challenge. It's longer than thousand steps gorge or hundred steps gorge. A friend and I chose the other trail beside Black Dragon Ridge; it's detour but easily walk with man-made wooden ladders. We had no time to rest on Middle Peak, so we hurried to East Peak from about 5:20am.
The message from broadcast told us there is 40-minute walking to reach East Peak (Facing Sun Peak). Since the sky was starting to get bright, we walked and walked without rest. There are two viewing platforms to watch the sunrise. The first one we saw is small and lacking of vision, but less people. If you are very tired at that time, it will be a good choice. We decided to hike to the other platform on the top to enjoy the best scene though the day had dawned unconsciously. We didn't know if the sun had appeared, we just walked. Luckily, when we reached the top at 5:50am, the sun hadn't appeared yet! It was a bit cold when we stopped moving, so it was time to put on your warm clothes.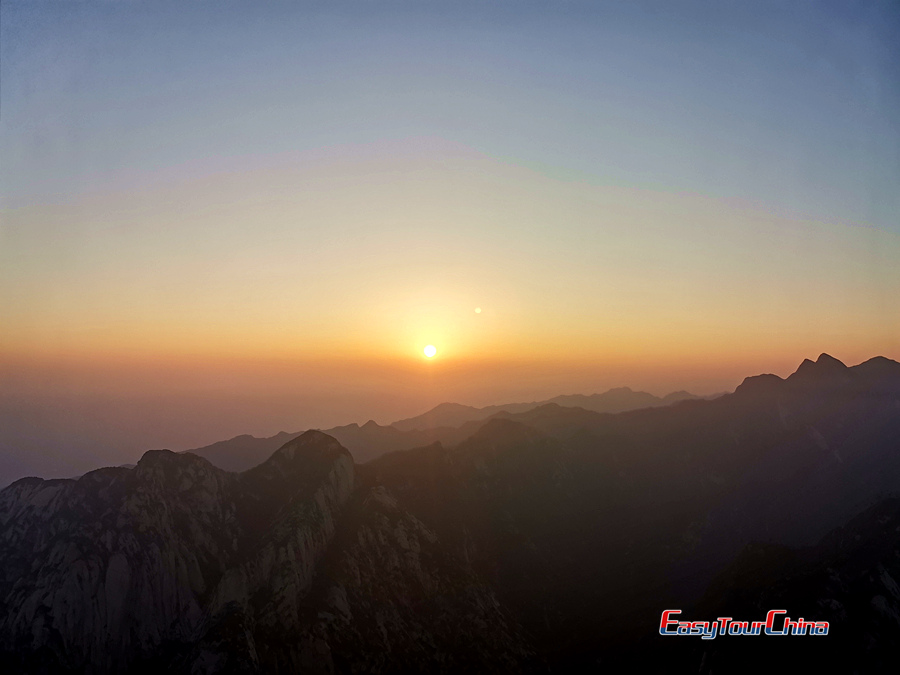 After enjoying the magnificent sunrise with crowd and resting a while, we headed to South Peak (Landing Wild Geese Peak) at around 7:05am. I was tired and hungry at that time, so it was necessary to replenish energy. Groceries were easily finding, but the foods here were three times more expensive than those on the foot of the mountain. On the way, you will pass Yaozi Fanshen Rd (Chess Pavilion) and Changkong Plank Road (Cliff Road, the most thrilling). They are optional programs on one's expense, but we were too weary to try. South Peak is the highest peak in Huashan Mountain, so you can get a great vision there. We reached the top of South Peak at 9:00am.
Go ahead to West Peak (Lotus Flower Peak), the most beautiful one. There were many downstairs on the way, so it's easier to walk. We got there at 9:40am and visited a Taoist temple on the peak.
The rest time was walking down the mountain from West Peak to Middle Peak and North Peak. I thought it took less effort to go down than up, but knees should be taken care.
How long Does It Take?
Part 1 - Yuquan Courtyard to North Peak: 23:40 to 04:15, around 4.5hrs
Part 2 - North Peak to Middle Peak: 04:20 to 05:20, around 1hrs
Part 3 - Middle Peak to East Peak: 05:20 to 05:50, around 0.5hrs
Part 4 - East Peak to South Peak (without experience Yaozi Fanshen Rd and Changkong Plank Road): 07:05 to 09:00, around 1hrs
Part 5 - South Peak to West Peak: 09:10 to 09:40, around 0.5hrs
Part 6 - West Peak to Middle Peak: 10:00 to 11:33, around 1.5hrs
Part 7 - Middle Peak to North Peak: 11:33 to 12:05, around 0.5hrs
Part 8 - North Peak to Yuquan Courtyard: 12:15 to 14:30, around 2.5hrs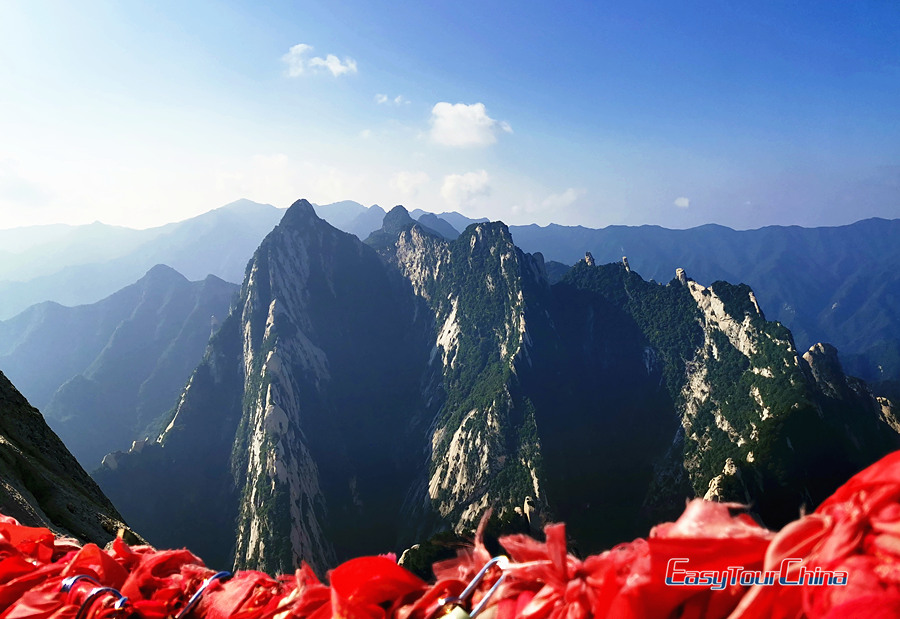 Can We Find Other Ways To Save Energy?
There are 8-min cable cars on North Peak and 20-min cable cars on West Peak for your options.
North Peak cable car can help you skip the most difficult part of hiking, thousand steps gorge and hundred steps gorge. Recommend it as your starting part. When you get off, a tourist bus (CNY 20) is needed to back to the Tourist Center1.
West Peak cable car will lead your way to see the most beautiful section of the whole mountain. Recommend it when you are tired on the way of going down the mountain. The tourist bus (CNY 40) is also needed, to back to the Tourist Center2.
Then you can take free shuttle bus in both Tourist Centers to Yuquan Courtyard or Xian.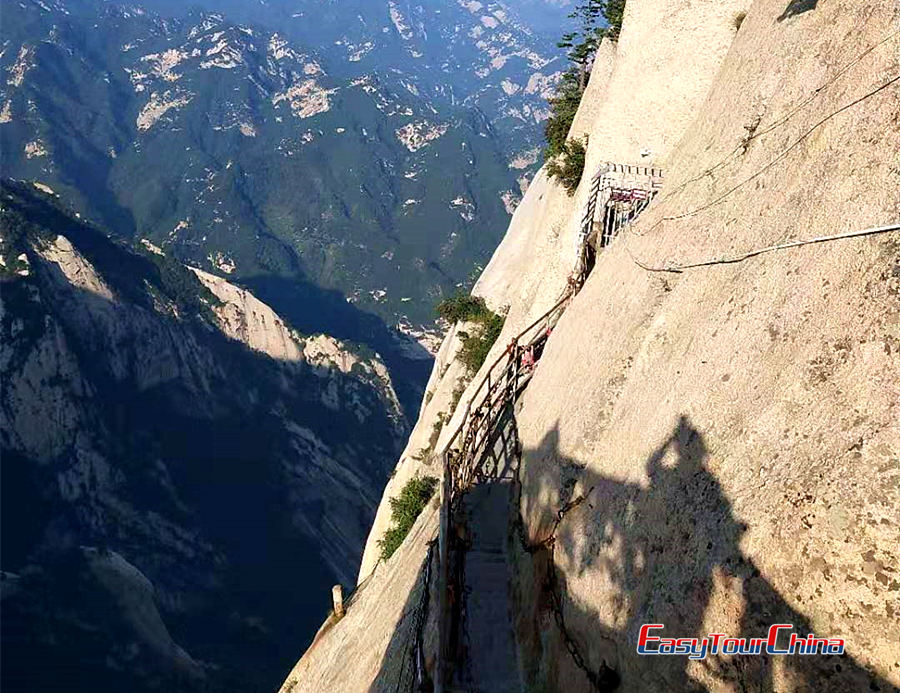 Price & Costs
First Entrance fee(whole day): CNY 160 (March to November); CNY 100 (December to the next February)
North Peak cable car: CNY 80 for one way; CNY 150 for round way (March to November, 07:00 - 19:00)
CNY 45 for one way (December to the next February, 09:00 – 17:00)
West Peak cable car: CNY 140 for one way; CNY 280 for round way (March to November, 07:00 - 19:00);
CNY 120 for one way (December to the next February, 09:00 – 17:00)
Yaozi Fanshen Rd: CNY 30
Changkong Plank Road: CNY 30
If you are interested in climbing mountains like me or challenging yourself, Mount Hua is the one you can't miss! Try it! Read more about tips for first time mountain hike!