Mt. Huashan is famous for its profound Taoism culture and narrow pathways with precipitous drops and death-defying cliff-side mountain hiking trails give it a deserved reputation for danger, which is regarded as the "World's Most Dangerous Hiking Trail". Some people say, if you can hike from foot to the top of Mt. Huashan, you are able to conquer every mountain in China. >> Read more about Plank Road - Cliffside Path on Mt. Hua

Not for its amazing natural scenery only, it's also a famed Taoism mountain. There are more than 20 Taoist temples in the mountain, among them Yuquan Courtyard, Duong Temple, East Taoist Temple and Zhenyue Palace are listed as key Taoist temples in China. The 15th of the lunar March is the Pilgrimage Day, and grand temple fairs and celebrations will be hold on that day. It has given birth to many legends in Chinese history, so try to explore its mysteries on your own way.
Except the exciting hiking on Mt. Huashan, you can also visit the famous cultural and natural scenic spots along the way. Splendid natural scenery, temples, Taoist pavilions, elegant buildings, statues and stone carvings can be seen everywhere, such as Jade Spring Temple, Five Dragon Bridge, Fish Stone, Five-Mile Pass, Stone Gate, Shaluo Terrace, Maonv Cave, Qingke Terrace, Mind Changing Stone (Huixin Stone), Thousand-Foot Precipice, Hundred-Foot Crevice, Taoist Temple of A Group of Immortals, Laojun Furrow, Ear-Touching Cliff, Heavenward Ladder, Black Dragon Ridge, Golden Lock Pass, Five-Cloud Peak, Sunshine Welcoming Cave, Chess Pavilion, etc.
Facts
- In Chinese: 华山
- Address: Jiling Road, Huayin District, Weinan City, about 120 km east of Xian, Shaanxi Province
- Opening time: all day
07:00 – 19:00 (ticket sells at all gates); night hiking after 19:00 (ticket sells at the gate of Yuquan Courtyard)
- Best time to visit: summer & autumn
- Entrance fee: CNY 160 (March to November); CNY 100 (December to the next February)
- Cable car charge:
8-min cable cars on North Peak: CNY 80 for one way; CNY 150 for round way (March to November, 07:00 - 19:00);
CNY 45 for one way (December to the next February, 09:00 – 17:00);
The North Peak Cableway Tourism Bus Fare: CNY 20 for a one-way trip;
20-min cable cars on West Peak: CNY 140 for one way; CNY 280 for round way (March to November, 07:00 - 19:00);
CNY 120 for one way (December to the next February, 09:00 – 17:00)
The West Peak Cableway Tourism Bus Fare: CNY 40 for a one-way trip
Brief History of Mt. Huashan
As a holy mountain of Taoism in China, Mount Huashan has a long religious history. As early as the 2nd century B.C., there was a Daoist temple known as the Shrine of the Western Peak located at its base, which was often used for spirits mediums to contact the god and his underlings. It is said that the founder and patriarch of Taoism, Lao Zi (Lao Tzu), once lived and gave sermons here. It is also the place where many emperors came to pray and sacrifice to the god of Mt. Hua. Now, a variety of Taoism temples and other religious structures are located on its slopes and peaks
What to Do & See?
Located near the city of Huayin in Shaanxi province, about 120 kilometres east of Xi'an city, Mt. Hua is the Western Mountain of the Five Sacred Mountains (the other four being Mt. Taishan, the Eastern Mountain in Shandong Province; Mt. Hengshan, the Southern Mountain in Hunan Province; Mt. Hengshan, the Northern Mountain in Shanxi Province and Mt. Songshan, the Central Mountain in Henan Province).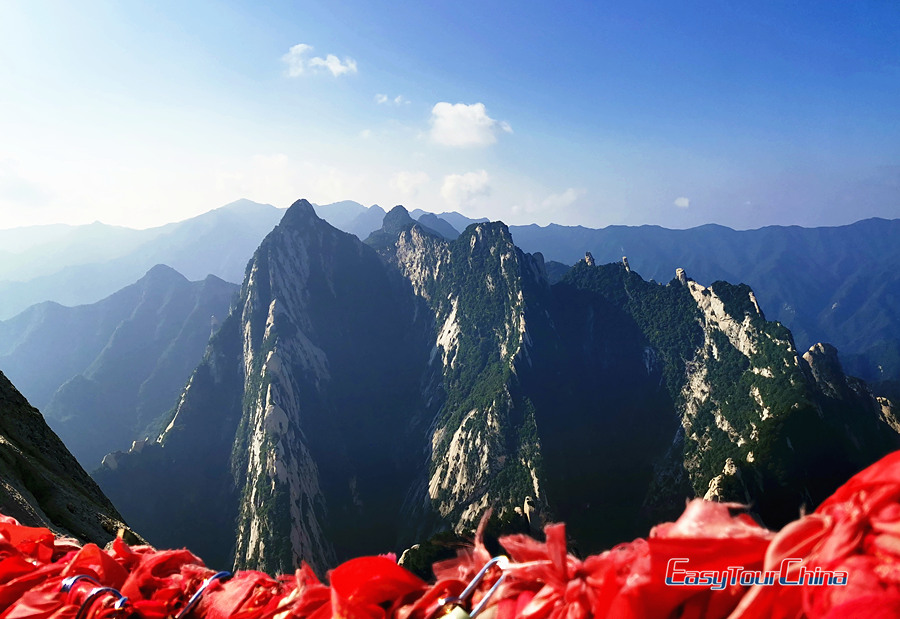 The mountain mainly consists of five peaks which look like five petals of a flower, and each one has its distinctive charms:
East Peak (Facing Sun Peak). It is 2,100 meters high above sea level and the top of the peak is the best place to watch the sunrise.
West Peak (Lotus Flower Peak). Formed by a huge rock, the 2,082.6 meters high peak is very steep. The touching legend 'Hanxiang cleave the mountain and save his mother' comes from the peak. It is the most elegant.
South Peak (Landing Wild Goose Peak). It is the highest of the five peaks with an altitude of 2,154.9 meters, inhabited the temple for God of Mt. Huashan.
North Peak (Cloud Terrace Peak). It is the lowest of the five peaks with an elevation of 1614.9 meters and the most important site on the North Peak is the Zhenwu Hall.
Middle Peak (Jade Maiden Peak). It is said that Nongyu, the daughter of King Mugong (659B.C.-621B.C.) of the Qin Kingdom during the Spring and Autumn Period (770B.C.-476B.C.), was tired of the life in the court and lived reclusively in Middle Peak with her husband. It is 2037.8 meters high above sea level.
Travel Tips
1. Wear proper soft bottom sports shoes, and they will protect your feet while hiking on Mt. Huashan. Whether to prepare gloves, socks, crutches and other equipment is up to your personal circumstances.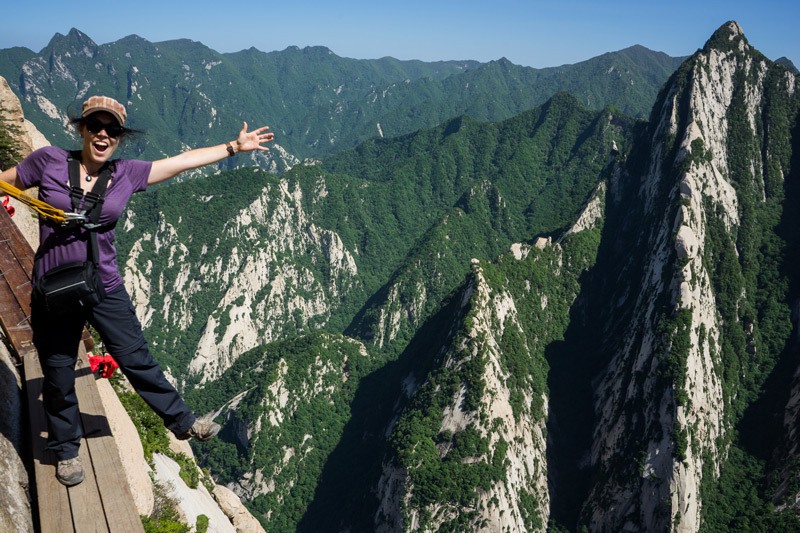 2. Eat some high-calorie food before hiking, and bring some snacks, which can effectively increase your physical strength.
3. Hiking on Mt. Hua can easily get thirsty, so bring some bottles of water, but do not drink too much on the way, small sips are best.
4. The temperature can change quickly up on the mountain, so you'd better prepare some warm clothes, and if you climb Mt. Huashan in summer, you'd better bring a lightweight raincoat because of the heavy moisture.
How to Get to Mount Huashan from Xi'an?
By driving. It will take around 2hrs from Xian city center to the park of Huanshan Mountain Scenic Spot. The easiest one.
By coach. Take a coach from Xi'an Bus Station to Mt. Huashan tourist center. The coach runs between 07:00 and 19:15 (CNY 39 one way). The bus leaves every half an hour. Come to Huashan in free-worry way and save money. Take scenic bus at tourist center when you come back; the bus will send you to Xian Station for free.
By high speed train. Take high-speed train from Xi'an North Railway Station to Huashan North Station (CNY 54.5 for the second class seats), then take tourism bus No. 1 or 2 to tourist center of Mount Hua. Come to Huashan in economic and fast way.
By airplane. Take plane from Xi'an Xianyang International Airport to Huashan Tourist Center. Come to Huashan city at full speed.
More Attractions in Xi'an
Recommended China Tours Including Mount Huashan Xian