Mt. Huashan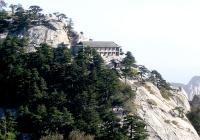 Located about 120 kilometres east of Xi'an city, Mt. Huashan is the Western Mountain of the Five Sacred Mountains (the other four being Mt. Taishan, the Eastern Mountain in Shandong Province; Mt. Hengshan, the Southern Mountain in Hunan Province; Mt. Hengshan, the Northern Mountain in Shanxi Province and Mt. Songshan, the Central Mountain in Henan Province).
Mt. Huashan is famous for its profound Taoism culture and narrow pathways with precipitous drops give it a deserved reputation for danger. As a holy mountain of Taoism in China, Mt. Huashan has a long religious history. As early as the 2nd century B.C., there was a Daoist temple known as the Shrine of the Western Peak located at its base, which was often used for spirits mediums to contact the god and his underlings. It is said that the founder and patriarch of Taoism, Lao Zi (Lao Tzu), once lived and gave sermons here. It is also the place where many emperors came to pray and sacrifice to the god of Mt. Huashan. Now, a variety of Taoism temples and other religious structures are located on its slopes and peaks.
The mountain mainly consists of five peaks which look like five petals of a flower:
East Peak (Facing Sun Peak)
It is 2,090 meters high above sea level and the top of the peak is the best place to watch the sunrise.
West Peak (Lotus Flower Peak)
Formed by a huge rock, the 2,086.6-meter high peak is very steep. The touching legend 'Hanxiang cleave the mountain and save his mother' comes from the peak.
South Peak (Landing Wild Goose Peak)
It is the head of the peaks with an altitude of 2,160.5 meters, inhabited the temple for God of Mt. Huashan
North Peak (Cloud Terrace Peak)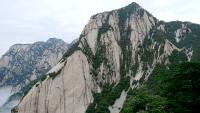 It is the lowest of the five peaks with an elevation of 1614.9 meters and the most important site on the North Peak is the Zhenwu Hall.
Middle Peak (Jade Maiden Peak)
It is said that Nongyu, the daughter of King Mugong (659B.C.-621B.C.) of the Qin Kingdom during the Spring and Autumn Period (770B.C.-476B.C.), was tired of the life in the court and lived reclusively in Middle Peak with her husband.
More Attractions in Xian
Recommended China Tours Including Mt. Huashan Xian
The high speed train will transfer you from Shanghai to Luoyang for the Shaolin Temple to see the birth place of Chine ...

This is the value plus china tour by high speed train in 11 days! Starting from the capital city Beijing, experience t ...

Starting a discovery tour in China by rail travel from Guangzhou, a bustling city with many historical sites, stop ove ...
Google Search
Find something useful to you at Easy Tour China website.