Novel Coronavirus in China 2020 & Travel Advisory
The number of confirmed suspected and confirmed cases of Novel Coronavirus increased and largely stabilized last week as tools and methods for virus testing were updated. Through the active cooperation of the whole nation, by February 17, the number of newly confirmed and suspected cases had begun to decrease significantly, and the cure rate had increased significantly. The daily number of cured patients increased by 1650 compared with yesterday, and the number of seriously ill patients decreased by 628.
(Updated 17 February, 18:00 GMT+8)
Novel Coronavirus Outbreaks in China
Since December 2019, continuous influenza and related disease surveillance has been conducted in Wuhan, Hubei Province, and multiple cases of viral pneumonia have been detected, all of which were diagnosed as viral pneumonia/pulmonary infection. 2019-nCoV, Novel Coronavirus, was named by the world health organization on January 12, 2020.
The Novel Coronavirus is a large family of viruses known to cause colds as well as Middle East Respiratory Syndrome (MERS) and Severe Acute Respiratory Syndrome (SARS) and so forth. Common symptoms of coronavirus infection include respiratory symptoms, fever, cough, wheezing and dyspnea. In more critical cases, the infection can lead to pneumonia, SARS, kidney failure and even death.
Novel coronavirus has a long incubation period and is not easily detected. At the initial stage of case discovery in Wuhan, citizens and migrant workers did not have the awareness of prevention and danger, and potential virus carriers migrated to the whole country during the peak period of population flow during the Spring Festival. More than 5 million people have left the city, triggering a nationwide outbreak of the disease during the Spring Festival, despite the government's emergency blockade of all public transportation in and out of Wuhan on January 23, including buses, subways, ferries, coaches, highways and airports.
China Is Fighting Against the Novel Coronavirus
The number of novel coronavirus case is rising, and citizens, though fearful, are not holding back. This national disaster has brought every Chinese together to fight against the disease.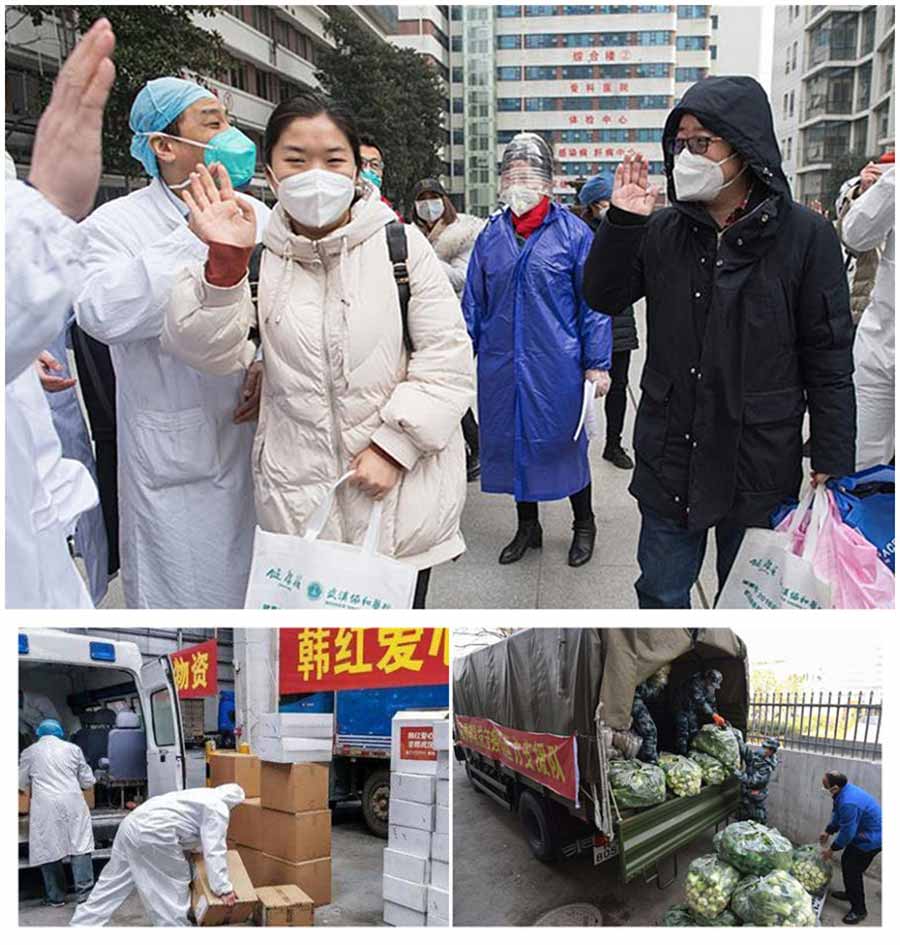 On the day of the closure of Wuhan, armed police soldiers wearing masks majestically stationed in all of traffic hubs of Wuhan, traffic management officers evacuated and explained with loudspeakers in stations, airports and other crowded of the masses. There was no conflict, no violence; and at critical moments, mutual understanding and cooperation quickly made the city calm down. Other cities have also set up checking stations on expressways, airports and stations to measure passengers' temperatures and look for Wuhan-registered travelers. For the first time, the actions of the government, the soldiers and the public security forces have given the country the strength to believe in in the face of this disaster.
The first to be on the front lines were, of course, doctors and nurses. Hospitals in Wuhan have called back medical workers on leave or rest overnight to arrange 24-hour shifts. To protect themselves and their families, once they walked inside the quarantine zone, never return home and are on call or at work. Because of the rapid outbreak of novel coronavirus, many medical workers are too busy to eat and get less than five-hour's sleep a day when they are understaffed. As people fled the Wuhan or stayed at home to avoid infection, groups of medical workers from hospitals in low-incidence areas rushed upstream to Wuhan to help. They leave their families and relative safety to devote their lives to their careers and their care for life. Their actions once again increased the confidence and courage of the whole Chinese nation to overcome hardships.
In this war without the smoke, China's scientific and medical researchers race against time, focus on drug development, vaccine development work in a tense and orderly way; by February 4, research teams in Beijing, Tianjin, Shanghai and Hong Kong had made new progress. On February 4, Li Lanjuan's team found two drugs that could effectively inhibit the virus based on preliminary tests, and further research is still underway. A number of research institutions and pharmaceutical companies around the world are working to develop new coronavirus vaccines and treatment drugs. Several research teams from around the world, including the United States and Australia, have also been made some achievements in vaccine development and antiviral trials, which have helped China's treatment research. The achievements of medical research have also given us the confidence to win the fight against the epidemic.
Miracles also accompany people's determination to overcome the novel coronavirus. On the afternoon of January 23, a hospital with a floor area of 33,900 square meters and a capacity of 1,000 beds, Huoshenshan Hospital, was designed for construction. From rallying the team on the early morning of January 24 to the morning of February 2 when the project was delivered, only 10 days, a hygienic and practical isolation treatment hospital was built up, with the establishment of ICU, critical care unit and general unit, and the setting of infection control, testing, special diagnosis, radiological diagnosis and other auxiliary departments. On the morning of February 4, Huoshenshan Hospital received its first patients. After completing their work, workers of construction teams from Wuhan and surrounding districts did not hesitate to resume the work on Leishenshan Hospital, which is also expected to be completed on February 5. The speed of the construction team embodies the efforts and sweats of the builders, and also expresses the value concept of life first. The builders are ordinary but great.
How did the people of Wuhan in the blockade area face the epidemic? Wuhan's fighting against the novel coronavirus has gone from fear and disorder to operation efficiently. Despite the increasingly serious outbreak, Wuhan people began to relax their nerves. On January 25, a large number of volunteers and observers, mainly communist party members, were selected from the streets to provide convenient services for community residents. Now, people who started to have a fever no longer need to drive to the hospital by themselves. Under the government notice, each person installs a small program called "Wuhan micro-neighborhood" on WeChat. After real-name registration, the program will confirm his home isolation address through satellite positioning, then identify the community organization he is affiliated with through the address, and then set up his affiliated volunteers. Future social activities, information announcements will be offered by the system to Wuhan people! If there is a fever, the patient can report the illness through the system at the first time, the system will immediately provide a network diagnosis, and satellite location and register your isolation address. If you need medical treatment, your community will arrange a car to take you to the hospital through volunteers, and track your progress on the system. Volunteers will arrange disinfection personnel to visit the house and conduct disinfection according to different standards. The help of neighbors is more scientific and orderly under the organization of network.
At present, the PLA has taken over the supply of all protective equipment, medical equipment and supports for 15 key hospitals in Wuhan. In the coming days, dozens of military vehicles will arrive in Wuhan from various cities. Recently, a PLA chemical defense regiment has entered the downtown area of Wuhan. Coupled with the arrival of medical rescue teams from Shanghai, Sichuan Province, Chongqing and other provinces and cities, the whole situation will be significantly improved.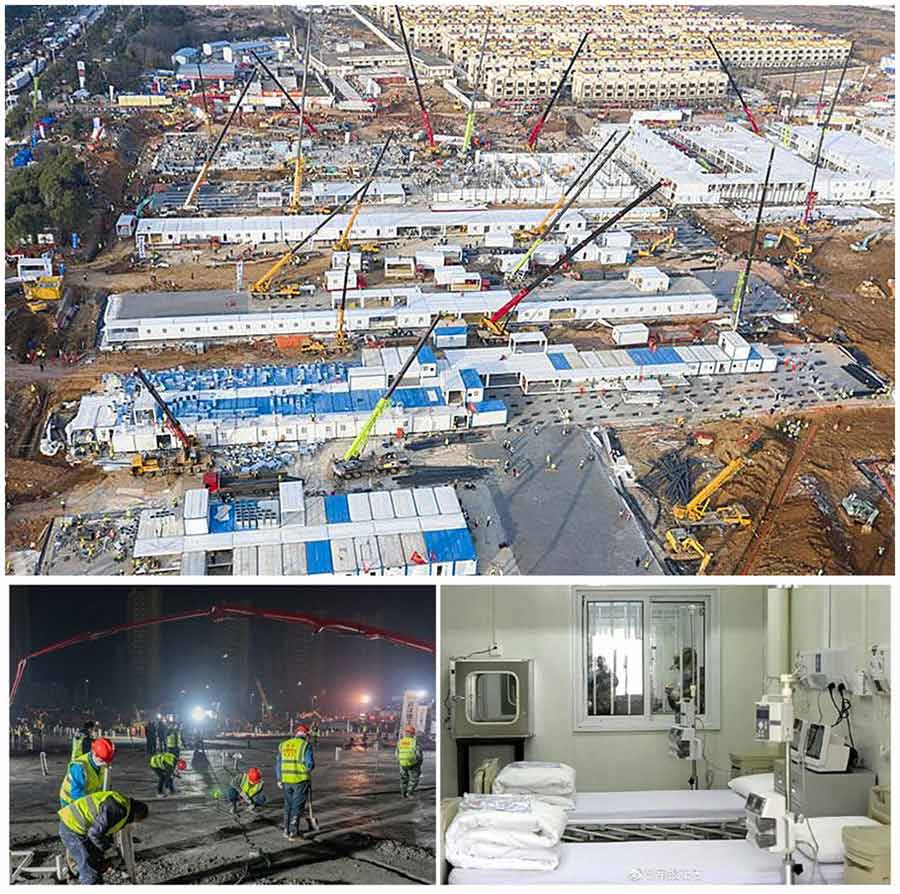 And we also thanks for the friends, governments and countries that care, wish and support China from the rest of the world. Your concern and support have also given us, China, great help and hope in when fight against the novel coronavirus. Wish people all over the world peace and health, and China will recover soon.
2020 China Travel Advisory
On Jan 30, WHO declares the novel coronavirus outbreak a Public Health Emergency of International Concern. Though the Emergency Committee did not suggest any tour or trade restrictions to be put in place based on the current situation, some airlines are lowering or proscribing flights into China. Some countries have suggested citizens should avoid visit China under the present information, and try to pick their citizens back to their countries. US Department of State raises travel alert to Level 4: Do Not Travel. Other countries, like UK, Australia, etc. also raised their travel alert levels to cancel unnecessary travel to China.
Actually, we recommend that you can visit China after February, 2020 when the novel coronavirus can be cured and killed. After all, most scenic spots and shopping malls in China are still not open to the public, and the villagers of some districts are not reluctant or dare to welcome visitors. We are happy to offer you Asia tours in other countries around China, such as Mongolia, Vietnam, Japan, Thailand, Korea, Cambodia, Myanmar and so forth. We thank you for caring about China, and we are also glad to help you to know the info and plan a China tour after the disease, please feel free to contact us.
What to do if someone have to visit China at this time? Before you come to China, you should check with your Chinese travel agency or hotel for any changes or restrictions. You need check the latest FCO travel advisory and entry requirements for your destination and confirm with your airline before you go. Pay attention to subscribe a comprehensive travel and medical insurance.
No worries, Chinese government will help you as well. The only thing you need to do is make sure you are in a good condition or you may not pass the health checking at the airport or rail station if you have a fever or cold. Here are some Q&A you may want to know:
1. Are foreigners allowed to entry or exit as usual during the outbreak?
A collection of sturdy measures have been taken by Chinese government considering the fact that the outbreak of pneumonia brought by novel coronavirus. At present, it is good to the epidemic prevention and control via reducing cross two border movements. Foreigners ought to look for help from reliable travel agency to China or live in China as usual. Due to entry restrictions adopted by some parts of the world, it is recommended that foreigners who need to leave from China, study entry requirements of destination or districts in advance to avoid financial and time losses in case of any entry refusals. Foreigners having fever with signs and symptoms of acute respiratory illness such as cough or respiratory difficulties, ought to give up international travels and look for immediately medical cure at the nearest hospitals.
2. How to apply for visas, stay or residence permits during the period of epidemic prevention and control?
All Exit-entry Administration (EEA) authorities in China will be in full provider for extension and issuance of visa and stay or dwelling permits to ensure foreign friends' legit stay in China. Urgent offerings for emergency situations will also be provided. To keep away from crowds gathering risks, the EEA authorities will make preparations for services on appointments. Foreigners should make appointments before any applications. For some institutions which host big numbers of foreigners, such as universities, scientific research institutes and business companies, the EEA authorities will permit extra agent service or provide different vital conveniences relying upon the situation.
3. What should I pay attention to when going to the airport or station?
Wear a mask, don't smoke, the general rule is: surgical mask or N95 / KN95 mask are the first choice. Other masks are not as effective as these three. Travel with alcohol disinfection products, "contact" is an important means of transmission of many viruses, the maintenance of hand hygiene is critical. It may be inconvenient to travel by train, bus or plane, but you should clean your hands immediately after handling your luggage, before eating and after going to the toilet. You can choose alcohol-containing hand lotion or disinfectant wipes to do a good job of hand cleaning, pay attention to the product description, the alcohol content must be more than 60% to be effective, the best should reach 70% to 80%.
Those currently in China, we recommend you staying at home more and going out less to avoid infection. You can study Chinese art at home, such as calligraphy or painting, or learn folk entertainment, like Mahjong. You can also cultivate an interest in cooking to pass the time. The government provides the residents with daily necessities at a reasonable price regularly. Check more about how to keep away from novel coronavirus in China.