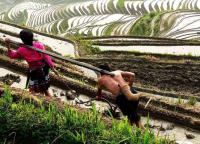 Located about 27 kilometers southeast of Longsheng County, the Longji Rice Terraces is of imposing beauty which is reputed as "unrivalled in the world". It was first built in the Yuan dynasty and completed in the Qing dynasty as the crystallization of the wisdom and diligence of the Zhuang people.
The terraced fields are built along the slope winding from the riverside up to the mountaintop, with the highest place of an altitude of 885m and the lowest 380m, covering an area of 66 square kilometers. The coiling line spirals up from the mountain foot to the top, making the mountain looks like huge snail seen from afar.
Built in the hills according to local conditions, these terraces measures to the largest no more than 1 Mu (≈0.17 acre), the small ones can only transplant 2 or 3 arrows of rice seedlings.
The beauty of rice terraces take on different looks with the change of seasons. In spring, the fields are filled with water, making the terraces look like silver ribbon hung around the hills. With the advent of summer, green blades of grass swing with the blowing breeze. To the harvest autumn, the terraces are decorated with gold of ripe millet. The whole mountain will be covered with white snow in winter, making it a fairy world.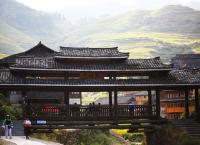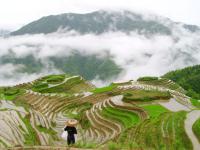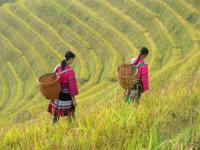 More Attractions in Longsheng
Recommended China Tours Including Longji Rice Terraces Guilin