China DIY Tour
For most westerners, China is definitely not a destination for independent travel due to the language barriers and cultural shocks. But those intrepid travelers still find way out during their visit to China. To reduce the worries for these people, Easy Tour China set up Do-it-yourself Tour Program to ease your stress during your China holiday, and make your trip to China more affordable.
It is simply a hotel+ticket (air/train) package, plus our detailed local travel information to help you explore the destinations in China via public transportation, without private guide and car! This will save a lot, and guarantee you a super budget China tour! The program is recommended to those experienced independent travelers or expats living in China.
Here below is a sample tour designed for our clients who traveled to Xinjiang of West China:
A sample tour for the Silk Road adventure

Day 01 Shanghai – Lanzhou (direct flight)
Make your own way to Shanghai Hongqiao airport for your flight to Lanzhou. Morning direct flight: FM9213 (07:40 – 10:55).
From Lanzhou airport you take shuttle bus (RMB35, 75km, 1hr) to city (Dongfang Hotel – Point "A" on the map, at Tianshui Nan Road, opposite to Lanzhou Uinversity, 2km to the train station – the blue dot on the rail line at the bottom). Our agent in Lanzhou will deliver the train tickets to you at the Dongfang Hotel upon your arrival by Airport Shuttle. So it is necessary you stay in touch with my agent in case there is a flight delay.
Lanzhou – Turpan Train info: T295 16:01 – 10:53 (the next morning). Soft sleeper.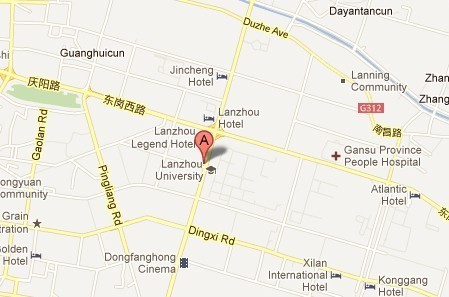 Overnight on train, soft sleeper shared with 2 other passengers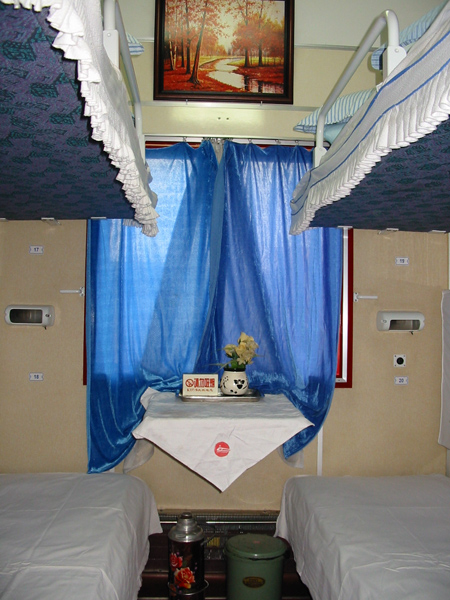 Day 02 Turpan arrival
Arrival at Turpan Daheyan Train Station at 10:53am. After you go out of the station, bear straight for a few minutes, turn right at the first cross road, walk for 100 meters, and on the left of the road, there is bus station. Ask for bus to Turpan city (到吐鲁番市区的班车). Bus ticket RMB10-15 per person (RMB15 is with Air Condition, faster). The station is around 40km to the north of the city of Turpan. Check the timetable for Turpan – Train station for your last day transport. 吐鲁番市区—火车站班车时间. After you arrive at city, go for your hotel with information below, from Green Point A to B. Train tickets to Kashgar will be delivered by our staff to the reception desk of hotel.
Introduction on Turpan: Turpan has long been the centre of a fertile oasis (with water provided bykarez) and an important trade centre. It was historically located along the Silk Road's northern route.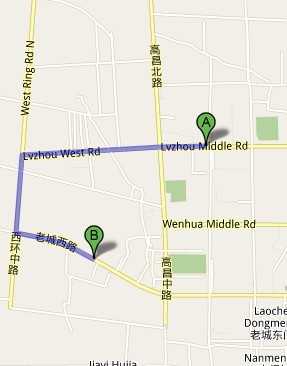 Afternoon tour ideas: Turpan Museum: 400 free entrance tickets issued everyday. ( from Point A to B)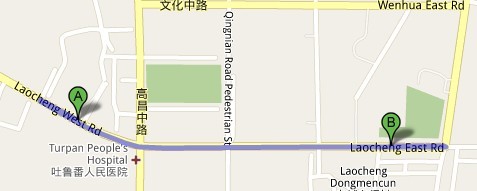 Evening: night market, please check with your hostel reception. Good place to eat and mix with local people.
Overnight Jiaotong Hotel, standard room en suite (add: 230 Laocheng West Road tel: 0995-8531320 0995-8186958吐鲁番老城西路230号) for 2 nights.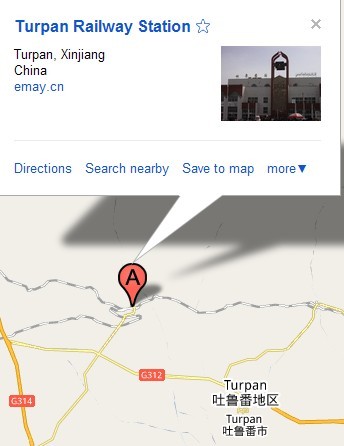 Day 03 Turpan
On your own in Turpan. Tour ideas:
Sugong Minaret苏公塔 (tallest Islamic minaret in China, built in 1778, 2km to Turpan, RMB30. If not hot, walking is possible)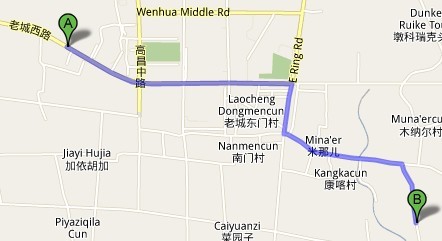 Karez irrigation坎儿井(underground irrigation system 2000 years ago, greatest engineering achievements of ancient China): From Sugong Pagoda, take No. 1 bus to the last stop (RMB 1).
Jiaohe Ruins 交河故城 (an ancient Chinese archaeological site found in the Yarnaz Valley, World's largest-470,000 sqm, and oldest-5th Century BC, and best preserved raw earth city, 10 km west of the city of Turpan, entrance RMB 210. Go to the same station where you arrived in Turpan the day before, take the Jiaohe shuttle bus at the bus station where you arrive in Turpan. (bus fare: check with your hostel reception)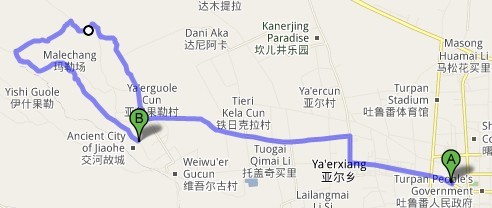 Day 04 Turpan – Kashgar train
Taking bus from bus station to train station (same as first day in Turpan), to take train to Kashgar.
Overnight on train (K9786 12:02/10:48+1) soft sleeper
Day 05 Kashgar
Arrival at Kashgar train station. Taxi cost @ RMB 20. Train tickets from Kashgar to Urumqi will be delivered to your hotel reception desk by our staff.
Overnight at Seman Hostel, en suite, Kashgar(add: 337 Seman Road, Kashgar, tel:0998 258 2129 色满宾馆 喀什色满路337号) for 3 nights.
Introduction on Kashgar: The name is Middle Iranicin its origin, meaning "Kush Mountains", being the same as the ethnonym of the Kushan Empire and the Hindukush mountains in the neighboring Afghanistan.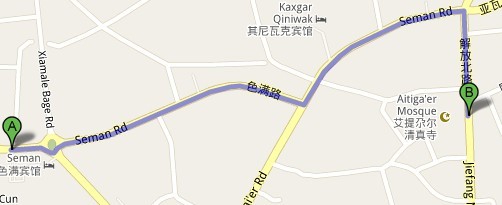 Restaurant ideas
:
1. Orda: 欧日大 Xinjiang local food, Renmin Road E. 人民东路
2. Fubar: Western restaurant: 120 Seman Lu (next to Qinibakh hotel) Kashgar 0998-5824498 新疆喀什市色满路120号 (其尼瓦克宾馆旁)
3. the Gallery Café: JieFangBeiLu (Kashgar Old bookstore) 解放北路 老书店旁
Day 06 Kashgar
Kashgar on your own: tour ideas
Karakuri Lake卡拉库里湖: http://www.easytourchina.com/scene-v113-karakuri-lake
The lake has an elevation of 3600 meters above sea level with the size of 10 square meters. 191km from Kashgar. Entrance fee: free. But you need apply for permit with local travel company one day before (Check with hostel about this). Taking shuttle bus (bus fare: check with your hostel) from bus station (point B) to Karakuri lake.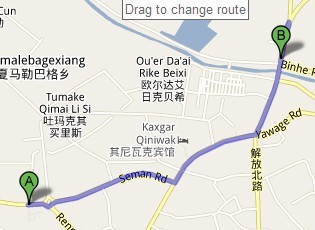 Aitiga'er Mosque or Idkah Mosque艾提尕尔清真寺: RMB 15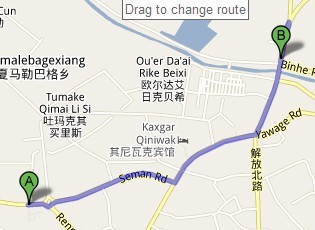 Day 07 Kashgar
Sunday market in Kashgar.
Kashgar Bazaar大巴扎: Biggest international trading market in West China. Walking 20 minutes. Market full blown on Sunday. 2 sections: commodity section 商品市场 and livestock section 牲畜市场, both are fascinating.

Silk road museum丝绸之路博物馆: Walking 15 minutes. Entrance RMB 5.

Day 08 Kashgar – Urumqi overnight train
Kashgar on your own. Go to train station for Urumqi
Overnight on train (K9788 13:16/13:40+1 soft berth)
Day 09 Urumqi
Arrival at Urumqi. on your own in Urumqi. Point A: railyway station, B: Baolu Youth hostel.
Taxi costs RMB15.
Introduction on Urumqi: with an urban population of over 2.5 million people, Ürümqi, whose name means "beautiful pasture" in the Mongolian language of the Dzungarpeople,[2] is the largest city in China's western interior.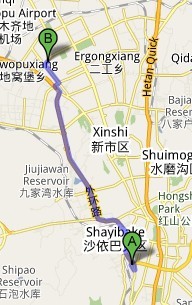 Overnight at Baolu Youth Hostel, en suite, one night.宝鹿国际青年旅舍 add:No.652 Kashgar West Road喀什西路652号 tel: 0991-3737367.
Urumqi restaurant ideas:
1. Night market: check with your hostel for information.
2. Fubar Urumqi: 40 Gongyuan Bei Jie, 公园北街40号 0991-5844498
3. QARBAGH IN SOUTH PARK VERY NICE INVIRENMENT INDOOR AND OUTDOOR(add: Xinhua South Road恰尔巴格 餐巴 地址 新华南路 南公园内 tel: 0991-2853533) Price@100 per person
Day 10 Urumqi – Flight to Nanjing
Make your own way to airport (taxi costs RMB 50) for your flight to Shanghai HONGQIAO (FM9220 09:40/14:10)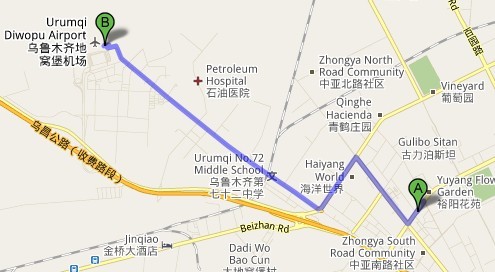 The above sample is for reference only; if you need to go any other parts of China in a similar travel style, please don't hesitate to contact us. Our professional travel consultant will be in contact with you soon.
Recommended China DIY Tour
Viewing Trips
Useful Tips & Guide
Bring the essentials: casual and comfortable clothing/shoes, sun lotion, medical kit and toiletries;

It's suggested to pack a few precautionary items with you, especially for minor illnesses;

Always prepare some changes, it is needed when you buy things from the street vendors or small shops. At some scenic spots, and when you get changes back, please check carefully in case they are counterfeit money;

Try not to open your wallet in public, and don't show large amounts of cash or traveler's check to others.

It's better to have your hotel staff arrange taxi service for you if you want to go somewhere on your own by taxi, take a hotel card with you or ask your receptionist to write down the names of the hotels and places you want to go in both English and Chinese before getting in the car.

Always ask for a receipt from a taxi driver so that you can complain if you have been cheated or for tracing purposes if you happen to leave your anything behind in the taxi.

Be careful about sharing your travel plans with strangers. Most people in China are friendly, and some of them are eager to practice English, it is delightful to talk with them, but never follow a stranger to anywhere you are not familiar with, especially when they promise to get you some fun or good bargains.

There are two or more railway stations in some of the big cites in China, so make sure that you take your train at the right railway station.

The railway stations in China are always crowded. When you get to the railway station, please be careful with your belongings.

While you are on the train, be sure your passport, your credit cards and valuable things are put in a safe place.

Transport, hotels and attractions are extremely busy during the Chinese New Year (usually in January or February) and the week-long holidays of International Labor Day (May 1) and National Day (Oct 1). It's suggested to avoid traveling in China during these periods.