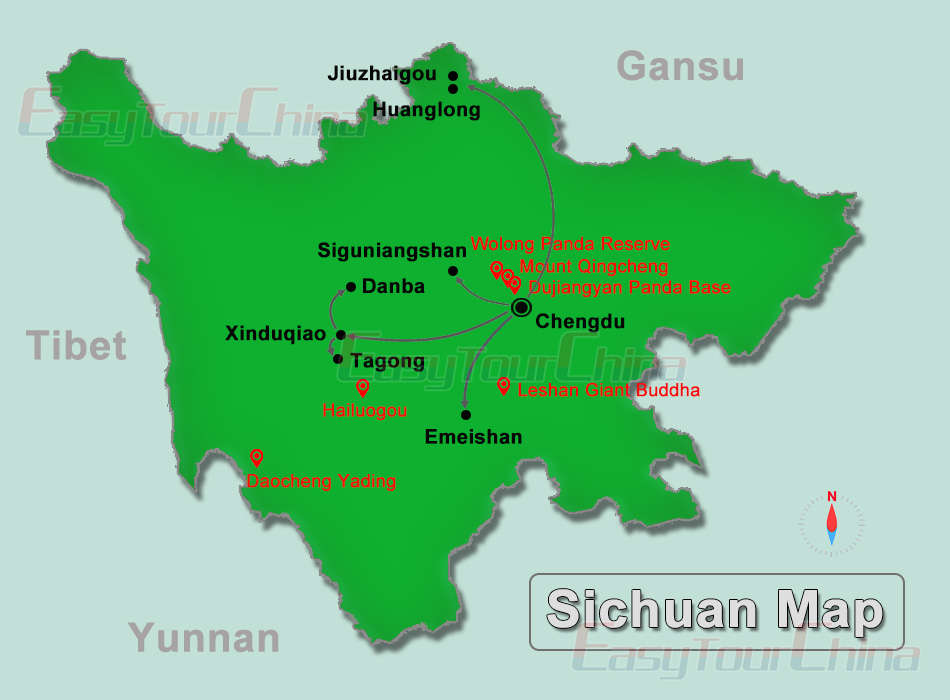 Sichuan is charming to new, and appears incredible to returning travellers, who then always make another pilgrimage to this place with authentic journeys.
in China's southwestern hinterland, Sichuan has been historically known as the "Land of Abundance". The province has 5 UNESCO world natural and cultural heritage sites: Jiuzhaigou Valley, Huanglong Scenic Area, Emei Mountain with the Leshan Giant Buddha, Mount Qingcheng with Dujiangyan Irrigation System and Sichuan Giant Panda Sanctuaries. Almost every variety of tourist resources is available here: snow-capped mountains, sublime plateaus, deep valleys, jewel-like lakes, ravines, hills, plains, rivers, hot springs, waterfalls, limestone caves, and even danxia formation. Sichuan has something for every traveler, whether you're intrepid adventurers, serious hikers, history buffs, active family, foodies, or ordinary tourists seeking relaxing vacations.



On ETC's private guided Sichuan tours to this remote, rugged and mystic destination, to explore Sichuan's heart and soul, showcased through the wonderfully beautiful and diversed landscapes to ancient ruins, Tibetan culture, Sichuan Opera, holy lands of Taoism & Buddhisam, as well as Sichuan cuisine. With our tailor-made trips, you can create your own journey to Sichuan and beyond.
Classic Sichuan - Culture & Nature Tours
The most popular Sichuan tour packages and short breaks are recommended to first-timers and are ideal add-ons to your holiday in China. Tour Chengdu, Dujiangyan and Wolong for cultural highlights, food tasting & cooking class, and intimate panda contact with volunteer programs. Have a walking tour of Jiuzhaigou and Huanglong Nature Reserve to discover a fairyland on earth. And if you're interested in Buddhism, never miss Leshan Giant Buddha and the sacred ancient temples on Mt. Emei.
Wild Sichuan Adventure
Home to giant panda sanctuaries, an astonishing diversity of spectacular landscapes and a myriad of unexplored Tibetan towns and villages, Sichuan is out to impress. Travel beyond Chengdu and Jiuzhaigou to the wild western Sichuan, venturing into Mt. Siguniang, Daocheng Yading, Kangding, Xinduqiao, Tagong Grasslands, Danba Tibetan villages… You'll be rewarded with a life-time journey.
Extend Your Sichuan Tours
Extend your Sichuan tours to other destinations in China, such as the minority kingdom Yunnan, the capital city Beijing, the energetic Shanghai, the surreal Guilin and Yangshuo, as well as Tibet, on the roof of the world.
Top Faqs about Tours in Sichuan
When is the best time to visit Sichuan?

Generally, summer and autumn is the best seasons for western Sichuan adventure. Chengdu and its surrounding areas (including Mt. Emei) are suitable for year-round travel.
The best time to visit Jiuzhaigou is from Mid-October to November;
The best time to visit Mt. Siguniang is from June to Augest;
The best time to visit Nuoergai (Zoige) Grasslands is from June to July;
The best time to visit Daocheng Yading is from September to November;

Where can I take the giant panda volunteer work?

There are several panda bases and research centers in Sichuan, among which, Dujiangyan Panda Base and Wolong Panda Research Center offers the volunteer program that travelers can take part in, as long as you meet the requirements.

Need I worry about the high altitude?

For most travelers, you don't need to worry about the altitude of Jiuzhaigou or Huanglong, where the tourist area is about 2000m to 3000m above sea level. But if you're traveling to Western Sichuan Plateau, at 3000m to 4500m, then you should be beware of the high altitude sickness and seek your doctor's advice before the departure if needed.

What are the accommodations like in Sichuan?

In main cities and popular travel destinations of Sichuan, such as Chengdu, Mt. Emei, Jiuzhaigou and Mt. Qingcheng, the accommodations vary from luxury to comfortable and budget. However, in remote mountainous area and western Sichaun's villages, the hotels and guesthouse are usually very basic. When traveling with ETC, we always hand-pick the best accommodation suitable for you.

What is your advice for a winter tour in Sichuan?

⦁ Travel to Jiuzhaigou and Huanglong for the snow-covered landscape forming a silver fairland.

⦁ If you're skiing lovers, never miss Xiling Snow Mountain, the largest mountain ski resort in south China.

⦁ Mt. Emei Leidongping Ski Resort is a nice choice for skiing beginners and you can also visit a score of anciet temples on the mountain.

Do I need travel documents or travel permits to visit Kham of Sichuan?

Kham is the Tibetan region in Sichuan, including Ganzi Tibetan Autonomous Prefecture, Aba Tibetan and Qiang Autonomous Prefecture. Normally travelers don't need special travel permits or documents to visit Kham, in the absence of exceptional circumstances.
Quick Tailor-made Inquiry Form