Chinese tea acts as beverage, pastime, culture icon, and undoubtedly a life time of enjoyment for thousands of years. Tea in China, along with silk and porcelain, spread to the other part of the world through trading routes of Silk Road and Tea & Horse Road.
Experience Chinese tea culture by exploring mist-covered mountains and plantations where legends of tea were born. Guided by our professional travel guide, discover the first-hand mysterious lure of tea and tour the ornate temples, magnificent palaces and historical landmarks.
Join a China Tea Tour with Easy Tour China to visit the charming destinations of tea production featuring diversified traditions saturated with tea elements. A tea cultural tour will start from picking up tea leaves under the guidance of local farmers, and then enjoy the varied processes of making tea products, with a traditional art - tea ceremony performance which showcase the rich content of tea culture finally.
Sample Guided China Tea Tours
Happy Tea Lovers with Easy Tour China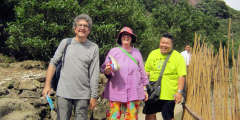 Thank you another wonderful and wonderfully arranged tour by you and ETC. I feel that Guilin is now a bit of a home town. You are very good and skilled at you job. I recommend you and ETC to all who ask about Chinese holidays or trips. don't feel that I can say anything else about your high level of professionalism that I have not said in the past.

- Stephen, Australia
Tea Expo
Easy Tour China's Presence at the Australian International Tea Expo 2015 in Geelong, Australia
Ricky (right) and Stephen Carroll, Tea Master and the Director of International Chinese Calligraphic and Brush Painters Society (Australia)

Wei (left) and Ricky (right) with Sharyn Johnston, Managing Director of Australian Tea Masters Association
Customize Your Own China Tea Tour