Overview
Looking for a weekend getaway to Hangzhou? Let the sights, sounds and tastes of Hangzhou lead you on a relaxing holiday. Explore Hangzhou and its surrounds. Cruise the West Lake to take in beautiful scenery. Journey to Nanxun Water Town, visiting One-Hundred Residential Houses and watching an interesting water wedding performance. Exercise your legs and refresh your mind when hiking the villages to discover tea plantation farms. Moreover, taste some iconic dishes of Hangzhou cuisine. The 3 day Hangzhou short break is also an ideal add-on for your China vacation.
Customize Your Tour:
☑ Travel Dates ☑ Your Interests ☑ Your Travel Style

Make your way to Hangzhou by flight or high speed rail. Be met and greeted by your Easy Tour China guide and driver, then transfer with a private vehicle to your hotel in downtown Hangzhou.
After a short rest and fresh up, we will visit the Six Harmony Pagoda Park first. Built in the year of 970 A.D., Liuhe Pagoda stands majestically on the Yuelun Mountain overlooking the Qiantang River. A 60m, impressive octagonal structure of wood and brick, hung with 104 large iron bells on its flying eaves, the tower was originally built to ward off the spirit responsible for the heavy tides which caused so much flooding before the dykes were constructed. And then we go to the West Lake for a short cruise. The West Lake is the symbol of Hangzhou, which is like a shining pearl inlaid on the vast territory of China. During the cruise, our guide will introduce you some interesting spots of the West Lake, such as the Broken Bridge, Flower Pond and the Leifeng Pagoda. When seen from the Baoshi Mountain after snow, the Broken bridge seems as if it were broken because the snow in the middle part has melted while the snow at the ends is still lingering. For centuries, the Viewing Fish at Flower Pond has provided natural beauty and cultural connotations for emperors and poets who have expressed their admiration through poems, calligraphy, and drawings. And at dusk, the spectacular Leifeng Pagoda are reflected on the rippling lake. Looking very beautiful!
OPTIONAL ACTIVITIES
You can always watch a good show at night:
Enduring Memories of Hangzhou show: Staged entirely upon the lake itself, this show is a spectacle of light, music, dance and theatrics. The stories are based on Hangzhou legends. Using the lake and its surroundings as props, lights and hundreds of actors create a sensational performance. The director of this show is Mr Zhang Yimou, who was in charge of the opening and closing ceremonies of the 2008 Summer Olympics in Beijing. Show time: 19:45 -20:45, 21:15-22:15 (summer time); 19:30-20:30, 21:00-22:00 (winter time.
X The Land of Fantasy show at Suntiandy Theatre: "X the Land of Fantasy" produced by Cirque du Soleil and Hangzhou Suntiandy Group was successfully held in Hangzhou Suntiandy Theater. For the first time, the seating wagon was rotated 360°, presented the main characters as well as a piece of "spoiler." Show time: Wednesday to Sunday, 19:30 to 21:10.
Meal: L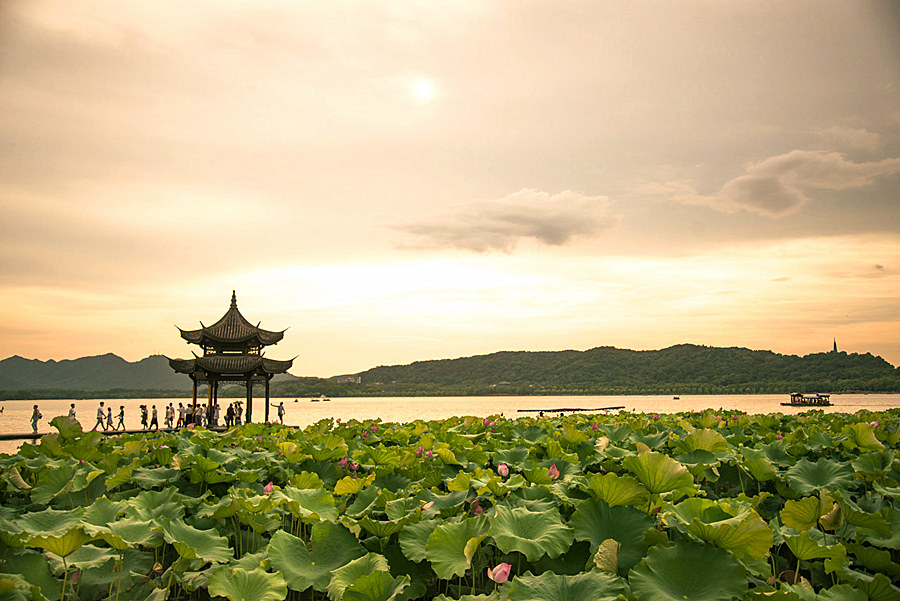 After breakfast, we drive about 1.5 hours to visit the Nanxun Water Town. Established 750 years ago, the Nanxun Ancient Water Town developed during the Ming Dynasty (1368-1644 AD) into one of the richest towns in China. The fortune of Nanxun stemmed mostly from its silk. With the thriving of the marine Silk Road, merchants not only did more and more business with westerners, but also learnt advanced science and ideas from their business partners. And this is why you can see some of local houses blending both Chinese and western styles.
After arrival, you will visit the One-Hundred Residential Houses (Baijian Lou) first. Baijian Lou is the best preserved traditional building group in southern China and kept the ancient and local charm. When walking among these historical houses, you are likely to forget that you are living in the modern world. Then our guide will accompany you to the Little Lotus Garden (Xiaolianzhuang), Xiaolianzhuang was the private garden of Liu Yong, a government official and merchant in Qing Dyanasty. It took 40 years to finish this building project. The lotus flowers in the garden attract thousands of photographers every summer. Later you will visit the Former Residence of Zhang Shiming. The residence has numerous rooms, including salons, halls, studies and bedrooms. The outside part of the residence may make you think these are Western houses, but the indoor decoration is based upon Chinese style. However, some of the furniture was bought from foreign merchants, such as sofas, chairs and tables.
Wandering in Nanxun Water Town, you will have chance to see a traditional Chinese wedding ceremony performance on the water. There are at least 10 ferries engaged in the wedding ceremony on water, all are decorated with red flowers and ribbons. The bride and groom stand on the first ferry, waving to tourists on the banks. This is your chance to know how a traditional Chinese wedding was held in the ancient water town.
After that, our guide and driver will transfer you back to your hotel in Hangzhou downtown.
Meal: B, L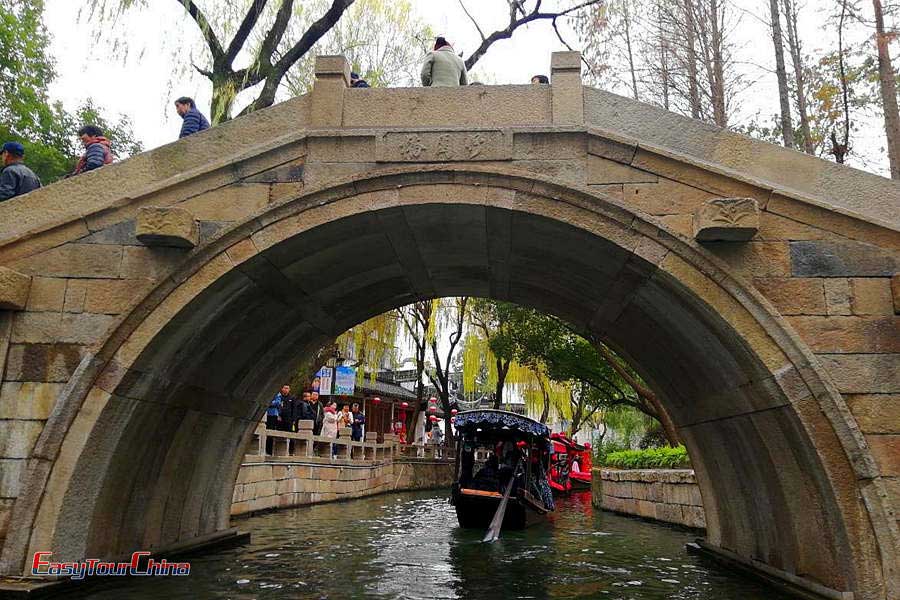 This morning, you will have a leisurely walking tour start from Yangmeiling village, pass by Nine Creeks In Misty Forest and end in Longjin Tea Village. 3.5 km in length, this hike can be a good physical exercise and a wonderfully visual experience. Arrive in Longjin Tea Village, you will be guided to see the tea farmers working in the tea plantation on the hillside. You can join them to pick tea leaves and watch the tea-making process. You can even stop by a tea farmer's house to watch and learn the tea ceremony.
Lunch will be a Tea Banquet arranged at local restaurant. You will try some famous Hangzhou cuisine made by tea, such as Tea-flavored Chicken, Fried Shrimps with Long Jing Tea and so on.
After lunch, your guide and driver will escort you to the airport / train station for the flight / train to your next destination. End of your Hangzhou Weekend Gateway.
Meal: B
End of service.
What's included
1-on-1 Travel Consultant

Your China based expert listens to your wishes carefully, provides professional advice, ensures unlimited itinerary revisions before done and 24/7 helpline service while traveling.

Private Local Guide and Driver

Your guides are friendly, helpful and knowledgeable, and your drivers are professional, polite and patient. They are very flexible to accommodate your personal needs and happy to show you the local attractions, history, culture, foods and real life.
Private transfers from hotel to attractions, airport or train station are also included.

Accommodation to Suite Your Preference

We hand pick hotels ranging from luxury 5 star, superior 4 star to comfortable 3 star. Luxury or cozy boutique hotels and budget guesthouses are also among your choices. You could decide where to stay to meet your taste and budget.

Gourmet Meals

Most of the hotels we select offer both Western and Chinese buffet breakfast. Lunch and dinner included are arranged in selected restaurants to taste authentic Chinese cuisine and local specialties. Thus you may also have a unique food tour.
Meals specified in itinerary as B=breakfast, L=lunch, D=dinner.

Attractions and Activities Listed on the Itinerary

Our city tour packages have included the (first/main) entry to all attractions and the expenses of activities on the itinerary (except the optional activities).