Highlights
For those looking the best bike routes from Guilin to Yangshuo, you should not overlook this tour, with which you will explore the highlight scenery between Guilin and Yangshuo. It is flexible with an ending at Yangshuo based on your personal requests. This route cycling on west side of the Li River to Yangshuo. Please read the tour itinerary, total cycling distance and price terms carefully and make sure the tour fit you.
Tour Departure: Daily, garantee departure.
Booking and payment: Online payment or cash. Booking should be at least one day prior to the tour departure date (more days earlier if departure is on weekends).
Cycle Type: Mountain bke leisure-ride across country or on well-paved road.
Difficulty: ★★★★☆
Total cycling distant: 68-105KM.
Tour Duration: 8 hours+.
Roads: Well paved concrete / asphalt roads. Dirt roads, Country tracks, Macadam, etc. Cycling distance based on your cycling experiences and wishes.
Countryroads cycling from Guilin to Yangshuo from the western side of Li River
In the morning, we will be transferred with our bicycles outside the crowded Guilin city and drives about one hour. We start our cycling into countryside directly and avoid the traffic, passing through quiet villages and small forest; we cycle into the perfect concrete roads built between local famer's rice fields, surrounded by Karst scenery and small rivers.
We continue our cycling again through peaceful villages on country roads. After lunch into the eastern part of the main road, we enjoy the awesome scenery there. The buses and cars are far away from us. The less commercialized villages means few annoying tourists and cars but less chances to having supply, so please take enough food and water before leaving Yanshan town. We will encounter more climbings in the afternoon, riders will enjoy the real country roads (some of the sections are poor and muddy) envied on books and others' blogs.
We have to conquer over many mountains and big climbs today at a total climbing up distances over 14KM. We finish the first 1/3 tour without too much troubles although there are few short slopes on off-road. Save energy for the rest part of this tour as we are facing steep climbs on muddy roads and macadam, a mixture of road surface on paved or unpaved cycling. Awesome scenery but hard climbs, we will have chances seeing the pouch hill,Yulong river valley and the dragon bridge.
Yangshuo is now a bit crowded with tourists, people looking for a silent world better consider of arranging their accommodation outside Yangshuo downtown.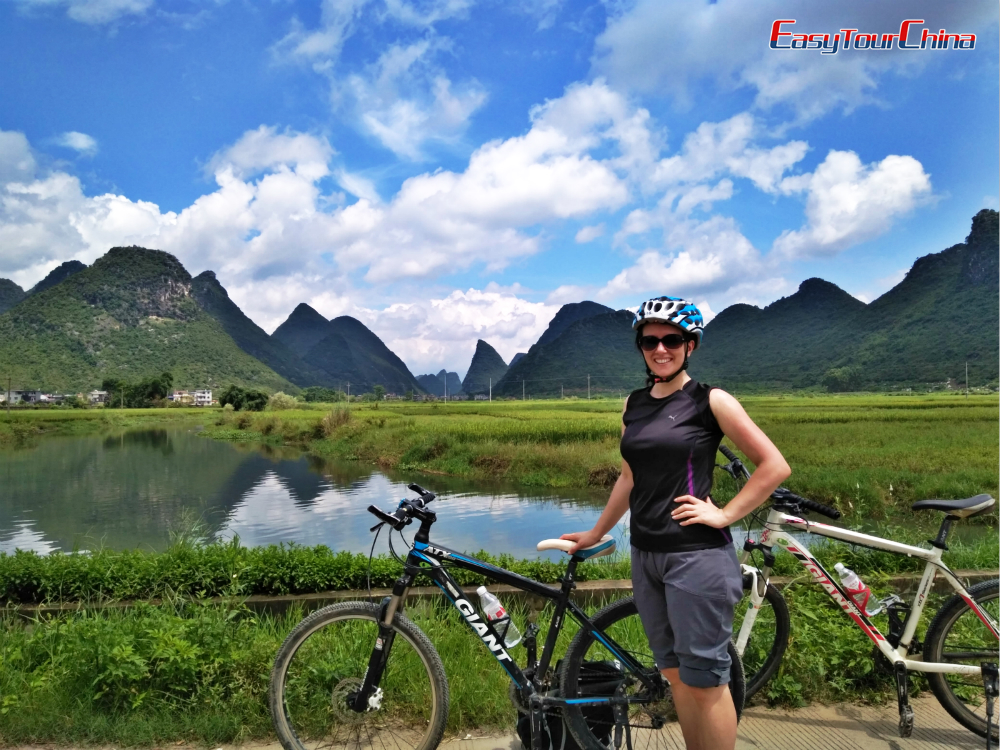 Note:
A. The route countains steep off-road climbings among mountain areas and is not suitable for unskilled riders but it's ok for people with good long-distance cycling backgound.
B. Self lock bicycle shoes (SPD shoes) is ok.
C. You will leave your big luggage in our workshop (Starting point) in Guilin city in the morning if you not come back to Guilin when finish the tour today. In the afternoon, your luggage will tranfer to your hotel in Yangshuo after the our tour.
If you do not stay in Yangshuo, then you can take our supporting van back to Guilin city with our guide and bikes.
Tour Departure: Daily, garantee departure except really poor weather
Booking and payment: Online payment or cash. Booking should be at least one day prior to the tour departure date (more days earlier if departure is on weekends).
Tour Price:
| Person(s) | Price |
| --- | --- |
| 1 | CNY 950 (with shuttle bus back to Guilin) |
| 2 - 3 | CNY 750 (Including luggage transferring from Guilin to Yangshuo if you stay overnight there or transferring yourselves back to hotel in urban Guilin from Yangshuo when the cycling ends) |
| 4 or more | CNY 480 (Only available for luggage transferring from Guilin to Yangshuo, If you want a return shuttle bus ticket, extra RMB40 p.p is needed) |
About the public shuttle bus and private suppritng van:
The public shuttle bus is narrow with local people and it is only available with group less than 3 people and it is only availbe before 4:30pm. The private supporting vehicle only transfers the bicycles and riders back to Guilin, and it does not follow the cycling leader during the trip.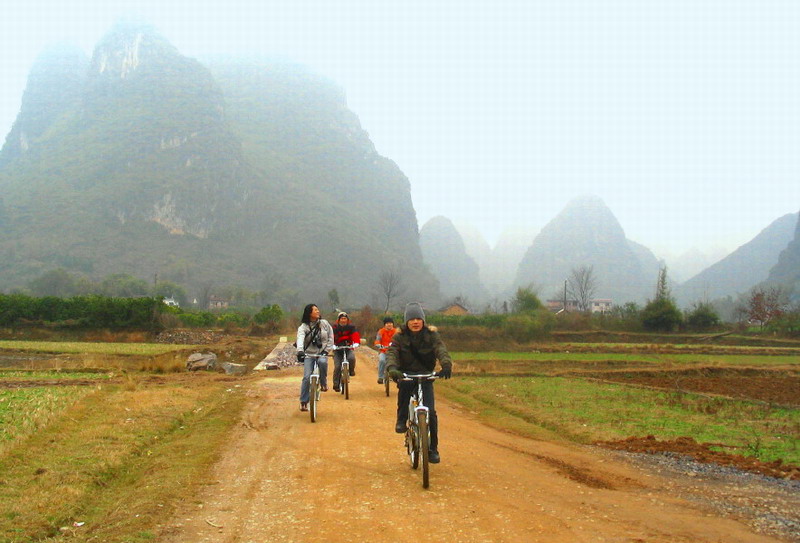 What's included
Guide

An English-speaking cycling leader, with route guidance GPS map and simple bike repairing tools.

Bikes

Well-maintained brand quality mountain bikes of 27 speed front suspension.

Meal

One bottle of mineral water and simple local rice noddle lunch.

Helmets

Visa

Visa arrangement. Please consult the local Chinese Embassy or Consulates-General first for the tourist visa.

Other

International airfares and airfares to Guilin and exit Guilin.
Personal expense.
Insurance.
Gratuities to guides and drivers.
We don't offer rider gears for cycling (helmet is excepted).