18-day China Minority Cultures and Landscape Cycling Tour
Tour code: ETC-B75
We've updated this classic route of the old Dragon's cycling trail from Guizhou to Guangxi. Bike through the mountainous areas in Guizhou and Karst landform of Guangxi, we'll ride on both well-paved provincial road and bumpy country roads. Riders will be very impressed by the diversity of ethnic groups, their distinctive culture, ancient minority villages, as well as the stunning sceneries on the road all the way to Yangshuo and Guilin.


Click to enlarge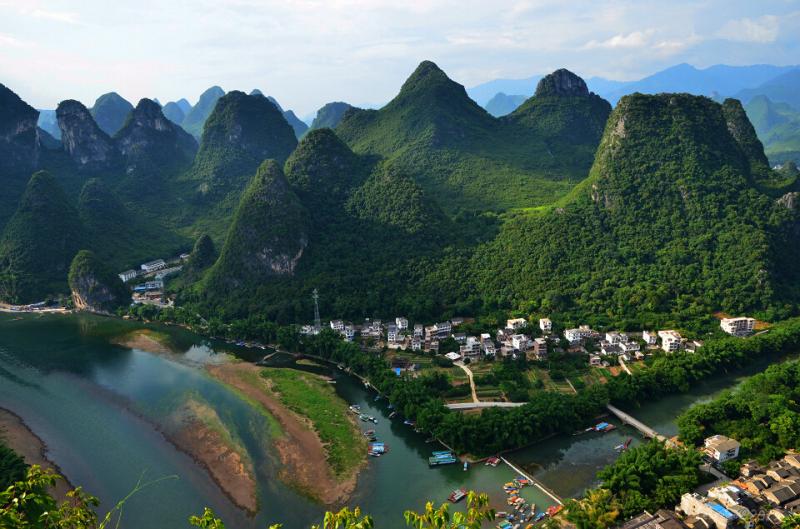 | | | |
| --- | --- | --- |
| Tour Date | City | Tour Brief |
| 1 | Guiyang | Arrive Guiyang |
| 2 | Leishan Town | Transferring to Leishan Town |
| 3 | Yongle | Leishan -- Yongle 34miles/55km |
| 4 | Rongjiang | Yongle -- Rongjiang 46miles/74km |
| 5 | Congjiang | Rongjiang -- Congjiang 50miles/80km |
| 6 | Zhaoxing | Congjiang -- Zhaoxing 34miles/55km |
| 7 | Zhaoxing | Zhaoxing Rest Day |
| 8 | Sanjiang | Zhaoxing --Sanjiang 65miles/105km |
| 9 | Ping'an, Longsheng | Sanjiang -- Ping'an 50miles/89km |
| 10 | Longji Rice Terrace | Longji Rice Terrace Trekking and Rest (B, L, D) 4 hours trekking |
| 11 | Guilin | Longji Rice Terrace -- Qingshitan Reservoir 54miles/87km |
| 12 | Guilin | Qingshitan Reservoir -- Guilin 34miles/55km |
| 13 | Guilin | Guilin -- Huixian Wetland Areas -- Yanshan |
| 14 | Guilin | Yanshan -- Putao -- Baisha - Yangshuo 46mile/75km |
| 15 | Yangshuo | Yangshuo |
| 16 | Yangshuo | Yangshuo -- Xingping 27miles/43km |
| 17 | Guilin | Xingping – Guilin 40miles/65km or 48miles/77km |
| 18 | Guilin | Guilin departure or free time |
| | | |
Day 1 Arrival at Guiyang (D)
Please note that this is a unique biking route for experienced riders and bicycle fans who wants to experience a complete cycling program in China.
Located in Southwest China, Guiyang is the capital city of Guizhou province. We will meet you at the airport and transfer to hotel. We'll get together and have dinner at a local restaurant. (No matter you are a skilled rider or a newbie, you will be given a professional basic user manual to know about the bicycle we offer and the matters needed attention about this tour. Please take a good rest today and read the user manual.)
Day 2 Transferring to Leishan Town (B, L, D)
Our bike trip starts at Leishan town, about 220km away from Guiyang. If your flight arrives in Guiyang in early the morning or before noon on the first day, you'll be transferred directly to Kaili (transferring on expressway from Guiyang to Kaili first, and then on provincial road from Kaili to Leishan Town), or we will arrive in Leishan Town in the evening on first day. If your flight arrives in Guiyang in the afternoon or evening on the first day, we will arrange a visit of some Miao ethnic villages today, and finally we will arrive in Leishan Town for rest and bike testing before the tour starts.
Stay overnight in Kaili or Leishan based on your flight arrival time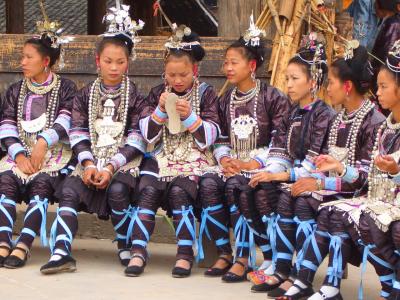 Day 3 Leishan -- Yongle 34miles/55km (B, L, D)
Leigong shan (Guizhou cycling routes of mountain roads, fond by riders worldwide). We start our cycling trip from the Leshan Town. Our first day biking is also the most difficult one, as riders will cycle uphill twice on long distant slopes along the Leigongshan Mountain areas. Cycling uphill is tough, and riders without determinations may easily get beaten by those mountain roads. However, if you follow our leaders and listen to their experience and tips, and keep your strength and be patient enough, everything can be overcome. Total climbing distant today is about 20kms. Finally we arrive at Yongle, a small and peaceful town in southeastern Guizhou province. You are likely to be attracted by this less commercialized village and the kind people there.
Stay overnight in the best guesthouse in Yongle town
Day 4 Yongle -- Rongjiang 46miles/74km (B, L, D)
Today we continue our cycling and venture into the countryside, valleys and rice terraces to experience the ethnic minorities of Miao, Yao, and Dong. Have a visit of their villages. You will have enough time to admire at the local wooden houses and learn more about their unique traditional costumes. Today's cycling is mainly on a well-paved road, so we do not have too much trouble from the traffic or on the terrain. Most of the cycling today will be on level of downhill except one big slope lasting about 10km. Finally we reach Rongjiang. It is an important county in southeastern Guizhou.
Stay overnight in the Dongxiangmi Grand Hotel, the best hotel of Rongjiang county helps us to restore our strength.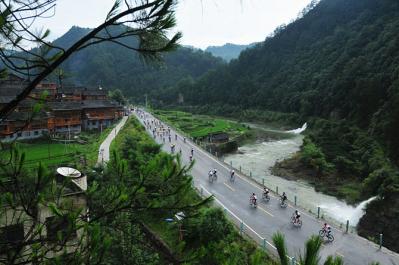 Day 5 Rongjiang -- Congjiang 50miles/80km (B, L, D)
Travelers may have chances to see the local Chinese market-day on weekend in rural areas. On the market fair, traders from surrounding villages gather together and sell their own products like hand-made brooms, sickle blades, diverse fruits and spices. The market fair is also a great opportunity to meet people of different minorities. If our group is lucky enough to arrive in Rongjiang on Firday or Saturday, we may have time for a wandering and shopping in the market. During the cycling today, we will see the local farming, the Duliu River - the mother river of Local Miao people. Local people's hard working will surely impress you deeply.
Stay overnight in Congjiang hotel, a 3 star one
Day 6 Congjiang -- Zhaoxing 34miles/55km (B, L, D)
The most popular breakfasts in China are noodles, steamed buns, fried bread stick, soybean milk, or all kinks of rice noodles. The hand-chopped rice noodles in Guizhou are famous, and you can have a try. We continue our cycling after breakfast, and get into the impressive drum towers and Dong minority style bridges and buildings. The amazing Chinese architectures are sometimes a huge one but built without even a nail. The spectacular views of rice terraces come into our eyes today. The terrace fields looks like a dragon's scales while the mountain roads are of a dragon's shape. The road condition is good and we arrive at Zhaoxing in the afternoon. Today's lunch will be a simple roadside one. Zhaoxing is the biggest Dong village in southeastern part of Guizhou.
Stay overnight in Zhaoxing and relax at the lovely Lulu guesthouse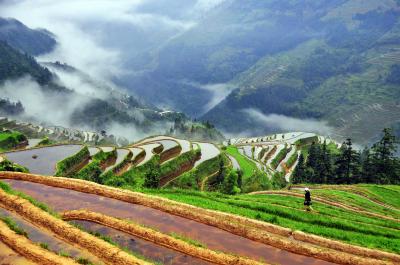 Day 7 Zhaoxing Rest Day (B)
We will stay one more day in Zhaoxing for rest to recover from the mountain climbing and prepare for the long distance cycling in the following two days. Interesting Miao villages for local traditional customs and lifestyles will be recommended by our tour guide. Stay overnight in Zhaoxing
Day 8 Zhaoxing --Sanjiang 65miles/105km (B, L, D)
We will finish the cycling in Guizhou province and then enter Guangxi province today, congratulations! The dietary and accommodation condition in Guangxi is better than Guizhou, so that cyclists may feel comfortable physically and mentally. And we're going to see the 'most beautiful places in heaven' very soon! The distant today is over 100 kilometers but we will not encounter too much long distant slopes. We will cycle along the river and then finally reach Sanjiang, a crossing connecting Guizhou, Guangxi and Hunan province. The night views of Sanjiang are awesome! The towers and theaters are shaped like a bird's nest decorated by neon lights. Enjoy the waterwheels, the rivers and bridges connecting people and houses. Sanjiang is such a good place for traveling and cycling.
Stay overnight in Sanjiang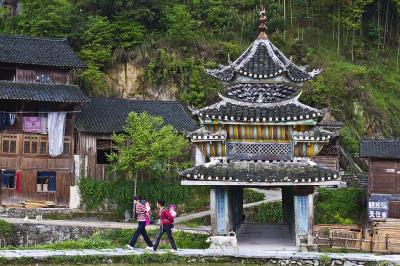 Day 9 Sanjiang -- Ping'an 50miles/89km (B, L, D)
Ping'an is the entrance village of the dragon's backbone rice terrace scenic areas (Longji Rice Terraces). Most of the cycling today will be on level rating. However, many short slopes lasting tens of meters will accompany us. Ping'an village is located outside the Longsheng county, we will have an inevitable cycling on the busy national road today, please follow the single line rules and do not get over speeding on those places, where there are many annoying cars. The scenic area of the rice terraces is on the mountain and we may need to cycle up after arriving Heping village (the entrance village). pay more attention to the safety in this section due to the common travel cars and guests. Stay Stay overnight at Longji Rice Terraces
Day 10 Longji Rice Terrace Trekking and Rest (B, L, D) 4 hours trekking
Today is a walking day for a break from the previous hard biking. The trekking lasts about 4hr on the mostly stone-paved paths by the local villagers (walking shoes sound necessary). You will return in the afternoon and relax on the balcony while enjoying the sunset with a soothing cold drink. We will stay overnight at hotel or a wood lodge on the rice terraces, local people lives in wooden house as it is warmer in winter.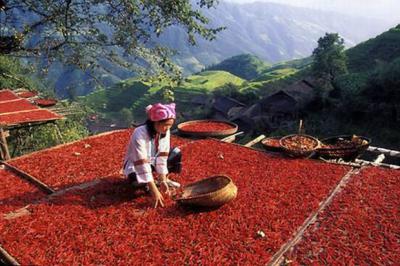 Day 11 Longji Rice Terrace -- Qingshitan Reservoir 54miles/87km (B, L, D)
After enjoying the terraces, we are back on bikes today. After a major uphill riding for 25 km, we will head downhill out of the mountains, to the Qingshitan Reservoir. The local fish for dinner is recommended, or a fish head with noodles gives you a particular feeling? The route today covers about 30km on national road (with a bit heavy traffic) although we have tried best to avoid it. We are hoping staying overnight at a lodge at the reservoir brings you a new feeling.
Day 12 Qingshitan Reservoir -- Guilin 34miles/55km (B, L, D)
Today we will pay a short visit to the old village of Jiangtouzhou. This village is inhabited by a famous philosopher Zhou Dunyi (1017 – 1073) from the Song Dynasty. And their consistent attention to education has produced many good officials in history. Old houses dating back to Ming and Qing dynasties are all over with intricate wood carvings and stone carvings. After the visit and trip, we will be back to Guilin for rest. Help yourself to visit some parks or relax on your own. Dinner is not included today, so try anything you like but do not take too much food with pepper. And try best to rest then stay in good shape. Stay overnight in Guilin city center hotel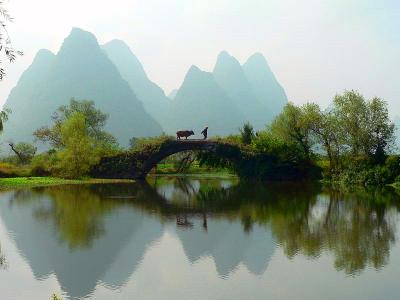 Day 13 Guilin -- Huixian Wetland Areas -- Yanshan (B, L, D)
Optional 37miles(60km) or 49miles(80km)
We will start this tour by cycling from the hotel and leave Guilin via a less busy road. A section of off-road cycling is included today. After some small paths and villages we will arrive at Huixian country, continue our ride to the wetland banks, then take a boat cruise and enjoy the splendid scenic views. You may even climb the hill to have a complete picture of the wetland. After lunch and rest, we go on riding along the small path and villages to Yanshan Town of Guilin and check in hotel for rest. If the group arrives at Yanshan town early, you can have an optional visit to the Garden Show Park of Yanshan, it's optional and charged.
Today the trip offers you the limestone peaks, crisscrossing rivers, old bridges and ancient trails connecting villages. The level of biking is easy but the trail is crisscross and like a labyrinth by the small paths. Follow the leader closely.
Overnight in Yanshan town
Optional Cycling: apart from the 37miles biking ending at Yanshan (totally around 4hours cycling and 1-2hours for drifting on the Huixian wetland), you can also choose to bike to the Golden Pheasant River Reservoir at Luojin Town. However, we may need to ride for a little longer distance. The reservoir is the most beautiful one of Guilin, undeveloped, less polluted and for free. If your group is well equipped, efficient and skilled in biking, think about putting this reservoir into your route, you'll find it is worth the effort!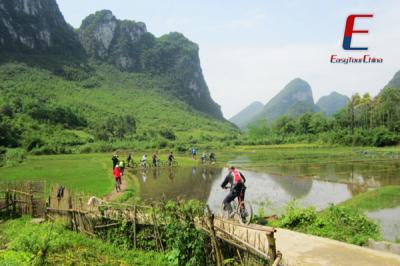 Day 14 Yanshan -- Putao -- Baisha - Yangshuo 46mile/75km (B, L, D)
During the biking trip today, you will have meandering rivers, limestone hills, rural countryside with rice paddies and mud brick houses. The amazing karst topography and peaceful country roads accompany you all the way to Yangshuo. Our trip is quite different from the traditional tours by cars - the cycling trail today is not simple, you will encounter macadam, unsurfaced forest-road with soil and even mud. We will arrive at Yangshuo before evening.
Overnight at a guesthouse in Yangshuo
Day 15 Yangshuo (B)
You can choose to continue your bicycle tour today with our guide to Gaotian Town or any places nearby that interests you. Upon return, we will visit Moon Hill and climb the 900 or so stairs for a awesome panoramic view of the surrounding farmlands and peaks in Yangshuo. Or you may have a free time today. (The lunch will be included if everyone goes to the same destination)
Overnight at a guesthouse in Yangshuo
Day 16 Yangshuo -- Xingping 27miles/43km (B, L, D)
We start our riding today along the Li River, biking through the small paths of peaceful villages, keeping away from the dangerous tunnels and roads for cars. Enjoy a pleasant journey to Xingping, a small town located on the northeast Yangshuo. This beautiful place is an important wharf of the Li River.
Optional hill climbing to see panoramic view of Li River
After checking in hotel at Xingping, you will have an optional choice to have a free time or go with the guide to climb the Laozhai Hill. On the top of the hill a great panoramic view of the great bend of the Li River will definitely impress you! You need to climb over 1000 rough stairs before reaching the top (the wild stairs take a hard trekking up). Look out for your own safety as it is a bit dangerous to walk on these wild ladders.
Overnight in Xingping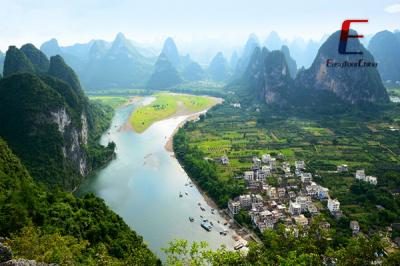 Day 17 Xingping – Guilin 40miles/65km or 48miles/77km (B, L, D)
We will take a bamboo raft cruise from Xingping to Yangdi and enjoy the most highlight sections of the Li River. Then we continue our bicycle tour from Yangdi (the starting place of the well-known trekking rout of Li River). We choose country roads close to the nature and also to avoid the pollution from the vehicle exhaust and regular travel groups.
Optional service and itinerary (Total distance increases to 77KM/48miles)
The 65KM/40miles bike today is recommended, as the bamboo cruise offers you a highlight of Li River and makes you comfortable and relaxed after the long trip.
The differences between 65KM or 77KM route is based on the weather, road condition, and customer requests. The 77km one is a cycling route from Xingping – Xitang – Daxu – Guilin on the east bank of Li River, while the 65km is firstly a bamboo rafting from Xingping to Yangdi and then cycling on the western side of the Li River until back to Guilin. The 77km route is possibly affected a lot by the fast train station built in Xingping and the jammed traffic after the main national road's rebuilding between Guilin and Yangshuo (drivers and travel groups will choose this route to Yangshuo).
If the team is strong and skilled, and looking for more exploring on the land, the cruise section can be deleted today. And we will have a whole day biking from Xingping to Guilin (both available on eastern and western banks of the Li River)! The inland areas are of typical Karst landform which makes the road rougher and harder than the other days. We shall climb up and down with our bicycles and help each other to finish the challenge today. (Note: When the Li River is flooded, no boat is allowed on river, so we will bike 77km to Guilin.) All the bicycles will be returned to us after you checking in. We will have another feast of the local specialties to celebrate our great success!
Overnight at a city center hotel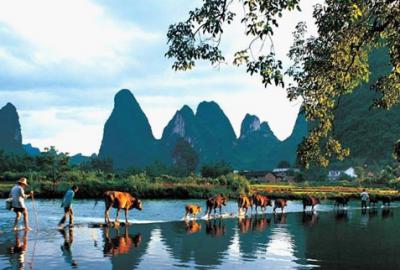 Day 18 Guilin departure or free time (B)
Our trip service ends with the breakfast today. If you want a transfer service, please book before hand with us.
PRICES START FROM PER PERSON
Please aware of that this is an unique cycling route for bicycle fans or anyone who wants to experience a complete cycling trip in China. Dates:
2018 dates: Mar.22, Apr.12, May.10, Jul.12, Aug.16, Sept.13, Oct.11, Nov.15
Any time of the year based on your requests.
Prices: Upon your enquiry.
Guided Services:
Included
1. 17nights' accommodation in comfortable hotels or guesthouses with twin share rooms, private bathrooms;
2. All transport from the start point to the finish point; Transffering bus from Guiyang to Leishan town;
3. Meals: all breakfasts, lunches and most dinners mentioned in the itinerary noted as B,L,or D;
4. Water and snacks whilst cycling;
5. Entrance fees as per itinerary unless stated as "optional";
6. Our cycling leader who can fix small bike problems;
7. Air-conditioned support vehicle & driver (minimum 2 vacation seats);
8. Quality well-maintained mountain bikes of 27 speed front suspension;
9. Bike tools, spare parts and a backup bike;
Not included
1. Departure airport transfers;
2. International airfares and airfares to Guiyang and exit Guilin;
3. Visas;
4. Insurance*
5. Tips, gratuities, personal expenses
6. Helmet or cycling gear (our bike pedals are standard and may not suit you
7. Entrance fee to villages in Guizhou and boat drifting price in Huixian wetland and Li river bamboo raft cruise. (the price changes on different seasons and time so usually we pay cash)
8. Any personally expenses and entry ticket price not mentioned in the itinerary.
*Please note that obtaining your own travel insurance is required in order to participate on this biking tour. It will need to include a minimum coverage of medical expenses with emergency evacuation, personal liability and accident insurance. Our biking leader will need to see a copy of your insurance at the group meeting on the first day. We reserve the right to refuse you if you do not carry such an insurance policy.
Tailor-made Suggestions
Not satisfied with what we have here? Please let us know your requirements and send to our travel specialists by filling in the following form(* Required), you will receive our reply within 24 hours:
Inspirational Trip Ideas
Being an exceptionally well-preserved example of a traditional Han Chinese city, Pingyao keeps it ...

If you want to see something fun and original of Beijing, please go and see the local temple fair ...

Wuyuan villages enjoy a high reputation of the most beautiful countryside in China, by possessing ...
Other Recommended China Tour Packages
Guilin Grand Loops is one of our longest running and most diversified landscape cycling tours. It covers the Danxia la ...

This 13-day tour takes you to cycle around South China with exciting adventures in Guilin, Guangxi and Zhangjiajie of ...

We've updated this classic route of the old Dragon's cycling trail from Guizhou to Guangxi. Bike through the mountain ...
Google Search
Find something useful to you at Easy Tour China website.
Top China Tours
China Travel Toolkits
I have no idea of how many minority villages I have visited in the mountains of Southwestern China. But I still feel the urge to explore more unknown areas.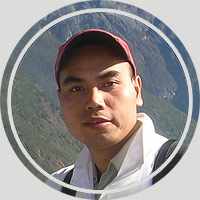 Charlie
Senior Travel Specialist