Overview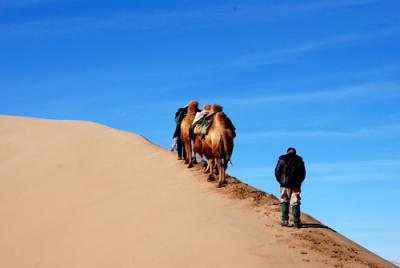 "The Everest Desert", Badain Jaran features the highest sand peak in the world. It is surprising that with less than 40 millimeters of rain a year, Badain Jaran Desert has more than 100 lakes. On this 2-day hiking tour, with ETC's local expert guide by your side, discover towering sand mountains, mysterious singing sand dune, tranquil lakes, wetlands and uncover the unique charming landscape of Badain Jaran.
Duration: 2 days & 1 night
Destinations: Alxa Youqi
Important Notes:
1. The most favorable season for trekking Badain Jaran Desert is from May to October, excluding July and August.
2. The desert climate is really dry all the year around, drink enough water during the trip is necessary.
3. Please prepare good hiking shoes or desert boots. Sun glasses, sun cream, long sleeved shirt are recommended to protect your skin from strong sun light.
Customize Your Tour:
☑ Travel Dates ☑ Your Interests ☑ Your Travel Style

In the morning, our guide will pick you up from the hotel at Alxa Youqi and then bring you to the Badain Jaran Desert. It will take 1.5hrs car ride to get to the border of the desert. Upon arrival, hopping on a private Jeep which we rented for you in advance, and start your 2 days desert exploration. A thrilling jeep ride over the dunes, you will see stunning desert scenery.
Hiking tour will start after visiting Shuang Haizi. In Badain Jaran Desert, there are more than 140 lakes in various sizes, local people call it "Haizi". The intensity of this hiking trip could be flexible since your private jeep and guide will follow you all the way. During the trip, you will pass by Yinderitu, a magic spring in the desert. The spring water is so sweet and contains many kinds of trace elements. Move ahead and you will see Bilutu Dune, the world's highest sand dune with an altitude of 1,609 meters (1,760 yards) and a relative elevation of near 500 meters (547 yards), so it is called Dune "Qomolangma". If you still have enough energy when you get there, try to climb up to the summit to have a panoramic view of surrounding desert and lakes.
Keep going and you will arrive at Miao Haizi, the place where we will stay tonight. Miao Haizi is a Magic Lake that surrounded by sand hills. The annual precipitation here is only few tens of millimeters, while it has never been dried up. You could camp or stay at local people's house. Their house is simple but has basic facilities that you may need.
Meal: L, D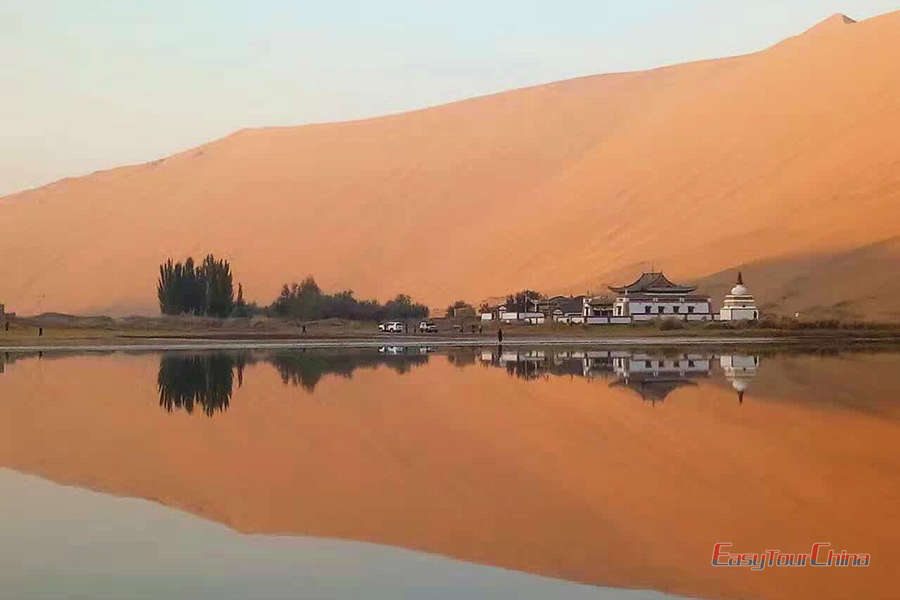 If the weather permits, don't lose the chance to witness a magnificent sunrise on the wild Badain Jaran Desert. The sunrise in desert generally starts around 6am, but you have to get to the higher location about 1 hour ahead of the sunrise. This morning, you will walk around 6 km to Nuo'ertu which is the largest and the most beautiful Haizi in Badain Jaran Desert, and then take jeep to Baoritaolegai. Baoritaogaile is the biggest singing sand area in the world, local people also call it "Singing Sand Kingdom". The sound of the singing sand is loud and sounds like thunderclap or the roar of a plane. Then proceed to Badain Jaran Geological Park, and you tour will be end before 14:00 today.

Meal: B, L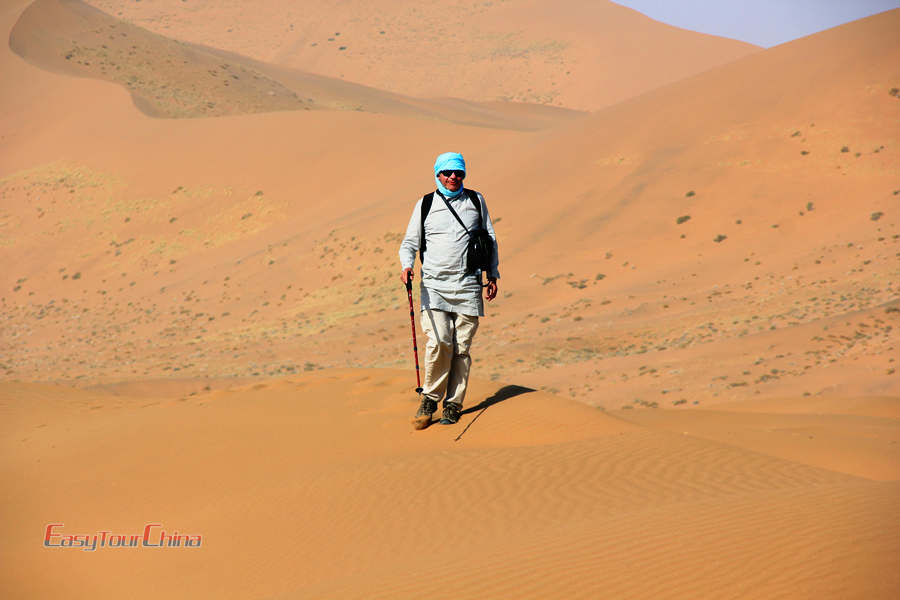 What's included
1-on-1 Travel Consultant

Your China based expert listens to your wishes carefully, provides professional advice, ensures unlimited itinerary revisions before done and 24/7 helpline service while traveling.

Private Local Guide and Driver

Your guides are friendly, helpful and knowledgeable, and your drivers are professional, polite and patient. They are very flexible to accommodate your personal needs and happy to show you the local attractions, history, culture, foods and real life.
Private transfers from hotel to attractions, airport or train station are also included.

Accommodation to Suit Your Preference

In each place, we hand pick hotels ranging from luxury 5 star, superior 4 star to comfortable 3 star. Luxury or cozy boutique hotels and budget guesthouses are also among your choices. You could decide where to stay to meet your taste and budget.

Gourmet Meals

Most of the hotels we select offer both Western and Chinese buffet breakfast. Lunch and dinner included are arranged in selected restaurants to taste authentic Chinese cuisine and local specialties. Thus you may also have a unique food tour.
Meals specified in itinerary as B=breakfast, L=lunch, D=dinner.

Attractions and Activities Listed on the Itinerary

Our China tour packages have included the (first/main) entry to all attractions and the expenses of activities on the itinerary (except the optional activities).

Internal Transportation

Based on your needs, we could make bookings of internal transportation, including domestic flights, inter-city trains, long-distance bus, etc.