China Gobi Desert Adventures
The vast land of China is rich in Gobi desert, which spreads on the northwest, northeast and north of China. Easy Tour China offers private guided desert adventure and hiking tours mainly to Xinjiang, Gansu, Ningxia to explore Taklimakan, Gobi Desert along the Silk Road as well as Tengger, Badain Jaran Desert in Inner Mongolia.
The desert tours are specifically designed for adventure lovers, who are looking for unique experience in the wild and natural environments. Inside the endless sand dunes, there are also some historical and cultural relics left, which showcase the mystery and beauty of these areas.
On Easy Tour China tailor-made Gobi desert tours, travelers can enjoy various kinds of sand activities like Hiking, camel riding, car driving, camping, etc. Saddle up and ride into the wilderness of desert.
Recommended China Desert Tours
Like hiking the Great Wall, meeting Terra-cotta Army or a journey to the Everest, exploring the Gobi desert in China is truly a once-in-a-lifetime experience. Stretching along the great Silk Read, there are also numerous historical sites, lost ancient kingdom ruins, exotic cities, Buddhist temples, grottoes, Islamic mosques, apart from the vista scene of desert, to be discovered.
Trek through the dramatic landscapes of Badain Jaran Desert on this active adventure.
Highlights:

Two days hiking through the dunes, sand hills and tranquil lakes.
Capture the sunrise and sunset at desert.
Experience the life at local family that feels beyond the reach of the modern world.
Travel to Dunhuang and explore desert and historical sites on the Silk Road.
Highlights:

Hike Crescent Lake & Singing Sand Dune for incredible views.
Trek along the Great Wall of Han dynasty dating back to 2000 years ago.
Tap into the Buddhist art of Mogao Grottoes and get an insight into local life at night market.
Trek China's largest desert and experience the beautiful wild Xinjiang.
Highlights:

Enjoy three days trek with camels and local guide into Taklamakan Desert.
Take in the unique views of desert, from oasis, lake to farmland and village.
Have fun with desert camping and bonfire.
Meet Xinjiang people in bazaar and taste their food.
China Desert Adventure Reviews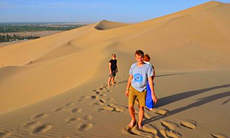 The trip was very interesting and very well organized. We enjoyed seeing a totally different part of China. The guides were all competent and a nice companion during the trip. All cars were excellent and we felt really taken care of.

- Marc from Netherlands
China Desert Tour Tips and Top Faqs
Does China have any deserts? What are the most famous deserts in China?

The total area of China's deserts is about 700,000 square kilometers, which is 1.28 million square kilometers, and 13 percent of the country's total land area, if including more than 500,000 square kilometers of gobi.
The top 8 deserts in China are:
1) Badain Jaran in Inner Mongolia
2) Taklimakan in Xinjiang, the biggest one in China
3) Gurbantunggut in Xinjiang
4) The Singing Sand Dunes and Crescent Moon Spring in Dunhuang
5) Tengger in Inner Mongolia
6) Shapotou in Ningxia
7) Kubuqi Desert in Inner Mongolia
8) Qaidam Basin Desert in Qinghai

When is the best time to visit the deserts in China?

- August to October is the best time to visit Badain Jaran;

- May to October is the best time to visit The Singing Sand Dunes and Crescent Moon Spring;

- September to November is the best time to visit Taklimakan;

- September to December is the best time to visit Gurbantunggut;

- Spring (March to May) and autumn (September November) is the best time to visit Shapotou;

- April, May September and October are the best months to visit Tengger;

What to pack for a trip to Gobi desert tour?

1. The desert is dry, windy and sandy with intense sunlight. You're suggested to apply enough sunscreen and bring plenty of water.

2. For a desert hiking adventure, make sure you bring with enough water, hiking boots, sleeping bags, storm jackets, hats, etc. It is better for you to take a guided tour arranged by a professional travel agency. Follow the instructions of your local guide to avoid getting lost or other accidents.

3. Bring some commonly used medications, such as anti-bacterial anti-inflammatory drugs, motion sickness medicine, cold medicine and treatment of gastrointestinal discomfort medication.

How should I dress in the desert?

1. Wear layers of clothing, as there is large temperature difference between morning and evening in the deserts. Outdoor jacket, shirts and pants, cashmere pullovers, woolen socks, leather boots are needed.

2. Hood, hats, glasses, eye patch for wind and sand protection.

3. Prepare a sand cover for your camera, too.

Can you offer camel riding and camping in the deserts of China?

Yes. On our desert tours, there are camel riding and camping accommodations included. These are two good ways to explore the incredible landscape of desert and highly recommended by our previous clients. To camp in the desert, you will have great a chance to see the awe-inspiring starring sky.
Quick Tailor-made Inquiry Form