If you are fascinated with nature and folk photography, being committed to capturing the perfect balance of light and shade, Xiapu fishing villages ought to be your next destination, which is simple, bumble but a real paradise for photographers, and is bound to bring you a completely new visual impression.
>>
Recommended 5-day Xiapu Photography Tour of Mudflat & Fishermen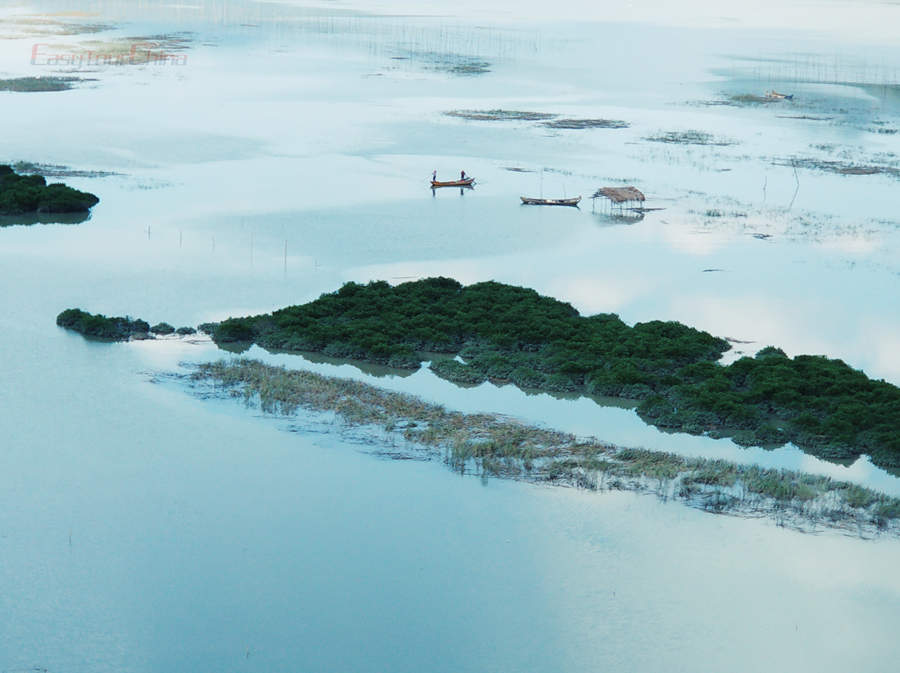 Where is Xiapu?
Located in the northeastern Fujian Province and approximately 400 km from Xiamen, with the coast line (of East China Sea) stretching for 404 km, Xiapu boasts China's most beautiful mudflats. Today Xiapu has been one of the most popular photography destinations in China. You may travel to Xiapu from Fuzhou, Xiamen or Shanghai easily.
Fuzhou to Xiapu – The bullet train takes about 1 hour, while the regular bus takes 2.5 to 3 hour.
Xiamen to Xiapu – There is not regular bus available. You may take the bullet train from Xiamen North to Xiapu, with 3-hour train journey.
Shanghai to Xiapu – There are currently five bullet trains from Shanghai to Xiapu daily. The train journey takes about 5.5 hours. There are only two regular buses per day. And it takes about 8 hours on road.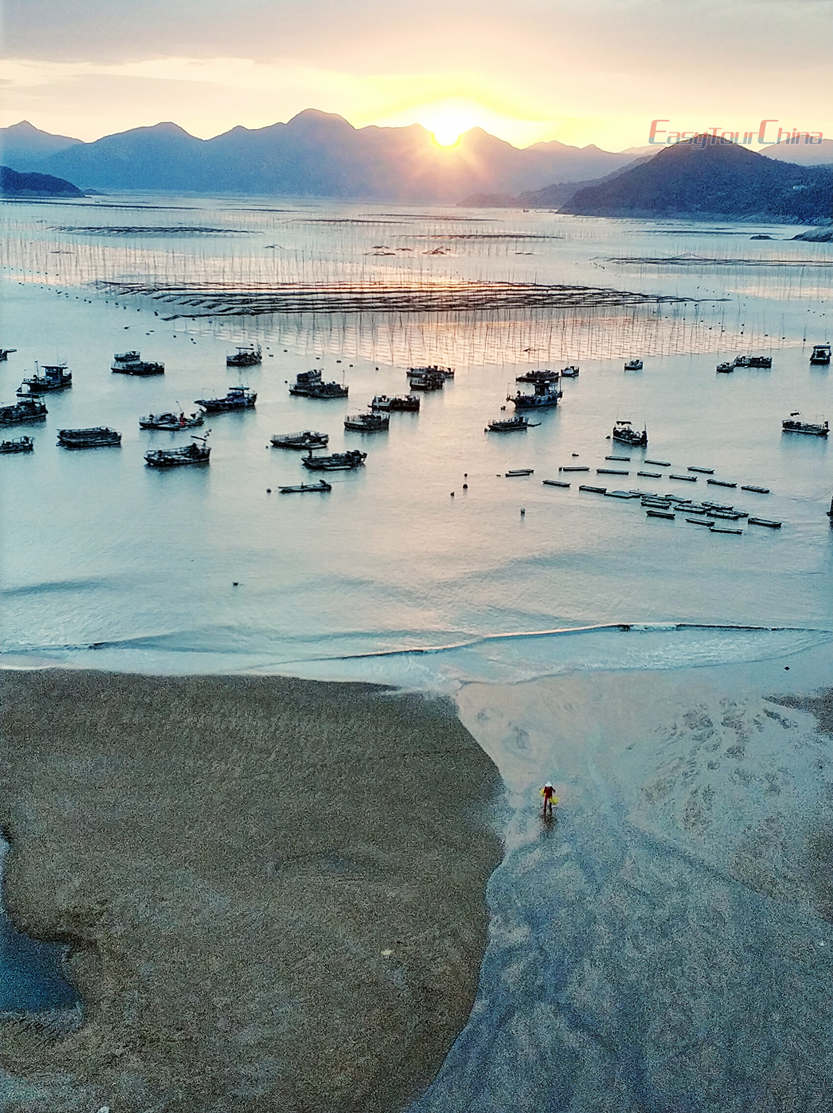 What to Shoot in Xiapu?
The tidal changes of the four seasons, the clouds and shadows of the sky, the original marine activities and traditional fishing ways make the sea area very beautiful and wonderful. Meet the unsophisticated people in the primitive villages, who have been earning a living on fishing for thousands of years.
Xiapu mudflats, seaweed harvest, marine life, bamboo poles, fishing nets, fishing boats and dotting fishermen blend into the mudflats as the sun rises and sets, creating bright-colored graphic pictures and a dreamlike world of light and shadow. Make a photography approach to Xiapu, before more people come flocking in!
Major sites for Xiapu photograpy include Beiqi village for sunrise and fishermen working on the mudflats, Xiaohao village for beautiful sunset, Sansha East and Shatangli low lying beach for stunning sunrise, Weijiang for seaweed harvest, Mt. Mantou for the morning scenery of hanging oyster, Beidou for beach and alluring old banyan tree forest, and Sha'ao Bay at Qida village for abalone farm with many colorful floating houses.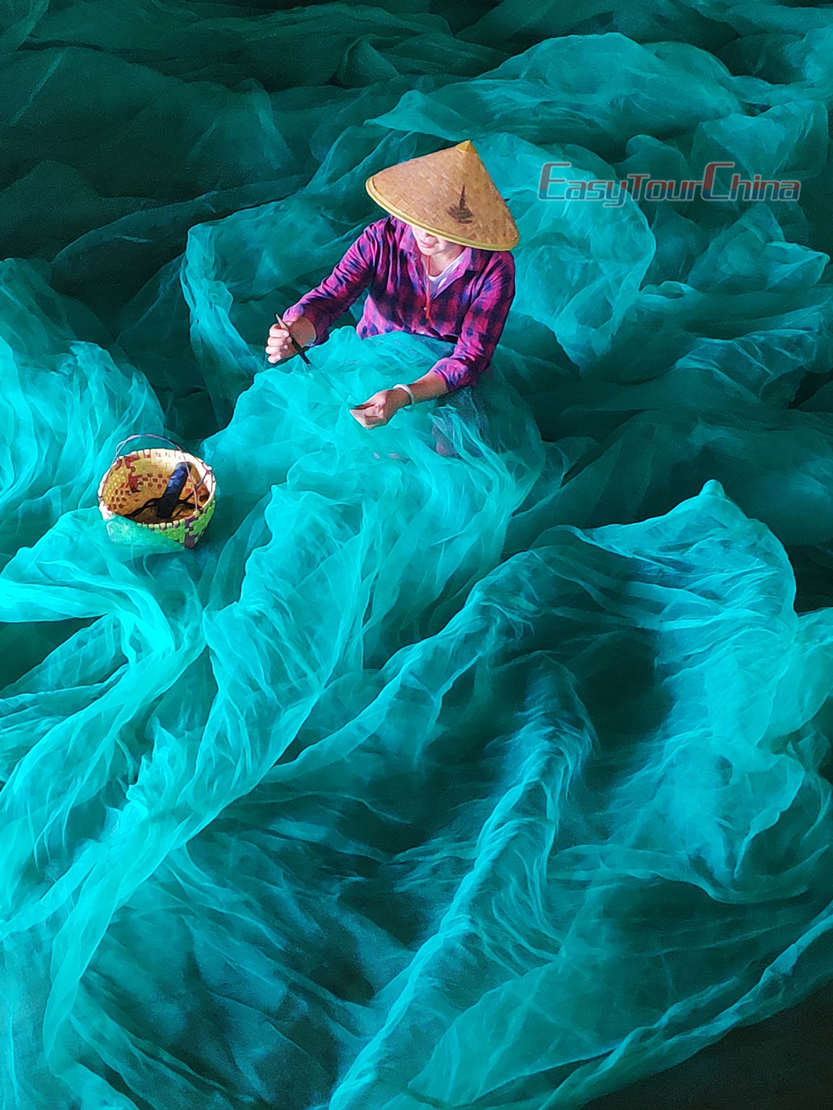 The Classic Xiapu Photography Routes:
East Route for mudflats, sunrise and sunset at sea, fishing ports, seaweed photographs: from Songgang Village, Beiqi Village and Guling Village to fishing ports of Xiaohao, Dongbi, Ancient Town, Huazhu and Sansha and finally getting to Dajianshan Island.
South Route for hanging oyster breeding, fishing village, mudflats photographs: from Shajiang Town, Shajiang River, Hanjiang River, Xinan Town, Wei River to Tai River
West Route for fisherman's life, traditional dwelling photographs: from Yantian She Autonomous Township, Beidou Village, Diaoqi Village, Huaixi Village to Qidu Village
North Route for autumn maple foliage, bamboo rafting, village photographs: Yacheng Town, Yangjiaxi Village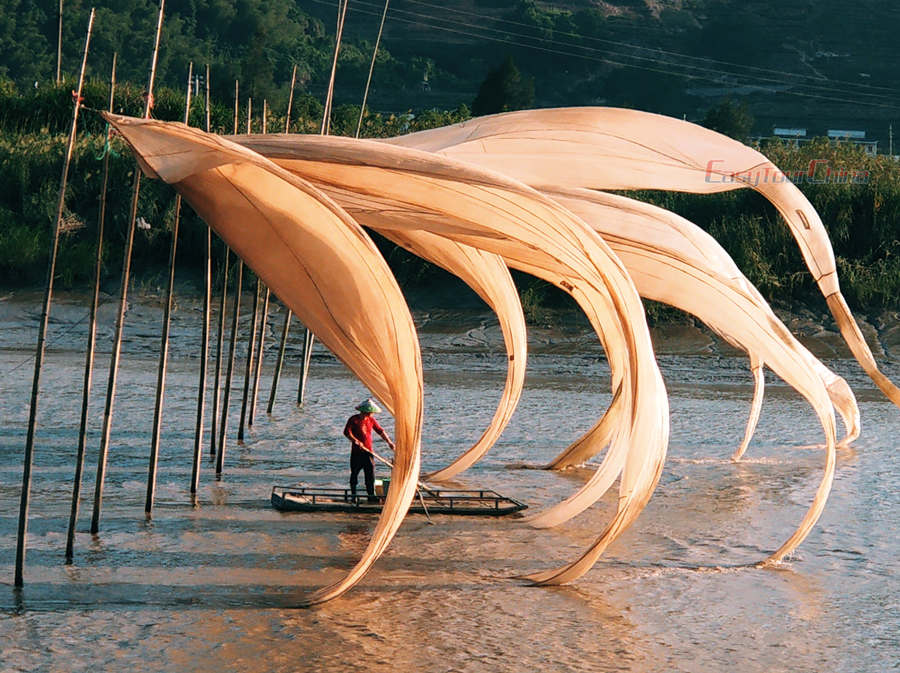 Xiapu Weather
You can expect dry, mild weather in April, May and October, with average temperatures between 20 degrees Celsius (68°F) and 25 degrees Celsius (77°F).
The hottest months are July, August and September are, with average temperatures between 23 degrees Celsius (73.4°F) and 31 degrees Celsius (87.8°F).
The coolest months are January and February, with average temperatures between 6 degrees Celsius (43°F) and 13 degrees Celsius (55.4°F).
The Best Time for Xiapu Mudflats Photography
Xiapu Fishing Villages offers great photography throughout the year.
Spring from March till May is the seaweed demolition and crab breeding time, when local fishermen are working at the mudflats to catch crab and fish, which may shrouded with a thin mist.
In summer from June to August, you can capture the dramatic sky and wonderful sunlight upon Xiapu's multi-colored mudflats after the thundershower. The morning and dusk before the coming of the Typhoon, you can capture several meters or even ten meters of golden waves. Summer is also the season to take Xiaohao sea beach, hanging seaweads, sunset photographs.
In autumn from September till November, claiming to be the best time of the year for Xiapu photography, prepare to take awesome photos of villagers busy working for seaweed harvest, ships moving back and forth on the sea, the fishing nets hung up to dry, red maple leaves…
Winter from December till next February is the best time to take photos of sunset and sunrise on the sea for and Yangjiaxi old banyan tree forest.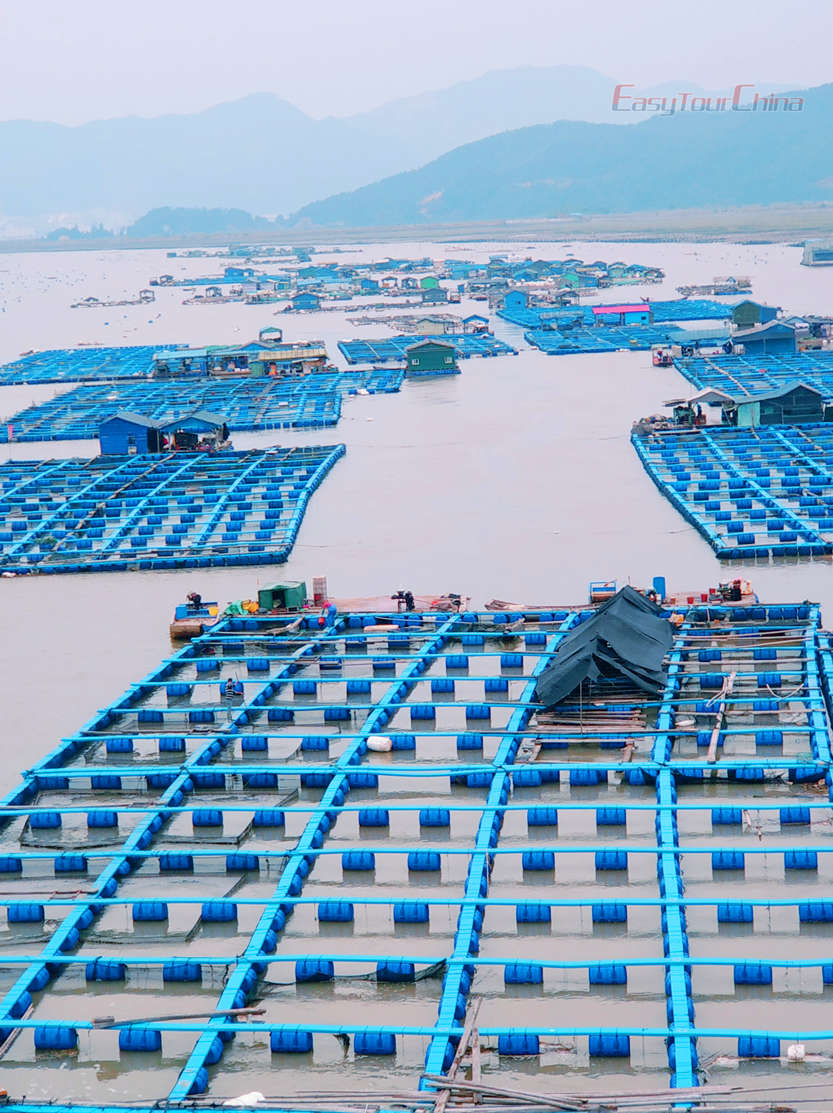 Xiapu Photo Tips:
Check the weather forecast before your trip.
You're suggested to rent a vehicle or book a guided Xiapu photo tour with private transfers, as the photo sites are far away from each other.
Seize the photo opportunity after rain, as you may see flaming cloud.
Recommended photo tour in China:
9-day Photography Tour of Hangzhou/Wuyuan/Yellow Mountain