Zhangye city in northwestern China's Gansu Province is a photographer's dream, by boasting the spectacle of coloful mountain with Danxia landforms extending for 410 square kilometers in Linze and Sunan counties. With its majestic table mountain terrain, odd-shaped Danxia cliffs, and dynamic, dramatic colors, Zhangye Danxia Landform Geological Park is one of the most beautiful corner on earth and displays a unique type of petrographic geomorphology found in China. The national geologic park was approved as a Global Geopark by the Executive Board of the United Nations Educational, Scientific and Cultural Organization (UNESCO) at its 209th session on July 7, 2020.
Facts
In Chinese: 张掖丹霞国家地质公园,张掖七彩丹霞旅游景区
Location: Nantaizi Village, Linze County, Zhangye, Gansu Province
Entrance fee: RMB74 (including scenic spots shuttle bus)
Opening time: (updated in June, 2019)
| | |
| --- | --- |
| Date | Opening Time |
| Jan 1st to Feb 28th | 07:30 – 17:00 |
| Mar 1st to Apr 10th | 06:30 – 18:00 |
| Apr 11th to May 4th | 06:00 – 18:00 |
| May 5th to Aug 31st | 05:30 – 19:00 |
| Sept 1st to Sept 30th | 06:30 – 18:00 |
| Oct 1st to Oct 7th | 06:30 – 17:30 |
| Oct 8th to Oct 31st | 06:30 – 18:00 |
| Nov 1st to Dec 31st | 07:30 – 17:00 |
Recommended China tours to Zhangye Danxia Landform Geological Park:
6-day Wonders of Badain Jaran Desert & Danxia Landform
10-day Gansu Highlights plus Desert Exploration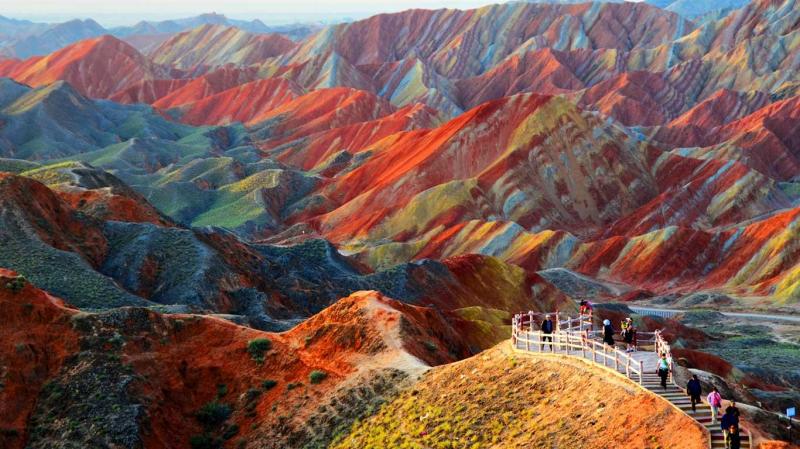 >>The Formation
Danxia landform refers to red sand conglomerate by long-term weathering stripping and water erosion, the formation of isolated mountain peaks and steep strange rocks. Influenced by its special geologic framework, and together with thousands of years of freeze-thaw peeling, wind and rain, isolated peaks and steep stone walls formed, and differed in color, texture, shape, size and pattern, then giving rise to its present appearance.
Zhangye Danxia Landform on Qianlian Mountain is a masterpiece of great nature's design, with the erosion of red sandstone. It developed from Pre-Jurassic to tertiary period about 2 million years ago, and it is mainly composed of red gravel, sandstone and mudstone as well. Zhangye Danxia is typical of an arid or semi-arid climate and stands out with the cross layers, eroded caves, vertical joints, and multi-colored slopes.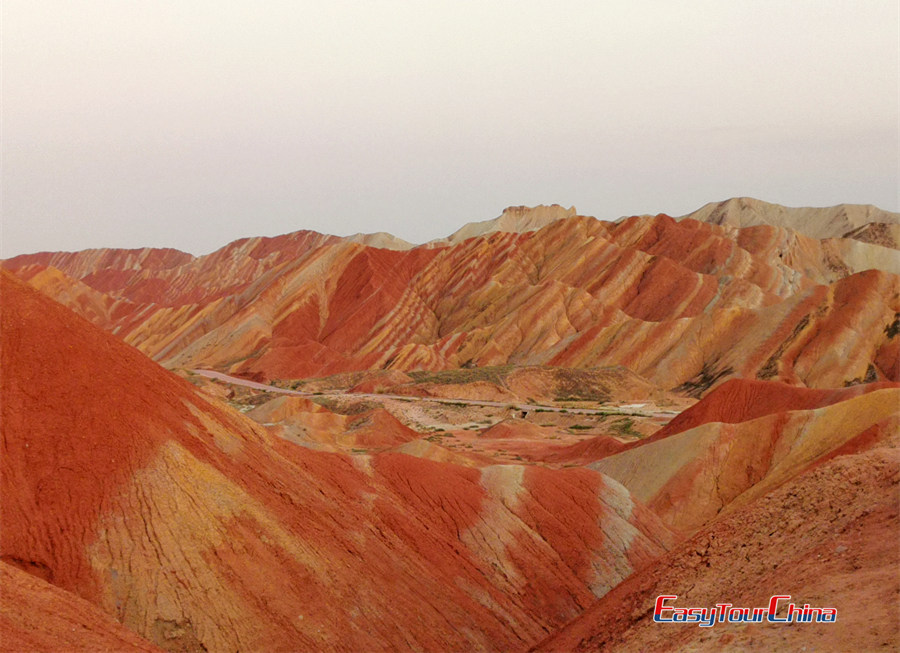 >>The Two Scenic Spots
Zhangye Danxia National Geological Park is made up of two scenic spots: Linze Danxia Scenic Area and Binggou Danxia Scenic Area.
The first area with the altitude of 2000-3000 meters, Zhangye (Linze) Danxia Scenic Area, is the most typical Danxia landform in China's arid region with vast space, marvelous mountains, distinctive shapes and magical color, which make it a best-known geological wonder in China, even in the world. It is hard to believe this insane mountain formation is real, but it does exist!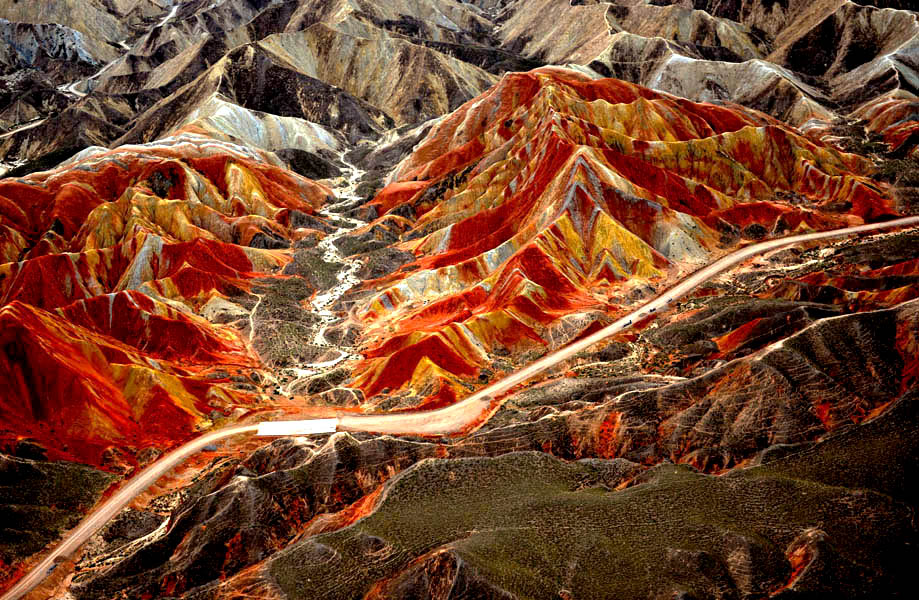 The colorful Danxia scenic spot integrates the cliffs of Danxia mountains in Guangdong Province, the strange, dangerous and spectacular stone columns forest, as well as the colorful appearance of Wucai city in Xinjiang. Many visitors call Zhangye (Linze) Danxia Scenic Area "the rainbow mountains" for the layers of different colored sandstone, ranging from red, orange, green, yellow, blue, white, etc.; being extremely stunning when the sun shines again after rain.
Zhangye (Linze) Danxia Scenic Area is one of the areas with the largest and best developed Danxia landform, the best preserved and the richest landform. It has four viewing platforms for catching wonderful pictures in the scenic spot. It is also favored by movies, The Sun Also Rises directed by Wen Jiang and A Simple Noodle Story directed by Yimou Zhang are both shot here.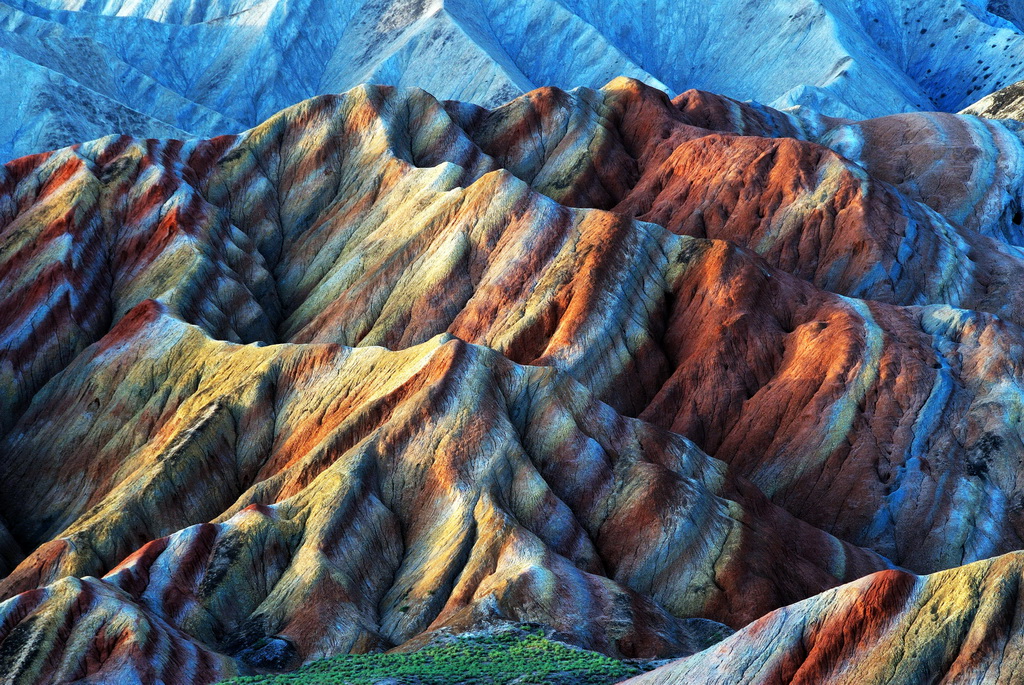 The Second area, Binggou Danxia Scenic Area, is known as "window lattice and palace-shaped Danxia topography". To the east of Zhangye downtown for 50km, 11km away from Zhangye (Linze) Danxia Scenic Area, Binggou Danxia is fewer crowded. It is famous for the majestic and precipitous appearance. But its development level is very low. There are almost no repaired roads and few people go there. Except for guided vehicles or self-driving tours, it is difficult to get here. (Ticket price is RMB60 per person.)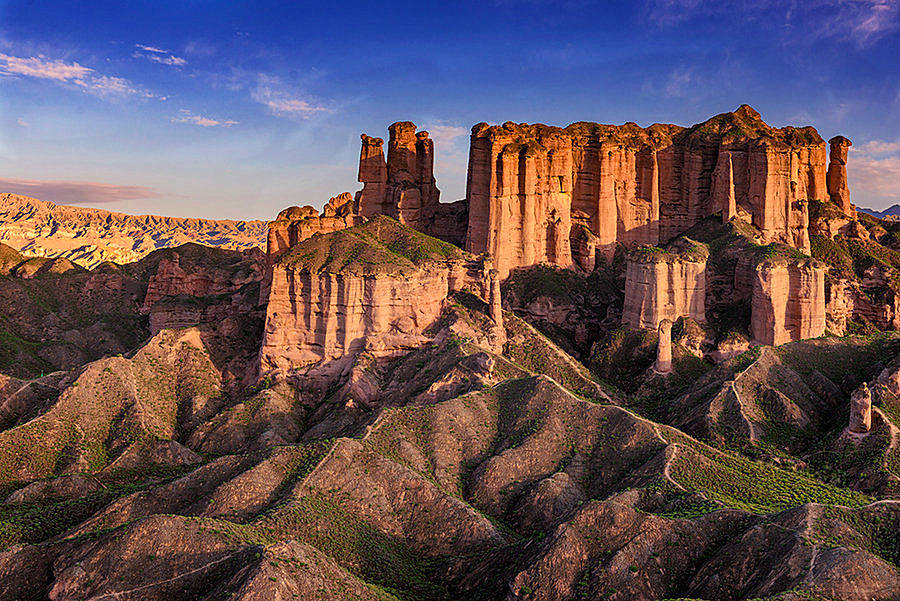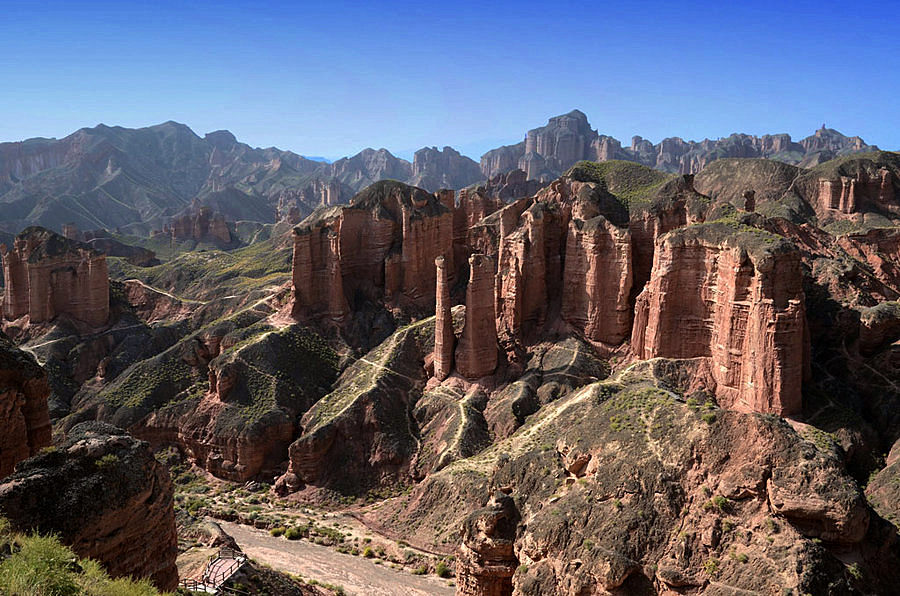 >>What to Do – Activities for Travelers
1. Take Photographs
The handsome Zhangye (Linze) Danxia Scenic Area is regarded as one of the most scenic and best places for photographic creation. It is an amazing place with many variations which can be satisfied with both professional photographers and normal visitors. Danxia landform is most colorful in the sunshine after rain; the sunrise and sunset scenes here are both breathtaking; look for animal shapes in the mountains… You can find the beauties from different perspectives.
2. Hiking
The area is about 200 square kilometers in Zhangye (Linze ) Danxia Landform Geological Park. If you want to get closer to the magical landform, hiking through four viewing platforms will be impressive.
3. Camel Riding
Camel riding is a featured experience in Gansu Province especially in desert region. This time you can touch the camel and ride through the rainbow-like landscape, taking a picture of walking on the rainbow.
4. Hot Air Ballooning
Have you tried to enjoy the vast landscape from 50-miter height? Take a hot air balloon to have a bird view of the entire scenic spot to get an unparalleled visual enjoyment. Other than putting yourself in a colorful world of fairy tales, flying in a hot air balloon is a romantic and exciting experience itself.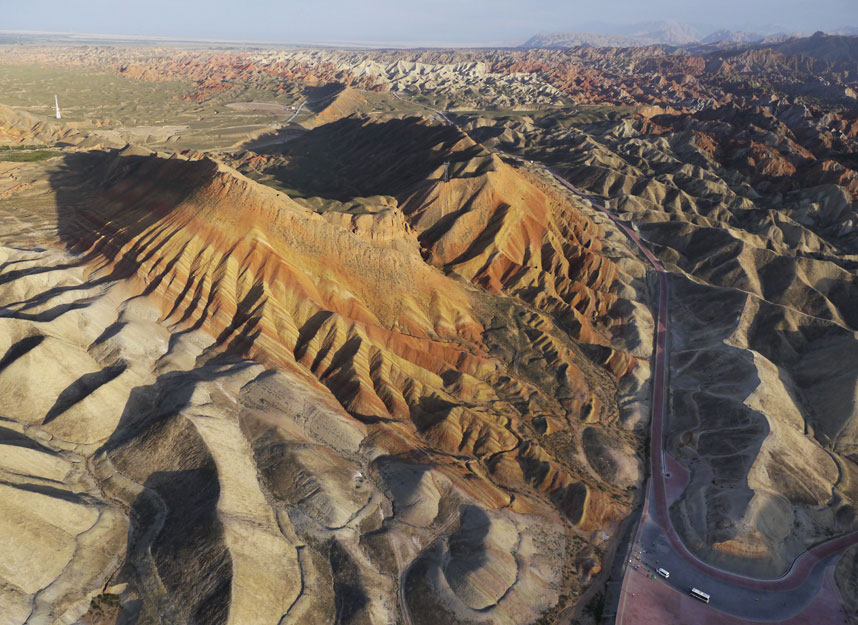 >>How to get there?
If you drive yourself, get out of the Zhangye Highway Exit, and then drive along Sunan Road for 47km, to Nantaizi Village of Linze County. You can also take a coach at Zhengye West Bus Station, from Zhangye to Sunan County or Linze County, and then the taxi driver will take you to the destination.